The Jags take the field in Beaumont lead by the cheerleaders and Courtney Smith.
The trip to Beaumont, Texas last year was the first true road game by the Jaguars and they passed that test with flying colors. Yes, they had a road game in Dothan but it was nowhere near a real opponent. No disrespect meant towards Edward Waters, but they were outmatched on the field and the facilities were glorified high school facilities.
While the Jags won the game with a shutout 26-0, it was a hard fought game. The Jags first score was a fumble returned for a touchdown about four minutes into the game. After that, the Jags musted a field goal late in the first quarter by Lawson McGlon and missed one as time expired in the second quarter.
McGlon kicked a field goal with about 10 minutes left in the third quarter. Then Ellis Hill scored a one yard touchdown on a pass from Brennan Sim. McGlon added two more field goals in the fourth quarter to cap off the scoring.
Kendall Houston led the way on the ground with 166 yards on 21 carries for the Jags and averaging 7.9 yards per rush in his first start for the Jags. Houston was promoted to the starting position after Brandon Ross went down with a season ending knee injury. Courtney Smith lead the receivers with 59 yards on 7 receptions.
But Coach Jones expects Lamar will be much improved from year one to year two like the Jags were from year one to year two.
Last year the Jags outgained the Cardinals 376-160 in an extraordinary defensive showing by the South Alabama. However the Jags only converted one of 14 third down attempts. C.J. Bennett went 13-of-16 for 109 yards. They also won the time-of-possession 34:21 to 25:39 and the turn-overs 4-to-1.
"They played us really well last year," Coach Jones said. "I thought we had a good day offensively, but we didn't score much. We need to be able to punch the ball in the end zone more and our kids are fully aware of that."
Defensively, South Alabama recovered four out of five fumbles, held Andre Bevil to 105 yards passing on 15-of-30 passing and a mere 56 yards rushing on 27 carries. They also held the Lamar offenseto 2-of-13 on third down conversions.
But Lamar had lost one of their defensive players to an injury. They have added some big transfers to the offensive line, a new quarterback as well as some guys on the inside of their defense. This will not be the same team that the Jaguars faced last season.
"They are a much-improved ball team," Coach Jones continued. "They brought in some really good players on their offensive line and shored up some things. They're trying to run the football more, you can tell they have really spent some time on their running game. They will be a much more balanced team offensively. And defensively they are more athletic, especially inside. They have some defensive tackles who are very good football players"
In their 58-0 win over Texas College, Lamar racked up over 200 yards rushing on 53 attempts. They totalled 320 total yards in the game. When they play in Ladd-Peebles, they will rely on their big offensive linement to open holes in the Jaguar defense for their running game. The Jaguar's linebackers and safeties will need to play a good game to contain their offensive ground attack.
The Jags cannot afford another turnover laden game like they had against West Alabama.
The kickoff for the rematch against the Cardinals is set for 4pm on Saturday at Ladd-Peebles Stadium.
On Thursday the Jaguars held a situational scrimmage at the Jaguar Practice Facility. With the September 1st season opener less than a week away, the coaches wanted to cover as many game-like situations that the player could face this season as possible.
The first team and second team offenses and defenses faced the scout teams for about 80 plays as well as all special teams. The scrimmage began with a kickoff by Jordan Means with the first-team defense starting the day against the scout team offense at the offense's 20-yard line.
The defense forced a three-and-out then the first team offense started at mid-field. The offense ran six plays with Kendall Houston rushing three times and C.J. Bennett finding Corey Waldon open for a seven yard gain. The offense got to the 35-yard line, but a field goal attempt was missed wide left.
The first team defense forced a second three-and-out. However they were quickly back on the field following a simulated turnover where the offense took over at the defense's 45-yard line. The defense answered with a Charles Harris interception in the back of the end zone to end the drive.
First half highlights include a Lawson McGlon 37-yard field goal as well as a two-yard Demetre Baker touchdown run followed by a Jordan Means extra point.
The second half highlights saw a 41-yard touchdown run by Ellis Hill, a Gabe Loper interception in the back of the end zone during two-minute drills and extra points by McGlon and Means.
"It was a pretty crisp practice. We didn't have a lot of mental errors out there," Said head coach Joey Jones after the scrimmage. "The kids came focused and ready to go. I think they are ready for the game next week – there's no doubt about it. We keep talking about working hard, and they have done that. They have paid their dues. We have been here three weeks and a lot of good work has been done, so they are ready to play."
Coach Jones continued, "They know it is game week and that from this point forward we have three or four days of practice before the first game. They have worked all year, from January until now, just to have a chance to play in the game. That's one thing about football; you work a long time just to have a few chances to get out in the spotlight, so our kids are looking forward to it."
Coaches and Players return to the practice field at 7:15am on Friday morning to continue preparation for West Alabama.
South Alabama wrapped up preseason camp with a scrimmage lasting about one and a half hours focusing on game-like situations. They will then have the weekend off before returning to the practice field on Monday as well as beginning fall classes.
The scrimmage featured the first and second team offense and defense versus scout teams including special teams. The coaches had them refrane from tackling although they were in full pads.
They began the scrimmage with special teams work on kickoff coverage. That was followed by the first team defense facing the offense with them beginning at the offense's one-yard line. Later possessions begain at the 20 and 30 yard lines.
The first team offense began at their own 30-yard line and drove down the field to set up a Jordan Means 37 yard field goal.
The punt team came on for some work before the first team offense and defense retured to the field for another series. They worked on second and long, third and long situations for the defense. Then the offense worked on first down, second and long and third and short situations. The final play of the first half of the scrimmage saw Lawson McGlon make a 40-yard field goal.
After the mid-scrimmage break, the first and second team defenses faced short field situations. The second team offense started with a short field and also starting on their own one-yard line.
The second half of the scrimmage saw more special teams work on kickoff and punt returns. Lawson McGlon also notched another 40-yard field goal as well as a 22-yard field goal to end the scrimmage.
The coaches will review the film from the situational scrimmage over the weekend to develop a depth chart as they go into preparation for their September 1 game against West Alabama.
"We exposed our team to a couple of things; sideline organization of the game, which I thought was pretty good for the most part though there are a couple of things we need to talk about as a staff to fix, and situational things on the field," said head coach Joey Jones. "We didn't tackle today, which I thought was good. We had a pretty good tempo, sometimes they tend to back off too much when you do that. We got all the special teams covered, we had three reps with each; we'll watch the film and see what corrections we need to make there."
Coach Jones then spoke about what the coaches will be doing over the weekend. "Number one, we're going to evaluate the film and our players, what we need to do offensively and defensively and any corrections we need to make. Then we'll talk about sideline organization, the things I noticed that we need to go over and get fixed for next week. And we'll plan next week, how we're going to attack it with a game a week from Thursday; how we are going to handle those three days before we get into game week. We know we're going to have a situational scrimmage Thursday as well, bring them in Friday to watch the film and then it will be game week at that point."
Coach Jones then went over their plan, beginning next week. "We're going to go ahead and start working on the first ball game — we've done a little bit here and there before now, but it will give us an extra three days to work on West Alabama and put our game plan in, then go back and make corrections. There may be a scheme we don't like or a blitz we don't like that we will throw out. We'll whittle it down and get ready for game week."
Coach Greg Gregory, the Jaguar offensive coordinator, has been pretty pleased with the progression of the offense. "I think our first offense is good. I think the question mark that the so-called experts had about our football team — our offensive line — might be the strength of our offense," he said. "I think those guys know how to play, they're not the biggest but they don't have to be; they block, they run, they're athletic and they are competitors."
"I think we're really good at quarterback with our starter, though we're thin at receiver right now because we have guys hurt; the guys that are here are having to take every rep, it's wearing them out and their legs are getting tired," Continued Coach Gregory. "We're strong at running back, tight end and fullback. I'm really pleased other than I think we need our backups to make a huge jump. You don't always need them right away in the first game, but somewhere in the season somebody's going to have to play. Overall, we are about where I thought we'd be right now, we just have to polish things up between now and Sept. 1. Our kids are chomping at the bit, they're ready to play."
Defensive coordinator Bill Clark also spoke well of his unit. "The first thing as far as our guys go is we feel good. We've started developing some depth. We're starting to see those twos, though some of it is due to injury. We've been able to see some freshmen and other guys that you wouldn't see as much, we've gotten to throw them into the fire so we feel better about that. Obviously now our focus will start changing next week where we really start concentrating on West Alabama where we've been a little more general to start with. Overall we're pleased with where we are, and we hope we'll get everybody back well Monday."
Probably the most encouraging words were spoke by Coach Gregory about the offensive line. If the starting five are solid with three or four really good second string backups ready at any time, then the team will be ready the tests they will face during the season.
The players will have the weekend off to rest and recover before beginning their preparations for the first game against West Alabama and classes starting on Monday.
South Alabama held their first scrimmage of preseason camp on Saturday in conjunction with Fan Day at Ladd-Peebles Stadium. They also debuted their new blue uniforms as well, but it not know when and how often they may be used this season.
The first half of the scrimmage was not open to the fans to view but the offense scored three times. The first team offense scored a touchdown and a field goal, while the second team offense added another field goal on their final possession before a break.
C.J. Bennett lead the offense on a 10 play 57-yard drive leading to a Jordan Means 30-yard field goal. Demetre Baker carried the ball four times for 39 yards in his only appearance of the day. Bennett also connected with Corey Waldon for a 25 yard completion on the drive.
On the first team's last possession, Bennett lead a 60-yard, seven-play touchdown drive. Santuan McGee would pick up the first first-down of the drive on an 11 yard rush. McGee would finish with 26 yards on five attempts. J.J. Keels would move the chains again after rushing for eight and four yards respectively. Bennett would move the the team into the red zone after a 13-yard strike to Waldon. The very next play appeared to be a touchdown pass from Bennett to Waldon again, but it was negated by an offensive pass interference call.
Keels would move the ball 16 yards before Devin Robinson would find the end zone on an 18-yard run.
Trey Fetner lead the second team on a 54-yard drive that culminated in a 28-yard field goal by Michel Chapuseaux on the final snap before the break.
Fetner completed a pass to Jake Howton for 47-yards of the 54-yards the drive covered on a post pattern. Devin Robinson also rushed three times for 12 yards after the big completion.
The only score of the second half came on the next to last series. Fetner found Anthony Ingram open down the middle of the field for the 40-yard touchdown pass.
The Jaguar offense gained 328 yards and averaged just under five yards per play for the day. Fetner went 4 of 7 passing for 106 yards and a touchdown. Bennett finished 2 of 4 for 38 yards. J.J. Keels carried the ball 13 times for 74 yards and Devin Robinson rushed 14 times for 57 yards.
On the defensive side of the ball, Desmond LaVelle lead the team with seven stops total, five of them were unassisted. Cori Barnett and Cordivido Grice also added five stops themselves. B.J. Scott and Damond Smith added three tackles for the first team. Ameriol Finley, Ben Giles, Maleki Harris, Ceasare Johnson and Ramon Lewis all added three tackles for the second and third team units.
The scrimmage ended with some special teams work on kickoff returns and placekicking. Each kicker attempted three field goals each. Jordan Means split the uprights from 37, 40 and 50 yards. Chapuseaux made a 49 yard attempt and Lawson McGlon also made a 45-yard attempt.
"I thought we responded well today," said coach Joey Jones after team's first live scrimmage. "We put them in some situations that they hadn't been in in practice where you are tackling full speed. There is a difference, I don't care who you are and how hard you practice — and we practice hard — games are different because there is that little extra burst that you always have to give. We realized in the scrimmage today that we have to do a little bit more of this where they are used to game-type situations. I thought they got a little tired, but that's due to the fact that we've been practicing 10 days in a row. The bottom line is they need to realize that the game is a little different than practice. The kids are fighting through it, I thought they gave good effort."
Coach Jones continued speaking about the running backs in this scrimmage, "Of course Kendall Houston didn't play today and Demetre, we got him out after about six plays. We know good and well what he can do. We're trying to develop some depth, and J.J and Devin looked good. And Santuan has always looked real good, so we feel like we've got five guys back there that can play."
"We had plans to have our No. 1 units go in there for 15-18 plays then have the twos and threes work a good bit today, which is what we did," Jones commented. "I thought the offense picked it up today and put some things together. It had been looking pretty bad the last few days to be honest, the defense had kind of been dominating them. The offense played a little better today, it was good to see them fight back."
"We've got some good freshmen, I believe they are going to find some playing time," Jones finished. "We're going to have to make a decision next weekend after the scrimmage whether to redshirt them or play them; that's a valuable decision. Some of those guys are stepping up and could fill some starting roles before long, but we'll see how things progress."
Jake Johnson, finished with an unassisted sack at inside linebacker, spoke after practice about the scrimmage. "I think we got game speed, because in practice we're going full speed to the ball but we have to slow up and not hit. Today it was up tempo with linemen coming off hard and cutting us, running backs were running hard. We're not there yet, but it was good for a first scrimmage to see that and where we need to be."
The team will be off on Sunday to rest. They will return to practice at 6:15am on Monday at the Jaguar Practice Facility.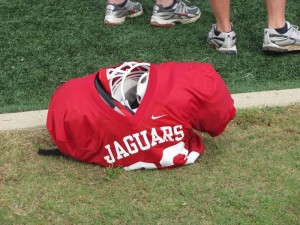 South Alabama had their first two-a-day practice on Tuesday. In their morning practice, they had a very physical and vigorous workout that might have been a preview for the Fan Day scrimmage coming up on Saturday, August 13.
Practice began with special teams work with roughly the first 10 minutes were devoted to work with the punt team. After that, the offense worked on individual and group work which featured screen drills along with routes for tight ends, receivers and running backs.
The next session had the offense and defense working on the running game, both inside and outside, along with play-action passing. The offense then went to skeleton passing drills against the their defensive counterparts. While the skeleton drills were going on, the offensive line worked on pass protection against the defensive line.
The team then took a 10 minute break from the heat before resuming practice. After a stretching session, the offense took the field against the scout team working primarily on reverses.
The offense and defense then took the field against each other. The first 12 plays from scrimmage were snapped from the offense's 20-yard line. Demetre Baker took the first ball for no gain. Then Myles Gibbon recovered a fumbled from a low snap which resulted in a loss of yards for the offense. Kendall Houston then rushed for 15 yards on the third play which was followed by a six-yard run by Devin Robinson. Baker kept the momentum with a 10-yard rush on fifth play.
Read more
CJ Bennett looks on as Kendall Houston runs the ball in the second half of the Jaguars win over Henderson State.
South Alabama came away with the homecoming victory in a shootout on Saturday against Henderson State, 37-31. It wasn't unexpected by anyone who looked at the numbers really. Both teams averaged over 425 yards per game. It was just that the Reddies are a Division-II team from Arkansas, not a team that most people in the Southeast would normally hear about unless you lived in Arkansas.
CJ Bennett went 20-of-26 passing for 280 yards for the Jags with Kendall Houston adding 140 yards in a record offensive game for South Alabama. The Jags totaled 542 yards for the game.
Henderson State, whose offensive strong point happened to match up with the Jaguars defensive weakness, went after the Jaguar secondary. Two season ending injuries in the secondary has left the Jags without any sense of comfortable depth, which the Reddies exploited to the tune of 359 yards on their quarterback's 23-of-43 performance.
Bennett spread the ball around well by connecting with nine difference receivers with six of them having multiple receptions in the game. TJ Glover lead the receiving corps with five catches for 78 yards and a new career high of 189 all-purpose yards. However, Bennett also took three sacks in the game.
Houston carried the ball 27 times for the 140 yards which marks his fourth 100 yard game of the season. The three other running backs 99 yards on 9 carries.
Special teams had some high points and some low points. The kickoff squad gave up two returns to the end zone, however one was called back on a block in the back, saving a touchdown. Darius Davis ending the game with 5 returns for 186 yards, his touchdown went for 93 yards.
On the other side, Scott Garber averaged 59 yards per punt with both being touchbacks. Lawson McGlon made three of four attempts, including a career long 40 yard field goal as time running down in the 3rd quarter. McGlon attempted a 43 yard kick at the end of the first half, however it was rushed and came up short, so it's hard to count that against him.
The 43 yard attempt came after the Jags were in a great position at the Henderson State 12 yard line with 3rd and six after calling a time out. However Bennett took a 14 yard sack and with the Jags without any remaining time outs, had to rush the field goal unit onto the field to hastily attempt the kick. Coach Jones was visibly annoyed by the turn of events on those two plays.
Coach Jones said after the game, "I want to congratulate Henderson State for playing a very good football game. We knew watching on film that they were a very good team. But I probably didn't do a great job of getting the team ready in my opinion. That's probably the first time since I've been here that I didn't think we were 100 percent sharp like we normally are. And I'll take the blame for that. We can make all the excuses we want, but the bottom line is there are no excuses. That's not to take anything away from Henderson State, they have a great football team. I kept trying to tell our team, and I guess they didn't hear that."
He continued, "We knew they were good on film. They've been throwing for 400 yards all year long, so it didn't surprise us. Their quarterback is a really good player and puts the ball on the money; that worried us going into this game. We knew that they had some really good receivers and some good athletes on that team."
However a day later after reviewing the game field, Coach Jones had more to say about the game and how his players played in the game. "It's always, when you feel terrible in a game and after a game, when you go back and look at the tape, it's a lot better than you thought it was. And when you think it was great, you go back and look at the tape and realize it was a lot worse than you thought it was. It was that way. We played really hard and did a lot of great things. We had some bad plays and did some bad things, but if you take those five or six plays out of the game we played a really, really good game. So, I was really pleased after I watched the film, much more so than I was Saturday night."
The Jags have played eight consecutive games since their open date after the season opening game against Pikeville College. With injuries and fatigue, the Jags are definitely looking forward to the end of their second season on Thursday night. With a short preparation and hopefully a refocusing on the job at hand, I think the Jags second undefeated season is within grasp. But as the old adage goes, "never count your eggs before they hatch."
The Jags will host Arkansas-Monticello on Thursday evening with kickoff scheduled for 6:00pm at Ladd-Peebles stadium.
Go Jags! Beat those Boll Weevils!!
Coach John Turner working with the offensive line in the second half of the Jaguars game against the Georgia State Panthers.
South Alabama fended off a second half rally by Georgia State to hold on to a 39-34 victory at Ladd-Peebles Stadium. It was evident that two weeks of travel had taken their toll on the Jaguars. Coach Jones mentioned that it was Wednesday before the Jags recovered from their trip to California. But South Alabama's play in the second quarter was enough for the Jags to stay ahead late in the game with field goals.
On the opening drive, the Panthers moved the ball methodically with three first downs in the opening four plays of the game to go from their 40 yard line to the Jaguar 19. They would top off their 10 play 60 yard drive with a 2 yard touchdown pass from Drew Little to Sidney Haynes on 4th down.
The Jags would answer as CJ Bennett would lead the offense on a 9 play 72 yard drive themselves. Kendall Houston would score from nine yards out, however Jordan Means would miss the point after attempt leaving the Jags behind 7-6.
After Georgia State got a first down on a clutch 3rd down completion, they would stumble due to a holding penalty and the Jaguar defense would force them to punt.
With 1:50 left in the first quarter, the Jags took over with great field position on their on 45 yard line. Then on second down, Bennett would find a ton of open green grass and would scamper for 26 yards down to the Panther 25 yard line before tripping up. However the Jags would not be able to move the ball any further. Lawson McGlon would miss the 42 yard attempt to leave the score 7-6 in favor of the Panthers.
The Jags defense would force another punt by the Panthers, however TJ Glover would fumble the punt giving the Panthers an easy chance to score at the Jaguar 14 yard line. Little would hit Jordan Giles to inside the Jaguar one yard line and would score two plays later on a quarterback sneak. With the PAT, the Panthers would go up 14-6 with 11:33 left in the second quarter.
South Alabama would answer right back with a 21 yard completion from Bennett to Courtney Smith on 2nd down to move out to the Jaguar 47 yard line. The first of three straight runs by Kendall Houston would move the ball across mid-field. With 2nd and 8 from the Panther 40, Bennett would find Bryant Lavender for a 40 yard touchdown strike. McGlon's extra point would once again put the Jags within one at 14-13 with over nine minutes left in the second quarter.
After a 15 yard kickoff return to the Georgia State 30 yard line, Tim Harvey would pick off a deflected pass at the Panther 39 yard line. The Jags would open the possession with a completion from Bennett to Ralph Turner for 24 yards down to the Panther 15 yard line. Three plays later Bennett would connect with tight end Kevin Helms for a nine yard touchdown pass to take the lead. McGlon's extra point would put the Jags up 20-14 with 6:57 left in the second quarter.
The Jaguar defense would hold the Panther offense to a three and out. South Alabama would not have an opportunity to return the punt as it was kicked out of bounds at the 20 yard line.
South Alabama would put together an impressive drive on the ensuing possession. After an incomplete pass and a five yard false start penalty, the Jaguars were facing 2nd and 15 from their own 15 yard line. Then a rush by TJ Glover would go 14 yards to the Jaguar 29 yard line. Then Kendall Houston would add six more yards for the first down and then some extra. Bennett would run for 13 yards down the left side before stepping out of bounds at the South Alabama 48 yard line. A completed pass from Bennett to Lavender would go for 18 yards to the Panther 34 yard line. Bennett would run for seven more yards followed by a Houston rush for 17 more yards to set up the Jags with a 1st and goal from near the 10 yard line. Back to back rushes would gain four yards from Glover and three more from Houston to give the Jags a 3rd and goal from the 3 yard line.
After a Jaguar time out, Bennett would throw to Jereme Jones on the left side of the endzone where he would make an amazing one-handed catch for the touchdown. McGlon kick would put the Jags up 27-14 with 41 seconds left until halftime.
Georgia State would start at their own 45 yard line after Chapuseaux's kick would dribble out of bounds on what looked like an onsides kick or a surprise squib kick. A 13 yard completion would put the ball at the Jaguar 42 yard line. On the second play, Tim Harvey would pick off his second pass from Drew Little and would return it 47 yards to the Georgia State 18 yard line with 14 seconds left.
Coach Gregory, coming downstairs in preparation for halftime, had to hurry to the sidelines to call a pass play towards the endzone to try for a touchdown without any timeouts left. Courtney Smith just could not hold onto the ball in the endzone so the Jags decided to kick a 35 yard field goal. Lawson McGlon would make it to extend the Jags lead to 30-14 with 3 seconds left until halftime.
The 3rd quarter would be pretty quiet as both teams combined for three 3 and outs in the first four possessions. But the Jags would get in gear after a Panther punt would only go 27 yards out of bounds at their own 49 yard line. Houston would carry twice to open the possession for 8 and 5 yards respectively and a first down at the Panther 36 yard line. A 7 yard completion from Bennett to Lavender would put the ball at the 29 yard line. A rush for no gain by Glover would be followed by a 22 yard completion from Bennett to Lavender at the Panther 7 yard line with a first and goal.
Houston would then run for four yards down to the three yard line before getting dropped for a loss of three back to the six yard line. Bennett would then be hurried and would step up in the pocket and find Ralph Turner for an apparent touchdown, except an ineligible receiver down field would wipe it off the board. After an incomplete pass, the Jags faced 4th and goal at the 11 yard line. Lawson McGlon would make the 28 yard field goal to extend the Jags lead to 33-14 with 3:52 left in the 3rd quarter.
Chapuseaux's kickoff would be fielded at the 9 yard line and Albert Lewis would return it 50 yards to the Jaguar 41 before being forced out of bounds. A two yard rush would open the drive for the Panthers before calling a timeout. on 2nd and 8, Andy Dalgleish would sack Drew Little for eight yards back to the USA 47 yard line. The next play would make up for it and much more as Little would connect with Danny Williams for a 47 yard touchdown to cut the lead to 33-21 with 2:11 left in the 3rd quarter.
TJ Glover would return the Panther kickoff 46 yards down to the Georgia State 38 yard line to start the next possession. Houston would power for 13 yards to the Panther 25 yard line and a first down. On 2nd and 10, Houston would rush for nine yards just shy of the first down at the Panther 8 yard line and running out the time in the 3rd quarter.
To open up the 4th quarter, Houston would run for six yards to the Georgia State 2 yard line. An pass intended for Lemontis Gardner would go incomplete in the end zone. CJ Bennett's quarterback sneak would be fumbled and recovered by the Jags at the 1 yard line to bring up 4th down. With some shouts from the crowd, Coach Jones decided to kick the field goal to extend the Jaguar lead to 36-21 with 13:25 left in the game.
Georgia State would open their drive with a 39 yard completion from Little to Sidney Haynes to get down to the Jaguar 25 yard line. A four yard completion to Danny Williams would set up for a 20 yard completion to Travis Evans for first and goal at the Jaguar 1 yard line. The quarterback sneak would net them a touchdown, but Romelle Jones would stand big in the middle and block the extra point attempt leaving the Jags ahead by nine points at 36-27 with 11:24 left in the game.
A short kickoff would be fielded by Kevin Helms and returned 14 yards to the Jaguar 44 yard line. Three consecutive runs by Houston would go for 7, 7 and 10 yards respectively to net the Jags two first downs. TJ Glover would follow up with a 17 yard rush down to the Panther 15 yard line. Then the Georgia State defense would snuff out any further Houston Rushes, holding him to one yard on two plays. A 3rd and 9 pass attempt would fall incomplete off of Kendall Houston's fingertips to bring up 4th down. McGlon would make a 31 yard attempt to put the Jags up 39-27 with 7:34 left to play.
A 26 yard kickoff return would put the Panthers at their own 44 yard line to start their next possession. The Jaguar defense would hold strong to begin the possession, but a 10 yard completion would add 15 more yards when Anton Graphenreed would be flagged for a facemask placing the ball at the Jaguar 20 yard line. An eight yard pass would put the Panthers at the Jaguar 11, but a delay of game penalty on 4th and 1 would put them back at the 16 yard line. An 11 yard completion on 4th down would give the Panthers a first down on the 5 yard line. On the next play Kelton Hill would run up the middle for the touchdown, cutting the Jaguar lead down to five points, 39-34 with 3:57 left in the game.
Starting at their own 26 yard line, faced a similar situation as the week earlier. They only needed two first downs to finish out a close game. Houston would run on the first two plays, going for 4 and 2 yards to bring up a 3rd and 4 at the Jaguars 32 yard line. Georgia State would call a timeout with 2:58 left to preserve time and prepare a defense. Bennett would find Courtney Smith for 5 yards and the first down. Houston would then run for 2 yards out to the USA 39 yard line. Another timeout by Georgia State would exhaust their allotment for the second half with 2:15 left in the game.
Houston would drive forward for six yards to bring up a 3rd and 2 from the Jaguar 45 yard line. Coach Jones would let the time run all the way down before calling a timeout with 1:28 left. Houston would find a hole and go for nine more yards and the crucial first down. With no timeouts left for Georgia State the Jags would kneel the ball twice and end the game.
South Alabama would go for 474 total yards, 293 on the ground and another 181 through the air. While Georgia State would gain the most through the air with 234 yard passing and only 46 yards rushing for 280 total yards.
South Alabama was 8 of 14 on third down conversions while Georgia State was 3 of 10. USA did not go for it on 4th down while the Panthers was 2 for 2 on 4th down conversions.
Kendall Houston would carry the ball 31 times for 175 yards and a touchdown. CJ Bennett would run 10 times for 80 yards and TJ Glover would add 35 yards on five carries.
CJ Bennett would play the entire game, going 12-of-24 for 181 yards for three touchdowns and no interceptions. Bryant Lavender would lead the receivers with four catches for 87 yards and a touchdown. Courtney Smith would add four more catches and 52 yards. Three other Jaguars caught passes.
Georgia State's leading running back was Kelton Hill with three rushes for 25 yards and a touchdown. Travis Evans added 6 carries for 14 yards.
Drew Little would go 20-of-34 for 214 yards, two touchdowns and two interceptions. Danny Williams would catch 5 passes for 82 yards and a touchdown. Sidney Haynes would catch 4 for 50 yards and the other touchdown. Six other receivers caught passes for the Panthers as well.
Lawson McGlon went 4-of-5 kicking field goals. Making kicks of 35, 28, 18 and 31 yards and missing one from 42 yards. Jordan Means would miss one PAT attempt and McGlon would make his three attempts.
Coach Jones remarked after the game, "We got ahead at halftime by playing really well offensively in the first half, and the defense made adjustments and played well after the first drive. We've been ahead a lot at halftime and the other team would fold, but this team didn't fold. They came back out and got rolling on offense, and just played much better in the second half. My hat's off to the Georgia State team for coming back and making a really good game out of it."
Georgia State head coach Bill Curry remarked on the South Alabama program after the game. "I'm very much an admirer of coach Jones and the South Alabama program. I have been since the beginning," explained Curry. "The way they do things, their emphasis on academics, integrity, the way they win, the way they dominated the turnover margin in their games and the way they had dominated the fourth quarter coming into our game. We hope to become a more consistent team and do a better job, so we can match up with them the next time we play, and we will get that done."
South Alabama will host Henderson State for homecoming on Saturday, November 6 with kickoff scheduled for 4pm.
South Alabama Head Coach Joey Jones talks with Courtney Smith during a stoppage in play against Lamar University in Beaumont, Texas.
South Alabama's game against UC-Davis really lived up to its billing. It had excitement, adversity, tough play, heart and a little luck. This recipe came out in favor of the Jaguars, 24-21. But most of all it answered some lingering questions that Coach Jones wanted answers to. The Jags were behind against Nicholls State early in the game, but pulled away in the second half. However, the Jags needed some fourth quarter heroics and a little luck to pull out the win in California.
The Jags had to overcome four turnovers, two interceptions thrown by Brennan Sim and two fumbles, one from Sim and another by Bennett late in the game and frankly nearly disastrous, for the win. However, the defense continued to step up and make plays when necessary. Anthony Taylor made two crucial sacks on the final Aggie drive to set up the attempted field goal to send the game into overtime.
Coach Jones wanted to see what his team could do if they were down in the fourth quarter. He wanted to see how his kids would respond having to play a full four quarters of football. Well, he got his answer alright.
"We came through at the end, the defense did a great job," said head Coach Joey Jones. "We fumbled the ball on the 30, but we sacked them and made them kick a field goal that was fortunately wide right."
"I have to tell you, UC-Davis is a great, first-class football team," Jones continued. "We came out to California and beat an extremely good football team tonight. They have great players and are very well-coached team. We had so many setbacks during the game, whether it was penalties or turnovers, but never had the feeling we were out of the game. Our kids kept playing hard. It's just a great statement for our program. People have been asking me all year long, and I know where we are now; we beat a great I-AA program that won its conference last year, is probably going to win it this year, and beat San Jose State this season. We're up there. Are we Division I-A yet? No, but we're probably close."
The Jags will return to Ladd-Peebles stadium to round out their season with three consecutive home games. The first of which will have Georgia State, in their first season of football, coming to Mobile coached by former University of Alabama head coach Bill Curry on Saturday, October 30th. Kickoff is scheduled for 4:00pm.
Continue for a more detailed breakdown of the game.
Read more
The Jaguar offensive line lines up against the Lamar defense. They helped Kendall Houston rush for 166 yards, the new single game record for Jaguar running backs, and did not allow a sack in the game.
South Alabama went on the road to Beaumont, Texas to begin their season-defining three game stretch and came home with a big win and a huge statement, 26-0. The Lamar Cardinals had averaged just over 341 yards per game but were held to a season low of 161 yards of total offense as the Jaguar defense came out ready for a big fight.
The Jags were quite conservative with their play calling in the game. After losing your first string running back to a season ending ACL tear, it was good play calling on Coach Gregory and Coach Jones' part. While the scoreboard did not show what the Jaguar faithful were used to, it was definitely a resounding win.
The defense would score the only touchdown in the first half and the offense would only score one touchdown in the game. The rest of the scoring rested on the foot of Lawson McGlon who was officially 4-for-5 in the game but did make a kick that was nullified by a penalty. So a position that, at the beginning of the season, looked like it could lose a close game turned out to be the one that put the game out of reach.
"We sputtered somewhat on offense when we got the ball into the red zone, but we moved the ball well between the 30s," said Coach Joey Jones after the game. "We had to settle for four field goals, but when you're on the road sometimes that happens. I'm really proud of Kendall and the way he came in for Brandon after we lost him last week. He really stepped up and ran like a Division I running back tonight."
"We know that UC Davis is a very good team. They've beaten San Jose State and won their conference last year," Coach Jones stated on their upcoming opponent. "They're a very sound team, we are going to have to go out to California and see what we've got. But, our kids are real excited about that. We're trying to take this thing with baby steps, and we've taken some big steps already. It's a great win, but where we stand I don't know. At the end of the year I think we'll be able to look back and see where we are as a team. All I know is that we came on the road, and were on the bus for six hours. The kids did a great job being focused, and we played a great ballgame. It's a big win for our program."
"You have to play great defense on the road, and we did that tonight," Coach Jones commented. "I'm real proud of the staff and players. They played lights out tonight. They knew this was their first big challenge, and answered that call."
The Jaguars did not come out of the game unscathed. Unfortunately Chris Brunson suffered a broken ankle in the first half of the game against Lamar and will be out for the remainder of the season. Brunson was also a backup to Trey Clark, the center, who suffered a sprained ankle but should be okay. Coach Jones will probably try Brian Krauskopf in practice until Clark's ankle is better and to give him experience in case he is needed in a game situation.
The Jags travel to Davis, California to face the Aggies of UC-Davis in a 4pm (Central, 2pm Pacific) game against their second of three consecutive FCS teams and their second in a row on the road. For a more detailed breakdown of the game, continue below.
Brandon Ross scores a touchdown early in the Jags game against Missouri S&T.
The Jags stay undefeated when another big win at home against Missouri S&T, 45-6. They improve to 5-0 on the season and 12-0 overall in the programs history.
Jordan Means opened up the scoring with a career-long 36 yard field goal on the Jags opening drive, just two and a half minutes into the game. The drive covered 41 yards in six plays but stalled and had to settle for the field goal.
Brennan Sim, the starting quarterback, took the first four snaps, including completing a pass to Courtney Smith for 29 yards. However, on a scramble the lowered his head for a few extra yards but was hit hard and had to leave the game. Myles Gibbon came in on third down but his pass to Courtney Smith was incomplete forcing the field goal attempt.
The Jags held the Miners and forced a punt. On the subsequent South Alabama possession, Sim returned to the field. Sim then completed his first pass attempt to T.J. Glover for 14 yards. Then two snaps later Sim was sacked and fumbled the ball which Missouri S&T recovered at the USA 26 yard line.
On the first play, Missouri S&T ran for one yard but offsetting penalties, holding on MS&T and a horse-collar tackle on USA, nullified the play. Missouri rushed twice for two yards on the first and no gain on the second. Then facing third and eight at the USA 24 a pass reception by Chad Shockley from Steve Watson for 13 yards got the Miners down to the Jaguar 11 yard line. The following play was an 11 yard touchdown reception again by Chad Shockley. However the extra point attempt was blocked, leaving the Miners with a 6-3 lead with 5:15 left in the first quarter.
C.J. Bennett was under center for the next South Alabama possession. The opening play was a run by Ralph Turner for eight yards to the USA 41 yard line, but a holding penalty put the Jags back at the 31 yard line. On first and 12, Bennett's pass attempt to Lemontis Gardner was incomplete, but the very next play Bennett hit Corey Waldon for a 42 yard gain to the Miners 27 yard line. Brandon Ross followed it up with two rushes, one for 13 and another for 14 to score the answering touchdown. With the Jordan Means extra point the Jags regained the lead 10-6 with 3:10 left in the first quarter.
On the subsequent MS&T possession, after an incomplete pass and a two yard rush, Enrique Williams sacked the quarterback Watson for 14 yards causing a fumble. Randon Carnathan picked up the fumble and returned it eight yards for the touchdown. Means point after was good extending the Jags lead to 17-6 with 1:50 left in the first quarter.
Missouri S&T's next possession went 25 yards in nine plays covering 6:10 before being forced to punt, which was downed at the Jaguar five yard line.
C.J. Bennett handed off to T.J. Glover for three yards. Then Kendall Houston ran for another ten yards to give the Jags some breathing room. Bennett tried to connect with Ryne Baxter but the ball fell incomplete. Then the following play he hooked up with Corey Waldon for 16 yards. Another incomplete pass before another Kendall Houston rush for 25 yards put the Jags at the Miners 41 yard line.
Following a time out by South Alabama, a rush by Bryant Lavender for 38 yards to the three yard line. Houston then plunged in for the touchdown. The Means PAT made the score 24-6 with 7:28 left in the second quarter.
The Jaguars defense held the Miners to -4 yards in a three and out on their next possession. The punt went 39 yards but Jereme Jones got most of it back on a 20 yard return to the Missouri 39 yard line.
It only took the Jags three plays to score. A six yard run by C.J. Bennett to the 33 yard line. Brandon Ross then rushed for 22 yards to the 11 yard line. However, Ross would need to be helped off the field with an apparent knee injury. Kendall Houston would cap off the drive with an 11 yard rush for the touchdown. With the Means PAT, the Jaguar lead extended to 31-6 with 4:10 left in the second quarter.
Again the Jaguar defense shut down the Miner offense with another three and out punt. The Jaguars started at their own 40 yard line. Bennett's two passing attempts went incomplete. Then on third and ten Bennett was sacked and fumbled which was recovered by Missouri S&T at the Jaguar 31 yard line.
The first Missouri play was a 15 yard completion to the Jaguar 16 yard line. Following an incomplete pass, Watson completed a pass for a loss of one yard. Then on third and 11, an incomplete pass brought up fourth down. Missouri S&T then faked a field goal but only managed to gain three yards before Justin Dunn made the tackle.
The Jags ran out the final 54 seconds of the first half with two rushes by Ellis Hill for seven and eight yards respectively.
Missouri received the kickoff to begin the second half and started at their own 12 yard line. The Jags defense started the half with big to force a three and out. The Miners punt went 43 yards but Jereme Jones returned it 24 yards to the Miners 34 yard line, but a face mask penalty on Missori put the ball at the Miner 19 yard line.
Gibbon connected with Courtney Smith for 14 yards to the five yard line. Santuan McGee came up a yard short, only gaining four of the needed five yards. But Gibbon would plunge in for the score on the next play. The extra point put the Jaguar lead at 38-6 with 12:28 left in the third quarter.
On a drive that ended the third quarter and began the fourth quarter, the Jags had another scoring opportunity. The Jags drove 54 yards in eight play and getting down to the Miner four yard line before facing a fourth and three at the six yard line. Lawson McGlon attempted a 23 yard field goal but his plant foot slipped causing him to fall but the kick went wide left.
Later in the fourth quarter, Missouri started at their own 12 yard line. After a time out before the Miners third and two, they come up short on a rush and only gained one yard. Then, after a bad snap, the punter picked up the ball and tried to run for the first down but ended up losing five yards.
Santuan McGee would run four consecutive times for three, three, three and seven yards respectively before scoring the final touchdown of the game.
South Alabama gained 202 yards on 33 rushes and 167 yards passing for a total 369 yards. The Jaguar defense only allowed 71 yards on 41 rushes and 83 yards passing for at total of 154 yards.
South Alabama had several players run the ball. Brandon Ross rushed 6 times for 55 yards before leaving with a knee injury. Kendall Houston ran 4 times for 49 yards, Bryant Lavender ran once for 38 yards, Ellis Hill seven times for 29 yards and Santuan McGee six times for 21 yards. While several others also ran the ball for single digit yards.
Six Jags caught passes. Courtney Smith caught three for 73 yards, Corey Waldon caught two for 58 yards, T.J. Glover caught one for 14 yards and Richard Ross caught one for 11. Two others had one reception each.
C.J. Bennett went 5-for-10 for 107 yards. Gibbon was 2-for-4 for 17 yards and Brennan Sim was 2-for-2 for 43 yards.
Enrique Williams finished with a career high eight tackles and a forced fumble. Ben Giles added seven tackled while Justin Dunn added six himself with each of them with two tackles for loss. Tim Harvey and Jake Johnson had five tackles each and Ken Barefield and Alex Page each had four tackles. The defense held the Miners to an average of less than two yards per rush.
Coach Jones commented on the Jaguars performance after the game. "I thought the defense played very well. Obviously, early they made a drive, but as always our coaches on the sideline made adjustments and our kids adjusted to what they were doing. From that point on, they did a really good job. I was real proud of them today."
Coach Jones commented on Brennan Sim returning to the sidelines after halftime without his shoulderpads. "Brennan got dinged a little bit, and we had to get him out. C.J. came in and played well. It seems like each game that there is a quarterback who steps into the mix and plays well. It's more of a feel thing that we go with each game. I thought C.J. had a great game today."
The Jags will go on the road for their next two games. The first is in Beaumont, Texas against Lamar for a 6pm kickoff. However reports are that Brandon Ross will have an MRI on his knee on Monday so the Jags appear to be without their number one running back going into their two game road swing.
Coach Jones commented about the players and the upcoming road games. "They know these upcoming weeks are going to be tough; we have to travel to Texas and California, and come back here and play Georgia State after that. As competitors we're looking forward to that. They're excited about getting on the road, going on a six-hour bus trip and playing a very good Lamar football team."
October is shaping up to be a huge month for South Alabama football with games against Lamar, UC-Davis and Georgia State. The first two being road games. We will soon see much this team has grown and how far they are on their roadmap to Division I-A play.
Go Jags!