C.J. Bennett and Brandon Ross lead the Jaguar offense in Saturday morning's scrimmage for the South Alabama. Ross scored three touchdowns on four carries while Bennett threw for 117 yards and two touchdowns while going 9-of-10 in the scrimmage at Ladd-Peebles Stadium.
Ross' first rush of the scrimmage was a four yard gain before crossing the goal line from one yard out on his second carry in a red zone possession for the offense. On the second snap after the mid-scrimmage break, Ross took the ball down the sideline for a 55 yard touchdown. Later in the scrimmage he got one more carry for a two yard touchdown. He racked up 62 of the 141 yards of rushing offense on the day to lead all Jaguars.
Ross is returning from a near one-and-a-half year absence following a knee injury in the 2010 season. Ross was the Jaguars' leading rusher in 2009 and 2010 at the time of his injury.
Bennett led the first team offense on a 97 yard, 11 play drive for its first possession of the scrimmage. He completed six passes for 80 yards of the drive. He opened with a seven yard pass to T.J. Glover, he later found Bryant Lavender for 13-yards on two occasions and also found Tyrome Bivins for 12 yards to get to midfield. Demetre Baker added a two yard run before Bennett hit Jake Howton for 23 yards. Bennett rounded out the drive with a 25 yard strike to Cameron Broadnax for a touchdown.
Bennett only led the offense one other time. That drive spanned 65 yards in seven plays and it was capped off by a 31 yard touchdown pass to Baker.
The first team defense only surrendered two field goals on the day. The final field goal allowed came on a red zone possession at the 15 yard line.
Ben Giles and Anthony Taylor both lead the team with seven tackles each. Taylor added two pass-breakups to his total as well. Jesse Kelley added six tackles. Giles and Kelley both were credited with 1.5 tackles-for-loss. Randon Carnathan and Enrique Williams recorded three tackles each while Davin Hawkins led the reserves with five tackles.
Offensively, Terrance Timmons rushed five times for 29 yards, Ellis Hill had four rushes for 18 yards and Baker added 17 yards on the ground. Broadnax, Glover and Lavender along with Nathan Sassaman all had two catches each as they combined with four different quarterbacks to tally 181 yards through the air.
Michel Chapuseaux made field goals from 37, 42 and 39 yards. Aleem Sunanon convered the final score of the scrimmage with a 32 yard field goal.
"Offensively and defensively, it was good," Head coach Joey Jones said about the scrimmage. "Overall I'm sure we're going to see some things on film that we need to correct. But we're not quite where we need to be on special teams, and our sideline organization needs to get better. It wasn't terrible, but there are some things that we have got to shore up. That's why we do this. I think we will come out next week and do it again, and hopefully we will be perfect at it when we come out on Thursday."
"We are evaluating our players and will see where we are on the depth chart, and make those decisions this weekend," Jones continued. "Monday we'll starting putting the game plan in for Texas-San Antonio, we'll have a few extra days to getting ready for them."
"I was monitoring a couple of spots, but we still had to do things against our offense," said defensive coordinator Bill Clark. "We got our first guys a lot of good work, I thought we tackled well and got to the ball. Our goal was to go 100 percent on our assignments today, we'll have to see the film, but I think we looked pretty sound. It's basically what we wanted to see. We've still got work to do, but it was a good finish to camp."
"I thought the defense came out and stopped the run pretty well and I thought they got after it," coach Jones said about the defense.
Senior Safety B.J. Scott felt that Saturday's scrimmage was better than the first one of the preseason. "We just had that in the back of our heads and we came out here and just got after it," he said. "I think we all as a whole feel a little bit more comfortable and focused. It's all mental at this point. We're pretty much done beating up on each other."
"Fundamentally we have improved a lot since camp started," offensive coordinator Robert Matthews said. "We were able to execute a lot of base plays early today, in the second part of the scrimmage we tried to do some different things that we have been working on. Our guys know what to do, now it is just doing it at the speed and the tempo we expect. I think we are getting closer but are not there yet."
The Jags returned to the practice field on Sunday so the student-athletes can take Monday off for the first day of fall semester classes.
After the first three practices, although the Friday practice was shortened to about an hour by incliment weather, the Jags got a well deserved day off on Sunday. When the team returned to the practice field Monday morning, the Jags put on an impressive showing.
The players were in shells for the second straight practice which spanned nearly three hours at the Jaguar Practice Facility on the campus of the University of South Alabama. It began with almost 45 minutes of individual skill work by both the offense and defense. Then inside drills began with receivers and defensive backs going one-on-one.
Nearing half-way, the team took a five minute break from the increasing heat of the morning to cool off in the shade provided by an open sided building with cooling fans and gatorade. Before returning to the fields, the Jags had a quick warmup stretch and workout.
When they returned to the field, the offense ran about 16 plays against the defense in the first of two team periods during this practice. They also had a pair of skeleton passing drills which spanned about 10-minutes each. The first was in the open field and the second was near the end zone.
The final of the two team periods was over 20 plays in duration near midfield. C.J. Bennett completed passes to five different Jaguars during the period. Jake Howton caught passes from Bennett and Trey Fetner. But the highlight of the session was a great throw and catch from Bennett to Greg Hollinger down the left sideline. Hollinger made the move from wide receiver to tight end in the spring.
Jaguar head coach Joey Jones commented after practice about the improvements made after the day off. "I thought it was a very good day, we definitely got better in practice today," he said. "There were some mistakes, they always happen, but overall I thought we improved. The kids came to practice. It was almost a three-hour practice out here and they gave great effort. We had a little lull in the middle, but they fought through and got better at the end. We're learning and fighting through, we didn't have anyone cramping today, so it was much better."
Coach Jones also commented how much the secondary has improved. "In the secondary, at the corner position, our coverage is much better," he continued. "They are playing a lot of man-to-man and able to cover guys. They got beat a couple of times, but the coverage there is getting much better in the secondary."
The Jags will take the field on Tuesday in full pads for the first time in preseason camp. "I'm anxious to see what will happen," Coach Jones said about donning full pads for the first time. "It's not going to change much, we're not going to tackle a lot, it's going to be similar to today. Inevitably, when you get the pads on it livens up a little bit, I think something triggers in their heads that they are supposed to go a little harder. We're looking forward to it, the great thing about it is you can have the ones go against each other on the line of scrimmage, you can really get something done without worrying about anybody getting hurt."
Other players of note: Cameron Broadnax, a true freshman wide receiver, has looked good through the first four days of practice. The Jags have a number of smaller receivers, Broadnax's size will definitely help the Jags.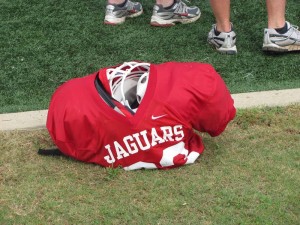 The Jaguars backed off some in Wednesday's practice by hitting the practice fields in shells ahead of Thursday's scrimmage.
The usual flow of practice continued with special teams focusing on kickoff returns which was followed by individual work, skeleton passing drills and inside drills. Later in practice, the team faced the scout teams for about 30 minutes with the offense running over 30 plays on the turf field while the defense ran plays on the grass field.
A 10 minute segment near the end of practice focused on two-mintue drills. Both the first team and the second team defensive units prevented the offense from putting up any points. The second team had a chance after Trey Fetner completed a long pass to Jake Howton down the left sideline to set up a field goal attempt. However missed in the waning seconds of the drill.
The Jags ended the practice with more special teams work focusing on kickoff coverage.
Coach Jones thought it was a good practice, but he had one concern. "I thought it was a really good practice, though we lost our focus a little bit at the end. Just watching the offense I thought we had some missed assignments late. But other than that, it was a great practice. We have to learn to focus at the end when it's the fourth quarter and we're a little tired and it's hot."
Coach Jones also previewed the Thursday scrimmage. "We'll start off with kickoff and bring the defense out," he said. "We'll run a few plays and have the punt return team come out, we'll play it just like a game. Every situation can come up, I have a script that we go through that will include situations that we haven't been able to cover in practice; special things like taking safeties, kickoff return after a safety and the last play of the game where we take a knee."
The Jags will return to the Jaguar Practice Facility in full pads on Thursday for the situational scrimmage. No time was announced for the srimmage.
South Alabama held their first scrimmage of preseason camp on Saturday in conjunction with Fan Day at Ladd-Peebles Stadium. They also debuted their new blue uniforms as well, but it not know when and how often they may be used this season.
The first half of the scrimmage was not open to the fans to view but the offense scored three times. The first team offense scored a touchdown and a field goal, while the second team offense added another field goal on their final possession before a break.
C.J. Bennett lead the offense on a 10 play 57-yard drive leading to a Jordan Means 30-yard field goal. Demetre Baker carried the ball four times for 39 yards in his only appearance of the day. Bennett also connected with Corey Waldon for a 25 yard completion on the drive.
On the first team's last possession, Bennett lead a 60-yard, seven-play touchdown drive. Santuan McGee would pick up the first first-down of the drive on an 11 yard rush. McGee would finish with 26 yards on five attempts. J.J. Keels would move the chains again after rushing for eight and four yards respectively. Bennett would move the the team into the red zone after a 13-yard strike to Waldon. The very next play appeared to be a touchdown pass from Bennett to Waldon again, but it was negated by an offensive pass interference call.
Keels would move the ball 16 yards before Devin Robinson would find the end zone on an 18-yard run.
Trey Fetner lead the second team on a 54-yard drive that culminated in a 28-yard field goal by Michel Chapuseaux on the final snap before the break.
Fetner completed a pass to Jake Howton for 47-yards of the 54-yards the drive covered on a post pattern. Devin Robinson also rushed three times for 12 yards after the big completion.
The only score of the second half came on the next to last series. Fetner found Anthony Ingram open down the middle of the field for the 40-yard touchdown pass.
The Jaguar offense gained 328 yards and averaged just under five yards per play for the day. Fetner went 4 of 7 passing for 106 yards and a touchdown. Bennett finished 2 of 4 for 38 yards. J.J. Keels carried the ball 13 times for 74 yards and Devin Robinson rushed 14 times for 57 yards.
On the defensive side of the ball, Desmond LaVelle lead the team with seven stops total, five of them were unassisted. Cori Barnett and Cordivido Grice also added five stops themselves. B.J. Scott and Damond Smith added three tackles for the first team. Ameriol Finley, Ben Giles, Maleki Harris, Ceasare Johnson and Ramon Lewis all added three tackles for the second and third team units.
The scrimmage ended with some special teams work on kickoff returns and placekicking. Each kicker attempted three field goals each. Jordan Means split the uprights from 37, 40 and 50 yards. Chapuseaux made a 49 yard attempt and Lawson McGlon also made a 45-yard attempt.
"I thought we responded well today," said coach Joey Jones after team's first live scrimmage. "We put them in some situations that they hadn't been in in practice where you are tackling full speed. There is a difference, I don't care who you are and how hard you practice — and we practice hard — games are different because there is that little extra burst that you always have to give. We realized in the scrimmage today that we have to do a little bit more of this where they are used to game-type situations. I thought they got a little tired, but that's due to the fact that we've been practicing 10 days in a row. The bottom line is they need to realize that the game is a little different than practice. The kids are fighting through it, I thought they gave good effort."
Coach Jones continued speaking about the running backs in this scrimmage, "Of course Kendall Houston didn't play today and Demetre, we got him out after about six plays. We know good and well what he can do. We're trying to develop some depth, and J.J and Devin looked good. And Santuan has always looked real good, so we feel like we've got five guys back there that can play."
"We had plans to have our No. 1 units go in there for 15-18 plays then have the twos and threes work a good bit today, which is what we did," Jones commented. "I thought the offense picked it up today and put some things together. It had been looking pretty bad the last few days to be honest, the defense had kind of been dominating them. The offense played a little better today, it was good to see them fight back."
"We've got some good freshmen, I believe they are going to find some playing time," Jones finished. "We're going to have to make a decision next weekend after the scrimmage whether to redshirt them or play them; that's a valuable decision. Some of those guys are stepping up and could fill some starting roles before long, but we'll see how things progress."
Jake Johnson, finished with an unassisted sack at inside linebacker, spoke after practice about the scrimmage. "I think we got game speed, because in practice we're going full speed to the ball but we have to slow up and not hit. Today it was up tempo with linemen coming off hard and cutting us, running backs were running hard. We're not there yet, but it was good for a first scrimmage to see that and where we need to be."
The team will be off on Sunday to rest. They will return to practice at 6:15am on Monday at the Jaguar Practice Facility.