South Alabama held their first scrimmage of preseason camp on Saturday in conjunction with Fan Day at Ladd-Peebles Stadium. They also debuted their new blue uniforms as well, but it not know when and how often they may be used this season.
The first half of the scrimmage was not open to the fans to view but the offense scored three times. The first team offense scored a touchdown and a field goal, while the second team offense added another field goal on their final possession before a break.
C.J. Bennett lead the offense on a 10 play 57-yard drive leading to a Jordan Means 30-yard field goal. Demetre Baker carried the ball four times for 39 yards in his only appearance of the day. Bennett also connected with Corey Waldon for a 25 yard completion on the drive.
On the first team's last possession, Bennett lead a 60-yard, seven-play touchdown drive. Santuan McGee would pick up the first first-down of the drive on an 11 yard rush. McGee would finish with 26 yards on five attempts. J.J. Keels would move the chains again after rushing for eight and four yards respectively. Bennett would move the the team into the red zone after a 13-yard strike to Waldon. The very next play appeared to be a touchdown pass from Bennett to Waldon again, but it was negated by an offensive pass interference call.
Keels would move the ball 16 yards before Devin Robinson would find the end zone on an 18-yard run.
Trey Fetner lead the second team on a 54-yard drive that culminated in a 28-yard field goal by Michel Chapuseaux on the final snap before the break.
Fetner completed a pass to Jake Howton for 47-yards of the 54-yards the drive covered on a post pattern. Devin Robinson also rushed three times for 12 yards after the big completion.
The only score of the second half came on the next to last series. Fetner found Anthony Ingram open down the middle of the field for the 40-yard touchdown pass.
The Jaguar offense gained 328 yards and averaged just under five yards per play for the day. Fetner went 4 of 7 passing for 106 yards and a touchdown. Bennett finished 2 of 4 for 38 yards. J.J. Keels carried the ball 13 times for 74 yards and Devin Robinson rushed 14 times for 57 yards.
On the defensive side of the ball, Desmond LaVelle lead the team with seven stops total, five of them were unassisted. Cori Barnett and Cordivido Grice also added five stops themselves. B.J. Scott and Damond Smith added three tackles for the first team. Ameriol Finley, Ben Giles, Maleki Harris, Ceasare Johnson and Ramon Lewis all added three tackles for the second and third team units.
The scrimmage ended with some special teams work on kickoff returns and placekicking. Each kicker attempted three field goals each. Jordan Means split the uprights from 37, 40 and 50 yards. Chapuseaux made a 49 yard attempt and Lawson McGlon also made a 45-yard attempt.
"I thought we responded well today," said coach Joey Jones after team's first live scrimmage. "We put them in some situations that they hadn't been in in practice where you are tackling full speed. There is a difference, I don't care who you are and how hard you practice — and we practice hard — games are different because there is that little extra burst that you always have to give. We realized in the scrimmage today that we have to do a little bit more of this where they are used to game-type situations. I thought they got a little tired, but that's due to the fact that we've been practicing 10 days in a row. The bottom line is they need to realize that the game is a little different than practice. The kids are fighting through it, I thought they gave good effort."
Coach Jones continued speaking about the running backs in this scrimmage, "Of course Kendall Houston didn't play today and Demetre, we got him out after about six plays. We know good and well what he can do. We're trying to develop some depth, and J.J and Devin looked good. And Santuan has always looked real good, so we feel like we've got five guys back there that can play."
"We had plans to have our No. 1 units go in there for 15-18 plays then have the twos and threes work a good bit today, which is what we did," Jones commented. "I thought the offense picked it up today and put some things together. It had been looking pretty bad the last few days to be honest, the defense had kind of been dominating them. The offense played a little better today, it was good to see them fight back."
"We've got some good freshmen, I believe they are going to find some playing time," Jones finished. "We're going to have to make a decision next weekend after the scrimmage whether to redshirt them or play them; that's a valuable decision. Some of those guys are stepping up and could fill some starting roles before long, but we'll see how things progress."
Jake Johnson, finished with an unassisted sack at inside linebacker, spoke after practice about the scrimmage. "I think we got game speed, because in practice we're going full speed to the ball but we have to slow up and not hit. Today it was up tempo with linemen coming off hard and cutting us, running backs were running hard. We're not there yet, but it was good for a first scrimmage to see that and where we need to be."
The team will be off on Sunday to rest. They will return to practice at 6:15am on Monday at the Jaguar Practice Facility.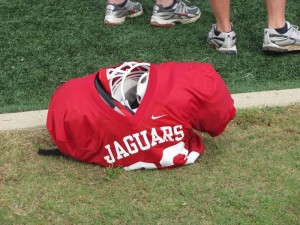 South Alabama had their first two-a-day practice on Tuesday. In their morning practice, they had a very physical and vigorous workout that might have been a preview for the Fan Day scrimmage coming up on Saturday, August 13.
Practice began with special teams work with roughly the first 10 minutes were devoted to work with the punt team. After that, the offense worked on individual and group work which featured screen drills along with routes for tight ends, receivers and running backs.
The next session had the offense and defense working on the running game, both inside and outside, along with play-action passing. The offense then went to skeleton passing drills against the their defensive counterparts. While the skeleton drills were going on, the offensive line worked on pass protection against the defensive line.
The team then took a 10 minute break from the heat before resuming practice. After a stretching session, the offense took the field against the scout team working primarily on reverses.
The offense and defense then took the field against each other. The first 12 plays from scrimmage were snapped from the offense's 20-yard line. Demetre Baker took the first ball for no gain. Then Myles Gibbon recovered a fumbled from a low snap which resulted in a loss of yards for the offense. Kendall Houston then rushed for 15 yards on the third play which was followed by a six-yard run by Devin Robinson. Baker kept the momentum with a 10-yard rush on fifth play.
Read more
The Jaguars started their second week of preseason camp by donning full pads for the first time in this preseason camp. They actually got a bit of a break from the heat due to early morning cloud cover over the practice facility.
The team began with their normal special teams period of about ten minutes. They then moved onto individual and group drills which lasted around 30 minutes.
The offense and defense came together to work on the inside and outside running game before moving onto skeleton passing drills. About halfway through practice the Jags had a short break.
After the break the Jags went into team drills. The offense and defense began by facing scout teams before coming together to face each other. This full team drill again focused on third down situations. The defense came on strong in this period with three sacks and an Anton Graphenreed interception. The drill ended with the defense forcing three consecutive incomplete passes.
Practice ended with special teams focusing on punt returns.
"It was a good first day in full pads, though we've been hitting anyway before this morning.  It was lively," said head coach Joey Jones. "Practice went well even though we had a few guys on the ground. One thing I talked to the team about, if we can practice 100 percent hitting all the time with nobody getting hurt that's what we want to do. We just have to learn how to practice, though we are 90 percent there; we're getting close. If we can do that we'll be a better football team. They are giving great effort, and it is always better to pull them back than push them forward. I think they have a great attitude toward practice. They care about it and are competitive. It's those traits that are going to win us some ballgames."
Three freshmen caught Coach Jones' eye in todays practice. He singled out Desmond LaVelle and Maleki Harris, both linebackers, for their performance. Coach Jones also mentioned Devin Robinson, a running back, for his performance as well.
Coach Jones continued talking about their strategy this week with the start of a few two-a-days as well as six consecutive days of practice. "We're going to have to get after it again tomorrow, but we have to be smart about it and pull back sometime this week because we are going six days in a row," Jones said. "We'll meet as coaches every day and evaluate where we are so we know when to push and when to back off. We've got some veterans who have been around and don't need as many reps, so my goal is to get other guys in there and let the young players work. We won't look quite as good, but I don't care because we are trying to get those other individuals ready. The goal is to develop some depth this week and be smart about what we are doing."
Tuesday will be the first of three two-a-day practices that are scheduled for the team. The first practice will be in full pads at the normal 6:15am time then afternoon drills will begin at 4:30pm in shirts and helmets while focusing primarily on specials teams.