Elijah McGuire led the Louisiana-Lafayette Ragin' Cajuns with 223 yards rushing and past the Jags (1-2, 0-2 Sun Belt) 28-23 at Cajun field.
It was a game of big plays.
After a halftime score of 9-7 in favor of Lafayette, the Cajuns scored on plays of 71- and 68-yards in the second half as they outgained South Alabama 512-338 in the game.
It was looking dire with 4:46 left in the third quarter with the Jaguars trailing 22-7 but a 31-yard pass to Kutchera got the offense in gear. A few plays later and quarterback Dallas Davis connected with tight end Grant Powell for an 18-yard touchdown to make it 22-14.
Two plays later Neiko Robinson intercepted the Cajuns pass at the Lafayette 32. Facing third and goal at the 3, the Jags lined up in the wildcat with Tryeis Thomas and Lafayette called a time out to adjust their defense accordingly. The Jags came back with the same formation and Thomas was dropped for a three yard loss. Head coach Joey Jones settled for a field goal to chip away at the Cajun lead at 22-17.
On the next possession, the Jags defense forced another turnover, this time Jeremy Reaves earned the interception at the Jaguar 32 yard line.
McKee pinned the Cajuns at their own 11 yard line but a few plays later McGuire found a hole up the middle of the Jaguar offense and took it 68 yards for a touchdown. The two-point conversion failed leaving the Jaguars with an elevent point deficit at 28-17.
After trading possessions, the Jags got their offense in gear again with a 34-yard pass from Dallas Davis to Quinton Lane. Two plays later Davis would connect with Gerald Everett for the touchdown. The two point conversion also failed for the Jags leaving them down 28-23.
Unfortunately, the Jags defense couldn't get the ball back to the offense for one last shot.
Defensively, the Jags are definitely missing their three injured defensive linemen. What promised to be a strong position with depth suddenly became thin and inexperienced in less than a week during preseason camp.
Offensively, the Jags were inconsistent for a chunk in the middle of the game and the defense got winded opened the door for some of the big plays.
The Jags will look to regroup against Nicholls State next week in the first of a two game home stand. The Colonels lost a close game last week to Georgia 26-24. They need to get more consistent before San Diego State arrives the week after.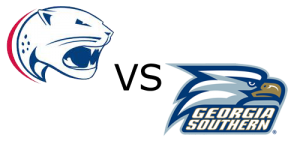 The Jaguars ran into a stingy and persistent Georgia Southern team on Saturday afternoon and came up on the losing side, 24-9.
The Eagles rushed for 304 yards in the game, yet the Jaguar defense only allowed 24 points in the contest. However the Jaguar offense was unable to find the end zone and could only muster three field goals.
Early in the game the Jaguars, who were already thin on defense, lost Devon Earl after being leveled by a violent blind-side block. In addition, the Jags had other players shaken up at times during the game further compounding the Jaguars woes defensively throughout the game.
But coach Wommack and his players never gave up and were able to hold the Eagles to only 24 points unlike last seasons 55-17 beatdown.
Roman Buchanan, who had a career game with 13 total tackles, said after the game that "There are no moral victories…", but there was marked improvement on defense.
Offensively the Jaguars were hindered all evening by a stingy Georgia Southern defense who seemed to always be in the right place and delivered some punishing hits.
South Alabama finished the game with 352 yards of offense, only 73 of them were on the ground. Meanwhile the Eagles rolled up 441 yards with 137 of them through the air.
Late in the game the Jaguars were driving to make it a one-score game, but Dallas Davis' floating pass to the right side of the end zone was picked off fof his first interception of the season.
The Jags (1-1, 0-1 SBC) will travel to Louisiana Lafayette (1-1, 0-0 SBC) looking for their first conference win of the season.
Barely 24 hours removed from the Jaguars most significant win in the short history of the program, it's still surreal.
Just a few years ago it was a hope and a dream. Today it's another mark in Jaguar history.
I told people after the Jaguars first trip to Starkville in 2012 and they played with heart and determination but fell 30-10 that I truly believed that South Alabama would take one of the two remaining games against the Bulldogs.
Offensive coordinator Bryant Vincent entered the game with the knowledge that the Mississippi State defense was susceptible. Everett and Magee played for him at UAB and they gave the Bulldogs just about everything they could handle, but they came up short. This was his opportunity to try again.
The South Alabama defense, in their first game under the direction of defensive coordinator Kane Wommack and his swarm defense, came out and forced the Bulldog offense into three-and-outs in their first two possessions. But a change at quarterback sparked Mississippi State on their third possession when he completed his first pass for a 19 yard gain into Jaguar territory. A few plays later and the Bulldogs would find the endzone for a 7-0 lead.
The Jaguars under the leadership of sophomore Dallas Davis at quarterback would gash the secondary with some big gains like a 29 yard completion to Gerald Everett to start their drive and completions to Josh Magee for 25 and Tyrone Williams for 12. But their first scoring attempt of a 37 yard field goal from the right hashmark would bounce off of the left upright no good.
Mississippi State would capitalize on the opportunity however. Fred Ross would take the handoff on the first snap 46 yards to the Jaguar 34 and put the Jag defense on their heels. A few plays later and the Bulldogs had put another touchdown on the board to go up 14-0.
After stopping the Jags on their next possession, the Jags narrowly missed recovering a Bulldog mishap after Corliss Waitman's punt hit off the helmet of a Bulldog blocker at the 35 and taking a Jaguar bounce to the 16, but the same player who caused the fumble would recover the ball.
MSU would drive down to the Jaguar 20 yard line but had to settle for a field goal to make it a 17 point lead.
The Jaguars starting on their own 25 would be led by Dallas Davis again with big completions to Everett for a 23-yards and back-to-back runs by Davis for 3 and 11 yards. Then Davis would connect with Everett against for another 24-yards getting down to the Bulldog 11 yard line. The drive would stall at the 8 yard line and like deja vu the 25-yard field goal would bounce off the right upright leaving the Jags scoreless again.
The Jags came out from halftime with a different demeanor, and it was evident even before the kickoff.
Dallas Davis picked up where he left off in the first half starting off with a 25-yard completion to Magee yards to put the ball at midfield.
After that the Jags did something they couldn't do in the first half consistently: they began running the ball.
Davis ended the drive in similar fashion as the drive began, Davis to Magee, this time it was a 20-yard touchdown with three Bulldog defenders covering him. Suddenly the Bulldog lead was down to 17-7 and new life in the Jaguars.
Mississippi State would answer with a drive themselves, but this time the Jaguar's swarm defense stiffened after being gashed on a couple plays and helped by a holding penalty.
Then another sign that the Jaguars were not ready to give up. They started to get pressure on the quarterback.
Two incomplete passes with Damian Williams being hurried caused Dan Mullen to settle for a 48-yard field goal to put the lead at 20-7 with 6:35 left in the third quarter.
The Bulldog special teams had the Jags pinned inside their own 1 yard line with 2:30 left in the quarter. Davis would hand off to Thomas and it looked as if the MSU defense had him stopped for a safety but the shifty Thomas shrugged off the would-be tackler and found room up the middle before cutting to his right towards the sideline for 37 yard gain and giving the offense breathing room. Thomas was only a step or two away from breaking it all the way to the endzone.
Facing 4th and 2 at the Jaguar 47 time would expire in the third quarter.
I don't know if this even made a difference, but as the teams were swapping sides a well known was played in the stadium.
It was an odd choice for a home team leading 20-7. It was almost as if the mighty SEC team was taunting the little, upstart South Alabama Jaguars. The team some said shouldn't even be on the field with a team like Mississippi State.
They played what might have been considered an innocent 35 year old song by a band named Journey: "Don't Stop Believin'."
Just about everyone in the stadium sang along. how can you refrain from lifting your voice whenever it's played. It may simply be a tradition like Alabama would play "Sweet Home Alabama".
"Just a small town girl. Livin' in a lonely world. She took the midnight train goin' anywhere…."
Davis started the fourth quarter with a six yard completion to Everett on that 4th and 2 play to extend the drive. Two plays later a 23-yard completion to Magee and a gift of 13 yard penalty for a personal foul put the Jags at the Bulldog 12 yard line. Dallas would run for 4 yards to the 8. An offsides on MSU would then put it at the 4 yard line. Then Thomas would take the handoff and punch it in the endzone to make it 20-14 with 12:43 left in the game.
"Just a city boy. Born and raised in south Detroit. He took the midnight train goin' anywhere."
The Jaguar defense kept up their pressure with quarterback hurries and tight coverage. A pair of Jaguar penalties would aid the Bulldogs but a holding penalty would put MSU behind the down and distance and the Jaguars forced a punt.
"Working hard to get my fill, everybody wants a thrill."
The Jags went three and out, but the faith never wavered in the stands or the sidelines. MSU with gains of 13 and 23 put them at the Jaguar 21.
Then the Bulldogs faced a 3rd and 10 and again the swarm defense dialed up the pressure and Randy Allen and Tyree Turner sacked Williams for an eight yard loss. Westin Graves misses the field goal attempt from 46 yards wide left.
"Payin' anything to roll the dice just one more time."
Davis starts the drive at the Jaguar 29 with back-to-back incompletions intended for Everett. Then on 3rd and 10 he found Kevin Kutchera for 37 yards to the Bulldog 34 yard line.
"Some will win, some will lose. Some were born to sing the blues."
Facing 3rd and 3 at the Bulldog 27, head coach Joey Jones calls a time out with 3:43 left in the game. After the time out, Davis takes the snap and ran up the middle, hurdled a defender, and eventually went down at the Bulldog 8 yard line. First down Jaguars and the clock keeps running.
"Don't stop believin'"
Facing 3rd and goal at the 4 Davis steps back and calmly throws a pass to Gerald Everett between two defenders for the the touchdown to tie the game. The contingent of Jaguar fans erupt in jubilant celebration. Gavin Patterson drills the extra point.
Jaguars lead Mississippi state 21-20 in Starkville with :57 left in the game.
Corliss Waitman's kick would roll out of bound giving Mississippi State an opportunity with the ball on the 35 and still :57 left. The Bulldogs were not going to roll over just yet.
Williams would find Donald Gray for 14 yards to the 49 yard line and got out of bounds to stop the clock. Holloway would run for 8 yards and out of bounds again to stop the clock. Williams to Ross for a loss of one yard and MSU spends a time out with :40 left. Only 17 seconds off the clock.
Williams pass to Gray for eight yards and a first down at the Jaguar 36. Another pass to Holloway for four yards and out of bounds to stop the clock again. Williams would call his own number for 13 yards before Nigel Lawrence stopped him at the Jaguar 19. Williams called his own number again for two more yards then coach Mullen calls a time out with :12 left. Williams runs again for 6 yards to the 11 and the Bulldogs call their final time out with :09 left to attempt the game winning kick.
With the Jaguar fans chanting "Block that kick", the ball is snapped, Graves put his foot to the leather the ball flies and hits the left upright. He hooked it. The Bulldog fans left in the endzone all fall as if they were struck by lightning. The Jaguars bench empties out onto the field with coach Jones leading the way.
After getting the players off of the field, Dallas Davis took one last snap and kneeled down to allow the clock to expire, the Jags were able to celebrate again.
"Hold on to that feelin'"
Standing in the stands after never missing a home game and traveling to the away games I was able to attent, it was an honor to watch this programs' biggest victory to date in person. I was emotional. I teared up. I didn't know what to say other than chant USA with the rest of the fans.
It was years in the making.
It started with Coach Jones and players who believed in his vision even before there was building to house them or a field to practice on. Coach Jones in all of his post-game interviews from SEC Network, to Jaguar Radio, to addressing the crowd gathered to welcome them home at the fieldhouse and again Sunday morning on Fox 10 in Mobile: he praised the players, their character and their heart.
Romello Riley, a 6'3″, 240-pound 19-year-old junior transferring to South Alabama after two seasons at Mississippi Gulf Coast Community College and enrolled in January is hospitalized in New Orleans after collapsing while working out on Friday.
The incident occurred at a fitness club in his hometown of Ocean Springs, Mississippi and according to GulfLive.com, Riley suffered a stroke due to a blood clot on his brain and has paralysis on the right side of his body. As of the last report Riley was still in critical condition but was expected to be moved to a private room sometime late on Tuesday.
USA head coach Joey Jones released a brief statement to AL.com stating: "First of all, our prayers go out to Romello and his family," Jones said. "A very tough situation. As a family at South Alabama, especially with our football program, we are very concerned. He's a great kid who works hard and we're hoping for the best."
Healing thoughts and prayers go out to Riley and his family from JagNation.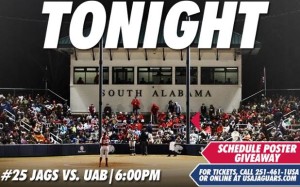 Come out to Jaguar Field for the game tonight, first pitch is scheduled for 6pm!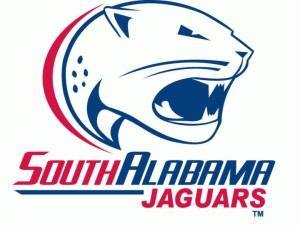 The University of South Alabama held their National Signing Day this afternoon in the John Counts Room at the Mitchell Center. In addition to announcing the signees for the 2016 class, there was a big announcement from the from Jaguar Sports Properties and iHeartMedia.
The first announcement was by JSP and iHeartMedia concerning a new partnership between the two. Beginning April 2nd they will begin broadcasting on 99.5FM The Jag which will be a home for all sports and coaches shows in addition to a simulcast of The Uncle Henry show. Additionally they will be an affiliate of Fox Sports with shows by Rich Eisen (good stuff) and Colin Cowherd (groan).
The football broadcast will remain on Lite Mix 99.9, a 100,000 watt FM broadcast. While The Jag will only be a greater Mobile area broadcast (4,100 watts), it can be heard worldwide via the iHeartRadio app.
As for the signees, the Jags signed student-athletes that were committed to or recruited by schools such as Alabama, Auburn, Oklahoma and West Virginia among others.
Riley Cole, 6'3″, 220-pound linebacker from Oneonta HS, Oneonta, Alabama. A three-star rating from all four national recruiting services and was considered the third-best outside linebacker in the state by Scout.com. He was committed to Alabama until, as reports surfaced that he was asked to grey shirt. Riley then signed with Alabama after decommitting. South Alabama's relationship through the recruiting process landed Cole with the Jaguars.
Jalin Buie, 5'7″, 165-pound running back from Trinity Christian Academy in Jacksonville, Florida. Buie was committed to Auburn before decommitting. He was also rated a three-star recruit by all four national recruiting services. He also ranked 12th nationally among all-purpose athletes by Rivals.com and 14th by 247sports.com. Jalin's speed is fantastic, think J.D. McKissic from Arkansas State in the size and speed.
Chris Henderson, 6'4″ 232-pound defensive lineman from Lovejoy HS in Hampton Georgia. He was rated a three-star recruit by Scout.com and ESPN.com, he helped Lovejoy finish 4-1 in the region to qualify for the 6A playoffs as a senior. He recently decommitted from Indiana and also had offers from Louisville, Middle Tennessee State and Old Dominion.
Bobby Flott, 6'2″ 160-pound cornerback from Baker HS in Mobile, Alabama. Flott had interests from Alabama, Auburn and Oklahoma but he was a solid USA commit for some time. He adds some height in the secondary to go up against the tall receivers the Jags face.
Jared Stewart, a 5'10" 165-pound cornerback from Fultondale HS in Birmingham, Alabama. He was part of the varsity team since 8th grade. He was rated a two-star athlete from Rivals.com, Scout.com and 247Sports.com and brother of ArDarius Stewart (Alabama). Stewart is recovering from a torn ACL and will not participate in spring drills but should be ready by fall camp. Stewart is already enrolled at USA.
Clay Burt, a 6'5″ 310-pound offensive lineman from Northeastern Oklahoma A&M. He was an All-Southwest Junior College Football Conference honorable mention selection as a sophomore. He is able to play all three positions on the line: center, guard and tackle. His size and strength will be useful to replace Cameron Blankenship.
Sean Brown, a 6'3″ 285-pound offensive lineman from Pleasant Grove HS in Pleasant Grove, Alabama. Also a three-star rating from Scout.com and 247sports.com. He was the top-rated center in Alabama. He was listed as a defensive lineman by USA. Brown had offers from several schools including Arkansas State, Georgia State, Georgia Southern, Jacksonville State, Middle Tennessee State, Southern Miss and Troy.
Jay Woods, a 5'11" 180-pound cornerback from Pinson Valley HS in Pinson, Alabama. He was rated a three-star recruit by Rivals.com and Scout.com with Scout also rating him the fourth-best cornerback in the state. He had a long list of offers from the likes of Appalachian State, Arkansas State, Army, Jacksonville State, Marshall, Memphis, Middle Tennessee, Pitt, Southern Miss, UAB and Wake Forest among others. Woods is a dynamic player that can force fumbles, return kicks and cover well.
Jahmmir Taylor, a 5'11" 170-pound wide receiver from Hinds (MS) Community College with offers from Memphis, Middle Tennessee and Southern Miss.
Darrell Songy, a 6'1″ 225-pound outside linebacker who originally signed with Oregon State and played during the 2013 freshman season, but ended up going to Garden City CC where he racked up 68 total stops and 11.5 stops for loss.
D'Tavieus Taylor, a 6'5″ 280-pound offensive lineman from Pearl HS and Hinds (MS) CC. Taylor earned honorable mention National Junior College Athletic Association All-American and a first-team MACJC All-State and All-Region as a sophomore. He also had offers from Houston, Louisiana-Monroe, New Mexico State, North Texas and UT-San Antonio. He also had an official visit planned for West Virginia but he cancelled it when committed to USA.
Zac Crosby, a 6'4″ 210-pound tight end from The Bolles School in Jacksonville, Florida. He was rated a two-star recruit by Rivals.com, Scout.com and 247Sports.com. He caught 30 passes for 750 yards and seven touchdowns as a senior. He also had offers from Appalachian State, Georgia Southern and Middle Tennessee among others. The coaches believe he will be similar to a Wes Saxton and Gerald Everett type player for the Jags.
Nick Fields, a 6'1″ 275-pound defensive lineman from Dothan HS in Dothan, Alabama earned a two-star rating from Rivals.com and 247Sports.com. He was invited to play in the Alabama-Mississippi All-Star Classic after his senior season. He also had offers from Jacksonville State, Nevada and Alabama A&M. He was clocked as a 4.97 40-yard dash, a 5.0 shuttle and a 30″ vertical leap.
Diantae Thomas, a 5'11" 218-pound safety from Dothan HS by way of Butler (KS) CC. He primarily played on offense last season. He caught 23 passes for 240 yards and two touchdowns in addition to 115 yards and a touchdown on 11 carries. He brings an offensive mind to the defense where coaches think he will be a great fit.
Konnor Houston, a 6'4″ 225-pound linebacker from Army Prep. Houston posted 171 tackles and 15 hurries during his prep career helping Buford HS to three consecutive state titles. He actually signed back in December.
Taji Stewart, a 6'3″ 210-pound linebacker from Walton HS in Marietta, GA. He earned a two-star rating from Rivals.com and 247Sports.com after recording 79 tackles including six for a loss in HS.
Andrew Reinkemeyer, a 6'4″ 265-pound tight end from Butler (KS) CC. He recorded 15 catches for 173 yards and three touchdowns in 2014. He helped Butler CC go 8-3 and 15th in the final NJCAA rankings. He actually signed back in December. He will be a power blocker and will fill a necessary role on the offense.
Neiko Robinson, a 6′ 175-pound defensive back from Mississippi Gulf Coast CC. As a sophomore he recorded 44 total tackles and six pass breakups, the second-highest total on the team, and helped them to finish 8th in the final NJCAA poll.
Zach Befort, a 6'3″ 280-pound defensive lineman from Butler (KS) HS. He earned second-team All-Jayhawk Conference honors after 50 total tackles which included 8.5 of them for a loss. He signed back in December and had offers from Idaho, Louisiana-Monroe, Tulsa, Ball State and others.
Romello Riley, a 6'3″ 245-pound defensive end from Mississippi State Gulf Coast CC. He finished with 30 total tackles in nine games during his sophomore season, five of them for a loss and three sacks. He was also a December signee with offers from Arkansas State and Troy.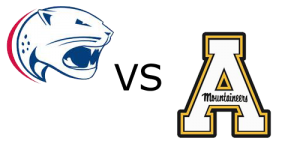 After back-to-back loses, the South Alabama Jaguars (5-6, 3-4 SBC) have one last shot at guaranteeing themselves a spot in postseason play when they host Appalachian State (9-2, 3-4 SBC) on Saturday.
The Jags went on the road to Georgia State on November 21st and lost a 10 point lead en route to falling 24-10 to the Panthers. Then after the Jags took an early 7-0 lead at Georgia Southern last Saturday, the Eagles came to life in the second quarter to take a 28-14 lead into halftime. USA would only manage a field goal in the second half on the way to a 55-17 loss at the hands of the Eagles triple-option attack.
In the regular season finale, the Jags will host Appalachian State for Senior Day and needing a win to guarantee a bowl slot. With 80 bowl slots in games, only 75 teams have achieved bowl eligibility with three teams vying to get their sixth win and earn bowl eligibility this weekend.
Basically, it's win or stay home for the Jaguars.
"The players are taking this week very personal," head coach Joey Jones said in his Monday press conference. "They want to win. They want to get into a bowl game, that's one of our goals obviously. We're going to be all in this game, and the guys will be ready. You can tell a lot of those guys know it's their last chance."
But the Appalachian State team they will be facing is not the same team they faced last season in Boone, NC. Defensively they are leading the conference in the fewest amount of points allowed.
"They are very active up front and do a lot of things out of a three-man front – a lot of blitzes," Coach Jones explained. "They are much more diverse than they were last year. They play zone coverage extremely well. That's one thing that they are really good at. They drop to their spots, break on the ball and have fast guys back there who do a good job. Offensively, they are really good running the football. They execute very well. Their passing game is not the most complex in the world, but they really know how to do it. Their offense is really methodical about what they do. They have a lot of long drives and move the ball down the field consistently."
Read more
Jags Defeat Georgia State 4-0 For Third-Consecutive SBC Title
The South Alabama Jaguar soccer team earned their their consecutive Sun Belt Conference title with a 4-0 win over Georgia State on Sunday to punch their card to the NCAA Tournament.
Sophomore Rio Hardy scored the lone goal in the first half with help by Danielle Henley who drove a low cross to Hardy who hit it home.
Just three minutes into the second half Sophomore Chelsea Followwell hit home a loose ball in front of the net after a corner kick at the 60:36 mark.
Charde Hannah took advantage of a defensive miscue at the 63:35 mark to make it a 3-0 lead. The final score came in the 85th minute when Nini Rabsatt-Smith headed the ball into the net on a corner kick from freshman Jemma Purfield.
"I'm obviously delighted that we managed to win," Jaguar head coach Graham Winkworth said. "I was really happy because usually at this time of the year, it's about the result and not the performance, but today we put in a fantastic performance and got a fantastic result. I was really happy for the girls; it means a lot to them and to me to lift the trophy again.
"We're scoring lots of goals and they're coming from lots of areas," Winkworth noted. "They really showed up today; it was maybe one of our stronger performances of the season."
The Jags had five players named to the All-Tournament team: Sophomore Ashlynn Jones, senior Nini Rabsatt-Smith, Sophomore Rio Hardy, sophomore Charde Hannah and junior Sarah Hay. Hannah was named the tournament's most outstanding player.
"All five of them were crucial to our success, but in all honesty, we could have picked anyone that played this weekend," Winkworth said. "Those five humble young ladies would be the first to admit that if it wasn't for the squad that we've got, they wouldn't be receiving those awards this weekend and we wouldn't be taking the big one home."
"We were solid from front to back," Winkworth said. "The forwards worked hard limiting quality longballs from their back line and the midfield pressed extremely well. The defense dropped when they needed to drop and intercepted passes rather than needing to make tackles. Only once did they get in behind us, and when that happened, Sarah pulled off an excellent save on a 1-on-1. All in all, I'm very happy with the defensive performance from front to back."
South Alabama Set To Host LSU In First Round Of NCAA Tournament
On Monday afternoon, the Jags learned their fate for the NCAA Tournament from the Division I Women's Soccer Committee and it was not only historic for South Alabama, but also for the Sun Belt Conference.
South Alabama will host LSU for the first-round match on Saturday night. The first in South Alabama history and also the first in Sun Belt Conference history.
This will be the Jags third consecutive tournament appearance and enter the tournament with a 17-2-2 record overall and a 14-match unbeaten streak.
"This is huge," Jaguar head coach Graham Winkworth said. "We've created something very special here. It wouldn't have matter who they sent us, we'd have been excited to have a game on campus. We need the whole community to come out on Saturday and cheer us on.
"It will be great for our community to have such a big team coming into town. We know a lot of people will think they're the big favorites coming from the SEC, however, we feel like we've got a good product here as well. We hope it'll be an excellent game and hopefully we'll get the right result."
LSU (13-5-4) earned their way into the postseason for the first time since 2011 after advancing to the semifinals of the SEC Tournament. The Tigers lead the all-time series against USA 5-4 with wins in their last three meetings, the most recent in 2010.
With the Jaguar Football team's game on Thursday night, the Saturday night date against LSU is a great opportunity to support the Lady Jaguars in their quest for a National Title.
Tickets are $7 for Adults, $3 for Seniors, Children between 2-12 are also $3 and Children under 2 are Free.
Student tickets are also $3 however the first 300 students are able to claim free tickets on a first-come, first served basis Saturday night when the gates open by showing a valid student ID.
Tickets can be purchased over the phone only by calling 251.461.1USA (1872). All tickets will be held for pickup on Saturday night and no tickets will be distributed before the match. Gates will open 90 minutes prior to the match.
The match is scheduled for 7pm on Saturday.
All tickets will be general admission and grandstand seating is first-come-first served. Fans are recommended to bring portable outdoors chairs with them.
GO JAGS!!
Homecoming was looking as dreary as the weather on Saturday at Ladd-Peebles Stadium as the Jaguars were facing a 24-0 deficit midway through the second quarter when the got the spark they needed. Xavier Johnson provided that spark with a 41 yard kickoff return on the ensuing kickoff with more to come.
The Jags would drive down to the Idaho 1 yard line and be turned away on fourth down with 2:30 left in the opening half. The Jaguar defense would then stand tall and force a three and out with the Jaguars using timeouts to force the Vandals to punt and give the Jaguars a short field with just 1:58 left until halftime.
Then the Jaguars used the spark that Johnson provided jump start a two-minute drive for points just before halftime. It began with a Cody Clements pass to Chris Lewis for 9 yards and into Idaho territory before stepping out of bounds. Terrance Timmons took the handoff four yards for the first down before Clements came back and found Marvin Shinn for 20 yards to the Idaho 25 before going out of bounds to stop the clock. Clements found Danny Woodson for 19 more yards to the Idaho 6 yard line before he too stepped out of bounds. The drive would be capped off by a 6 yard slant pass to Shinn for the touchdown. The 5 play, 58 yard drive would only take :38 off the clock but the Vandals were content to go into halftime with a 24-7 lead.
Johnson, after providing the spark to get the Jags in gear, would lit them on fire by taking the second-half kickoff 104 yards for a touchdown to further cut the Vandal lead to 24-14.
After exchanging a number of punts, the Jags Josh Magee would take a Vandal punt by 22 yards before fumbling near midfield which was recovered by Idaho in front of their bench. But Blake Dees was having none of it as two plays later he forced Elijhaa Penny to fumble, which Devon Earl would pick up and scamper 57 yards to the endzone with 4:19 left in the third quarter.
The defense would keep their pace by forcing another three and out, but this time the Jaguars freshman cornerback Jalen Thompson would block the kick with Margo Reed covering it at and returning it six yards to the Vandal 6 yard line. Cody Clements would take the next snap into the endzone untouched to give the Jaguars a 28-24 lead with 3:08 left in the third quarter.
Idaho was not ready to give up as quarterback Matt Linehan would continue he passing clinic with a 32 yard strike to Hightower on third down to keep the drive alive. Three plays later Penny would take it into the endzone from 19 yards out to regain the lead 31-28 with :44 left in the third quarter to set up a fourth quarter for the Jaguar history books.
The Jags would lean on their rushing attack that began with a nine yard gain by Johnson to end the third quarter then continue with runs of 5 and 18 by Tyreis Thomas and runs of 7, 13, and 1 by Timmons before Clements took the air to find Gerald Everett for a 16 yard touchdown to give USA the lead once more with 13:14 left in the game at 35-31.
The ensuing kickoff would bounce off Idaho's Rueben Mwehla's shoulder pads to be recovered by Jaguars Buford-Hughes at the Vandal 9 yard line. An unsportsmanlike conduct call on Shinn, in addition to a four yard loss on the play set the Jaguars back at the 29 with the goal to go. USA would settle for a 41 yard field goal by Aleem Sunanon with 11:47 left in the game to take a 38-31 lead.
The vandals would drive out to their 49 yard line before Margo Reed would make a great over-the-shoulder interception at the Jaguar 16 before going out of bounds.
Johnson would bust out a 50 yard run to the Idaho 34 yard line on the first play of the drive to set up Clements to find D.J. Vinson for a 14 yard touchdown a few plays later to put USA up by two scores at 45-31 with 7:42 left in the game.
The Vandals would only need 1:59 to answer with a touchdown of their own to make the game a one-score game again at 45-38.
Chris Lewis would return the ensuing kickoff 22 yards to the Jaguar 39 to set up Xavier Johnson for another huge play. Johnson would take the handoff on the first and only play of the drive 61 yards for a touchdown to put the Jaguars up 52-38 with 5:19 left in the game.
Linehan was not done either.
He would throw and run his way to the Jaguar 18 before he combined with Penny to help get down to the 1 yard line before he called his own number and took it in to cut the Jaguar lead to one score once again at 52-45.
Braedon Bowman would cover up the onside kick attempt allowing the Jaguars to take the victory formation and end the game.
Clements was an efficient 11-of-19 for 114 yards and two touchdowns while Linehan went 26-of-39 for 317 yards, two touchdowns and one interception.
Elijha Penny rushed 35 times for 135 yards and two touchdowns. Linehan added 49 yards on 8 carries and two touchdowns.
Xavier Johnson had 9 carries for 148 yards and a touchdown to go along with 141 yards in kick returns to give him 289 all-purpose yards for the game. Tyreis Thomas had 15 carries for 88 yards, Timmons added 33 yards on seven carries, Clements added 29 yards on seven carries as well.
"That was big," Jaguar head coach Joey Jones stated about the score just before halftime. "We were down on the one-foot line and didn't score, and called three timeouts and got the ball back. We drove down and scored, and that was big; some good things happened there. You just have to keep plugging, you have to go to the next play.  What are you going to do about the last play?  Nothing — you have to move forward, and our guys learned a big lesson tonight.  I think they knew that, but they really understand it now."
"That score really sparked us and turned our whole momentum around," Clements added. "As a team though, we fought so hard the whole game tonight and we never let up. We knew it was a four-quarter game and that you have to play all 60 minutes. The score at the end of the game is what matters."
"We just kept telling ourselves that we had to keep the motor going. That's what we've been preaching all week," Blake Dees commented. "You can't ever give up. Giving up isn't something we do here at South Alabama. Getting down like we did early kind of sucked, but we persevered and kept going and never gave up."
"We needed to make a few changes, and just do our job," Devon Earl added. "In the first half, I don't think guys were doing their jobs. We came in at halftime and talked it over, and it all came together in the second half."
"I want to commend our football players for the guts and mental toughness to be able to come back in a game like that," Coach Jones stated. "Everything was going wrong there for a quarter-and-a-half, and we just got it turned. The big kickoff return gave us a spark, and the kids came back and kept fighting. Sometimes you can't play four quarters of football the way you want to, and you just have to deal with it. Nobody panicked, and that was the biggest thing. Had we panicked, I think we might have lost that ballgame.
"We just beat a good team; they have a really good offense obviously. They have a great quarterback and running back, they moved the ball up and down the field. What a win for our program to be able to come back and take another step toward a bowl [game]."
"Overall, I just can't believe it," said Vandal head coach Paul Petrino. "I really thought we had a great game plan, and we came out and executed it really well, both offensively and defensively. You can't give up a kickoff return for a touchdown, a blocked punt and a fumble. Even after all that, we still came back and scored twice.  We just had to get one stop, and we had the chance.
"I think everybody sees how much better we are; the program is on the right track to be a really good football team, but to have two games in a row end like that is really sad."
Johnson's kickoff return for a touchdown was the first since J.J. Keel in 2010. It was the first game that the offense, defense and special teams scored since defeating Pikeville on September 4, 2010. The game set a new record for largest deficit overcome in a victory surpassing the 14 point deficit the Jags overcame to defeat Florida Atlantic on October 20, 2013 for their first FBS win. It also set a record for most combined points scored with 97, surpassing the previous record by 15.
South Alabama will have a short week of preparation as they host Louisiana-Lafayette on Thursday at 6:30pm in a nationally televised game on ESPNU.
The South Alabama soccer team watched two leads slip away during regulation play but sophomore Sarah Hay made the key stop in the 11th round of penalty kicks to put the Jaguars in the Sun Belt Conference Women's Soccer Tournament Final over Appalachian State on Friday night.
USA, the top-seed in the tournament, for the third consecutive season to face #6 seed Georgia State who defeated Troy also on penalty kicks.
While the match goes down as a 2-2 draw and ended the Jaguars 11 match win streak, but the 13 match unbeaten streak stays alive.
There were only two misses in the shootout before Hay's final save. Early in the shootout, App. State's Kate Ward was stopped by Hay in the second round and sophomore Chelsea Fallowwell's attempt was stopped by Megan Roberson in the fourth to even it up.
Jaguar freshman Jemma Purfield put the Jags up 10-9 to set up Hay for game-winning stop.
Charde Hannah put the Jags on the board first in the 25th minute after sophomore Ashlynn Jones took control of an App. State goal kick and quickly fed Hannah.
The Mountaineers would respond just over 7.5 minutes later on a free kick from Ward in the upper left corner. Both teams would go to halftime knotted at 1 goal each.
It looked as though sophomore Danielle Henley had won the game for the Jags at the 60:32 mark when a header by senior Nini Rabsatt-Smith was saved off the line but the rebound went to Henley who knocked it home.
Appalachian State managed only two shots in the next 27 minutes before a cross from the byline by Jane Cline was parried by Hay, who was unable to corral it. Then Sam Childress beat Hay to the ball and punch it in at 88:02 mark.
"I'm really pleased that we managed to find a way through to the next round, which is a characteristic the girls have shown all season long – they've managed to find a way, but our performance wasn't up to scratch today," Jaguar head coach Graham Winkworth said. "We need to make sure we do a better job on Sunday in the final.
"Despite not playing our best soccer though, we still managed to hit the bar, had a couple saved off the line and had a goal disallowed, so we created chances but they didn't fall for us. At the same time, we managed to do that and not play our best soccer, so I'm encouraged knowing that there's more to come from us."
"We've got to do a better job of managing the game," Winkworth noted. "With two minutes to go, we're making poor decisions at the back, whether we're playing short when it should've gone long, or not putting it out of play and trying to do too much out of the back. When there's two minutes to go, you have to make quality decisions to manage the game well.
"We'll talk about it, but to be honest, these girls have done so much for us all season, they're all entitled to a mistake now and again. We'll brush that off and think about all of the positives that they've done today."
USA won the shots balle 23-8, including 22-6 in regulation, but only got eight on frame compared to four for the Mountaineers.
"It was opposite of the other day (in the quarterfinals), because we weren't clinical in front of goal," Winkworth said. "We should have put them away early in the game. The fact that it was tied at halftime, that wasn't a fair reflection of the first half. We didn't take our chances and we didn't put them away; we came in at halftime disappointed to be level. But like I told the girls, we were the team on the ascendency trying to win the match, and that positive attitude will be rewarded."
The Jags will face Georgia State at noon on Sunday for the Conference Championship. The game can be seen on ESPN3.com.