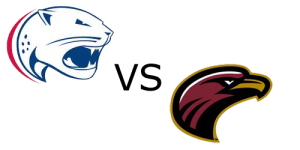 South Alabama had their 24 hours to enjoy the win over Troy, but they quickly got back to work. They are set to host Louisiana-Monroe on Saturday, October 21 for homecoming.
In the second half of the Jaguars game in Troy, the offense converted over 50% of their 3rd down attempts, a drastic improvement over the first half when they converted zero of their seven 3rd down attempts.
The Jags offense ranks 120th in total offense with 311.5 yards per game and 109th in yards per play at just under five yards per play. Pair that with the Warhawks defense that ranks 125th out of 129 FBS teams in total defense by allowing an average of 495.5 yards per game and 6.6 yards per play.
Add to it that the Jaguars lost a heart breaker of a game in Monroe last season in overtime 42-35. ULM also leads the all-time series 2-1 over the Jags. USA gained 516 yards of offense, but were flagged 12 times for 83 yards in penalties.
The Jaguar defense also has a chip on their shoulder from last season. They allowed the Warhawks to go 4-of-4 on fourth down attempts.
Head coach Joey Jones and offensive coordinator Richard Owens has a decision to make. Cole Garvin started the season as the starting quarterback, but was injured in the first series against Oklahoma State in the second game of the season. From there, Dallas Davis took over the starting job until he, too, was recovering from an injury suffered in the Jags game against Idaho. Garvin started under center against Louisiana Tech and again against Troy. But he was replaced late in the first half against the Trojans in favor of Davis to give the offense a spark.
The offensive output in the second half happened despite losing Xavier Johnson in the first half with what was reported as a sprained ankle. It concerned fans seeing him taken to the locker room on a cart without his shoe. But it seems like the extra rest between games may allow him to suit up for the game.
During the Monday press conference, Zach Beford said "Every one [game] is a big one. We want to win every single one for the rest of the year. The fact that it's homecoming, hopefully we just get some more support from our fans and around the city. But it should be a fun environment with homecoming and hopefully we can get a W."
USA had a great group of fans travel to Troy who were very loud and provided lots of excitement for the team. The team gave a big thanks to the Jaguar fans who made the environment electric for the team.
The Warhawks come off a 47-37 loss to Georgia State at home. Since 2014, they are 4-10 in conference games away from home, but are 2-0 this season.
South Alabama's kickoff coverage was much better against Troy. They'll need to keep it up though, ULM's Marcus Green had a 93-yard kickoff return for a touchdown in the first quarter against Georgia State. Later Green scored on an 80-yard touchdown pass in the third quarter.
What do the Jags need to do to win:
The offense can't play down to their competition. They need to continue to improve. In the second half, the Jags converted 3rd downs which helped them keep possession of the ball and give the defense some rest. The ULM defense has not performed well all season, but they'll look to play better coming off of their first conference loss of the season.
Special teams forced a fumble and recovered a muffed punt. They also covered kickoffs the best they have all season. Corliss Waitman can boom the ball a mile and has been a great weapon to help flip the field and give the defense a big advantage. Finally, Gavin Patterson nailed a career-long of 47-yards.
The defense played lights-out in Troy, except for the one scoring series for Troy. The secondary played strong and will need to keep improving with players like Marcus Green lining up looking to take advantage of the more inexperienced players on the field because of injuries.
The messageboard fans would like to see Coach Jones show more emotion on the sidelines. Some of them will not be happy no matter what, but winning will make fans out of just about anyone.
Kickoff is set for 4pm at Ladd-Peebles Stadium. The game can be seen on online on ESPN3 and heard on 99.5 The Jag FM and 96.1 FM in the Mobile area in addition to streamed online by iHeartRadio via 99.5 The Jag.
South Alabama went to Troy Wednesday night on a mission, and they accomplished their mission in commanding fashion with a 19-8 win to return the rivalry belt to Mobile.
The Jaguars went into the game a 16.5 point underdog with only the die hard of Jaguar fan base thinking they even had a shot to win the game. If you listened to online message boards, it was going to be a blowout and the head coach would need to be fired on the sidelines after the game and should pull a Southern Cal by letting the coach find his own way home.
But none of that came to pass, instead the defense and set the tone for the game. Six pass breakups, seven tackles for loss, two sacks, three turnovers on downs, three fumble recoveries and an interception.
That's textbook definition of what defensive coordinator Kane Wommack calls 'Swarm D'.
Head coach Joey Jones and his staff put together a great game plan and the players executed well. The offense struggled some in the first half outside of their one touchdown drive.
The offense came out in the second half with a commanding drive to extend their lead while converting over half of the third-downs they faced in the second half.
The entire team was spurred on by a large contingent of South Alabama fans who made the trip for the game. They were loud, proud, and full of energy. They were another textbook example of what the Jaguars need at home week-in and week-out.
The Jags first score was set up by a 57 yard punt by Corliss Waitman when Carlos Robinson forced Marcus Jones to cough up the ball which Collier Smith recovered at the Troy 46. Starting quarterback Cole Garvin connected with Tra Minter on a screen pass for 37 yards to set eventually set up Xavier Johnson to cap off the drive with a one yard leap into the end zone, giving USA a 7-0 lead late in the first quarter.
Waitman would again be huge for the Jags. He booted away a 54 yard punt to the Troy 4 yard line, but a block in the back would put the line of scrimmage at the 2 yard line. On 2nd and 11, Troy's star running back Jordan Chunn could be bottled up and taken down for a safety extending the Jaguars lead to 9-0. Which would be the score at halftime.
The Jaguars offense came out early in the second half, led by Dallas Davis off the bench, with intentions of making a statement. They were 0-for-7 on 3rd down conversions in the first half, but converted all three of their first possession of the second half. Two of them were pass completions to Sam Harris and the other was a touchdown pass over the middle to Malik Stanley to cap off an 11 play, 64 yard drive to go up 16-0.
"Cole struggled a little bit and I felt like I needed to get Dallas in the game," Jaguar head coach Joey Jones said after the game. "He directed us down the field for a score. He played a good half."
Gavin Patterson would add a career long 47-yard field goal early in the fourth quarter to give South Alabama a 19-0 lead and sent the Trojan faithful to the exits.
After forcing a three and out, the Jaguars started at their own 43. On 2nd and 6, Davis connected with Minter for a 49 yard gain on another screen pass. Facing 4th and goal at the 4, the Jaguar coaching staff pulled out a trick play attempting to put another dagger in the Trojans, but the defense snuffed it and sacked Davis for a 15 yard loss on an intentional grounding call when he tried the fling the ball away.
This breathed some life back into the Trojans, who promptly put together their best drive of the game going 81 yards in 9 plays for their only score of the game to make it 19-8 after they converted the two-point conversion.
Troy attempted an on-sides kick, which hit and bounced off of a Jaguar but was recovered by David Gardner at the Troy 48. But three plays late, on 4th and 1, Denzel Foster was dropped for a loss of two yards giving Troy great field position with 4:30 left in the game.
The Jaguar defense bent but did not break. The secondary, which has been ravaged by injuries, helped force three-consecutive incomplete passes from the Jaguar 13 yard line. Needing two scores, Trojan head coach Neal Brown opted to attempt a 30 yard field goal by Evan Legassey, which he missed wide left, just like he did a 27-yard attempt in the first half.
From there, the Jags kept the ball on the ground and ran the clock out for the win.
The USA offense ended the game with 224 yards of total offense, only 48 of them on the ground with the other 176 yards coming through the air. Troy gained 299 yards, only 30 of them through the air.
Cole Garvin started the game for USA and went 4-of-10 for 56 yards and an interception. Dallas Davis came in late in the first half and went 7-of-10 for 120 yards and a touchdown.
Malik Stanley led the Jaguar receivers with four catches for 53 yards an the lone touchdown. Tra Minter caught three passes for 83 yards setting up both touchdowns. Sam Harris had two catches for 25 yards, both were to convert 3rd downs. Foster and Jahmmir Taylor both caught a pass also.
Denzel Foster was the Jaguars leading rusher with 30 yards on nine carries. Minter added 21 yards on 12 carries. Deonta Moore had 10 yards on six carries. Xavier Johnson, who left the game in the first half with a sprained ankle, had 4 yards on seven carries with the Jaguars lone rushing touchdown.
Troy's star running back Jordan Chunn left the game early with an injury finished with 28 yards on 10 carries. Josh Anderson added 10 yards on three carries and Henderson had 9 yards on two carries.
Brandon Silvers went 24-of-46 for 263 yards and an interception. Kaleb Barker completed his only pass attempt for 6 yards. Emanual Thompson led the Trojans with six catches for 67 yards. Eight other receivers caught passes as well.
"I know we've got a good football team," head coach Joey Jones said after the game. "I never doubted them, I love them. We know we have a bunch of conference games coming up and we are going to get after our preparation for the game next week with ULM, but right now we are going to enjoy this one. I's a huge win for our program and puts us with one more win in the conference. That's our goal to win the [Sun Belt] Conference championship and it's still out there for us.
"It's a huge, huge win for our program. That's three out of the last four we've beaten these guys, and two out of three with the Belt. I'm so proud of the way our guys played. They fought their guts out tonight. It was a joy to watch."
"They outcoached us," Troy head coach Neal Brown said in his postgame press conference. "Our guys were not ready to play and that's on me; that's disappointing. We didn't take advantage of a great opportunity. It's an extremely disappointing evening."
"The challenge of this defense has been, can we finish a game?," USA defensive coordinator Kane Wommack said. "I think when you play the way that we did in the second half, to take the momentum from the get-go, that was the difference."
"This win is huge for us," said quarterback Dallas Davis. "We came in 1-4, which I don't even like saying that record, and Troy is a good team; they beat LSU. We practiced hard all week and it's a big rivalry game for us, so we knew we had to bring it, and we did both offensively and defensively."
"I just wanted to make sure that I did my job and make sure there wasn't a drop from his type of performance to mine," said defensive back Khalil McDonald, who started in place of Malcolm Buggs when he was unable to play. "I did my job and played my heart out and wanted to do it for the team."
"We had been talking about this game all week," said Jeremy Reaves when talking about what this win means to the seniors on the team. "This win wasn't only for us, but also for recruiting and the years to come for our program. Getting this win benefits me a lot [personally] because I get to say that I was able to get another win at Troy; I'm 2-0 here. We've been through so much adversity and we dedicated this season to turning the program around. To be able to come out on top in this big game is huge."
South Alabama will have another long week to prepare for their next game. The Jags will return home to host Louisiana-Monroe on Saturday, October 21 for their annual homecoming game. Kickoff is scheduled for 4pm at Ladd-Peebles Stadium.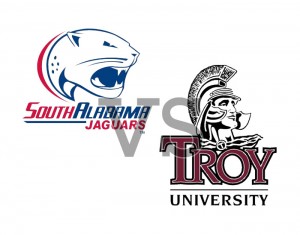 The Jags (1-4, 0-1 Sun Belt Conference) travel a couple hours up the road to Troy (4-1, 1-0 SBC) for a midweek match up against the Trojans in the annual 'Battle for the Belt' as a 17-point underdog.
After USA replaced Bryant Vincent at offensive coordinator, the Jags took Louisiana Tech to the fourth quarter trailing by a single point, but offensively they stumbled and the Tech offense took advantage of a tired and banged up defense to score a couple times in the final quarter to pull away for a 34-16 win.
But the Jags have had a long week to continue to gel and game plan with coach Owens as the offensive coordinator. Against La. Tech, the Jags 3rd down conversion rate was 5 of 15, which was better but still needs to be improved upon.
South Alabama's defense will come up against one of the best quarterback-running back pairs in the conference. Brandon Silvers is patient and makes good decisions with the ball. Jordan Chunn scored twice in the fourth quarter last season in Mobile in the Trojan's come-from-behind win. Both were long, 80-yard drives too.
The Trojan offense isn't a big play offense. They just move the ball methodically and stay on schedule keeping their playbook wide open.
Chunn is averaging 5.4 yards per attempt and 98 yards per game and had six touchdowns on the season. He is clearly the the workhorse with over double the rushing yards of the next closest back, Jamarius Henderson, and over three times as many rushing attempts (91 to 26) as Henderson. Actually Chunn's attempts are over half of the teams rushing attempts on the season.
Troy only has two passing touchdowns on the season, but they have 13 rushing touchdowns to make up for it. Silvers is completing 64.8% of his attempts for 1,241 yards with two touchdowns and two interceptions.
Defensively the Trojans are tough against the run only allowing 108.8 yards per game, 3.5 yards per rush and only two rushing touchdowns all season. They allow 231 yards per game through the air, 10.8 yards per catch and 8 touchdowns. But they have intercepted opposing quarterbacks five times this season. Including two interceptions over their last two games against Akron and LSU.
Though the Trojans allowed 428 yards to LSU and only gained 363, but they gained 206 yards and all three touchdowns on the ground. Silvers was 16 of 28 for 157 yards, his longest completion was only 20 yards.
The quarterback position has had problems staying healthy early on this season. Cole Garvin started the first game before injuring his ankle on the first possession against Oklahoma State in their second game of the season. Dallas Davis took over and started the next two games before Davis re-aggravated a shoulder injury that he had off-season surgery on.
On Monday, head coach Joey Jones announced that Garvin will start again but also said that Davis' arm strength was back too. Garvin, through three games, is 41-of-77 for 447 yards with two touchdowns through the air and on the ground but also two interceptions.
Injuries in the secondary have really hurt the Jaguar defense, but they have played their hearts out. Jeremy Reaves has stepped up his game even further to lead the defense each game.
Jones also announced on Monday that left guard Tyler Grimsley suffered a knee injury against Louisiana Tech and will miss the remainder of the season.
What must the Jaguar do to win:
Offensively, the Jags MUST extend drives by converting on third down. The Jag defense has played so well all season, but if the offense can extend their drives and give them some extra rest then maybe they can avoid late game fatigue.
The offense cannot afford mistakes. They can't accumulate lots of offensive penalties and put themselves behind the down and distance. Nor can they give up negative plays on offense either.
Defensively, the Jags can't give up big plays trying to get the Trojans behind the down and distance schedule. They have shown that they can play well against great quarterbacks like Shea Patterson and Mason Rudolph.
Get Garvin comfortable early with short, high-percentage completions for positive gains. If they can get use the short to intermediate routes to open up their rushing game then Xavier and company can get going as well.
The last point is the Jags can't play against the same officiating crew that called the Idaho game. While the office of officiating were forthcoming enough to say that some calls were blown in the Idaho game, but realizing that two or three days after the game is much too late and is an injustice to the student-athletes playing the game.
Kickoff is scheduled for 7pm at Veterans Memorial Stadium in Troy, Alabama. It will be televised nationally on ESPN2 and can also be heard on 99.5 The Jags FM and 96.1 FM in the Mobile area and online world-wide through the iHeartRadio platform.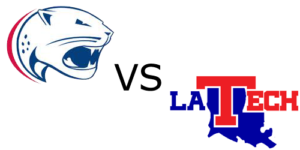 The Jaguars (1-4) entered the fourth quarter trailing by one point, but the Louisiana Tech Bulldogs (3-2) pulled away for a 34-16 win.
The Jaguars had a whirlwind start to the week when, on Monday morning, Head coach Joey Jones announced that he had relieved offensive coordinator Bryant Vincent of his duties. Later in the day on Monday, Coach Jones announced that Richard Owens would take on offensive coordinator duties as well as coaching quarterbacks and that Chase Smith would coach the offensive linemen as well as tight ends.
The Jaguar defense kept up their high level of play on the first series on the field by forcing a fumble and recovering it at the Jaguar 16 yard line. It only took the Jaguar offense three plays to put it in the end zone, two runs by Xavier Johnson for 8 and 47 yards respectively, then Cole Garvin connected with Jamarius Way for a 29 yard touchdown to take an early 7-0 lead.
Tech would answer with a score, the final 40 yards were on a J'Mar Smith pass to Teddy Veal to tie the game. After a Jaguar three-and-out, Tech mounted another drive to take a 14-7 lead with 4:18 left in the opening quarter.
The second quarter opened with a Bulldog field goal of 31 yards to extend their lead to 17-7.
The jags drove to the Bulldog 10 yard line before Garvin threw an interception in the end zone and returned out to the 1 yard line. The defense would hold them on 3rd and 15 forcing a punt and the Jags would drive down to the Bulldog 9 yard line before having to settle for a field goal cutting the lead to 17-10 with 4:48 left in the half.
The Jags would get the ball back with 2:47 left in the opening half at their own 45 yard line after a 25 yard punt. USA would drive down to the Tech 24 yard line with :02 left on the clock. Gavin Patterson would nail another field goal putting the Jags behind 17-13 going into the halftime locker room.
Tech would drive to the Jaguar 26 on their opening possession of the second half but would miss the field goal wide right.
The Jags got in gear again behind Garvin's arm. The drive would stall at the Bulldog 29 yard line again and Patterson would connect on a career-long 46 yard field goal cutting the lead to just one point 17-16 with 5:26 left in the third quarter.
After a Corliss Waitman punt to start the fourth quarter, the Bulldogs started on their own 10 yard line and would drive down the field in 7 plays with the final 30 coming on a J'Mar Smith pass to Adrian Hardy for a touchdown, extending their lead to 24-16 with 12:17 left in the game.
Another three-and-out by the offense and a nicely placed punt by Waitman had the Bulldogs starting at their own 11 yard line. But Smith's throws and a facemask penalty on Taji Stewart aided them in driving down the field. The Jag defense held them to a field goal to make it 27-16 with 4:18 left.
On the next Jaguar possession, facing 4th and 3 at their own 27, Jones and Owens decided to go for it but Garvin's pass to Johnson would be dropped turning the ball over on downs. Then the Bulldogs only needed one play with Boston Scott scampering 27 yards for the game-sealing touchdown.
One more Jaguar possession saw Garvin complete his first pass to Sa'Mory Collier for three yards then the next two passes fall incomplete before punting away. Tech would run out the clock for the win.
The Jaguar offense gained 333 yards total, but only 98 on the ground. Cole Garvin would go 21-of-45 for a touchdown but with two interceptions in his first start in three weeks after being injured on the first possession against Oklahoma State on September 8. Louisiana Tech gained 479 yards overall, 317 of them through the air on 24-of-38 passing.
Xavier fell short of breaking the school record for career rushing yards with only 89 for the game on 12 carries. Minter added 17. Jamarius Way led the Jagaur receivers with 67 yards on 5 catches and the only touchdown. Sam Harris had 59 on 5 catches with four other Jags catching passes.
Boston Scott led the Bulldog rushing attack with 76 yards on 6 carries and a touchdown. J'Mar Smith threw three touchdowns with no interceptions. He completed passes to eight different receivers with Teddy Veal leading all receivers with 88 yards on 5 catches with a touchdown.
USA managed three sacks on Smith, all in the third quarter. Jimmie Gipson and Chris Henderson both had one and Tyree Turner and Finesse Middleton both grabbing a half sack each. Nigel Lawrence forced the lone fumble.
Though the offense seemed to fizzle out late in the game, it did show progress from previous games. I think with about 10 days to prepare for Troy and allow Owens to settle into his new role, the Jags will be ready for the next seven conference games.