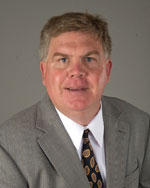 Two services over the next two days have been announced for Coach Crain.
An open memorial is set for Thursday at 4pm in the worship center in Cottage Hill Baptist Church in Mobile. In Birmingham there will be a visitation at 3:30pm followed by a 5:30pm service of celebration at the Southern Heritage Funeral Home on Friday.
A statement was released on Wednesday by the family, "We appreciate all the kind words and prayers for our family as we face this difficult time.  Kurt was a positive presence and influence on many lives, especially through his love of football, and we hope he will be remembered for all the gifts and passion he brought to the game.  Kurt was also a wonderful husband and father, and we ask that you give our families time to grieve our loss privately.  Thank you."
Individuals wishing to assist the Crain family can make a donation to the "Crain Nation Fund" at any BancorpSouth Bank branch which has been established on behalf of his three surviving children.
Update:  Local15 news has a video online where they interviewed Coach Joey Jones about Coach Crain's death. You can view it here.
It's easy to write about a game or recruiting. It get's difficult to write about serious injuries. But it's very hard to write about someone who has passed away before their time.
This article is one of those articles that are very hard to write.
Tommy Hicks of the Press-Register wrote a very good post about his memory of Coach Crain. While I didn't know him nearly as well as Tommy, he recognized me whenever he saw me.
I guess he would see me as I watched over their practices in the spring and fall. I try to make as many functions as I can to support the team and my school. Occasionally we would get to a moment to chat so I could congratulate him on his fine work with the players. Ask him about some of the younger guys and how their grades were looking. I always like to ask about grades.
When it wasn't game time or practice time, he would greet me with a "hey buddy" with his smile. He seemed genuinely happy to chat with anyone when he had the time.
I always liked to watch him coach the linebackers. He was loud and he knew what he wanted in order to make them what they needed to be on the field. They worked hard in practice and he would correct them when they did something wrong. But he was quick to congratulate them when they did something well.
One of my favorite memories was when South Alabama played their first road game in Dothan. Justin Dunn intercepted a pass and returned it for a touchdown. I think the first coach to congratulate him was Coach Crain and I think he was about half way out to the numbers when they met with a slap on the helmet and barking into his ear.
That's the Coach Crain I remember. A great man always willing to talk, everyone was a friend, knew what he wanted from his players and one of the first to give them a slap on the head and tell them how well they did.
Coach Crain, you will be missed by many.
The Crain family released a statement through the University this evening: "We appreciate all the kind words and prayers for our family as we face this difficult time. Kurt was a positive presence and influence on many lives, especially through his love of football, and we hope he will be remembered for all the gifts and passion he brought to the game. Kurt was also a wonderful husband and father, and we ask that you give our families time to grieve our loss privately. At this time no service arrangements have been finalized, but we expect that we will hold a service in Birmingham as well as a memorial service at a later time in the Mobile area. We will provide that information when it is available. Thank you."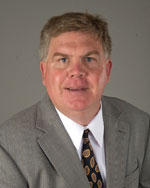 Auburn athletic director Jay Jacobs called Coach Kurt Crain a "fierce competitor" who would be deeply missed. "The entire Auburn family is deeply saddened to hear of the passing of Kurt Crain," Jacobs said. "He loved the game of football as much as he loved Auburn. Kurt was an incredible individual who I was blessed to be friends with for over 25 years."
Coach Crain was found dead by Spanish Fort police at his home on Tuesday. "It appears to be a self-inflicted gunshot wound," said Baldwin County coroner Stan Vinson.  Vinson also said the investigation into Crain's death is continuing and that an autopsy will likely be performed Wednesday.
Last season, Crain suffered with prostatitis, an infection of the prostate, which required at least three surgeries during the season. The illness forced him to miss the Jags' game at North Carolina State and he also missed some practices. Crain, a Birmingham native, had said he lost 32 pounds in the early stages of the disease and the treatment. Most of his prostate had been removed.
No further details on his death were immediately available, according to a USA press release.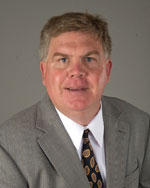 Associate head coach Kurt Crain was found dead today, he was 47. The cause is not known at this time per this AL.com article.
Spanish Fort police reported that he was found dead in his home this afternoon. Further details was not released but they did indicated that foul play was not suspected. Coach Crain was among the first coaches hired by Coach Joey Jones when he came to South Alabama. In a release by the University coach Jones was quoted saying, "We've lost a great man, coach and mentor at the University of South Alabama. In my opinion, Kurt was one of the best overall coaches I've ever seen. He cared about the players, they respected him greatly, and he was a tremendous football coach and motivator. I think about what a great man and what a great teacher he was for these young men. All Kurt would ever talk about was his family and how much he loved his wife and kids. That's the kind of man he was."
Coach Crain began by playing football at Auburn University where he was selected as an AP All-American linebacker and lead the team to a 19-3-2 mark as the 1987 SEC championship, two bowl berths and a top-10 finish finish in the polls both seasons. He was a two time All-SEC selection at linebacker and voted as a captain his senior season.
Crain played two seasons in the NFL with the Houston Oilers and Green Bay Packers. He began his coaching career in the early 1990's as a graduate assistant with Auburn. He then went on to coach at Troy with Larry Blakeney and TCU with Pat Sullivan before coming to South Alabama.
Coach Crain worked with the inside linebackers for three seasons prior to this spring when he had moved to the defensive line. The inside linebackers, lead by him, lead the team each season with stops while helping the Jaguar defense to rank in the top 20 nationally in FCS in both pass defense and total yards nationally in 2011.
He will be sorely missed not only on the practice field and the sidelines, but in the field house. I spoke to coach Crain a few times and he, like all of the coaches at South Alabama, was humble and loved to talk about everything.
Please keep his wife and children in your thoughts and prayers as they go through this terrible time.
Update 8:45pm   The Baldwin County coroner Stan Vinson says that Coach Crain died of an apparent self-inflicted gunshot wound. He suffered from prostatis, an infection of the prostate, last season which required at least three surgeries and IV antibiotics. The illness forced him to miss the Jaguars first FBS game at North Carolina State as well as a number of practices. He had lost over 30 pounds because of the illness and most of his prostate had to be removed.
The Press-Register quoted Coach Jones from a phone interview saying, "I always ask them, 'How do you want to be remembered? When I think about Kurt, when I heard the news, all I thought about was the great persons that he was. Those kids, you could tell he meant a lot to them. He meant a lot to everybody in that room. … I told them to focus on the good that he did in his lifetime."
"He was always a happy-go-lucky, loved-to-play-football guy when I knew him as a player. He was the same way here as a coach."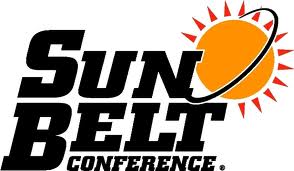 Brett McMurphy of CBS Sports is reporting that the Sun Belt and Georgia State University is set to announce they will join the Conference in 2013 at a press conference scheduled for 2pm at the Georgia Dome in Atlanta. This comes a week after Sun Belt presidents voted via teleconference to extend an invitation to Georgia State and talks with the school.
Georgia State, a former member of the Sun Belt, has spend the past seven seasons playing in the Colonial Athletic Association. This announcement also comes one day before the CAA Conference is set to vote on substantially raising the exit fee for member schools. Reports are this will raise the fee from $250,000 to "at least one million."
While all sports excluding football could play in SBC beginning in 2013, it would be 2014 before the football team would be able to begin play in the conference, as a full member, due to NCAA rules. However their 2013 schedule would consist of a full Sun Belt schedule as a transitional team, like South Alabama will be in 2012.
Georgia State has a June 1st deadline to declare if they will be playing in FCS or FBS.
GSU will mark the first major change to the Sun Belt Conference under new commissioner Karl Benson. Benson, formerly the commissioner of the Western Athletic Conference, replaced Wright Waters as commissioner on March 15.
The addition of GSU as a football member will push the conference to 11 schools with football. The NCAA requires conferences to have 12 football playing members in order to have a conference championship game. However the conference is also potentially facing the loss of three institutions as the Mountain West Conference and Conference-USA are looking to merge into a new conference with a target of up to 24 schools. The schools that are in talks are Florida International, Florida Atlantic and North Texas.
Benson is reportedly in talks with other schools as possible new members. Charlotte and Texas-San Antonio continue to be top contenders for potential membership in the Sun Belt with rumors of potential interest by Lamar and Texas State.
UPDATED: As soon as I posted this Kevin McGuire posted that UT-San Antonio has met with MWC/C-USA about possibly joining the conference. The UT-SA board of regents have called a special meeting for Thursday, April 12th but it is unknown what the agenda of the meeting will be.
Paul Bennett continues to work out and chase his goal of getting drafted in the 2012 NFL Draft. As Jaguar fans, we should help him by spreading his video.

Those guys in the Video Department produced another excellent video. This time with the help of Trey Clark, they tour the Football Field House on the campus of the University of South Alabama.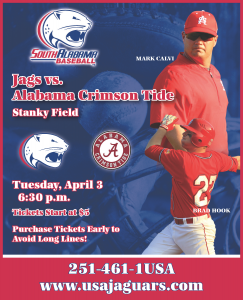 South Alabama Baseball to host the University of Alabama Tuesday, April 3rd at 6:30 PM!
The South Alabama Jaguars will host the Alabama Crimson Tide at Eddie Stanky Field Tuesday, April 3rd in a SEC versus Sun Belt Conference match up.  First pitch is scheduled at 6:30 p.m. Get your tickets early at the Mitchell Center ticket office Monday through Friday, 10 a.m. until 5 p.m. or by calling 461-1USA to avoid long lines the night of the game.  You can also purchase your tickets at the Eddie Stanky Field ticket windows on game day up to one hour prior to first pitch.
Take advantage of the new outfield decks in right center field called "Jaguar Alley."  You may purchase $5 tickets as you enter the outfield deck area from Gamma Drive (behind the scoreboard) and park in the Gamma Parking lot just down from Eddie Stanky Field.  The decks are available for general public on a first come, first serve basis until deck tickets run out.  The deck area opens at 5:30 p.m. Tuesday night.
Upcoming Home Games:
Tuesday, April 3
Jags vs. Alabama @ 6:30 p.m.
Tuesday, April 17
Jags vs. Southern Miss @ 6:30 p.m.
For more information please call 461-1USA or visit www.usajaguars.com.