South Alabama picked up another big name recruit. Anfernee Mullins de-committed from Mississippi State and verbally committed to the Jaguars over the weekend.

Mullins, a 6'4″ 245-pound defensive end from Aliceville High School, decided that what mattered the most to him was playing time and he thought he could get the most from South Alabama. He feels that South Alabama is a better fit for him than Mississippi State.

"The way I was looking at it was how many players they were recruiting at my position," Mullins told 247Sports. "It was going to be a lot for me to get on the field (at Mississippi State). South Alabama said I'm No. 1 on its recruiting board. I believe I have a chance of getting playing time if I go to South Alabama."

"They are in a conference that sometimes gets overlooked, but they are still playing good football, and I like that," he said. "It's a small conference, but I believe they'll give me a chance. It'd be harder for me to get a chance at Mississippi State than at South Alabama."

Mullins said he committed to the Bulldogs in early June after a strong camp performance in Starkville, but was never publicly listed as a commit by any of the recruiting services. He then told MSU defensive coordinator Geoff Collins and defensive line coach David Turner this week that he intended to change his commitment to a different school. 

Mullins has yet to visit Mobile and the USA campus, but he likes what he has seen online. The Jaguars thinks he will be a good fit at outside linebacker while other schools recruiting him have been recruiting him as a defensive end. 

South Alabama's defensive ends and linebackers coach Freddie Roach, was has been recruiting Mullins, sold him on the idea of South Alabama and outside linebacker through their frequent talks. 

He is unranked by the major recruiting services and attended camps at MSU, Alabama and Auburn prior to his commitment to the Bulldogs.
Staying on other sports than Football today, the South Alabama Men's Golf team had a program-record four student-athletes earning Academic Honors on Wednesday. The Golf Coaches Association of America announced that four Jaguars earned Cleveland Golf/Srixon All-America Scholars recognition.
Seniors Lane Hulse and Blake Kelley earned the honor for the second consecutive time while juniors Michael Garretson and Tyler Klava earned the award for the first time in their first season of eligibility. It also marks the sixth consecutive season the Jaguars have had at least one individual honored with the award.
Garretson earned the Sun Belt Conference Golfer of the Year back in April and was joined on the First-Team All-Conference squad by Klava with Hulse being chosen for the Second-Team All-SBC honors.
Klava ranked second in the conference with a 72.72 stroke average while Garretson was third with a 72.74 stroke average and Hulse was 15th with a 73.85 stroke average. Garretson, Hulse and Kelley each participated in 13 events this season while Klava participated in 12 after missing the opening tournament due to injury.
In order to be eligible for selection as a Cleveland Golf/Srixon All-America Scholar, individuals must be a junior or senior academically and have competed in at least three full years at the collegiate leven and participated in 50% of their teams competitive rounds. In addition to posted a scoring average of below 76.0 at the NCAA Division I level, they must also maintain a minimum cumulative GPA of 3.2 or higher, be of high moral character and be in good standing at their college or university.
These four Jaguars were among 207 NCAA Division I student-athletes to be honored this season.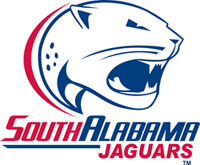 The University of South Alabama 2013-2014 Track and Field team had six student-athletes earn All-Academic honors from the US Track and Field and Cross Country Coaches Association. Additionally, the women's team was named one of the organizations All-Academic teams.
All six student-athletes earned All-Sun Belt Conference honors in their respective events this season while Kotze, Smith, Hixon and Beans all setting new Jaguar records in their events.
The women's team were rewarded for finishing the season with a combined GPA of 3.29, which is well above the team-wide minimum required for All-Academic Team status, which is 3.00.
Jan-Louw Kotze, Connor Smith, and Patrick Rohr were honorees from the men's team which included 496 student-athletes from 165 institutions. Leah Hixon, Kaitlyn Beans and Bobbie Williamson were among 727 women from 193 schools who were honored.
Kotze earned a 4.0 GPA through his sophomore year in exercise science while advancing to the NCAA Preliminaries in the discus for the second consecutive year and was just one spot shy of advancing to the national championship meet.
Smith earned a 3.48 GPA and was named to the list for the second-consecutive year. As a senior, he graduated with his degree in engineering while earning a spot in the regional preliminary round of the pole vault and finished 35th overall.
Rohr, also an engineering major, earned a 3.39 GPA as a sophomore and finished 44th in the regional competition.
Hixon led the lady Jags with a 3.85 GPA and earned her degree as a biology major while earning the honor for the second conecutive season. She finished 25th at the regionals in the javelin throw.
Beans earned a 3.58 GPA in her freshman year as a biomedical sciences major. She qualified for the NCAA Championships in the triple jump and finished 17th place nationally.
Williamson finished her career with a 3.36 cumulative GPA and earned her degree as a nurse major. She advanced to the regional competition in the hammer throw and was less than half-a-meter short of qualifying for the nationals as she finished in 13th place.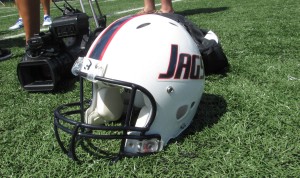 The student-athletes who represented the school and their teammates were Maleki Harris and Chris May. Here is a sample of what they had to say at the 2014 Sun Belt Conference Media Day at the Mercedes-Benz Superdome.
Harris was named to the preseason second-team All-Sun Belt Team by Phil Steele and Athlon Sports. Last season he started 10 games but saw action in all 12 games. He finished fourth on the team with 63 tackles and 8.5 tackles for loss. He led the team with seven pass breakups and with two fumble recoveries. He also recorded 2.5 sacks, three quarterback hurries and an interception.
Harris, as a sophomore, also played in all 13 games and recorded 20 tackles while leading the team with two fumble recoveries and set a school game record when he recovered both of them in the same game against Hawaii.
May, a 6'5″ 290-pound native of Tuscumbia, Alabama, was selected as a First-Team All-Sun Belt player and was selected as a Second-Team All-Conference by both Phil Steele and College Sports Madness. He led the team last season with 65 knockdown blocks and was second on the team with an 87% grade overall after starting all 12 games for the Jaguars last season at right tackle. He allowed only one sack on 394 passing attempts by the Jaguars last season. He had a season-high nine knockdowns in the Jaguar win over Lousiana-Monroe.
As a redshirt freshman in 2012, he appeared in all 13 games and started the final seven at left tackle. He was named to the conference All-Freshman Team by the Sun Belt Conference beat writers and earned a coaches' award on the offensive line three times to tie a season-record.
Chris May (Jr. Offensive lineman)
Speaking about his Sun Belt Conference Media Day: "It's really cool. I was talking with Maleki (Harris) about how cool it is to not only be here, but to be here representing our team, university and city."
Speaking about the offense's greatest challenge this football season: "I think our main challenge will be to keep everyone on the same page. We have so many different athletes and so many people that can do so many different things that if we stay together and maintain great team chemistry then we can do some special things."
Speaking about the cohesion among the offensive line: "We have some special players upfront. We get Melvin Meggs back who was a great player for us two years ago, but he suffered an injury and had to miss last season. Drew Dearman and Ucambre Williams, an All-SBC performer, and Joseph Scelfo will probably step up and play center for us this year. He has the potential to be really good too. Four of us that start on the line came in together in the same signing class. It's been cool to see everyone mature and grow as players and men."
Speaking about competing for the conference championship: "I felt like we were at that point last year. We obviously struggled a little late in some games, but we finished 6-6 and were bowl eligible. This year is a big year for us. We have a lot of returning starters on offense, and some guys who are building depth for us on defense. I feel like this is the year for us to not only compete for the Sun Belt (title), but to win the whole thing."
Speaking about the team heading into this season: "Coach (Joey) Jones has really been hitting us hard with discipline and team-building exercises. We did a workout with some Navy Seals about midway through the summer. As long as we can have that team chemistry and can stay disciplined, I feel like we have the potential to have a great year."
Maleki Harris (Sr. Linebacker)
Speaking about his role in the defense: "I definitely feel that I have more responsibility to lead the defense. When I first got here, I butted heads with some of the guys who were seniors last year. But they took me under their wing, and I think the coaches saw that and have put me in a position to be a leader. I feel a lot of responsibility for this season and how it goes, especially defensively. I feel like a lot of it is on me. If I can't make the play, there may be something I can tell a teammate that they can use in certain situations. But I feel like there isn't a play that I can't make. At the end of the season when my career here is over, I want South Alabama to succeed. That's part of being a leader. You have to lead, but you also have to prepare others to lead. When you have that, then you have a great program and that's what we want at South Alabama."
Speaking about the defense: "I feel like our weakness is experience, and the only way you can get experience is going through it. But our strength defensively is toughness. We are going to be a tough, hard-nosed defense because that's how we are coached. It starts with our defensive coordinator Coach (Travis) Pearson. It is discipline and toughness, mental toughness to be more specific. That's some of the points where we fell short last year. Those close games we lost came down to mental toughness. Now that we have been through that, I feel like we are ready for it."
Speaking about the 2014 schedule ahead of them: "I see so much potential for a great year and the opportunity to get Mobile recognized for more than just the Senior Bowl. We want Mobile to be known as the home of South Alabama. We want to be nationally-known. We want that recognition but at the same time we are going to stay humble and keep working toward our goals."
Speaking about what he learned by playing in the Sun Belt Conference last season: "It was tough, but it was fun. It can get a little crazy going on the road in the Sun Belt. But the team that wins on the road is the team that will come out on top. You have to do it. There is not a sport that you can succeed in if you don't win on the road. It's going to be a tough challenge, but I think we will be ready for it."
Speaking about the team this season: "We want the Sun Belt championship. I feel like we are very talented across the board, and we may not have been able to say that at times in the past years. We are young, but this may be the most talented team to come through South Alabama. Talent-wise we won't be lacking at any position."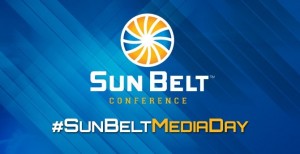 The 2014 Sun Belt Media Day is in the books and the Conference is in a good position to make some noise this season. Especially South Alabama.
This big headlines for this season so far is the number of new quarterbacks taking the reigns for SBC schools when the fall schedule begins. Over half of the teams in the conference will be starting new quarterbacks. South Alabama is not the exception either. Ross Metheny played very well last season and, most notably, played very smart. He threw for over 1,300 yards as he helped lead the Jaguars to a 6-6 season and 4-3 conference record. Now it may be Brandon Bridge's turn to help lead the Jaguars to a new level of success.
Bridge sits at the Number 1 quarterback after spring pratice but will have to continue to prove himself as the stable of returning quarterbacks will continue to fight for playing time. However they will also have to prove themselves against two new quarterbacks that will join the team this fall in HuCo transfer Hunter Vaughn and former South Florida quarterback Matt Floyd.
Only five Sun Belt schools have a returning starting quarterback and the biggest name is Louisiana-Lafayette's Terrance Broadway. Broadway was voted the preseason Offensive Player of the Year honors. Along with him is Georgia State's Ronnie Bell, Texas State's Tyler Jones, Appalachian State's Kameron Bryant and Georgia Southern's part-time starter last season Kevin Ellison.
When Jaguar head coach Joey Jones arrived at the 2013 Sun Belt Media Day last summer, his team was picked to finish next-to-last in their first season as a full SBC and FBS member. After a season-opening loss to Southern Utah, the Jaguars regrouped and found their game. They finished the season with a three-game winning streak including a season-finale win over Sun Belt Conference Co-Champion Louisiana-Lafayette.
This season it toally different. Coach Jones' team is picked to finish third in the conference. The potent Jaguar offense returns nine starters from last season. The two starters they lost were Metheny at Quarterback and Matt Calcagnini at center.
The story is a bit different on the defensive side of the ball as they are returning six starters, most of them in the defensive backfield.
But the conference acknoledged the talent that is on the Jaguar roster as nine student-athletes were named to the preseason All-Sun Belt Team.
The following was some of the things that Coach Jones had to say while speaking with the media in New Orleans.
Jones talking about whether he feels USA as good as any team in the conference. "I feel that we are starting to get closer in terms of talent. Two years ago we weren't Division I quite yet and the talent wasn't there. But last year was much closer and now we are probably getting to the point where we are comparable to the other teams in the league. But it all comes down to how you play, talent only does so much. you have to play well to win football games."
Jones talking about quarterback Brandon Bridge: "I feel real good about Brandon.  He is a great character young man, he works hard at his craft and he cares about it. He's very talented, I expect big things out of him. He understands his role isn't to be the biggest playmaker in the world, it's to be the starting quarterback at South Alabama and win football games for us, that means taking what the defense is giving you. He's done a great job this spring."
Jones spoke about the expectations of being picked to finish third in the conference in the preseason poll: "The way we finished last year definitely helped going into this season. We realized if we play well and do our part we'll have a chance. One thing I know about the Sun Belt Conference is there are a lot of good football teams and a lot of great coaches. You better be ready to play every week.  You look not only at our games, a lot of one- and two-point decisions, but around the league and the other teams are going through the same thing."
One of the most interesting questions for Jaguar fans is what it will take for USA to win the conference championship. Jones said, "The key in my opinion is we have to win close games, and we have to win on the road. Winning on the road is probably the biggest thing in this conference, most teams were .500 or below on the road last year. You have to find a way to win on the road in this conference to win the championship."
Last season the Jaguars lost four games by two points or less, two of them by just one point. The Jaguars game against Tennesse was decided by just seven points and USA had a chance to tie or go ahead with under two minutes left in the game in the red zone.
Jones also spoke about the season-ending win over conference co-champion ULL and what it means as they head into the 2014 season. "Louisiana-Lafayette has been the team that everyone in our conference has looked at the last three or four years. Them and Arkansas State. To be able to have a chance to play well against them last year certainly helped our confidence going into this year. But this is a new year with different players and different coaches, we can't look back, we have to keep looking forward."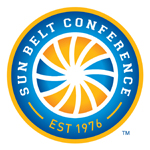 Ahead of Sun Belt Media Day, the conference released the preseason All-Sun Belt Conference Teams with South Alabama having placed nine on the list.
Wes Saxton was named to the First-Team at tight end for the second consecutive season while Chris May and Ucambre Williams joining him as representatives on the offensive line.
Six more were named to the Second-Team. Wide Receivers Jereme Jones and Shavarez Smith, defensive lineman Jesse Kelley, Linebacker Maleki Harris, defensive back Qudarius Ford and placekicker Aleem Sunanon.
Voting for the Preseason All-Sun Belt Team is conducted among the 11 head caoches and select members of the media.
In addition to being named to the All-Sun Belt Team, Saxton is also on the watch list for the John Mackey and Biletnikoff Awards.
Jones looks to continue his consecutive games with a catch streak this season, which currently sits at 39-games.
Smith set the school record for receiving yards in a season and ranked 14th nationally with an average of 18.8 yards per reception (third among players from non-AQ BCS Conferences). He is also on the preseason watch list for the Biletnikoff Award.
Ford is the top returning tackler on defense as he was second on the team last season with 76 stops. He also picked off two passes and broke up six others after starting all 12 games.
Sunanon turned around a shakey start to his redshirt freshman year to become one of the most consistent kickers in the conference. He set a school single-season record with 91 points as he connected on 18-of-23 field goal attempts and 37-of-39 extra point attempts. He was selected as an Honorable Mention to the All-Sun Belt Team in 2013, his first season at the collegiate level. He finished the season ranked in the top 20 nationally in field goals per game while finishing second in the conference in scoring average. He made a school-record 12-consecutive field goals over the final seven games of the season.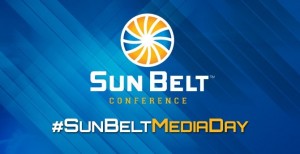 The 2014 Sun Belt Media Day will get underway at 9am this morning in the Bienville Club Lounge in the Mercedes-Benz Superdome in New Orleans, Louisiana.
Each school will have their head coach, except for Troy's Larry Blakeney who recently had surgery and has been advised against making any long trips, and two student-athletes available to the media. Then at 3pm Sun Belt Conference Commissioner Karl Benson will deliver the State of the Sun Belt Conference, after which he, Coordinator of Officials Steve Shaw, College Football Playoff CFO Reid Sigmon and Sun Belt Athletic Directors will be available to the media.
The SBC will also have two outlets for those who cannot be in attendance.
The "Sun Belt Social Suite" will allow fans access and connections to media day activities by featuring fan submitted questions in a one-on-one interview setting. Fans can submit questions to various coaches and student-athletes via Facebook and Twitter by using the hashtag #SunBeltMediaDay. Questions will be answered in real time as the event is live streamed on the Sun Belt Sports website SunBeltSports.org. The morning session will go from 10am-12pm then the afternoon session will run from 1-3pm with Danielle Percival hosting.
Secondly ESPN3 will have a live show from the floor of the Sun Belt Media Day with a two-hour broadcast starting at 1pm and featuring a selection from each coach and student-athletes from all 11 Sun Belt schools participating. Below will be a schedule of the ESPN3 coaches.
For a full bio for each of the schools, coaches and student-athletes visit the Sun Belt Sports website by clicking here.
The itinerary in the Mercedes-Benz Superdome:
9:00 AM – 9:25 AM – Louisiana-Monroe – Head Coach Todd Berry – Student Athletes: Ray Stovall (Sr LB) and Rashon Ceaser (Jr WR)
9:30 AM – 9:55 AM – Appalachian State – Head Coach Scott Satterfield – Student Athletes: Kameron Bryant (Jr QB) and Ronald Blair (Sr DL)
10:00 AM – 10:25 AM – New Mexico State – Head Coach Doug Martin – Student Athletes: Valerian Ume Ezeoke (Sr OL) and Travaughn Colwell (Sr DB)
10:30 AM – 10:55 AM – Texas State – Head Coach Dennis Franchione – Student Athletes: David Mayo (Sr LB) and Michael Orakpo (Sr LB)
11:00 AM – 11:25 AM – South Alabama – Head Coach Joey Jones – Student Athletes: Chris May (Jr OL) and Maleki Harris (Sr LB)
11:30 AM – 11:55 AM – Troy – Offensive Coordinator Kenny Edenfield – Student Athletes: Terrence Jones (Sr OL) and Wayland Coleman-Dancer (Sr LB)
12:00 PM – 1:15 PM – Lunch
1:30 PM – 1:55 PM – Arkansas State – Head Coach Blake Anderson – Student Athletes – Sterling Young (Sr DB) and J.D. McKissic (Jr WR)
2:00 PM – 2:25 PM – Louisiana-Lafayette – Head Coach Mark Hudspeth – Student Athletes: Terrance Broadway (Sr QB) and Alonzo Harris (Sr RB)
2:30 PM – 2:55 PM – Georgia Southern – Head Coach Willie Fritz – Student Athletes: Edwin Jackson (Sr LB) and Garrett Frye (Sr OT)
3:00 PM – 3:25 PM – State of the Sun Belt Conference with Commissioner Karl Benson
3:30 PM – 3:55 PM – Media Availability with Benson, Coordinator of Officials Steve Shaw, College Football Playoff CFO Reid Sigmon and Sun Belt Athletic Directors
4:00 PM – 4:25 PM – Georgia State – Head Coach Trent Miles – Student Athletes: Joseph Peterson (Jr LB) and Keith Rucker (So. TE)
4:30 PM – 4:55 PM – Idaho – Head Coach Paul Petrino – Student Athletes: Maxx Forde (Sr DE) and Mike Marboe (Sr OL)
ESPN3 Broadcast Schedule:
1:03 p.m. – Sun Belt Commissioner, Karl Benson
1:11 p.m. – Mark Hudspeth, UL Lafayette
1:21 p.m. – Kenny Edenfield, Troy
1:31 p.m. – Dennis Franchione, Texas State
1:41 p.m. – Willie Fritz, Georgia Southern
1:51 p.m. – Scott Satterfield, Appalachian State
2:01 p.m. – Trent Miles, Georgia State
2:10 p.m. – Doug Martin, New Mexico State
2:20 p.m. – Blake Anderson, Arkansas State
2:30 p.m. – Joey Jones, South Alabama
2:40 p.m. – Paul Petrino, Idaho
2:48 p.m. – Todd Berry, UL Monroe
South Alabama head softball coach Becky Clark announced the hiring of former LSU standout pitcher and current Akron Racers ace Rachele Fico to fill the assistant coaching position formerly held by Mark Ryal who left for a similar position at Oklahoma State.
Fico will complete the 2014 season with the Akron Racers of the National Pro Fastpitch league before assuming her full-time coaching duties at South Alabama. This will be her first time as full-time coach after spending the last two season with the Racers and also after being selected number 1 overall in the 2013 NPF Draft.
Fico, an Oxford, Connecticut native, is currently the NPF's leader in win with a 7-5 record this season. She has a 4.14 ERA and has struck out 42 batters in 72 2/3 innings pitched. She will look to help keep the Jaguar pitching staff on top after they finished last season with the NCAA's best ERA at 1.29. Hannah Campbell led the way with a 0.95 ERA, good enough for third in the nation, while Farish Beard's 1.23 ERA was good enough for sixth place in the country. Campbell was also selected third overall in the 2014 NPF Draft back in May and joined Fico at Akron. Beard will enter her senior season in 2015.
Fico, while at LSU, was a two-time National Fastpitch Coaches Association First-Team All-American (2012, '13), three-time NFCA All-South Region First-Teamer (2010,'12, '13) and a three-time All-Southeastern Conference honoree (2010, '12, '13). She was a top-25 finalist for the USA SOftball Player of the Year award on two occasions.
During her freshman season at LSU in 2010 she was named the SEC Co-Freshman of the Year and also made the All-SEC Freshman and Defensive Team lists. The next season she led the team to the 2011 NCAA College Station Regional where they eventually fell to Syracuse. Fico would be named to the All-Regional Team after an 18-strikeout performance against the Orange which tied her the second-most in LSU history.
She also brings Women's College World Series experience to the Jags staff as she helped lead the Tigers to the 2012 WCWS in Oklahoma City after earning both wins over #9 seed nationally Missouri at the NCAA Columbia Super Regional. She also earned unanimous NCAA College Station Regional MVP after pitching back-to-back shutouts against Texas State and #8 national seed Texas A&M.
In her collegiate career at LSU she finished among the top-5 in appearances (149), starts (104), complete games (82), innings pitched (774), wins (78), saves (8), opposing batting average (.195), shutouts (32), strikeouts (797) and strikeouts per seven innings (7.21).
Welcome to JagNation coach Fico!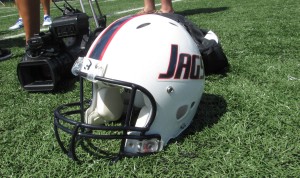 According to a poll of the Sun Belt Conference coaches released on Saturday, South Alabama was selected to finish third in the eleven-team league.
Co-Champions Louisiana-Lafayette and Arkansas State were selected to finish first and second again this season with the Ragin' Cajuns being a unanious first-place selection. Behind the Jaguars is in-state rival Troy selected to finish fourth.
Appalachian State is rated the highest among the four new addition to the conference as they were selected to finish seventh with Georgia Southern chosen to finish eighth, fellow newcomer Idaho chosen to finish ninth, Georgia State 10 and New Mexico State chosen to finish last in 11th place.
Prior to last season, the Jaguars, entering their first season as full FBS and Sun Belt Conference membership, was selected to finish seventh in the then-eight-team league. However, after a three-game winning streak to finish the season, the Jaguars posted a 6-6 record overall and a 4-3 record in conference play to finish tied for third place with the same conference record as Troy, Western Kentucky (who joined Conference USA on July 1), and Louisiana-Monroe. The final win of the season came against co-champion ULL 30-8 at Ladd-Peebles Stadium. Co-Champions ULL and Arkansas State both finished with a 5-2 conference mark.
While the Jaguar were bowl eligible, and after the fans took to social media in an attempt to sway the bowl selection committees, USA was overlooked for a bowl invitation.
The entire breakdown of where the 11 Sun Belt Football teams were selected to finish is below.
Louisiana-Lafayette (11 first place votes) 121 points
Arkansas State 102
South Alabama 98
Troy 84
Louisiana-Monroe 78
Texas State 70
Appalachian State 47
Georgia Southern 44
Idaho 29
Georgia State 27
New Mexico State 26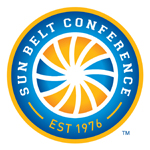 The Sun Belt Conference office announced a content expansion in their agreement with ESPN that will result in exclusive distribution of up to an additional 50 Sun Belt events on ESPN3.
The expansion will begin this fall with a number of SBC football games will exclusively produced and distributed on ESPN3. But it will not be limited to football, other fall sports such as Women's Soccer, Men's Soccer and Volleyball championships will be aired on the network.
Additionally a number of men's and women's baskeball regular-season games will be available along with every game of the 2015 Sun Belt Men's and Women's Basketball Championships.
In the spring, Baseball will be featured heavily with regular-season games several games from the 2015 Softball Championship will all be carried on ESPN3.
"One of the more unique aspects of this alliance is that the Sun Belt is going to work with ESPN to make sure our institutions are capable of producing their own content that meets ESPN3′s production standards," Sun Belt Conference Commissioner Karl Benson said. "This has the potential to make a tremendous impact on the total number of Sun Belt contests – in all sports – that will be available on ESPN3."
This will help Sun Belt member schools to be able to deliver high quality productions that can be featured on ESPN3 throughout the year.
ESPN3 is an online streaming service provided by ESPN Inc. It delivers both live streams and replays of global sports events to fans. The network is available to individuals who receive high-speed internet connection or cable TV subscription from an affiliated service provider. It is also available to approximately 21 Million U.S. college students and military personnel.
The network can be accessed online by WatchESPN.com, on smartphones and tablets via the WatchESPN App and streamed to users televisions through Amazon Fire TV, Apple TV, Chromecast, Roku, XBox 360 and XBox One. The network is currently available to more than 92 million homes.
"ESPN3 and WatchESPN have revolutionized how viewers consume sports – we are excited to be part of that and eager to display the Sun Belt to the 92 million homes that ESPN3 reaches," Benson said.