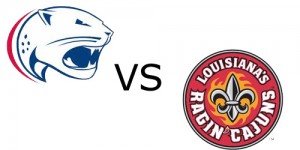 This is a huge weekend for South Alabama Softball.
The #24 ranked Jags (15-3) open their Sun Belt Conference schedule by hosting #7 ranked Louisiana-Lafayette (15-2) for a three-game series at Jaguar Field.
USA and ULL have split the last 12 matches and have met for the Sun Belt Conference's automatic bid twice in the last three seasons. The Cajuns will bring the reigning Sun Belt Pitcher of the Year Christina Hamilton and 2012 and 2013 first team All-Sun Belt choice Jordan Wallace. The Jags will counter with 2014 first team All-Sun Belt selection Farish Beard and two-time Sun Belt Pitcher of the Week in her freshman Season Devin Brown.
The Cajuns pitching has held opponents to a .147 batting average and 16 runs over 106 2/3 innings. The Jaguars have allowed opponents to hit .176 and to score 41 runs in 120 innings.
ULL faced #4 ranked Alabama last weekend in Tuscaloosa, so this is their second-consecutive weekend in Alabama to face a top-25 teams.
The series opens on Saturday with a double-header beginning at noon and the second game at 2pm. The third and final game of the series will get underway at 1pm on Sunday.
Go Jags!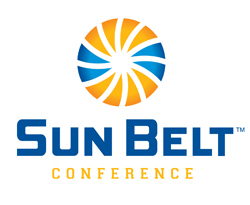 The Jaguar men's basketball team controlled their own post-season destiny as they traveled to Jonesboro, AR. for their Thursday night game against Arkansas State and they held on down the stretch to earn their way in the Sun Belt Conference Tournament.
The Jags (10-20, 8-11 SBC) saw a 24-point second-half lead slip away in the final minutes but thanks to sophomore Ken Williams leading a late charge, the Jags held on for the 81-76 win.
Over a span of 8:17, the Jags were outscored 29-7 including 15-2 at the end of the run to tie the game at 73-73 with under three minutes left in the game led by Anthony Livingston scoring six of the final 10 points of their run.
Williams answered back with on the next possession with a 3-pointer from the corner to break the tie. After a turnover, Williams added a layup to stretch the Jaguar lead to 78-73 with 2:11 remaining.
ASU (11-17, 6-13 SBC) connected from deep to pull within two with 1:13 left to play, but freshman Taishaun Johnson added a free throw with 38 seconds remaining to extend the lead to three points at 79-76.
Arkansas State's three-point attempt missed and allowed Williams to grab the rebound. After being fouled, he sank both of his attempts to effectively ice the game.
Williams scored 12 of his 18 points after halftime. Johnson just missed a triple-double with 17 points, nine rebounds and a career-high seven assists. Senior Dionte Ferguson led the team with 20 points while freshman Abdul Lewis added 15 points.
"I can't begin to say enough about how proud I am of this team and what they've accomplished," South Alabama head coach Matthew Graves said after the game. "They hung tough and made some tough plays in those last couple of minutes to secure the victory.
"This team is starting to grow up. Certainly it's been frustrating at times, but if you look at us a month or two months ago, we would not have won this game. There's no question about that. We would have ended up getting beat by six or eight points down the stretch. This team has grown up and they are doing more things consistently. Obviously, we can continue to get better, but I'm really proud of our effort and to have one more home game for our two seniors. We need to be focused and ready to go on Saturday."
The Jaguars return home to host Troy for their regular season finale on Senior Night. Jags and Trojans tip-off at 4:05PM at the Mitchell Center.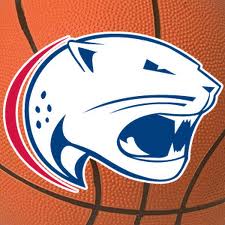 The South Alabama men's basketball team head into the final two games of the regular season needing a win to put themselves into the Sun Belt Conference Tournament.
In their first opportunity Thursday night at Arkansas State, the Jags control their own destiny. Win and they are in. However, all is not lost if they lose but it means they don't control their own destiny. With a loss at ASU, they would need to return home and defeat Troy at the Mitchell Center on Saturday but would need some help in order to make the tournament.
The Jags (9-20, 7-11 SBC) have lost their last three games against the top three teams in the conference. They have had a week to prepare to exact revenge on the Red Wolves )11-16, 6-12 SBC) who defeated USA in overtime at the Mitchell Center on December 30.
The Red Wolves have won two of their last three games after a five-game losing streak. Both wins came at home against conference co-leaders Louisiana-Monroe and Texas-Arlington. Also the Red Wolves sit just one game behind the Jaguars and also need a win to keep their tournament hopes alive.
ASU's Anthony Livingston is coming off a 20-point, 13-rebound effort against Texas State and averages a double-double per game for the season. Against the Jags in December he had 16 points and 13 rebounds. He ranks sixth in the conference in scoring with a 15.6 point per game average and ranks second in rebounding with an even 10 rebounds per game.
South Alabama's Ken Williams ranks seventh in the conference in scoring with a 15.4 point per game average and ranks second in 3-pointers per game. In the previous game against ULM, Williams scored 21 points with four 3-pointers. He has also had nine 20-point outings this season. He also moved up to eighth in school history with 77 3-pointers, the most ever by a USA sophomore.
USA and ASU tip-off at 7:30pm tonight in Jonesboro, AR.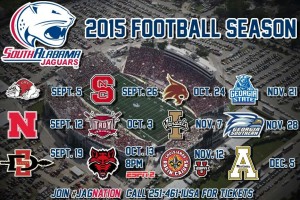 South Alabama, in conjunction with the Sun Belt Conference office, released the full 2015 football schedule late last week. Previously the dates had only been set for the Jaguars non-conference schedule and the Jaguars knew who in the conference they would be facing, but not the dates.
The 2015 schedule will be a good one. USA has two nationally-televised home games on the ESPN family of networks this fall. The first will be on Tuesday, October 13 at 8pm against Arkansas State on ESPN2. The second will be against Louisiana-Lafayette on Thursday, November 12 on ESPNU.
Here is the complete football schedule:
September 5 vs Garner-Webb  Time:TBA
September 12 @ Nebraska  Time:TBA
September 19 @ San Diego State  Time:TBA
September 26 vs North Carolina State  Time:TBA
October 3 @ Troy  Time:TBA
October 13 vs Arkansas State  Time: 8PM
October 24 @ Texas State  Time:TBA
November 7 vs Idaho  Time:TBA
November 12 vs Louisiana-Lafayette  Time:TBA
November 21 @ Georgia State  Time:TBA
November 28 @ Georgia Southern  Time:TBA
December 5 vs Appalachian State  Time:TBA
Five of the 12 teams they face this season participated in bowl games last year including five Sun Belt teams that finished tied or ahead of the Jags in the final conference standings. Eight of the 12 posted winning records last season with three, Georgia Southern, Louisiana-lafayette and Nebraska, all earning nine wins last season.
Kickoff times for the games are yet to be determined.
This week the Jaguars announced when spring practices would start and announced the date of the annual Red-Blue Spring Game.
The Jags will hit the practice fields in less than two weeks as they start their spring schedule on Monday, March 16 for the first of 15 workouts over the span of four weeks. The full spring practice schedule will be released before spring drills begin.
The annual Red-Blue game is scheduled for noon on Saturday, April 11 at Ladd-Peebles Stadium and will be part of a big weekend of South Alabama sports. The Red-Blue game starts at noon, the nationally ranked Jaguar softball team will host Georgia Southern starting at 1pm at Jaguar Field and the baseball team will host Appalachian State at Eddie Stanky Field with first pitch scheduled for 6:30pm.
For the second time this season, freshman pitcher Devin Brown has been named the Sun Belt Conference Pitcher of the week. This is also the third weekly honor for given to a South Alabama player in four voting periods.
In the 2015 Carolina Classic in Columbia, SC, Brown went 2-0 with 26 strikeouts in 18 innings of work. She helped the team to win over Tennessee State and South Carolina to improve to 7-2 on the year. She only allowed four earned runs on eight hits in four appearances over the weekend including back-to-back eight-strikeout performances in the final day against Marshall and the Gamecocks.
Brown currently has a 1.88 ERA with 123 strikeouts and 18 earned runs allowed in 67 innings of work. She also has two saves and two shutouts in 16 total appearances. Opposing batters have been held to a .145 average and she is tied for the conference lead in strikeouts and is in the top three in the Sun Belt in ERA, opposing batting average and wins.
The Jags will return to the diamond on Saturday to being their conference schedule when they host Louisiana-Lafayette for a three game series beginning at noon on Saturday.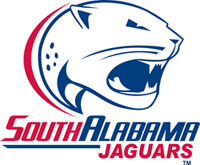 South Alabama executed a pair of weekend sweeps on the diamonds with the Baseball team sweeping their home series against Brown University and the Softball team sweeping their four games in the 2015 Carolina Classic.
Baseball
The Jags swept the four game series against Brown University at Eddie Stanky field. The first of two games on Saturday saw the Jaguar trailing by as much as 10-2 but battled their way back over the final six innings with a three run ninth inning to send the game into extra innings. In the bottom of the ninth, the Jags Matt Bolger delivered the game-winning hit to center field to score the winning run for the final score of 13-12.
In the first game, the Jags won 9-7 but after the 13-12 win on Saturday, the Jags went on a tear. They won the second of two games on Saturday 7-0 then on Sunday they finished the weekend sweep with a 21-1 walloping.
USA scored eight runs in the fifth inning as they scored the most runs in a game since the 2013 team scored a single-game record of 29 runs against New Orleans. Eight Jaguars recorded at least one hit with freshman Jason Cryar leading the team by going 5-for-6 with four RBI and two runs scored in his first collegiate start.
The Jags will host Southern Miss on Tuesday with a 6:30pm start.
Softball
The Jaguar softball team swept their four-game weekend trip to Columbia, SC. The first game saw Chloe Rathburn high a walk-off double which scored Kaleight Todd from second base in the bottom of the seventh inning to secure the win over Charleston Southern. Kalen McGill (6-0) got the win.
On Saturday was a 6-3 win over Tennessee State. The Jags jumped out to a 3-0 lead in the top of the first inning and would go on to score three more runs to take a 6-0 lead going into the bottom of the fourth inning.
In the bottom of the fourth, Charleston Southern attempted a comeback but only managed three runs before the Jaguars ended the threat and cruised the rest of the way for the 6-3 win. Devin Brown (6-2) earned teh win.
In the first of two games on Sunday, the Jags defeated Marshall University 5-3 but did it in walk-off fashion yet again.
Emily Messer singled up the middle to score Haleigh Lowe and tie the game. Then Kristian Foster delivered a two-run walk-off homer to end the game.
The Jags then turned around and faced the University of South Carolina in the finale. The Jags jumped out to a 3-0 lead in the top of the first after Chloe Rathburn doubled to left center field to score Emily Messer and move Stephanie Pilkington to third base. Blair Johnson grounded out to second base scoring Pilkington and advancing Rathburn to third. Kaitlyn Griffith finished the scoring in the inning with a single to right field to drive in Rathburn.
The Gamecocks scored one run in the bottom of the first. USA would add an insurance run in the top of the sixth when Emily Messer singled to shortstop to score Herron for the final score of 4-1.
The Jags will have the week off before returning to the field on Saturday for the first two games of a three-game weekend series to open up the conference schedule against Louisiana-lafayette.
Assistant coach Freddie Roach has accepted an unspecified position at the University of Alabama per reports by FootballScoop.com and AL.com. For the past two seasons he coached outside linebackers and defensive ends for the Jaguars.
Alabama currently does not have an on-field coaching position open, so it is likely that he is taking an off-field position.
Roach played linebacker at Alabama from 2002-2005 and returned as an assistant strength and conditioning coach from 2008-2010. He then spent a year at East Mississippi Community College in 2011 serving as the defensive line coach and strength and conditioning assistant at Murray State in 2012. He then came to South Alabama.
South Alabama Assistant Director of Media Relations Brian Fremund confirmed to AL.com that Roach has left the Jaguar staff.
Roach is the only defensive assistant to leave the program this off season. After the conclusion of the regular season, Robert Matthews was dismissed and replaced by former UAB offensive coordinator Bryant Vincent.
After the Jaguars first bowl game, head coach Joey Jones dismissed tight ends coach John Turner and running backs coach Robby Brown. Jones and Vincent brought in former UAB assistant Richard Owens to coach tight ends and former Alabama recruiting coordinator Tyler Siskey to coach the receivers, which shifted Tim Bowen from receivers to running backs coach.
South Alabama Men's Golf finished the Mobile Sports Authority Intercollegiate with a second consecutive round under-par but it was not quite enough to hold off the top-ranked team in the field as USA finished second.
Daniel Jansen, Michael Garretson, and Tyler Klava led the Jaguar team to their best finish of the season.
Jansen finished with a 4-under 68 and finished one shot behind the individual winners of the tournament with a 4-under-par 212 total. Garretson carded a 70 while Klava carded a 72 to join Jansen in the top 10.
The Jags finished eight strokes behind #22 Auburn, who earned the team title for the third consecutive year. Ole Miss finished five shots behind South Alabama with Michigan State and Louisiana Tech rounding out the top 5.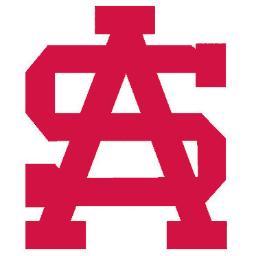 The South Alabama baseball team traveled to Montgomery and had rally from behind in the final three innings to defeat Alabama State 6-3.
The Jags (5-3) was down 0-3 through six innings but the Jaguars rallied with six runs over those final three innings to earn the win over Alabama State (3-4).
Early in the game USA had a number of opportunities with runners in scoring position, but they could not take advantage.
ASU threatened to add to its run total in the bottom of the sixth, but a strikeout followed by a flyout to center and another strikeout ended the threat.
South Alabama returns to Eddie Stanky Field this weekend to host Brown for a four-game series starting on Friday at 6:30pm.
Senior Kaitlyn Griffith of the #22 ranked South Alabama softball team was named the Sun Belt Conference Player of the Week on Monday. She helped lead the Jaguars to four wins in five games by tallying nine RBI and a .933 slugging percentage.
She batted .467 (7-for-15) in those five games last week with nine RBI, four runs scored, two home runs and a sacrifice fly. She also tied two Jaguar game records in their 14-6 win over 2014 Mid-American Conference Champion Ball State when she has two home runs and a career high six RBI. Griffith's six RBI in the game was the most since former Jaguar standout Britany Campbell drove in six run against Southeast Louisiana on March 7, 2012.
Griffith also drew a key two-out walk against Nicholls State to load the bases for South Alabama's go-ahead run.
Through 14 games she has 14 RBI this season and has moved into a tie for fifth in career home runs.
Griffith is the Jaguars second student-athlete to earn weekly conference honors in three voting periods so far this season. Freshman Devin Brown was selected as the SBC Pitcher of the Week on February 9, the first voting period of the season.
South Alabama will host Samford on Wednesday at Jaguar Field with first pitch scheduled for 5pm.