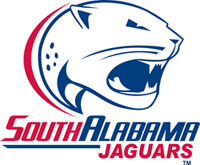 Here is the weekend roundup of South Alabama Sports, despite the weather wreaking havoc with several sports in the Gulf Coast Area.
Women's Tennis
Junior Michaela Meszarosova was able to pull out a marathon three-set match to give her team a 4-3 win over Texas-Arlington and its first Sun Belt Conference title since 2003. It is their 17th title overall, the most in conference history, and will receive the SBC's automatic bid to the NCAA Tournament with a 21-2 overall record.
Men's Tennis
The Men's team did not fare as well as the women. After making their way into the SBC Finals and facing top-seed Troy, the Jags fell 4-1 to the Trojans.
The Jags fall to 16-9 on the season as they are ranked 69th in the nation. Troy improves their record to 25-6 as they are ranked 60th in the nation.
USA started off strong as Daniel Leitner and Gerhard Gruindelingh took the first doubles match 8-5, but that would be the only match the team won as Troy would win the next four.
Softball
The #22 ranked Jaguar softball team was supposed to host Texas State for their final conference home series of the regular season, however the rescheduled doubleheader for Sunday was cancelled due to field conditions which were made unplayable by heavy rains in the area throughout the week.
No make up date will be scheduled.
The Jaguars will travel to Hattiesburg, MS on Wednesday to face Southern Miss. They defeated the Eagles 9-1 in six innings in Mobile on March 18.
Men's Golf
The opening day of the Sun Belt Conference Championships were called off on Sunday due to course conditions at the Sandestin Golf Resort Raven Course.
Weather permitting, the tournament will begin monday morning at 7:30am and will consist of 36 holes. The final round would still be played on Tuesday.
Baseball
The Jags traveled to Evansville, Indiana to face the Evansville University over the weekend.
In game one on Friday, it was Ben Gann's grand slam in the third inning that led the Jaguars to a 7-3 win.
EU took a 2-0 lead in the bottom of the first inning on a two-out two-run home run.
The Jags answered with four runs in the top of the third on the Grand Slam. But Evansville would cut the lead to one run in the bottom of the fourth inning on a two-out RBI single to center field.
In the top of the fifth, USA answered with a run to regain their two run lead. They would add two more insurance runs before the end of the game.
Kevin Hill (6-0) allowed three runs on seven hits with seven strikeouts against three walks for his sixth consecutive win.
Evansville then swept a Saturday doubleheader to take the series from the Jags. They won the first game 6-5 then took the series with a 9-5 win in the finale.
USA will host Jacksonville State to a two-game series this week with the first game on Tuesday night starting at 6pm and the second game on Wednesday slated to start at 3pm.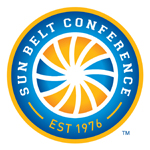 South Alabama teams will be competing in several sports this weekend, some trying to win Conference titles while others are trying to position themselves to make a run at their Conference tournaments. Below is a rundown of the weekend events.
Softball
The #22 Softball team will host their final Sun Belt Conference series at home this weekend when Texas State comes to town.
The Jags roll into the weekend after going to Starkville to defeat Mississippi State 3-2 on Tuesday night and having won their last 11 games.
The Jags (32-7, 14-3 SBC) currently sits in second place in the conference behind Louisiana-Lafayette (32-5, 15-3 SBC). Texas State is in third place in the conference behind the Jaguars with a 25-19 record overall and an 8-6 record in conference play and enter the weekend with a three-game win streak.
The Jags and Bobcats are scheduled to begin with a doubleheader on Saturday starting at 1pm at Jaguar Field and the Sunday finale is scheduled for 1pm at Jaguar Field as well.
Baseball
The Jaguar baseball team steps out of conference play this weekend to face Evansville in a three game series in Evansville, Indiana.
USA (24-13) will start right-hander Kevin Hill (5-0) for his seventh start of the year in the season opener. He has won his last five starts. Austin Bembnowski (2-3) will start his sixth game of the season on Saturday. Southpaw Jared Gates (3-1) will start the series finale set for Sunday.
Evansville (18-15) defeated Indiana 2-1 in 14 innings on Wednesday.
Men's and Women's Tennis
Both the men and women will be competing for Sun Belt Conference Titles this weekend. The Women's squad is the #1 seed and will began action at 8am on Friday morning. The Men's team is the #3 seed and will begin play on Friday afternoon against Appalachian State.
Men's and Women's Track and Field
The Track and Field team will return to action at the War Eagle Invitational. This will be their second trip to Auburn this spring. A total of 12 teams will be competing including Auburn, Mississippi State, Troy and Kent State.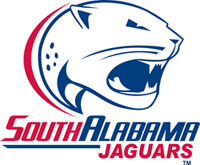 At the Sun Belt Conference annual Awards Banquet a number of Jaguar student-athletes were honored for their performance in Men's and Women's Tennis.
Men's
Senior Daniel Leitner was named the 2015 Sun Belt Conference Men's Tennis Player of the Year for the second-consecutive year and also named to the All-Conference team. Juniors Tim Srkala and Gerhard Gruindelingh and Sophomore Tuki Jacobs were all named to the All-Conference team as well.
Leitner and Srkala were voted to the first-team in singles, Jacobs was voted to the second-team in singles. Leitner and Gruindelingh were anmed to the first-team in doubles.
The Jags, ranked #69, enters the weekend with a three-match winning streak and a 14-8 mark in their spring contests. They finished out the regular season last week and will begin play in the Sun Belt Conference Championships this weekend.
The #3 seeded Jaguars will open against Appalachian State on Friday at 3PM for the first meeting between the two schools.
Women's
In Women's Tennis, senior Emily Newton and sophomore Laura Valkova were named to the All-Sun Belt Conference Women's Tennis teams in both singles and doubles play. Sophomore Monica Mitta was also named to the All-Conference team. The trio of Jaguars led South Alabama to an 18-2 regular-season record and the #1 seed in the Sun Belt Championships.
Newton was named to the doubles first team with Valkova and the singles second team and earning all-conference honors for the third consecutive season to become the first Jag to accomplish that since Michaela Babicova in 2009.
Valkova earns all-conference honors in singles and doubles for the second-consecutive season, earning a spot on the first-team in both singles and doubles.
The team of Newton and Valkova have yet to suffer a defeat in 11 matches at #1 doubles this season and have won their last 12 matches together dating back to the fall.
The USA Women's team will face Texas State on Friday at 8AM in the first round of the SBC Championships.
The Women's golf team turned in a final-round score of 311 at the Sun Belt Conference Championship at Steelwood Country Club in Loxley, AL on Wednesday. Due to inclement weather, only two rounds of the tournament were able to be completed as the Jags concluded with a two-round event with a total score of 617 (306-311).
"The weather finally cooperated, and I thought the girls gave it a really good effort," South Alabama head coach TJ Jackson said. "All year we've been working on getting mentally tough, and they showed that today even though the score doesn't reflect it. I saw a lot of improvement in that area. Ingrid had a really rough front nine, but came back with four birdies on the back nine, that was indicative of the whole team and their effort. I was pleased with that part of it, but we'd like the scores to be lower obviously."
Ingrid Hagen, who led the team in the first round, posted a 78 in the second round to finish the tournament tied for 15th out of 40 participants with a total score of 153.
Caroline Beebe (76-78) and Carianne Wright (77-78) each shot 6-over par 78′s with total scores of 154 and 155 respectively. Beebe tied for 18th place overall while Wright and freshman Madison Connell (78-77) shot a two-round score of 155 after a 5-over par 77 in the second round to finish tied for 21st. Fellow freshman Kaeli Jones (79-80) posted a two-round total of 159 and finished 31st overall.
Troy won the tournament with a team score of 593 (301-292) while Arkansas-Little Rock's Stina Resen (72-70) won medalist honors with a two-under par total of 142.
Hagen, the Jags lone senior, completed her final event for the Jaguars and was quoted after the round. "I started off a little rough with a lot of bogeys, but I made the turn determined to finish strong," she explained. "I made up my mind to go low and everything rolled in from there.
"I hit some iron shots that came in close.  I made a birdie on No. 2, and I chipped in on the next par three, which was a clutch up-and-down there.  I had some putts that finally rolled in that didn't fall on the front nine."
"Ingrid is a senior and she knows what to do," Jackson commented. "She didn't get down on herself, she played that 'one-shot-at-a-time' cliché that we're always talking about and made some birdies coming in. That's what it's all about, and I think the team as a whole did that well this week.
"We made some strides in the mental game, and that's what we were wanting to do," Jackson said. "These girls are very talented — they can hit any shot out there — but it's how we're thinking around that golf course that makes the difference.  I feel we've made strides there, so going into next year I'm really excited. We've got some young players who can play, I'm ready for next year already."
The final team results:
1. Troy +17
2. Texas State +29
3. Arkansas-Little Rock +31
4. Appalachian State +36
5. Georgia State +40
6. South Alabama +41
7. Arkansas State +44
8. Louisiana Monroe +47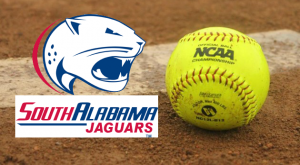 The #22 ranked South Alabama Jaguars traveled to Starkville, MS to take on the Mississippi State Bulldogs Wednesday night and came away with a 3-2 win after turning away three rally attempts by the Bulldogs.
South Alabama put the first run on the board in the top of the fourth inning after senior shortstop Kaitlyn Griffith led off the inning with a double to left field. She would move to third base on Amanda Minahan's infield base hit. Blair Johnson would bring Griffith home on an RBI groundout to second base to take a 1-0 lead.
The Jags added to their lead in the top of the fifth inning after Kristian Foster drew a walk. Stephanie Pilkington got on base on a fielder's choice and was followed by Griffith drawing a walk to put two Jaguars on base. Sophomore Chloe Rathburn then hit a two-run single that fell just short of clearing the outfield wall and the bases, to put the Jags up 3-0.
Then MSU tried to rally. Bulldog center fielder Loryn Nichols reached base on a Jag throwing error to lead off the bottom of the fifth inning. She would later score on a two-out single up the middle to cut the Jaguar lead to 3-1 through five complete innings.
The Jags went down in order in the top of the sixth inning, but the Bulldogs continued their attempted rally with back-to-back singles. Jaguar head coach Becky Clark then brough in Farish Beard to relieve starter Kalen McGill. Beard struck out the first batter before shortstop Kayla Winkfield hit a sacrifice fly to center field to drive in their second run of the game and cutting the Jaguar lead to only one run, 3-2.
Beard opened the seventh inning with a strikeout, then followed with a walk before forcing a pop out to first. Another walk put two Bulldogs on base, but Beard sealed with win after knocking down a bouncer up the middle and throwing them out at first base.
McGill (14-1) pitched a no-hitter for 3 1/3 innings to earn her seventh victory in a row. She struck out three and walked one allowing two runs, only one earned, on four hits in five innings pitched. Beard, who came in as relief, allowed no runs, struck out three with a pair of walks in two innings as she earned the save.
Rathburn went 1-for-3 with two RBI as she recorded her team-leading 15th multiple-RBI game this season. Kaitlyn Griffith went 1-for-3 with a run scored while Pilkington went 1-for-4 with a run scored as well.
Mississippi State's Alexis Silkwood (22-10) is a two-time SEC Pitcher of the Week over the last two voting period took the loss after allowing three runs, all earned, on four Jaguar hits in a complete-game effort.
"This was a really well-played game tonight. It kind of had a postseason feel to it," said coach Clark. "It was a great win for us on the road. I felt like our kids were prepared, I felt like they competed, and I felt like they were composed the entire game. I'm proud of our effort tonight."
The Jags improve their overall record to 32-7, their road record to 10-2 on teh season, and thier record against SEC opponents to 2-2 on the season. The Jags have now won the the last four meetings against the Bulldogs to hold a 4-2 advantage in the all-time series.
USA will return to Sun Belt Conference play this weekend when they host Texas State in the final regular-season conference home series of the season. Saturday's doubleheader begins at 1pm as well as Sunday's finale.
South Alabama was able to complete their first round of play in the Sun Belt Conference Championship at Steelwood Country Club, they are one of only two schools who started on Monday and completed their first round on Tuesday due to multiple stoppages because of inclement weather.
Senior Ingrid Hagen led the the Jags with a 3-over par 75. She opened the round with a birdie at the par-five 10th but moved back to even-par after a bogey at the par-four 15th. She would then birdie the par-four 16th to move back under par. However a double-bogey on the par-five 18th would put her at 1-over par, but a birdie at the par-four 1st would again put her at even-par on the round.
Consecutive bogey's on holes 5 and 6 put her at 2-over par and she would close the round by playing the final four holes at 1-over par.
Caroline Beebe posted a 4-over par 76 after playing the front nine at even par, including pars on seven of her final eight holes.
Carianne Wright posted a 5-over par 77 while Madison Connell carded a 6-over par round and Kaeli Jones added a 7-over par.
The Jags completed the round with a team score of 18-over par score of 306. Louisiana-Monroe was the only other school to finish their first round of play on Tuesday with a 21-over par score of 309. Again inclement weather halted the continuation of round one for the rest of the field as well as round two for USA and ULM.
Officials have yet to determine when the tournament will continue on Wednesday. Visit GolfStat.com for living scoring when the tournament continues as well as full coverage on SunBeltSports.org.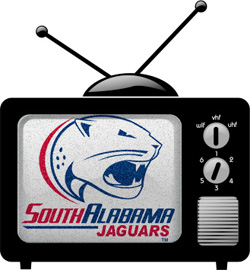 It was announced on Monday that the Jaguars road game against the Nebraska Cornhuskers on Saturday, September 12 in Lincoln, Nebraska will be aired in prime time nationally on the Big Ten Network. This goes along with the two previously announced national broadcast games to give the Jaguars three nationally broadcast games for the 2015 season.
The exact time for kickoff will be announced later, but the match-up between the Jags and the Huskers was one of ten selected by the network for an evening broadcast.
This will be the first of two games scheduled between the two schools with the second date set for August 31, 2019. It will be the first time the Jaguars have faced a Big Ten Conference opponent.
South Alabama finished the 2014 season with their first-ever appearance in a bowl game, becoming the fastest program to go from starting a program to an NCAA Football Bowl Subdivision bowl game, though they lost a heart breaker to Bowling Green in the first annual Raycom Media Camellia Bowl.
Nebraska finished 9-4 overall and 5-3 in the Big Ten Conference and earned an invitation to the Holiday Bowl. Nebraska dismissed their coach after the season and hired Mike Riley to fill the position. Riley spent 14 seasons as the head coach at Oregon State over two different stints (1997-1998 and 2003-2014). Prior to Oregon State he was the head coach of the San Diego Chargers (1999-2001), the Winnepeg Blue Bombers (Canadian Football League 1987-1990) where he won two Grey Cup Championships, and the San Antonio Riders (World League of American Football 1991-1992).
South Alabama Sophomore Carianne Wright was named to the Second-Team All-Sun Belt Conference for Women's Golf the league office announced on Monday.
Wright's selection marks the third consecutive year that a Jaguar student-athlete has earned all-conference honors. Ashleigh Ryals (2014) and Kristen Golightly (2013) earned the honor over the previous two seasons.
Wright ranks 13th in the conference, and second among sophomores in the conference, with a 77.21 stroke average entering the SBC Championship at Steelwood Country Club in Loxley, Alabama.
She has two top-10 finishes and earned a spot in the top-20 in two additional tournaments this year. She posted a career low 1-under par 71 twice this season and posted her lowest three-round total of the season at the MSU Ocala Spring Invitational with a 7-over-par 223.
Inclement weather that caused poor conditions halted the first round of the SBC Women's Golf Championship. The start of the tournament was delayed until 11am on Monday due to several inches of water on the course during the night. After heavy rains passed through the area Monday, it forced officials to suspend the first round.
South Alabama will resume round one at 5-over par and only three shots back of Arkansas-Little Rock according to the scoring posted at GolfStat.com
USA's lineup of Ingrid Hagen, Kaeli Jones, Carianne Wright, Madison Connell and Caroline Beebe will return to complete the first round on Tuesday though the time has not yet been determined.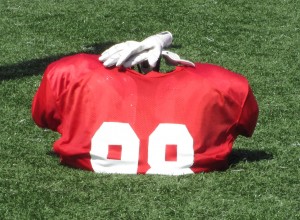 The annual Red-Blue Spring Football Game came down to the final snap on Saturday with Aleem Sunanon's 42-yard field goal being the winning advantage for the Red team's 24-21 victory. It wasn't without an effort by the Blue team as their entire sideline was out near the numbers yelling and trying to distract Sunanon's attempt, but Sunanon was not deterred.
The game winning drive was lead by Dallas Davis and moved the Jags 47 yards in six plays after taking over on the Red 28 yard line with 1:35 left. Consecutive passes to D.J. Vinson and Daylan Abrams of 17 and 19 yards to start the drive and was followed by Kenterrius Gray who carried the ball twice for 11 more yards.
The Blue team had a chance to take a 24-21 lead with under two minutes to go but Corliss Waitman's field goal attempt missed wide right from 45 yards.
The game started with three touchdowns in the first 15 minutes before only three more touchdowns the rest of the game.
The first score came on Blue team's Hunter Vaughn's 33 yard touchdown run on the opening possession. Dallas Davis and the Red team would respond with a 35-yard touchdown pass to Nathan Sassaman after a 30-yard gain by Claude Garrett started the drive and tied the game 7-7. On the next possession by the Blue team, Vaughn connected with Ronnie Reed for a 16 yard touchdown to answer the Red teams score to take a 14-7 lead.
Davis tied the game with less than 11 minutes before halftime for the Red team with a 48 yard touchdown to Tyrone Williams.
Kelan James recovered a fumble and Roman Buchanan made a diving interception for two takeaways for Red team.
Margo Reed had a pick at the one yard line for the Blue team.
"I thought it was a real good day, although I'm excited about how the whole spring went," Jaguar head coach Joey Jones commented. "[Offensive coordinator] Bryant [Vincent] has done a good job coming in with his tempo, that really has helped us offensively, and then we have playmakers who can make people miss which makes it even better. There were some good hits out there today, you kind of like seeing that, but we got through the game and nobody was hurt."
With the conclusion of the spring practice, the program handed out awards this week. Those included Daniel Aust (offensive line), Caleb Butler (defensive line), James Bynes (tight end), Antonio Carter (safety), Davis (quarterback), Demarius Rancifer (linebacker), Reed (cornerback), Tyreis Thomas (running back), Corliss Waitman (special teams) and Williams (wide receiver) as the most improved individuals at their positions. Nigel Green was selected the most improved academically, while the trio honored for the most improvement in the strength and conditioning program were Cameron Blankenship, Cameron Broadnax and E.J. May. The "I Like To Practice" awards were presented to Tre Alford (defense), Malcolm Buggs and Grant Powell (special teams), and Joseph Scelfo (offense), with Brad Murry (defense) and Christian Pearsall (offense) earning the program's High Academic Awards.
South Alabama's football schedule will begin on Saturday, September 5 against Gardner-Webb at Ladd-Peebles Stadium.
Softball
The #22 ranked Jaguar softball team completed another weekend sweep of a Sun Belt Conference opponent.
In Saturday's doubleheader against Georgia Southern, the Jaguars won the two games by a combined scored of 18-0 and the entire weekend series by a combined score of 25-2 after a rain-shortened game on Sunday.
USA scored all their runs in the first game in two innings against Georgia Southern. In the third inning the Jaguars let loose with four runs, then in the sixth they added three more runs.
Emily Messer led off the bottom of the third inning with a single to third base and advanced to second after the throw first sailed wide. Kristian Foster doubled to right field to put two Jaguars in scoring position. Stephanie Pilkington took advantage by lifting a sacrifice fly to left field to plate the Jaguars first run. Kaitlyn Griffith also hit a sac fly to center, which doubled the Jaguar lead.
Chloe Rathburn had a base hit to set up sophomore center fielder Amanda Minahan to double the lead with her fourth home run of the season.
In the bottom of the sixth, Blair Johnson hit a one-out solo home run to right field to put the Jags up 5-0. Alyssa Linn got on with a single anf followed by Messer's double which set up Foster to drive in both runners with a single down the right fielder line for the 7-0 advantage.
Kalen McGill (13-1) earned her second complete-game victory as she struck out two and scattered five hits with no walks.
Messer went 3-for-4 with two runs scored to lead the Jags. Foster went 2-for-3 with two RBI and Minahan finished with two RBI and a run scored.
In game two the Jags scored 11 runs in the first three innings, five runs each in the first and third innings for their seventh run-rule victory of the season. Farish Beard also threw her third career no-hitter and the 12th in program history.
Read more