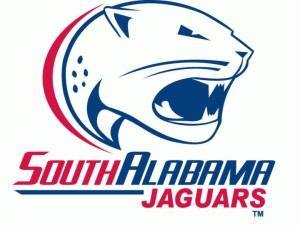 This email was sent out today from USA President Tony Waldrop:
Dear USA Employees and Students,

I'm writing to let you know that this afternoon the University will publicly announce that it has initiated a preliminary exploration of the financial, logistical and infrastructural requirements associated with the possible construction of an on-campus football stadium.

This is exciting news for our University and our Athletics programs, but please keep in mind that this is a preliminary exploratory process, and no decision has been made about whether or not the University will proceed with plans for construction of a football stadium.

We are at the very beginning stages of this initiative, and there are many questions to be answered. Before making a decision, the University will conduct a thorough examination of all the issues surrounding the possibility of an on-campus stadium. I will be sharing more information about the process as we move forward.

Thank you, and Go Jags!

Tony G. Waldrop, Ph.D.

President
This should be very exciting news to Jag Nation. We will keep you updated as this progresses.
South Alabama women's golfer Kaeli Jones had a historic three day tournament on the Suncoast Ladies Tour tournament at Black Bear Golf Club in Eustis, Florida over the last three day.
Jones shot a three-round, 3-under par 213 to become the first champion and low amateur on the Suncoast Ladies Tour.
Jones shot a 1-over par 73 in Monday's opening round after playing her final six holes at 3-under which included an eagle at the par-5 16th and birdie on the par-four 17th.
She followed with a 3-under 69 on Tuesday to tie a career low, after playing the front nine at 1-under with a bogey-free back nine at 2-under par.
Entering the final round on Wednesday she held the lead and shot a 1-under par 71 which included a stretch of holes where she had birdied four out of five holes on the front nine.
She was unsure of her standing on the leaderboard after double bogey on the par-four 18th, her final hole of the tournament. But when she arrived at the clubhouse her mother was there to tell her she won the tournament.
Over the three-day tournament, Jones had 11 birdies while playing the par-five's at 5-under par for the tournament and the par-threes at 2-under par.
Jones will turn her sights on preparing for the United States Golf Association Women's Amateur qualifier at Kenwood Golf Club in Bethesda, Maryland on July 8. She needs to shoot par or better in order to qualify for the 115th US Women's Amateur at Portland Golf Club in Portland, Oregon August 10-16.
Jones, a 5'5″ Sumterville, FL native, completed her freshman season with the Jaguars. Previously she lettered at IMG Academy while earning four top-five finishes in 2014.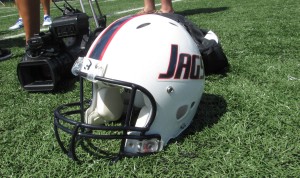 The University of South Alabama announced on Wednesday that they have finalized a contract to play UCLA at the historic Rose Bowl in Pasadena, California in the 2022 season.
The Bruins are the first PAC-12 opponent scheduled to face the Jaguars in their short history of football. The game is scheduled for September 17, 2022.
South Alabama has already played four games against SEC opponents that began with Mississippi State in Starkville and last season with the Bulldogs visiting Mobile, South Carolina and Tennessee. USA has also traveled to Raleigh, NC twice to face North Carolina State and will face them for a third to finish out their three-game contract this season in Mobile.
This upcoming season will see the Jaguars face their first Big Ten school when they visit Nebraska on September 12. They will begin a three-game series against Oklahoma State from the Big XII Conference in 2017.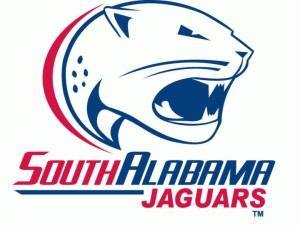 Track and Field
Renaldo Frechou, a junior from Paarl, Western Cape, South Africa, represented South Alabama in the men's hammer throw in the NCAA Outdoor Track and Field Championships at Hayward Field in Eugene, Oregon on Wednesday and earned First-Team All-America Honors.
Frechou competed against 24 other competitiors and steadily increased his distance on each of his first three attempts with his final throw reaching 68.84m. This is the second year in a row that he has received first-team All-America honors after finishing seventh in the same event last year.
He is the first since the 2006-2007 pair Tonny Okello and Vincent Rono both earned All-America recognition in consecutive seasons.
On Friday, fellow Junior Jan-Louw Kotze will be the second of three Jaguars to compete at the national championship meet when he competes in the men's discus throw at 6:05pm (CDT).
Kaitlyn Beans will compete on Saturday at 4pm in the women's triple jump.
Baseball
Baseball honors keep coming in for members of the Jaguar baseball team.
South Alabama right-handed pitcher Kevin Hill was named to the National Collegiate Baseball Writers Association All-America third team on Wednesday.
Hill was the 2015 Sun Belt Conference Pitcher of the Year and led the SBC in wins (10), ERA (1.73), opposing batting average (.208) and strikeouts (107). He was also named to the Louisville Slugger Division I All-American second team on May 28 to become the first Jaguar pitcher to earn All-America honors since P.J. Walters in 2006.
Hill completed his redshirt junior year this season with four complete games, all four coming in a stretch against conference opponents, and recorded two shutouts in 80 2/3 innings pitched. He perfect 10-0 mark was the first 10 game winner at USA since D.D. Hanks in 2010 and his 107 strikeouts was the first triple-digit strikeout season since Walters in 2006.
Hill is the 27th Jaguar all-time to earn All-America honors and is only the seventh pitcher to do so in the program's 51 years.
Hill and Cole Billingsley were both named to the 2015 American Baseball Coaches Association (ABCA)/Rawlings NCAA Division I South Central team with Hill earning first-team honors and Billingsley earning second-team honors.
Billingsley led the conference with 30 stolen bases and finished tied for second in the conference with 80 hits and 4 triples. He tied for fourth in runs scored with 46, tied for sixth in batting average .345 and tied for eighth in walks with 34.
The redshirt sophomore did not commit an error in 163 chances in center field while recording three assists in his 55 games played.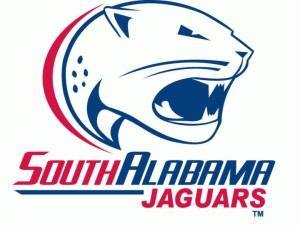 Baseball
Jaguar baseball right-hander Ben Taylor was selected in the seventh round of the 2015 Major League Baseball First-Year Player Draft on Tuesday by the Boston Red Sox. He was the 201st overall selection in the draft and just the second pitcher taken by the Red Sox.
Boston chose Tayler with their seix pick in the draft which was the sixth pick in the seventh round.
Taylor was a first-team All-Sun Belt Conference selection as a relief pitcher this past season with a 6-3 record, 1.48 ERA and seven saves in 25 relief appearances. He struck out 68 batters with only 13 walks in 42 2/3 innings pitched. In his 13 appearances against SBC teams he was 4-2 with three saves and a 1.12 ERA while striking out 44 with only six walks in 24 innings.
Taylor finished his senior season ranked fifth in the conference in saves and tied for fifth in wins while helping the Jaguars to a 3.22 ERA which was tops in the conference, held opposing batters to a .242 batting avarage as a team and the most strikeouts in the conference with 474.
"It's unbelievable," Taylor said. "It's been a dream of mine to play professional baseball my entire life. I can't put into words what it's like to now have the opportunity. It's huge to become a part of an organization with as much tradition and history as they have, and I just want to go in and make them happy and provide for the team. It's crazy to think that I will be putting on the same uniform that so many other greats have through the years."
"I made the transition from starting pitcher to the bullpen during my two years at South Alabama," he said. "I'm not sure what the Red Sox are going to want me to do in the organization; I might be a starting pitcher again. But during my time at USA, I had a change in mentality that made me a better pitcher. I have become more ferocious on the mound with more of a bulldog mentality – just getting after guys and using my stuff with confidence. That's something Coach (Mark) Calvi and Coach (Bob) Keller have really helped me with. They have helped make me a much better pitcher."
Softball
The Jaguar Softball team finished ranked #23 in the final USA Today/NCFA poll and #28 in RPI. Florida repeated as the National Champion after defeating Michgan twice in the best of three championship series.
Sophomore Chloe Rathburn who helped lead the Jaguar team to the Sun Belt Conference championship this past season was granted her release from the team after the season because, as she told the USA Vanguard student newspaper, that she wanted to play somewhere closer to home. She posted on social media and it was reported last week by the St. Louis Post-Dispatch that she has transferred to Missouri in the Southeastern Conference.
Rathburn, a catcher and infielder, regularly served as the Jaguars designated player. She helped the team to a 40-13 regular season record with a .371 batting average and a school-record 53 RBIs while earning first-team All-Sun Belt Conference honors the last two seasons.
Rathburn will be eligible to play in the 2016 season for the Tigers and will have two years of eligibility remaining. Missouri finished 42-16 this season. They were defeated by UCLA in the NCAA super-regional.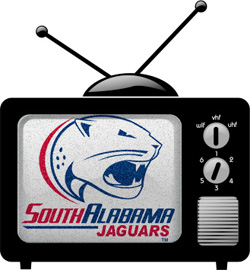 On Monday the Sun Belt Conference office announced the game times for both of South Alabama's two appearances on the ESPN family of networks and that the Jaguars opening game of the season will air on ESPN3.
The season opening game on Saturday, September 5 at Ladd-Peebles Stadium against Gardner-Webb will be broadcast on ESPN3 with the start time still to be determined.
The Jaguars game against Arkansas State on Tuesday, October 13 will air on ESPN2 across the nation and will kick off at 7pm CDT, while kickoff for the Jaguars game against Louisiana-Lafayette on Thursday, November 12 will be at 6:30pm on ESPNU.
Previously announced the Jaguars road game against Nebraska on September 12 will start at 7pm and will be aired on the Big Ten Network.
The start time for all other games will be announced at a later date.
Go Jags!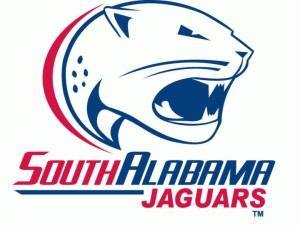 Latest news and updates on South Alabama Sports.
Track and Field
Jaguar Men's Track and Field Renaldo Frechou qualified for the NCAA Outdoor Championships with a hammer throw of 66.54m at the East Region Preliminaries in Jacksonville, FL on Thursday.
His throw was 6th place out of the 12 competitors that are advancing to the 2015 NCAA Outdoor Championships in Eugene, OR on June 10-13.
Zach Blahnik finished 39th in the hammer throw, Mark Watts was 45th in the men's 400 meter dash. LaMia Miller finished 33rd in women's shot put and Barbara Rivera was 38th in the women's javelin throw.
On Friday Jan-Louw Kotze (men's discus), Nick Farrell (men's pole vault), Matthew Dillon (men's 110 meter hurdles), Patrick Rohr (men's 3,000 meter Steeplechase), Phoebe Dawson (women's discus), and Kaitlyn Beans (women's long jump) will all compete to qualify to travel to Oregon for the Outdoor Championships.
Softball
Former South Alabama pitcher Farish Beard, who earned her degree this spring, was named to the 2015 Senior CLASS Award Second-Team All-American as announced by Premier Sports Management on Wednesday.
She earned all-Sun Belt Conference honors for the third consecutive season and was named to the SBC All-Tournament team after helping the Jaguars claim its third title in the last four years.
She finished with an 11-4 record, 2.53 ERA and 101 strikeouts in 88 2/3 innings pitched this season while only allowing 32 runs all season and holding opposing batters to a team-low .168 batting average.
The Senior CLASS Award in an acronym for Celebrating Loyalty and Achievement for Staying in School. It honors the attributes of senior student-athletes in four areas: community, classroom, character and competition and is designed for college seniors who are utilizing their complete athletic eligibility, remaining committed to their university and pursuing the many rewards a senior season can offer.
Baseball
Jaguar right-hander Kevin Hill was named to the Louisville Slugger Division I All-American second team as announced on Thursday by Collegiate Baseball.
Hill was also named the Sun Belt Conference Pitcher of the Year and is the lone representative from the conference. He is also the first Jaguar pitcher to earn All-American honors since P.J. Walters was a second-team selection by Collegiate Baseball and a third-team selection by Baseball American in 2006.
Hill completed his redshirt junior season and led the Sun Belt in wins (10), ERA (1.73), opposing batting average (.208) and strikeouts (107). He threw four straight complete games against Sun Belt Conference opponents. He recorded two shutouts in 80 2/3 innings ptiched. He was also the first Jaguar to eclipse the century mark in strikeouts since Walters' 166 in 2006.
Hill is the program's 27th All-American in 51 years of baseball.
Additionally, Cole Billingsley, a redshirt sophomore, will compete in the Cape Cod Baseball League with the Yarmouth-Dennis Red Sox this summer. He is the third Jag in the last four years to play in the CCBL after former Jaguar standout and 2013 SBC Player of the Year Jordan Patterson competed with the Bourne Braves in the summer of 2012. J.T. Files also competed with the Brewster Whitecaps in the summer of 2012 as well.
He earned first-team All-SBC honors as an outfielder this season after leading the conference in stolen bases (30). He also finished tied for second in the SBC in hits (80) and triples (4), tied for fourth in runs scored (46), eighth in on-base percentage (.437) and tied for eighth in walks (34).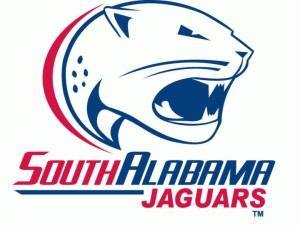 Though South Alabama's baseball team was not selected for the NCAA Tournament, they did achieve more this season than many thought they would. Going into the season the league coaches and media voted the Jaguars to finish seventh in the conference. How wrong were they?
Probably one of the most telling weekends of the season was when the Jaguars seemingly came out of nowhere and seized first place in the conference and did not look back until the regular season ended and they had taken the regular season title with them.
And they were playing their best ball at the end of the season.
They tore through the Sun Belt Conference Tournament. Well, until the conference championship. But even that was a heavyweight bout. Tied 1-1 in the top of the 12th inning and Louisiana-Lafayette used a grand-slam home run to defeat the Jaguars. Unfortunately that left USA one win short of making the NCAA Tournament.
But could it be time to change the conference tournament formats?
The NCAA Regionals are a true double-elimination tournament where you could have a school face defeating a team twice on the same day to advance to the Super Regionals.
South Alabama was on both sides of the debate this season. The Jaguar softball team lost to Lousiana-Lafayette in the conference championship play-in game and lost. They then had to win the losers bracket to earn the right to a rematch with the Ragin' Cajuns in the conference championship game. In that championship game the Jaguars held on to defeat the Cajuns, who were undefeated in the tournament, and take the automatic berth in the NCAA Tournament.
But they have been on the other end of the of the same situation in recent history too. Against the very same school too!
So I ask again, should the conference championship game be winner-take-all or should they take the same approach as the NCAA Regional tournament and be a true double-elimination tournament? The current format, for those that do not know, is a single-elimination first-round followed by a double-elimination tournament until the championship game which is a winner-take-all game.
Either way, South Alabama would have been affected this season. The baseball team would have had a second shot at defeating the Cajuns for the automatic bid and the softball team would have needed to defeat those pesky Cajuns a second time to earn the automatic bid themselves.
Would the results have been the same? We won't know.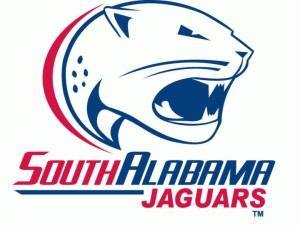 The University of South Alabama track and field program will send a record number of individuals to the NCAA Preliminaries.
On Wednesday the NCAA released the entries for the East Region Preliminaries and the Jaguars will be represented by a record 12 individuals. The meet will include the top 48 individuals in every event in the region will be hosted by North Florida in Jacksonville May 28-30. Those who finish in the top 12 will move on to the NCAA Championships in Eugene, Oregon next month.
Among those representing the Red, White and Blue are eight men and four women, including a pair who won their event in the Sun Belt Conference Championships two weeks ago.
Renaldo Frechou is the highest seeded Jag entering the east region preliminaries by ranking fourth in the men's hammer throw. Jan-Louw Kotze ranks 13th in the men's discus. Both Frechou and Kotze both broke conference records during the season.
The USA men's contingent consists of: Zach Blahnik (hammer throw), Matthew Dillon (110 meter hurdles), Nick Farrell (pole vault), Christoph Graf (5,000 meters), Patrick Rohr (3,000 meter steeplechase) and Mark Watts (400 meters). Spencer Anderson also posted a qualifying time in the 400-meter hurdles but will not participate as he has earned his degree earlier this month and has joined the military on a full-time basis.
The USA women's contingent include: Kaitlyn Beans (triple jump), Phoebe Dowson (discus), LaMia Miller (shot put) and Barbara Rivera (javelin).
This marks the third consecutive regional for Kotze while Farrell and Frechou both has postseason experience from last season.
This marks the second consecutive postseason selection.
Jaguar ace Kevin Hill struck out 10 batters in seven inning and allowed only one run on eight hits and three walks to help lead the USA to a 14-4 win over #5 seed Georgia State on Thursday.
Hill earned his 10th win of the season and is the first Jaguar to do so since D.D. Hanks did it in 2010. Also his 10 strikeouts puts him over the 100-strikeout mark for the season which is the first Jaguar to do so since P.J. Walters' struck out 166 in 2006.
USA pounded out 18 hits in the game.
The Jags threatened to in the top of the first inning but were unable to push a run across the plate. It was GSU that would score the first run of the game in the bottom half of the opening frame. Trae Sweeting led off with a double down the left-field line and moved to third on a sacrifice bunt. Hill got Caden Bailey to fly out to left field for the second out of the inning but a two-out RBI single up the middle would score a run for GSU.
But the Panther lead would not last long as the Jags answered with three runs in the top of the second and they would not relinquish it the rest of the game. Cole Gleason led off with a walk. Danny Martinez followed with a single to right field. The first out came when Jared Barnes sacrifice bunt attempt led to a force out a third base. Ryan Raspino delivered an RBI double to the right-center gap to score Martinez and tie the game. Cole Billingsley hit a single to left-center field to plate both Barnes and Raspino for a 3-1 USA advantage.
Eight Jaguars recorded at least one hit in the game. Billingsley led the way with a career high four hits by going 4-for-6 with a double, three runs scored, two RBI and a stolen base. Raspino also tied a career high with three hits by going 3-for-4 with two doubles, a home run, three RBI and four runs scored. Collura also tied a career high with three hits as he had a double, three RBI and a run scored.
USA will have Friday off and will play at 9am Saturday in the winner's bracket by facing the winner of Arkansas State and Georgia State, both of which play on Friday in an elimination game.