Jags Defeat Georgia State 4-0 For Third-Consecutive SBC Title
The South Alabama Jaguar soccer team earned their their consecutive Sun Belt Conference title with a 4-0 win over Georgia State on Sunday to punch their card to the NCAA Tournament.
Sophomore Rio Hardy scored the lone goal in the first half with help by Danielle Henley who drove a low cross to Hardy who hit it home.
Just three minutes into the second half Sophomore Chelsea Followwell hit home a loose ball in front of the net after a corner kick at the 60:36 mark.
Charde Hannah took advantage of a defensive miscue at the 63:35 mark to make it a 3-0 lead. The final score came in the 85th minute when Nini Rabsatt-Smith headed the ball into the net on a corner kick from freshman Jemma Purfield.
"I'm obviously delighted that we managed to win," Jaguar head coach Graham Winkworth said. "I was really happy because usually at this time of the year, it's about the result and not the performance, but today we put in a fantastic performance and got a fantastic result. I was really happy for the girls; it means a lot to them and to me to lift the trophy again.
"We're scoring lots of goals and they're coming from lots of areas," Winkworth noted. "They really showed up today; it was maybe one of our stronger performances of the season."
The Jags had five players named to the All-Tournament team: Sophomore Ashlynn Jones, senior Nini Rabsatt-Smith, Sophomore Rio Hardy, sophomore Charde Hannah and junior Sarah Hay. Hannah was named the tournament's most outstanding player.
"All five of them were crucial to our success, but in all honesty, we could have picked anyone that played this weekend," Winkworth said. "Those five humble young ladies would be the first to admit that if it wasn't for the squad that we've got, they wouldn't be receiving those awards this weekend and we wouldn't be taking the big one home."
"We were solid from front to back," Winkworth said. "The forwards worked hard limiting quality longballs from their back line and the midfield pressed extremely well. The defense dropped when they needed to drop and intercepted passes rather than needing to make tackles. Only once did they get in behind us, and when that happened, Sarah pulled off an excellent save on a 1-on-1. All in all, I'm very happy with the defensive performance from front to back."
South Alabama Set To Host LSU In First Round Of NCAA Tournament
On Monday afternoon, the Jags learned their fate for the NCAA Tournament from the Division I Women's Soccer Committee and it was not only historic for South Alabama, but also for the Sun Belt Conference.
South Alabama will host LSU for the first-round match on Saturday night. The first in South Alabama history and also the first in Sun Belt Conference history.
This will be the Jags third consecutive tournament appearance and enter the tournament with a 17-2-2 record overall and a 14-match unbeaten streak.
"This is huge," Jaguar head coach Graham Winkworth said. "We've created something very special here. It wouldn't have matter who they sent us, we'd have been excited to have a game on campus. We need the whole community to come out on Saturday and cheer us on.
"It will be great for our community to have such a big team coming into town. We know a lot of people will think they're the big favorites coming from the SEC, however, we feel like we've got a good product here as well. We hope it'll be an excellent game and hopefully we'll get the right result."
LSU (13-5-4) earned their way into the postseason for the first time since 2011 after advancing to the semifinals of the SEC Tournament. The Tigers lead the all-time series against USA 5-4 with wins in their last three meetings, the most recent in 2010.
With the Jaguar Football team's game on Thursday night, the Saturday night date against LSU is a great opportunity to support the Lady Jaguars in their quest for a National Title.
Tickets are $7 for Adults, $3 for Seniors, Children between 2-12 are also $3 and Children under 2 are Free.
Student tickets are also $3 however the first 300 students are able to claim free tickets on a first-come, first served basis Saturday night when the gates open by showing a valid student ID.
Tickets can be purchased over the phone only by calling 251.461.1USA (1872). All tickets will be held for pickup on Saturday night and no tickets will be distributed before the match. Gates will open 90 minutes prior to the match.
The match is scheduled for 7pm on Saturday.
All tickets will be general admission and grandstand seating is first-come-first served. Fans are recommended to bring portable outdoors chairs with them.
GO JAGS!!
Homecoming was looking as dreary as the weather on Saturday at Ladd-Peebles Stadium as the Jaguars were facing a 24-0 deficit midway through the second quarter when the got the spark they needed. Xavier Johnson provided that spark with a 41 yard kickoff return on the ensuing kickoff with more to come.
The Jags would drive down to the Idaho 1 yard line and be turned away on fourth down with 2:30 left in the opening half. The Jaguar defense would then stand tall and force a three and out with the Jaguars using timeouts to force the Vandals to punt and give the Jaguars a short field with just 1:58 left until halftime.
Then the Jaguars used the spark that Johnson provided jump start a two-minute drive for points just before halftime. It began with a Cody Clements pass to Chris Lewis for 9 yards and into Idaho territory before stepping out of bounds. Terrance Timmons took the handoff four yards for the first down before Clements came back and found Marvin Shinn for 20 yards to the Idaho 25 before going out of bounds to stop the clock. Clements found Danny Woodson for 19 more yards to the Idaho 6 yard line before he too stepped out of bounds. The drive would be capped off by a 6 yard slant pass to Shinn for the touchdown. The 5 play, 58 yard drive would only take :38 off the clock but the Vandals were content to go into halftime with a 24-7 lead.
Johnson, after providing the spark to get the Jags in gear, would lit them on fire by taking the second-half kickoff 104 yards for a touchdown to further cut the Vandal lead to 24-14.
After exchanging a number of punts, the Jags Josh Magee would take a Vandal punt by 22 yards before fumbling near midfield which was recovered by Idaho in front of their bench. But Blake Dees was having none of it as two plays later he forced Elijhaa Penny to fumble, which Devon Earl would pick up and scamper 57 yards to the endzone with 4:19 left in the third quarter.
The defense would keep their pace by forcing another three and out, but this time the Jaguars freshman cornerback Jalen Thompson would block the kick with Margo Reed covering it at and returning it six yards to the Vandal 6 yard line. Cody Clements would take the next snap into the endzone untouched to give the Jaguars a 28-24 lead with 3:08 left in the third quarter.
Idaho was not ready to give up as quarterback Matt Linehan would continue he passing clinic with a 32 yard strike to Hightower on third down to keep the drive alive. Three plays later Penny would take it into the endzone from 19 yards out to regain the lead 31-28 with :44 left in the third quarter to set up a fourth quarter for the Jaguar history books.
The Jags would lean on their rushing attack that began with a nine yard gain by Johnson to end the third quarter then continue with runs of 5 and 18 by Tyreis Thomas and runs of 7, 13, and 1 by Timmons before Clements took the air to find Gerald Everett for a 16 yard touchdown to give USA the lead once more with 13:14 left in the game at 35-31.
The ensuing kickoff would bounce off Idaho's Rueben Mwehla's shoulder pads to be recovered by Jaguars Buford-Hughes at the Vandal 9 yard line. An unsportsmanlike conduct call on Shinn, in addition to a four yard loss on the play set the Jaguars back at the 29 with the goal to go. USA would settle for a 41 yard field goal by Aleem Sunanon with 11:47 left in the game to take a 38-31 lead.
The vandals would drive out to their 49 yard line before Margo Reed would make a great over-the-shoulder interception at the Jaguar 16 before going out of bounds.
Johnson would bust out a 50 yard run to the Idaho 34 yard line on the first play of the drive to set up Clements to find D.J. Vinson for a 14 yard touchdown a few plays later to put USA up by two scores at 45-31 with 7:42 left in the game.
The Vandals would only need 1:59 to answer with a touchdown of their own to make the game a one-score game again at 45-38.
Chris Lewis would return the ensuing kickoff 22 yards to the Jaguar 39 to set up Xavier Johnson for another huge play. Johnson would take the handoff on the first and only play of the drive 61 yards for a touchdown to put the Jaguars up 52-38 with 5:19 left in the game.
Linehan was not done either.
He would throw and run his way to the Jaguar 18 before he combined with Penny to help get down to the 1 yard line before he called his own number and took it in to cut the Jaguar lead to one score once again at 52-45.
Braedon Bowman would cover up the onside kick attempt allowing the Jaguars to take the victory formation and end the game.
Clements was an efficient 11-of-19 for 114 yards and two touchdowns while Linehan went 26-of-39 for 317 yards, two touchdowns and one interception.
Elijha Penny rushed 35 times for 135 yards and two touchdowns. Linehan added 49 yards on 8 carries and two touchdowns.
Xavier Johnson had 9 carries for 148 yards and a touchdown to go along with 141 yards in kick returns to give him 289 all-purpose yards for the game. Tyreis Thomas had 15 carries for 88 yards, Timmons added 33 yards on seven carries, Clements added 29 yards on seven carries as well.
"That was big," Jaguar head coach Joey Jones stated about the score just before halftime. "We were down on the one-foot line and didn't score, and called three timeouts and got the ball back. We drove down and scored, and that was big; some good things happened there. You just have to keep plugging, you have to go to the next play.  What are you going to do about the last play?  Nothing — you have to move forward, and our guys learned a big lesson tonight.  I think they knew that, but they really understand it now."
"That score really sparked us and turned our whole momentum around," Clements added. "As a team though, we fought so hard the whole game tonight and we never let up. We knew it was a four-quarter game and that you have to play all 60 minutes. The score at the end of the game is what matters."
"We just kept telling ourselves that we had to keep the motor going. That's what we've been preaching all week," Blake Dees commented. "You can't ever give up. Giving up isn't something we do here at South Alabama. Getting down like we did early kind of sucked, but we persevered and kept going and never gave up."
"We needed to make a few changes, and just do our job," Devon Earl added. "In the first half, I don't think guys were doing their jobs. We came in at halftime and talked it over, and it all came together in the second half."
"I want to commend our football players for the guts and mental toughness to be able to come back in a game like that," Coach Jones stated. "Everything was going wrong there for a quarter-and-a-half, and we just got it turned. The big kickoff return gave us a spark, and the kids came back and kept fighting. Sometimes you can't play four quarters of football the way you want to, and you just have to deal with it. Nobody panicked, and that was the biggest thing. Had we panicked, I think we might have lost that ballgame.
"We just beat a good team; they have a really good offense obviously. They have a great quarterback and running back, they moved the ball up and down the field. What a win for our program to be able to come back and take another step toward a bowl [game]."
"Overall, I just can't believe it," said Vandal head coach Paul Petrino. "I really thought we had a great game plan, and we came out and executed it really well, both offensively and defensively. You can't give up a kickoff return for a touchdown, a blocked punt and a fumble. Even after all that, we still came back and scored twice.  We just had to get one stop, and we had the chance.
"I think everybody sees how much better we are; the program is on the right track to be a really good football team, but to have two games in a row end like that is really sad."
Johnson's kickoff return for a touchdown was the first since J.J. Keel in 2010. It was the first game that the offense, defense and special teams scored since defeating Pikeville on September 4, 2010. The game set a new record for largest deficit overcome in a victory surpassing the 14 point deficit the Jags overcame to defeat Florida Atlantic on October 20, 2013 for their first FBS win. It also set a record for most combined points scored with 97, surpassing the previous record by 15.
South Alabama will have a short week of preparation as they host Louisiana-Lafayette on Thursday at 6:30pm in a nationally televised game on ESPNU.
The South Alabama soccer team watched two leads slip away during regulation play but sophomore Sarah Hay made the key stop in the 11th round of penalty kicks to put the Jaguars in the Sun Belt Conference Women's Soccer Tournament Final over Appalachian State on Friday night.
USA, the top-seed in the tournament, for the third consecutive season to face #6 seed Georgia State who defeated Troy also on penalty kicks.
While the match goes down as a 2-2 draw and ended the Jaguars 11 match win streak, but the 13 match unbeaten streak stays alive.
There were only two misses in the shootout before Hay's final save. Early in the shootout, App. State's Kate Ward was stopped by Hay in the second round and sophomore Chelsea Fallowwell's attempt was stopped by Megan Roberson in the fourth to even it up.
Jaguar freshman Jemma Purfield put the Jags up 10-9 to set up Hay for game-winning stop.
Charde Hannah put the Jags on the board first in the 25th minute after sophomore Ashlynn Jones took control of an App. State goal kick and quickly fed Hannah.
The Mountaineers would respond just over 7.5 minutes later on a free kick from Ward in the upper left corner. Both teams would go to halftime knotted at 1 goal each.
It looked as though sophomore Danielle Henley had won the game for the Jags at the 60:32 mark when a header by senior Nini Rabsatt-Smith was saved off the line but the rebound went to Henley who knocked it home.
Appalachian State managed only two shots in the next 27 minutes before a cross from the byline by Jane Cline was parried by Hay, who was unable to corral it. Then Sam Childress beat Hay to the ball and punch it in at 88:02 mark.
"I'm really pleased that we managed to find a way through to the next round, which is a characteristic the girls have shown all season long – they've managed to find a way, but our performance wasn't up to scratch today," Jaguar head coach Graham Winkworth said. "We need to make sure we do a better job on Sunday in the final.
"Despite not playing our best soccer though, we still managed to hit the bar, had a couple saved off the line and had a goal disallowed, so we created chances but they didn't fall for us. At the same time, we managed to do that and not play our best soccer, so I'm encouraged knowing that there's more to come from us."
"We've got to do a better job of managing the game," Winkworth noted. "With two minutes to go, we're making poor decisions at the back, whether we're playing short when it should've gone long, or not putting it out of play and trying to do too much out of the back. When there's two minutes to go, you have to make quality decisions to manage the game well.
"We'll talk about it, but to be honest, these girls have done so much for us all season, they're all entitled to a mistake now and again. We'll brush that off and think about all of the positives that they've done today."
USA won the shots balle 23-8, including 22-6 in regulation, but only got eight on frame compared to four for the Mountaineers.
"It was opposite of the other day (in the quarterfinals), because we weren't clinical in front of goal," Winkworth said. "We should have put them away early in the game. The fact that it was tied at halftime, that wasn't a fair reflection of the first half. We didn't take our chances and we didn't put them away; we came in at halftime disappointed to be level. But like I told the girls, we were the team on the ascendency trying to win the match, and that positive attitude will be rewarded."
The Jags will face Georgia State at noon on Sunday for the Conference Championship. The game can be seen on ESPN3.com.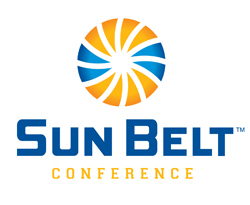 South Alabama fell behind early but five second half goals closed out a blowout of Louisiana-Lafayette 7-1 Wednesday to advance to the Sun Belt Conference Semifinals.
The win was the largest ever for the Jaguar program in postseason play.
The Cajuns opened the scoring early on a loose ball in the goalmouth following a throw-in. Just 1:35 after the Cajun's score, Rio harded headed home a cross shot from senior Alyssa Mayer. Sophomore Charde Hannah put the Jags ahead with her team-best eighth goal of the year in the 29th minute on a breakaway from sophomore Steffi Hardy.
Sophomore Ashlynn Jones recorded a second-half brace. She opened the scoring in the second half in the 57th minute on a breakaway by taking a long pass from senior Nini Rabsatt-Smith and putting a low shot past the goalkeeper.
Then just over four and a half minutes later Jones took a pass from freshman Jemma Purfield and put in the left side of the net to put the Jaguars up 4-1.
The fifth score for the Jags started with junior goalkeeper Sarah Hay gathered in a Cajun free kick then distributed it to Purfield who found Jones in the middle. Jones would pass it off to senior Jordan Duncan who slipped it past the defender to sophomroe Danielle Henley who would put it in the net from just inside the 18-yard box past the goalkeeper who was rushing the ball.
Sophie Haywood slit two defenders and found Duncan who put it in the net int he 76th minute. Junior Anisa Patterson finished off the scoring in the 84th minute off of a deflected ball from junior Nikki Shirtcliffe.
South Alabama has scored 16 goals in the last three matches. In the game, 13 of the Jaguars 16 shots found their target with seven of them coming in the second half.
"I thought we did well," head coach Graham Winkworth said of the teams play. "We started off a bit slowly, getting used to the change in surface, but I thought the girls handled it very well. Overall, I was pleased with the result and the performance wasn't too bad at all.
What pleased me is the level of play didn't drop once we made a number of changes," Winkworth saod. "I thought it was good that we were able to get everybody some playing time and we continued to play attractive soccer even after making a lot of changes. It just shows that team is not about whoever starts the match, but it's a squad game and I was really pleased with the squad overall today."
"Appalachian is a very good team," Winkworth said of their next opponent. "They have a lot of depth and use a lot of numbers. They work extremely hard and are well-coached, so I think it will be a very tough game."
The top seeded Jaguars will face #4 seed Appalachian State on Friday at 3pm for a spot in the Championship Match on Sunday against the winner between #2 seed Troy and #6 seeded Georgia State.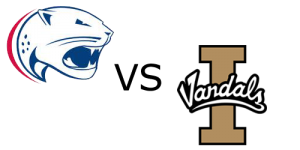 After a week off to rest and heal from all the bumps and bruises that accumulate through the grind of a college football season, the Jaguars continue preparing to host a much improved Idaho team for homecoming on Saturday.
The Jags are coming off of tough 36-18 road loss to Texas State, in what was a rainy mess of a game, and look to get back on the winning side coming down the stretch.
The team and coaches can put the tumultuous month of October behind them and start fresh in November. The worst part of October was the total disruption of their schedule, it varied from week to week. They had a long layoff to play a Tuesday night game, then another long layoff to play a Saturday game. Now they hit reset on all that flipping of schedules and concentrate on a more normal game week.
Last season the Jags went to Moscow, Idaho and defeated the Vandals in the Kibbie Dome, that Vandal team finished the season 1-10. Head coach Paul Petrino has his team playing much better this year as they are sitting at 3-5 overall and 2-3 in conference play with wins over Troy and Louisiana-Monroe under their belt. Though they lost last Saturday to New Mexico State, which snapped the Aggies streak of 15 consecutive losses.
The Vandals offense has really spurred their improvement this season. Petrino, brother of Bobby Petrino, ran the offense for his brother at Arkansas and Louisville and is the same offense the Jaguars faced when USA played Western Kentucky a few years ago. Jaguar head coach Joey Jones understands it to a point, but is quick to point out that it's very complex and they do lots of things differently, more so than any team the Jags have faced.
Texas State was a very uncharacteristic game for the Jaguars as they were hit with 10+ penalties in the first half. They had more penalties and yards in the first half than they have averaged all season long or more than they have committed in a single game all season.
Read more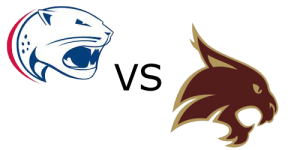 South Alabama (3-3, 1-1 SBC) travels to San Marcos, Texas to face Texas State (1-4, 0-1 SBC) this weekend. South Alabama opened their conference schedule with an emotional, hard fought win over rival Troy before returning home for a hard fought loss to Arkansas State on October 13 where the Jaguars went from leading the Red Wolves by 11 early in fourth quarter to losing by 18.
Meanwhile the Bobcats enter the game after an off week since their loss to Louisiana-Lafayette on October 10.
In only two games between the two teams, there have been plenty of fireworks between the two. In 2013 the Jags traveled to TSU and took a 31-30 lead but saw the game slip away when the Bobcats converted a 41-yard field goal with :04 left in the game.
Then last season the Jaguars took a 24-17 lead early in the fourth quarter and had to hold off a potential game-winning drive that saw quarterback Tyler Jones' pass on 2nd-and-goal on the four yard line fell incomplete in the end zone as time expired to give the Jaguars a 24-20 win. But it also gave the Jaguars bowl eligibility and a bowl invitation.
The Bobcats finished the season 7-5 but without a bowl invitation. Now they want to get revenge on the Jaguars.
Both team have needed the extra time between games to heal. Texas State will reportedly be without a starting offensive lineman and one of their top two running backs. Meanwhile the Jaguars bumped and bruised offensive line has had a chance to get some rest.
Offensive lineman Cameron Blankenship will miss the game and possibly up to three weeks after a knee injury required minor surgery following the loss to Arkansas State. Running back Xavier Johnson missed most of the ASU game with an injured foot but is expected to be ready by Saturday. Additionally, Antiono Carter will finally be able to return to the field after missing the first half of the season due to a preseason injury.
By the Numbers
The Texas State defense ranks last in the conference in Scoring Defene, Total Defense, Pass Defense and Pass Defense Efficency, Interceptions, Kickoff Coverage, Field Goal Percentage, Opponents 3rd Down Conversions and ranks 8th (out of 11) in Rush Defense.
If the numbers are telling, the Jaguars have a great opporunity to move the ball and score this weekend, which they may need because the Bobcat offense ranks in the top half of the conference offensively.
South Alabama's defense ranks second in the conference against the pass, allowing under 190 yards per game whiel ranking third in the conference in pass efficiency defense (130.22 rating). Roman Buchanan and Kalen Jackson both have two interceptions each, while E.J. May and Jalen Thompson have broken up four and three passes respectively.
The Jaguar defense only allowed 345 yards to Arkansas State in their last game, which put their season average under 400 yards per game. Texas State's offense averages 458.4 yards per game (3rd in the conference) and 34 points per game (also 3rd) and is second in the conference with an average of 258.2 yards per game passing.
Tyler Jones leads the Bobcat offense with 1,501 yards of total offense. He has completed 62.3% of his passes for 1,154 yards while being his teams leading rusher with 347 yards and five touchdowns on just 58 attempts. He ranks second in the conference in total offense and is among the top five in passing yards per game and efficiency while ranking eighth in rushing.
Meanwhile Cody Clements threw for a career high 273 yards and three touchdowns against Arkansas State. He ranks third in the conference in passing yards per game (234 ypg), sixth in total offense (226.7 ypg) and seventh in passing efficency (123.5).
Josh Magee is fifth in the conference in receiving yards on only 14 catches for 402 yards. His only catch against ASU went 76 yards for a touchdown. Gerald Everett is right behind Magee in sixth place with 375 yards on 26 catches. His seven touchdowns puts him in the top 10 in scoring as well as catches per game.
The Jaguar run game is led by Xavier Johnson and Tyreis Thomas. Johnson leads the team with 410 yards rushing while Thomas has 251 yards.
Head coach Joey Jones cautioned that USA will not be able to just show up and win. "With the teams they've played — Florida State, Louisiana-Lafayette, Southern Miss — they have had a tough schedule and a tough road. They are very good on offense, but they lost their defensive coordinator a couple of weeks ago and are trying to fix things. I know (head coach) Dennis Franchione very well, he's a great competitor who is going to have his team ready so we are looking forward to a great ballgame."
Jones understands the team hurts when they lose, but they already have a lot to pull from this season such as their big road wins against San Diego State and Troy. "When you go through a season there are going to be times when you do make mistakes and lose ballgames, you saw that this weekend across the country," Jones stated.
One thing the Jaguars have to do in order to win: run the ball. "If you look at the games we've won we have run the ball well," Jones said. "We didn't run the ball well against Arkansas State. In the fourth quarter when you are ahead you have to run the football to run the clock, and we didn't do that. But we ran the ball well against San Diego State and against Troy, and that translated into wins, so we know that we have to be able to run the football. Our coaches know that and our players know that."
In the teams three wins they have rushed for over 200 yards per game on average. But in their losses, they have rushed for an average of just over 30 yards per game.
Look for South Alabama to try to establish the run and soften up the defense with some big passes downfield. Texas State's pass defense has obviously been susceptable to the pass all season, but the unknown is how they will respond after the loss of their defensive coordinator recently.
The Jaguar defense, led by Roman Buchanan and Kalen Jackson, have played very well the last few games. They will be tested by the Bobcats and their variety of looks and ability to score points.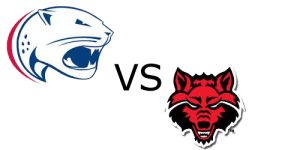 South Alabama started their conference schedule with a win over Troy last weekend and brought home the championship belt in its debut between the two schools. Jaguar fans traveled well and made their voices hear in Veterans Memorial Stadium.
The Jaguars will host Arkansas State on Tuesday evening for a nationally televised game with big implications for the conference.
The Red Wolves are perineally in the mix for the conference championship and have represented the Sun Belt Conference in the GoDaddy Bowl in each of the last four seasons.
One of these two teams will suffer their first conference loss of season.
The Jaguars fell behind early and the Red Wolves capitalized on three interceptions and a fumble recovery to defeat the Jaguars 45-10 in Jonesboro, Arkansas. ASU rushed for 227 yards and threw for 186 more while the Jaguars only managed 90 yards passing and 111 on the ground. It was the second loss in a row as they were trying to get bowl eligible. The team regrouped and won a hard fought game against Texas State the next week to get bowl eligible and eventually earn their first-ever bowl invitation.
After replacing 17 starters, the Jaguars seem to be meshing well and getting ready for the remainder of their conference schedule. They had painful setbacks against Nebraska and NC State, but showed guts and determination in both games despite the score. That work could pay dividends throughout the rest of the season.
On the other hand, Arkansas State has florished through uncertainty. This is the first season the Red Wolves has had the same head coach since 2010. Hugh Freeze, Gus Malzahn and Bryan Harsin all spent just one season in Jonesboro before moving on to bigger programs.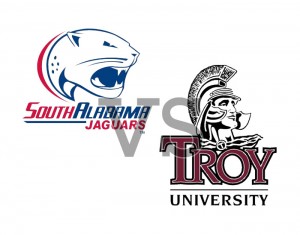 South Alabama's start against NC State had the fans excited. Cody Clements connected with Chris Lewis for a 47 yard gain on the opening play and a couple plays later Clements found Gerald Everett for an 11 yard touchdown pass to put the Jaguars up 7-0 less than two minutes into the game.
However, except for two field goals, the rest of the scoring would be all Wolfpack.
NC State came in and showed why they were undefeated on the season, why they came into the game averaging over 440 yards per game and why they averaged over 40 points per game. They were undoubtedly the best team the Jaguars have ever faced in their short history and the scoreboard reflected that with the Jaguars worst loss in program history, 63-13.
But the story is not all doom and gloom and the score might indicate. The Jaguars found found opportunities to throw the ball downfield. Clements finished 14-of-33 for 201 yards and a touchdown, but he also had two interceptions. Lewis hauled in the longest pass for a Jaguar at 47 yards, but D.J. Vinson also had a catch for 45 yards and Marvin Shinn hauled one in for a 36 yard gain as they took advantage of deep opportunities. However the running game could never get going as the Jags only managed 45 yards rushing.
But now the second, and most important, part of the season begins: Conference play.
Read more
The Jags head into their final non-conference game of the season in NC State after a great win at San Diego State. Xavier Johnson rushed 19 times for 142 yards and two second half touchdowns, Gerald Everett caught eight passes for 164 yards and a touchdown to help the Jaguars earn the win.
Aleem Sunanon was chosen as the Special Teams Student-Athlete of the week for the second time this season after he matched his career-long with a 46-yard kick as time expired to send the game into overtime, where the Jaguars would win 34-27. Sunanon is tied for the conference lead with 1.67 field goals per game, which ranks him among the top 20 in the nation and is tied for seventh in scoring. He is alsot he first Jaguar football player to earn a conference weekly award on multiple occasions in the same season.
Jeremy Reaves was chosen as the Defensive Student-Athlete of the week, his first honor of his career, after recording a career-high 10 tackles for the second consecutive week. The sophomore also had a pass breakup on third down that forced the Aztecs to punt on their first possesson of the game. He also was credited with a stop for a loss for the third time in three games. Reaves is tied for the team lead with 25 total stops and ranks in the top 10 in the conference in tackles, interceptions and passes defended per game.
Head coach Joey Jones reflected on the game on Monday, "We tried to enjoy the game on the plane ride back, we got home around 5 a.m. and had 2-3 hours sleep before getting back to work. As soon as I got here Sunday morning it was all about N.C. State. It was a big win for our program and everybody involved, and I was happy that we went on the road and beat a quality opponent in San Diego State, but we have to move on to the next game like we always do."
"We stressed all week about fighting from start to finish, that it was truly going to be a war," Jones reflected about why he considered it the biggest win in program history. "I thought the guys fought throughout the whole game, which is what it takes, and you have to fight together as a team. We really grew up as a team, you could see it on the sideline. This team is kind of young and new, we have some guys who haven't played together a lot. It's starting to come together, I saw some good things on Saturday."
Jones spoke highly of his defensive staff and about the defensive front's performance in San Diego. "I thought our defensive staff did a tremendous job putting our guys in the right places to be consistently in the right gaps. We did a much better job of that this week — some of that was personnel moving guys into different spots — but we knew we had to stop the run last week."
NC State
But the Jaguars now have to turn their attention to North Carolina State. After traveling to Raleigh to face them twice, the Wolfpack will visit Mobile to face the Jaguars. But Coach Jones does not worry about being an underdog in the game though. "I don't worry about those things, but we are playing an ACC opponent who is very good and off to great start this year. We've had two long trips to Nebraska and California, so to come home is exciting. The fact that we are playing N.C. State is exciting. I think our crowd is going to be into it like they always are."
The NC State offense has looked particularly good through their first couple of games. They have athletic linemen, a good running back and an accurate quarterback which will all be challenges to the Jag defense. But with the help of the student section, Jones feels the Jaguars will be ready for the game."We appreciate what they [students] have done for our football program, we enjoy what they do out there. They're loud, you can tell they give our opposing team a hard time, and I like that. When we drive up to the game we can see them, and when they are out there in droves it really fires our guys up. They have created an exciting atmosphere."
Heading into the final non-conference game of the season for the Jaguars, they will be facing a team that is averaging 235 yards per game rushing and over 440 yards of total offense per game. They also average more than 40 points per game as well. Those numbers put them in the top 25 of rushing and total offense in the nation.
NCSU running back Matthew Dayes has rushed for over 100 yards per game in all three games this season with six touchdowns to show for it. Quarterback Jacoby Brissett is 56-of-72 (77.8%) so far this season for 591 yards and four touchdowns.
The Jags are coming off of a season-high 511 yard game, 351 yards of that total coming in the second half and overtime. But the Jaguars will be facing an NC State defense that is second overall by only allowing 188.3 yards per game, fifth overall against the run allowing 51 yards per game, and eighth in points allowed with 11.7 ppg in the nation.
Meanwhile the Jaguar defense is allowing 32.7 points per game, including 191.7 yards rushing per game and 200 yards passing per game. Offensively they are averaging 25.3 points per game, 161.3 yards rushing per game and 255.7 yards passing per game.
The Jags was bitten by the injury bug prior to preseason camp with a season-ending injury to their top defensive lineman coming into the season. Injuries re-emerged on Saturday with at least one but probably two season-ending injuries suffered against the Aztecs.
On Friday, the University of South Alabama will host "JagNight on Dauphin" with a parade, pep rally and entertainment. The parade will start at 7pm in Cathedral Square and will end at Springhill Ave. where there will be a pep rally and other entertainment until 9pm at Moe's BBQ.
On Saturday, the game will kickoff at 7pm and can be heard locally on Lite Mix 99.9 with two hours of pre-game starting at 5pm and a 30-minute post-game wrap-up after the game. It can also be heard on affiliate radio stations in Alabama and world-wide through the iHeartRadio app.
The game will also be aired on ESPNews.
Go Jags!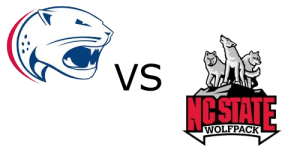 South Alabama will hold a pep rally in downtown Mobile on Friday, September 25 ahead of the Jaguars game against North Carolina State. This event is similar to what the University did last year when Mississippi State visited the Azalea City to face the Jaguars.
The event will be called "JagNight on Dauphin" and will get underway at 7pm CDT with a parade and conclude with entertainment until 9pm with a party afterward including live music at Moe's Original BBQ.
The parade will include members of the football team, the USA Marching Band, the cheerleaders and dance teams as well as SouthPaw and Pawla. The parade will begin on Dauphin Street at Cathedral Square and end at Dauphin and Springhill Ave. where Moe's BBQ is located.
South Alabama head coach Joey Jones and team captains will address the fans at the pep rally that immediately follows the parade. The Marching Band will perform and will feature introductions of the cheerleaders and the Prowlers. After the pep rally, KISS 107.3 FM DJ Matt McCoy will provide entertainment until 9pm.
Parking can be found throughout downtown while shuttles from the dining hall will be free for students beginning at 4pm and running until 10pm.
Fans who wear their JaguarWear Attire will receive discounts and special offers from a number of local venues downtown.
This is a rain or shine event.
The Jags and Wolfpack will kickoff on Saturday, September 26 at Ladd-Peebles Stadium at 7pm CDT and will be televised nationally on ESPNEWS.