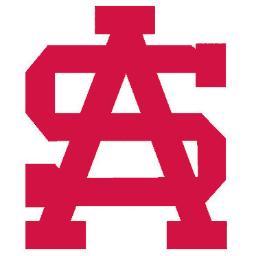 South Alabama played a pair of high-profile games on Tuesday, both were shutouts, but only one was a win for the Red, White and Blue.
Baseball
The Jaguar baseball team shut out Alabama 3-0 at Eddie Stanky Field. Three Jag pitchers combined in the effor with right-hander Austin Bembnowsky (2-2) getting the start and throwing five scoreless innings with only two hits allowed while striking out five and only issuing one walk. Ben Taylor threw four scoreless innings in relief and struck out a career-high eight batters with only one walk and four hits to earn his second save of the season.
The Jags (16-9) took an early 1-0 lead in the bottom of the third inning. Matt Bolger led off the inning with a double then advanced to third on a throwing error to second. Ryan Raspino hit an RBI groundout to short to bring Bolger home.
They doubled the lead in the bottom of the fourth inning after Bud Collura reached base with a leadoff single to left field. He advanced to second when the throw to second on a sacrifice bunt attempt by Adam Ballew sailed wide of the base. Danny Martinez advanced both runners into scoring position with a groundout to short for the first out of the inning. Then Cole Gleason hit a sacrifice fly to right field to bring Collura home for the 2-0 lead.
The Jags threatened to add to their total in the bottom of the fifth when they loaded the bases, but an inning ending popup to short allowed the Crimson Tide to escape the threat.
It was Alabama's turn to load the bases in the top of the sixth after a leadoff single and consecutive walks by Jag lefty Austin Stephens. Ben Taylor then came in and recorded consecutive strikeouts followed by an inning ending groundout to short to preserve the Jaguar lead.
The Jags added one more in the bottom of the sixth after Gleason reached on a one-out double to right center field. He would score one batter later when Bolger hit an RBI single to center.
Bolger was 3-for-4 with a double, an RBI and a run scored to lead the Jags batting. Collura added two hits and Martinez and Raspino both added a hit and RBI each.
South Alabama will travel to Louisiana-Monroe for a three-game Sun Belt Conference series with the Warhawks.
Softball
The #24 ranked Jaguar softball team did not fare as well as the baseball team when they traveled to Baton Rouge to face the #1 ranked LSU Tigers.
Read more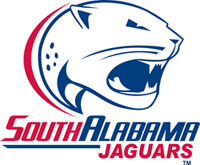 Tuesday night is a big night of sports for South Alabama.
The Jaguar baseball team (15-9) will host the University of Alabama (13-9) for a 6:30pm game at Eddie Stanky Field. UA holds a 56-48 all-time lead in the series which started in 1967 but they have not met since April 3, 2012 at Eddie Stanky Field and they have won the last three meetings between the two teams. The last win was in 2011 in former head coach Steve Kittrell's final season at the helm.
The Jaguar softball team will face #1 ranked LSU in Baton Rouge. The Jags (21-6) is 0-2 all-time against top-ranked opponents after falling 4-0 to then #1 Alabama in 2013 and 13-0 in five innings against #1 Florida in 2009.
LSU leads the Jaguars in their all-time series 6-2. USA and LSU split two games in Baton Rouge last year though.
The Tigers are 23-0 at home this season and 30-1 on the season.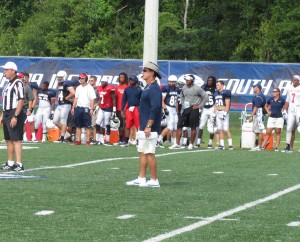 The South Alabama football team held their fifth practice of the spring on Monday at the Jaguar Practice Facility in full pads.
The first team period, which lasted just under 10 minutes, covered almost 30 plays and saw the offense working against blitzes at its own 40 yard line. The second team period lasted about 20 minutes and had all three offensive units starting from the same yard marker and moving the ball while running almost 50 more plays.
Offensive coordinator Bryant Vincent selected wide receiver D.J. Vinson Jr as the offensive player of the day. Vincent mentioned that Vinson did well at the 'A' receiver position and that he is settling in at his new position. Last season he played running back for the Blazers.
Defensive coordinator Travis Pearson selected cornerback Antonio Carter Jr. as the defensive player of the day. Pearson was very pleased with his play on Monday. He said that Carter is playing very fast and is having a very good spring so far.
Play of the day went to Hunter Vaughn and Vinson. Vaughn found Vinson in stride for a gain of over 20 yards.
Head coach Joey Jones was pleased with the intensity in the first practice of the week on Monday. He said, "I was proud of their attitude. We're starting to get a little sharper out there on both sides of the ball, especially with the defense starting to come together. We just have to keep working with that mentality."
He also talked about the goals for the second week of spring practice. "We discussed our full personnel for the first time, looking at guys from top to bottom," Jones said. "We're still going to give everyone chances, but we have to start formulating a depth chart. We have to find the guys who are going to be playing and start working them to make sure they get reps in practice to get ready for next season. Every rep is valuable."
Jones also mentioned that the teams conditioning has them in pretty good shape this spring. "I think they are in pretty good shape. We're rotating guys in a lot, they're not staying in a ton, but I haven't noticed any guys not in shape. Usually at this time of year they're not in as good cardiovascular shape because they've been lifting weights, it normally takes the summer to get ready, but as long as we continue with this pace we will practice ourselves into shape."
The Jags will return to the practice fields on Wednesday afternoon from 3-5pm.
South Alabama's Farish Beard was named the Sun Belt Conference Pitcher of the Week after recording three wins over that time period the Conference office announced on Monday.
Beard, who just returned to the lineup from an injury that had her resting for several weeks, went 3-0 with a pair of wins over conference opponent Appalachian State over the weekend and a non-conference win over Conference USA's Southern Miss midweek.
She struck out 21 batters to four walks and only one earned run on nine hits in 18 innings pitched. She allowed only two hits to the Golden Eagles on Wednesday and Appalachian State in game one of a Saturday doubleheader. She had a no-hitter going against the Mountaineers until the fourth inning when they got a pair of hits. She responded by retiring six of the final seven batters faced.
Currently Beard is ranked second in the NCAA in hits allowed per seven inning (2.68), third in the nation in ERA (0.41), she leads the SBC in ERA, fewest hits allowed (13), fewest runs allowed (4), fewest earned runs allowed (2) and is tied for the conference lead in fewest home runs allowed (1). She also ranks second in the conference in opposing batting average (.120) and third in fewest walks allowed (10).
Out of seven voting periods this year, the Jaguars have had a honoree four times. Freshman Devin Brown was selected pitcher of the week on February 9 and March 2 and senior shortstop Kaitlyn Griffith was named Player of the Week on February 23.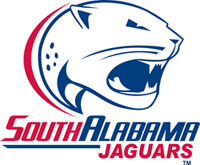 Softball
The University of South Alabama Jaguar softball team completed a three-game sweep of conference foe Appalachian State over the weekend to improve their record to 21-6 overall and 5-3 in Sun Belt Conference play.
In the first game of the series, the Jags put three runs on the board in the bottom of the first inning to take an early lead. Emily Messer got it started by getting on base on a Mountaineer fielding error. She was followed by Stephanie Pilkington who singled then stole second one batter later. Chloe Rathburn hit a double to left center field to put the Jags up 2-0. Blair Johnson then hit a two-out single to right center field for the third run of the inning.
In the top of the fifth inning the Mountaineer finally got on the board due to a fielding error by the Jaguars. But in the bottom half of the inning the Jags responded with another three-run burst.
Haleigh Lowe started it off with a one-out walk followed by back-to-back singles by Messer and Amanda Minahan. Pilkington then delivered a three-run double.
Farish Beard would retire the Mountaineer batters in order in the sixth and seventh innings for her third win of the year. Additionally, over the last 20 innings she has struck out 28 batters to three walks and one earned run on eight hits.
In game two the Mountaineer was not going to go down without a fight.
In the top of the first inning, Appalachian State took a 2-0 lead on a two-run homer to right field.
The Jags would cut the lead in half in the bottom of the second inning. Lowe earned a lead-off walk then would score on Kaleigh Todd's single.
After the second inning, the Jags could only manage a hit and a walk until the bottom of the sixth inning when Kaitlyn Griffith singled. Lowe would put down a sacrifice bunt to move Griffith to second, followed by Griffith stealing third but she would be stranded there after a pair of pop-ups ended the inning.
In the bottom of the seventh, the Jags started their comeback effor again. Alyssa Linn came off the bench to deliver a single through the right side. Pilkington then got on base with a bunt single after two infielders collided after fielding the ball. Rathburn would fly out next.
Then Blair Johnson stepped up and delivered a two-run triple down the right field line giving the Jags a 3-2 walk-off victory. The triple was Johnson's eighth of her career, which is second-most in program history. She also moved to fourth all-time in games played at USA (195). Kaitlyn Griffith is currently seventh with 184 games played.
On Saturday, Pilkington was 3-for-7 with three RBI and a pair of runs scored. Amanda Herron had a pair of doubles. Emily Messer and Haleigh Lowe both scored two runs each.
In the finale on Sunday, the Jags used a five-run first inning and a three-run fifth inning to earn an 8-0 run-rule victory over the Mountianeer.
Beard earned her fourth win of the year in as many appearances since her return a week ago. She struck out five and walked two and carried a no-hitter into the top of the fourth inning before the Mountaineer earned two hits off of her. She then retired six of the final seven batters she faced.
On Sunday, Lowe finished 2-for-2 with three RBI and a run scored. Kaitlyn Griffith and Chloe Rathburn both had an RBI and a run scored each. Emily Messer was 1-for-1 with two walks and a run scored.
The Jags will travel to Baton Rouge to face LSU, the #1 team in the nation, on Tuesday with first pitch scheduled for 6pm.
Baseball
The Jaguar baseball team took two out of three from Texas State over the weekend at Eddie Stanky Field.
The Jags opened with a 7-1 win on Friday night behind Kevin Hill's eight scoreless innings and 10 strikeouts. Hill only allowed two hits in eight innings for his second win of the season. Eight Jaguar starters recorded at least one hit in the game with Ballew finishing 2-for-4 with two RBI and a run scored. Gleason went 2-for-3 with two RBI and a run scored. Cole Billingsley added two hits, two runs scored and three stolen bases. Bud Collura finished with two hits, an RBI and one run scored.
In game two on Saturday, Jaguar Ben Gann's bases-loaded walk-off single in the bottom of the 11th inning lifted the Jaguars to a 2-1 series-clinching win.
The Jags loaded the bases with one out in the 11th on consecutive singled by Danny Martinez and Cole Gleason then a walk by Jason Cryar. Gann then lifted the first pitch he saw to shallow right field to score Martinez.
In the series finale on Sunday, the Bobcats used a four-run eighth inning to stave off a three-game sweep. The Jags (15-9, 5-4 SBC) attempted a rally in the bottom of the ninth, but stranded the tying run in scoring position when the game ended.
Texas State (10-12-1, 6-3 SBC) earned the 8-7 win to avoid the sweep.
The Jags will host the University of Alabama at Eddie Stanky Field with first pitch scheduled for 6:30pm on Tuesday.
The Jaguar football team held their second practice of spring drills on Wednesday in helmets and shorts at the Jaguar Practice Facility on campus.
The defense worked on takeaways and reviewed blitz packages. Special teams worked on punt coverage. A 20-minute stretch of team workouts had the offense running plays to move the ball against the defense facing normal down and distances. The first-team had three 5-play possessions while the second and third teams has two drives each.
Offensive coordinator Bryant Vincent singled out running back Xavier Johnson at the player of the day. Vincent thought that Johnson caught the ball well out of the backfield and showed great effort. He mentioned his reads and vision were both very good.
Defensive coordinator Travis Pearson singled out safety Roman Buchanan as the player of the day. Pearson mentioned that Buchanan makes good decisions quickly against the Jaguar offense, who moves very fast. Pearson also mentioned that Buchanan does a great job helping the players around him acting as an on-field coach.
Play of the day went to Hunter Vaughn connecting with Danny Woodson down the sideline with Woodson breaking free from his defender to go untouched after turning the corner.
Terrance Slaughter recorded the only takeaway for the defense with an interception on a deep pass during the second-teams first possession. Christian Persall had four catches with the third-team unit.
The football team will being donning shells on Friday and will continue to wear pads until Wednesday, April 8 when they are scheduled to be in helmets and shorts again in their final workout prior to the annual Red-Blue spring game.
Head coach Joey Jones was pleased again with the team's second practice, "There was great tempo, the guys on both sides of the ball are getting lined up and paying attention to detail. We're rotating a lot of guys in, we're going three deep, and getting to look at everybody on film. I'm pleased overall. Obviously we're not ready for a ball game yet, but I don't expect us to be."
Jones continued by talking about what the coaches are looking for with players only wearing helmets and shorts. "You can evaluate the skills players better when you're not in pads. You can't evaluate a lineman, and it's hard to judge linebackers unless you're looking at pass coverage. But with receivers and defensive backs, you can evaluate them because that's what they do. There's not a whole lot of collisions going on. But we can look at the skill guys and see what they can do outside."
Jones talked about how practice changes when the players are in shells and pads. "It makes all the difference in the world because you find out who the real football players are. They can come out here in shorts and look real pretty, but until you hit somebody or take a hit you can't play the game of football."
The team will return to practice on Friday afternoon from 3-5pm on campus at the Jaguar Practice Facility. All spring practices are open to the public per USA's release prior to spring practice began.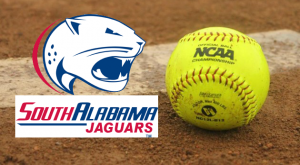 The Jaguar softball team defeated Southern Miss 9-1 in six innings on Wednesday evening in a run-rule victory. The Jags nine runs came on 12 hits and three errors by the Golden Eagles in the two teams' first meeting since 2012.
The Jags (18-6, 2-3 SBC) Farish Beard recorded her second win in only her second appearance since February 7 as she struck out six to only one walk and allowed only one run (earned) on two Southern Miss hits. In her last 13 innings Beard has struck out 18 batters and only allowed two runs. The win was her 54th of her career, which stands as second most in Jaguar program history.
Eight of the nine starters for South Alabama recorded a hit with Emily Messer, Amanda Minahan and Chloe Rathburn all getting two hits each.
Messer finished 2-for-3 with three runs scored while Minahan went 2-for-2 with two RBI and two runs scored. Rathburn was 2-for-4 with a pair of RBI.
It was the Golden Eagles who scored first when left fielder Selena Estrada hit a one-out solo home run to left field in the top of the first inning. But the Jaguars quickly responded in the bottom half of the inning after Messer led off the inning with an infield single and advanced to second on a wild pitch. She was able to score after Stephanie Pilkington hit a single to right field and the catcher mishandled the throw to home.
USA's Blair Johnson would a run in the second inning on freshman Haleigh Lowe's single up the middle. Minahan would score a run in the third inning after a USM fielding error on senior shortstop Kaitlyn Griffith's hit.
The Jags were up 3-1 heading into the bottom of the fourth inning when the Jags broke the game open. Johnson led off the inning with a bunt single then moved to scoring position at second base when Freshman Kaleigh Todd pinch hit for Kristian Foster and executed a sacrifice bunt. Amanda Herron followed with a double to right center field to put two Jaguars in scoring position. Messer then drew a walk to load the bases.
Amanda Minahan singled to score Todd and Alyssa Linn, who pinch ran for Herron, to extend the Jaguar lead to 5-1. Pilkington then hit a sacrifice fly to left center to score Messer. Rathburn followed with hit to left center scoring Minahan for a 7-1 advantage.
Two more runs in the bottom of the sixth completed its fifth run-rule win of the season. Lowe reached base on a third USM fielding error. Messer reached base for a third time in the game with a bunt single. Minahan and Pilkington both flied out and possed out respectively. Rathburn then singled to right field to score Lowe. Finally Griffith singled to drive in Messer to cap off the win.
South Alabama returns to conference play when they host Appalachian State this weekend beginning on Saturday with a double-header beginning at 1pm. Then the finale on Sunday starting at 1pm as well. However, the schedule may change due to expected weather in the Mobile area so please check the schedule to ensure game times have not changed.
The South Alabama football team is scheduled to hold their second of 15 spring practices this afternoon from 3-5pm on campus at the Jaguar practice facility. It's the second of four practices scheduled this week without a scrimmage.
In the first practice on Monday, the team worked out in helmets and shorts. The team period consisted of six offensive possessions at their own 30 yard line. The first and second teams had two drives each consisting of five snaps and the third team had two possessions of four snaps, all over a 15 minute window.
Offensive coordinator Bryant Vincent singled out running back Dami Ayoola as the player of the day on offense. Vincent praised Ayoola for his footwork and vision as well as his ability to catch the ball.
Defensive coordinator Travis Pearson singled out Tre Alford for his efforts on defense. Pearson said that Alford is playing with lots of energy and enthusiasm. He understands what he is doing on the football field.
The play of the day went to Jeremy Reaves who made diving pass break-up that was intended for receiver Tyrone Williams that would have resulted in a first down during the team period.
Between the three offensive units during a pair of 12-minute 7-on-7 skeleton passing drills, they threw more than 60 passes. The two drills were split between the start and end of the workouts.
Coach Jones was pleased with the first day of practice. "I thought there was great effort and a real good tempo today, I was real proud of that," he said afterwards. "But we can get better; we have a bunch of guys who understand it, a bunch who are close to understanding it and a bunch who don't understand it. We have to get more guys to that top level, that's what the spring is all about."
Jones continued, "Spring is about positions. I know the coordinators want to get them together and have cohesiveness, but in my opinion the spring is more about trying to get the individual better because if they get better our team is going to be better. We have to concentrate on them fundamentally, we can't lose sight of that. Sometimes you get caught up too much in scheme, but we're not playing a game in the spring."
Jones also mentioned that he is excited to have new additions to the coaching staff. "I'm real excited about them, there's a chemistry. With each time we lose a coach, we have an opportunity for someone to come in here and show themselves. We've done a good job of bringing guys in who understand the game, and they're good people as well."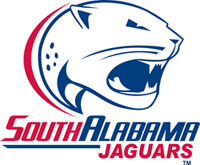 The South Alabama softball team will step out of conference play on Wednesday when they host Southern Miss at Jaguar Field.
USA and USM get underway at 6pm on Wednesday.
Over the previous weekend the Jaguars traveled to Louisana-Monroe, but the first game was cancelled due to weather and instead only played a double-header on Sunday, which the two teams split.
In the first game, the Jaguars suffered their first run-rule defeat since February 11, 2012. Kalen McGill started the game and ULM manufactured two runs in the bottom of the third inning. The Warhawks scored a third run in the fourth inning before Kaleigh Floore came in as for relief. A fourth run was allowed on a wild pitch with the bases loaded.
The Jags were unable to get on the board but Amanda Herron when she hit a ball off the wall in center field. Just a few feet from a home run, but after her double, she would be stranded on base with a fly out to end the threat.
In the second game, Farish Beard tossed a one-hitter in her first appearance since February 7 due to injury. She retired nine of the first 11 batters she faced.
Kaitlyn Griffith two-out solo home run left center field put the Jags up 1-0 in the fourth inning. That was her team-leading fourth homer of the season and her second in the last three games. It was also her 18th career home run which ties her for fourth in Jaguar history.
The Jags turned away a threat in the bottom of the fourth inning but Chloe Rathburn threw her out trying to steal third base.
Stephanie Pilkington added another run to the Jaguars total with a leadoff home run to start the sixth inning. They also threatened to do more damage but ULM was able to work out of the situation. The Jags cruised to the 2-0 win from that point.
The South Alabama Jaguar football team opens spring practice on Monday. It was their first time back on the field after their first-ever postseason bowl appearance.
The Jags will work our in helmets and shorts at the Jaguar Practice Facility on campus from 3-5pm. They will also have a session on Wednesday without pads.
Each Friday during spring practices (March 20, 27 and April 3) as well as Monday April 6 to start the final week of drills. The Jags first workout in full pads is scheduled for Saturday, March 21 at 9am. Other full pads workouts are scheduled for March 23, 25, 30 and April 1.
Two scrimmages are set for the two Saturdays (3pm March 28, 9am April 4 at Murphy HS) prior to the annual Red-Blue spring game.
Each weekday practice will begin at 3pm with all 15 dates open to the general public.
The Red-Blue game is scheduled for noon on Saturday, April 11 at Ladd-Peebles Stadium and is the first of several sporting events that day. The nationally ranked Jaguar softball team will play a double-header against Georgia Southern then at 6:30pm the Jaguar baseball team will host Appalachian State.
During the spring, the Jaguars will look to identify student-athletes to begin filling the spots left by 17 senior starters who graduated after last season. An influx of several players from UAB will help bolster the roster with experienced student-athletes including the starting quarterback from the Blazers.
USA lost 32 seniors from last fall's team that faced Bowling Green in the inaugural Raycom Media Camellia Bowl. Just seven starters return from that team.