Football
This evening the Jaguars will host Sun Belt and in-state rival Troy for a 6:30pm kickoff at Ladd-Peebles Stadium. The Jags 4-2 (3-1 SBC) look to keep extend their three game winning streak with a win over the Trojans 1-6 (1-2 SBC).
Last week the Jaguars defeated Georgia State 30-27 on a late touchdown drive. Troy was completely dismantled at home by conference newcomer Appalachian State 53-14 which gave the Mountaineers their first FBS and Sun Belt Conference win.
South Alabama will be without senior running back Jay Jones as an MRI confirmed that he suffered a torn ACL against Georgia State. Being a senior, that will end his college career. Kendall Houston, Xavier Johnson, Terrance Timmons and T.J. Glover will move up to help fill his cleats in the backfield.
Another player that may miss the game on Saturday is cornerback Quadarius Ford. Ford, a 5'9″ 170-pound senior, suffered a concussion against Georgia State and at last word, has not been cleared by the medical staff for tonight's game. Ford is tied for seventh in total tackles with Theo Rich and Jerome McClain.
If you go by the Sagarin rankings as published by Jeff Sagarin, the Jags are currently the fourth best team in the Sun Belt and the 107th best in his rankings of all 252 FBS and FCS teams. Arkansas State (57), Georgia Southern (102), and Louisiana-Lafayette (102) are ranked ahead of the Jaguars (107).
The rest of the conference is ranked: ULM (136), Texas State (145), Appalachian State (150), Idaho (176), Troy (189), Georgia State (191), New Mexico State (195).
Meanwhile USA's non-conference opponents are ranked: AP and Coaches Poll #1 Mississippi State is 4th, South Carolina (33), Navy (93), and Kent State (173). It's also worth noting some of the other teams in the state: Alabama (2), Auburn (3), Jacksonville State (78), UAB (106), Samford (151), Alabama State (206) and Alabama A&M (238).
South Alabama and Troy start at 6:30pm, Jaguar Prowl will be at 4:10pm. Pregame and live Play-by-Play can be heard on LiteMix 99.9FM locally and on iHeartRadio on your smart devices. It will also be televised on ESPNU nationally.
Soccer
Charde Hannah was named the Sun Belt Conference Offensive Player of the Week on Tuesday for the third time this season. She earned the weekly award on September 16 and 23 this year.
She helped lead the Jaguars to shutout victories over Georgia Southern and Georgia State with two goals and seven shots on goal.
Against Georgia State she accounted for both goals to help the Jaguars set a new school record for consecutive games without a loss. She broke the scoreless tie in the 85th minute and added another in the 90th minute.
Hannah leads the conference in points (2.38) and goals (1.0) per game and is tied for sixth in assists.
This is the seventh time a Jaguar has been awarded player of the week honors.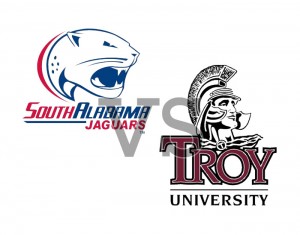 Head coach Joey Jones, offensive lineman Melvin Meggs and linebacker Davin Hawkins met with the media on Monday to recap the Jaguars 30-27 win over Georgia State and the preview their game against Troy on Friday.
"I was really pleased last week with the win, when you can finish a ballgame like we did — the defense stops them, we drive down and score, we stop them again and we kill the clock — it makes you feel good," said Jones in his opening statement. "The guys kept their poise and composure late in the game, those last four possessions were in our favor. We took over the latter part of the fourth quarter, I was real proud of that."
Jones talked about what he has been the most pleased about over the last three or four games. "We've played extremely well on the road, I thought that was a big step forward for our program. Maturity is probably the biggest thing, we are maturing. Even though we have a lot of starters back from last year, there are still a lot of new players who are coming along really well. Those guys have grown up and are playing good football right now."
Jones also spoke about the competition in the Sun Belt and ignoring Troys 1-6 overall record this week. "This conference [the Sun Belt Conference] is very tough from top to bottom, you look at Georgia State and what they've done last year compared to this year and they are a much-improved team. I know our record, but we don't keep up with things like everyone else's. I look at film and watch athletes, how they play and how they are coached because we have to have a good plan to be able to defeat somebody. That's our plan, I could care less about what record they have.
"We just know we're playing a good football team this week with a lot of tradition. They know how to win. That is all we are focusing on."
He then spoke about his concerns about Troy. "Kenny Edenfield is their offensive coordinator, he has done a tremendous job over the years, traditionally they are one of the top offenses in the league. He understands how to distribute the ball around the field and comes up with different kinds of what I call 'trick' plays during every game that are new. He just does a great job of play calling.
"Defensively, they are big and physical up front and really run to the football. They are very sound in the way they line up."
Jones also mentioned the importance of the game for the program. "It's obvious this is a big game, it's an in-state game, but Louisiana-Lafayette has become a rival as well. But Troy is there because of the tradition and success they've had, it is certainly a big game for us."
Offensive lineman Melvin Meggs reflected on the Jags win over the Panthers. "We had some things we wanted to accomplish coming off of a bye week, things like improving fundamentals and becoming stronger in our technique. It was a tough win Saturday, but we battled back in the fourth quarter and got the job done. This Friday's game is big just because it is the next game. We've made the corrections from Saturday's game, and we are preparing to limit those weaknesses and become stronger in our technique for the game Friday."
He also spoke about getting the team's first home win of the season. "We owe it to our fans, because they come out and support us regardless of the situation. We have some faithful fans, and to be able to finally get a win at home and give them something to look forward to Friday means a lot."
Meggs then spoke about the offense's consistency in the last few games. "I think it all started at practice with some of the seniors who spoke up when things weren't going right – not in a way to down a teammate but to encourage them. And it spread quickly. Everyone just started trying to pick each other up, and it's been rolling."
Finally Meggs spoke about the Trojans defense that he and his teammates will face on Friday. "Their defensive line moves pretty well. They are quick off the ball. The linebackers flow hard – they're a pretty good football team. We just have to play our technique and play as hard as we can."
Linebacker Davin Hawkins reflected on the team's win over Georgia State. "Defensively, we were just trying to get back to the little things like tackling, getting your head across and taking good angles – just the fundamentals. It was a tough win Saturday, but it was a good win. Any win in the Sun Belt (Conference) is a good win. We're happy for that."
Hawkins, who was injured earlier in the season, spoke about getting back on the field after missing some games. "It felt amazing. I don't know what I would do without football. Being at home while everyone was in North Carolina playing was not a feeling I enjoyed at all. It was just great to be on the field. I thought it would be a little worse. I thought I'd be a little timid going back out there but it was just like I never left. I thank God for blessing me to be back on the field. It is a blessing."
He talked about the team earning their first home win of the season as well. "It was big. I felt like we owed it to our fans. We performed on the road, but we weren't performing for them when we came home. So I felt like it was great to give them a win, and also for ourselves to know that we are able to win at home."
Similar to Meggs, Hawkins spoke about the defense's consistency this season. "(Defensive coordinator) Coach (Travis) Pearson preaches consistency in performance. We felt like we weren't doing that at times earlier this season, but we just want to be consistent in our performance."
South Alabama will host in-state rival Troy for a nationally televised game on Friday on ESPNU. Kickoff is scheduled for 6:30pm at Ladd-Peebles Stadium.

The Jaguar volleyball team dropped their third consecutive match on Sunday as they lost to conference leader Arkansas-Little Rock 3-1 (22-25, 25-22, 15-25, 13-25) in Jag Gym.
Mechell Daniel led the Jags with 14 kills and added nine digs. Deanna Canfield had 13 kills, one shy of tying her career high, off the bench. Jenna Hassell led the team with 16 digs.
UALR (17-4, 11-0 SBC) won its 12-consecutive match. During the streak they have only lost six sets.
All-conference duo Sonja Milanovic and Edina Begic led the Trojans offensively with 17 kills and hitting .417 with 15 digs and five blocks for the former and 14 kills for the later.
The Trojans entered the match leading the Sun Belt and ranking 13th in the nation in blocks, which was key in their victory over the Jaguars.
South Alabama (9-11 overall, 4-6 SBC) will open a three-match road trip on Friday when they travel to Louisiana-Monroe with first serve scheduled for 6pm.
South Alabama's Brandon Bridge was named the Sun Belt Conference Offensive Player of the Week for his play against Georgia State on Saturday.
Bridge had part in all three of the Jaguars touchdowns against the Panthers as he ran for two and threw another as he accounted for 263 yards of total offense, 137 of them came on the ground and 65 of them on the game winning drive with five minutes left in the game. His rushing yardage set a new single game record for the Jags. It was also the third most rushing yards against a Division I opponent behind Kendall Houston's school-record 175 yards also against Georgia State in their first-ever meeting.
In the Jaguars final scoring drive, Bridge ran for 65 yards to the Panther 20 yard line, then two plays later threw an 18 yard touchdown to Danny Woodson II to secure the 30-27 victory.
This is Bridge's first SBC Player of the Week honor and the first for a Jaguar since Jay Jones received the award on December 9, 2013 and the first quarterback to receive the award since Ross Metheny on September 9, 2013.
Through six games Bridge is 94-of-183 for 1,174 yards and eight touchdowns through the air. He also has 294 yards rushing on 68 attempts. Under his guidance the Jaguar offense is averaging over 400 yards per game of total offense.
The news coming from the Jaguars on Sunday concerning Jay Jones was good. According to one of the assistant athletic trainers, Jones will have an MRI on Monday but it is likely his season has come to an end.
Jones, a 5'9″ 195-pound running back from Horn Lake, Ms. who came to South Alabama after two seasons at Northeast Mississippi Community College was injured on the game-winning drive against Georgia State on Saturday night.
Jones' injury came on the second play of the three play 85 yard drive for the go-ahead score. On the first play Brandon Bridge tucked the ball and ran 65 yards to the Panther 20 yard line. Jones then took the handoff off up the right side of the line into a mass of Panthers and Jaguars for a two yard gain. It was unclear what exactly happened in the scrum, but towards the end of the play he appeared to fumble the ball. The nearest referee called him down and a review did not have enough evidence to overturn the call on the field. He was helped off the field and did not put any weight on his left leg.
On the next play, Bridge connected with Danny Woodson II for an 18 yard touchdown to take the lead.
Jones is the leading rusher for the Jaguars this season with 393 yards on 83 carries for three touchdowns as well as seven catches for 49 yards. He was also the leading rusher a year ago with 737 yards on 143 carries with five touchdowns. For his Jaguar career, he has 226 carries for 1,130 yards and eight touchdowns.
Stepping up to replace him will be senior Kendall Houston and redshirt freshman Xavier Johnson along with Terrance Timmons and T.J. Glover. Houston has 209 yards on 48 carries this season while Johnson has 188 yards on 34 carries, most of it coming over the last couple of weeks. Timmons has nine carries for 81 yards so far this season.
"You hate it for a guy who's such a great leader and such a great player; you hate it for him first and you hate it for us as a team second to lose a really good football player and leader," South Alabama head coach Joey Jones was quoted by AL.com after the conclusion of the Jaguar's practice Sunday night. "We don't know the final verdict yet, but it doesn't look good right now.
"We've got Xavier (Johnson), we've got Kendall (Houston) and we've got Terrance (Timmons) and T.J. Glover is actually in the mix. We're pretty deep at running back for this year so I think those guys will step up."
After the win on Saturday, several of Jones' teammates went on social media sending prayers and asking for the fans to pray for him as well.
This will be a short week for the Jaguars as they are scheduled to play Troy on Friday night at Ladd-Peebles Stadium for a nationally televised showdown against in-state rival Troy. Because of the short week, the players will not have Monday off, which they normally do. Instead they will come in Monday morning and have their normal Tuesday type practice and move their schedule up a day.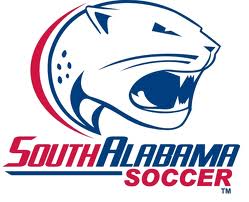 South Alabama used two late goals by Charde Hannah to extend their unbeaten streak to a school-record 12 matches with a 2-0 win over Georgia Southern Friday night at The Cage.
Hannah's two goals, her 15th and 16th of the season and leads the Sun Belt, in the 85th and 90th minutes of the match ties her for second place in school history and her 38 points are fifth-best in school history.
The first goal came when the took advantage of a short pass to the goalkeeper by taking control of the loose ball then put it into the empty net. The second goal came off of a pass from Rio Hardy after they played a 1-2 outside the box.
In the first half the Jags held an 11-1 shot advantage over the Eagles, but were even with each team having eight shots.
Sarah Hay made three saves in her seventh shutout and the teams ninth of the season, both are tops in the conference.
"Right now with all of these teams beating each other in the league, all we can do is focus on ourselves and I'm pleased we got the result," Jaguar head coach Graham Winkworth said after the match. "I thought the first half, even though we went in 0-0, was probably better from a playing standpoint than the second, but at the same time, we got the result and I'm proud of the girls for digging in.
"Often things open up in the second half when teams make adjustments. (Georgia Southern) coach (Brian) Dunleavy is a very good coach—he made some adjustments and we made some adjustments so the game opens up a little bit. At the same time, as it opens up for them, it opens up for us as well, and fortunately we were able to put a couple in the net."
On Sunday, junior Jordan Duncan's header proved to be only goal of the match and extended the school-record unbeaten streak the 13 matches with a 1-0 win over Georgia State.
"It was a physical game," coach Winkworth said. "Both teams work extremely hard and you expect that sometimes when teams are very athletic and hardworking. Georgia State is a hardworking team, so a lot of credit to them. It was a close game and we were just fortunate we defended well throughout and I'm proud of our team's effort. It was a good, positive result for us and it puts us a little closer to start talking more about finishing high at the table."
Duncan's goal, her sixth of the season but only her first since September, came in the 29th minute. Freshman Sophie Haywood found Sophomore Emily Farrell out wide, who then lifted a cross that Duncan was able to head into the upper right corner of the net against the Panther goalkeeper.
"It was a very nice goal," Winkworth observed about the game-winning goal. "It's funny because we played keepy-uppy with headers yesterday in practice because I was frustrated from the day before, so it's funny that the goal came from her head. I told her it was all because of our practice yesterday and she was laughing at me."
South Alabama's defense held the Panthers to only five shots total and only one shot on goal. Sarah Hay made one save for her eighth shutout of the season.
The Jags had 22 shots, 11 on goal and two that hit the crossbar.
"The defense was fantastic," Winkworth said. "They won first balls, they won second balls and they didn't allow the ball to bounce like they did on Friday night. I'm really proud of their effort; they did exactly what we asked them to do and I can't speak highly enough of them.
"From an attacking standpoint, the attack began with them so I'm proud of the way we played with the ball at the back. It was great work from our backline."
South Alabama will close out the regular season next weekend in Arkansas with a Friday afternoon match against Arkansas State and Sunday at Arkansas-Little Rock.
The Jaguars are tops in the conference with 19 points with a 14-2-1 record overall and a 6-0-1 record in conference play. Texas State sits in second place with 15 conference points and a 10-5-1 record overall and 5-2 record in conference play.
Brandon Bridge led a late fourth quarter drive to defeat Georgia State at Ladd-Peebles Stadium to 30-27 in a game that had five lead changes in the second half. It was also their first time since their double-overtime win over Florida Atlantic, that the Jags have won a game when trailing after three quarters.
The Jaguars stopped the Panthers, who were driving into Jaguar territory, and forced them to punt. Bridge took over at his own 15 yard line with just over five minutes remaining in the game. Bridge would then take the first snap and scamper 65 yards to the Panther 20 yard line setting up his 18 yard touchdown pass to Danny Woodson II two plays later to put the Jags up for good.
Bridge would lead the team rushing for the first time with a career-best 137 yards on 15 attempts. It was also the most by a Jaguar quarterback. He was also 11-of-32 for 126 yards through the air.
Georgia State continued to move the ball well through the air, as they have all season, as quarterback Nick Arbuckle was 23-of-40 for 311 yards and three touchdowns. Donovan Hardin led all receivers with 10 catches for 132 yards. Robert Davis had 108 yards on only four catches. Joel Ruiz added 75 yards on seven catches.
Theo Rich set a game-record with 3.5 sacks and a career high eight stops total. Terrell Brigham led the Jaguars defense with 10 stops with Roman Buchanan adding nine stops and a pass break up.
Jay Jones, who left late with an injury, finished the game with 71 yards on 16 carries. Xavier Johnson added 58 yards and Houston had a season-high 55 yards to help lead the Jaguar rushing attack which outgained the Panthers 321-90 on the ground and also outgained them 447-401 in total yards.
"I told the team after the game that I'm not real pleased with some of the things we did tonight, but there are some things I am pleased with. It wasn't a complete game for us, but it's a win," South Alabama head coach Joey Jones said. "You can't always play great. I didn't think we played great tonight and we still won. I thought that was a big deal. The last three series were in our favor — we scored, stopped them and then ate the clock up. I thought that was a great way to win."
"We knew going in, other than last week, that Georgia State is playing unbelievable this year. They are the most improved team in the Sun Belt," Coach Jones explained. "They're very good on offense, but our guys really played well inside the red zone. [Defensive coordinator] Coach [Travis] Pearson really stresses that — it's a big deal. They're not in there until they're in there and our guys fought and kept them out of there. Some of the biggest plays of the game were on the goal line."
Georgia State falls to 1-6 on the season and 0-4 in Sun Belt Conference play. Head coach Trent Miles is 1-18 after taking over the reigns from Bill Curry last season. "We had opportunities to win the game, but give South Alabama credit, they stepped in and did it at the end when they had to," Miles stated. "Joey is doing a great job with them, he's done a great job building the program the right way. We're trying to build our program, and our kids are battling their tails off. I'm proud of them. We're going to start winning football games, I don't know when it's going to happen but it will."
South Alabama improves to 4-2 overall and 3-1 in conference play, just two wins away from bowl eligibility. They will host in-state and conference rival Troy on Friday for a nationally televised game on ESPNU. Kickoff is scheduled for 6:30pm at Ladd-Peebles Stadium.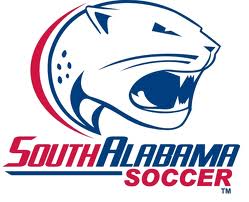 The South Alabama soccer team will close out the home portion of their regular season this weekend with matches on Friday and Sunday.
After last weeks overtime wins against Texas State and Appalachian State, the Jags find themselves sitting on top of the conference with 13 points. Freshman Charde Hannah and junior Nini Rabsatt-Smith had the game-winning goals in those matches respectively.
Georgia Southern (9-3-1, 4-1 SBC) enters the 7pm Friday match against the Jaguars tied for second place in the conference with 12 points.
Sunday's match against Georgia State (5-6-4, 3-1-1 SBC) are fourth in the conference with 10 points. They have rebounded from an 0-4-2 start to earn seven points in their last nine matches. They have also won back-to-back matches for the first time all season when they defeated Arkansas State and Georgia Southern by a combined score of 7-2.
Entering this weekend South Alabama has an 11 match unbeaten streak, tied for the longest in school history, as they have not lost a match since Kennesaw State defeated them 2-1 on August 31. If the Jags can get a win against Georgia Southern they will set a new school record for consecutive games without a loss.
Sunday will also be senior day. They will recognize two seniors, Shawn Meach and Emi Passini, prior to the 1pm start.
Come out and support your lady Jaguar soccer team at The Cage!
The schedule of today's homecoming events:
12pm – Lunch with Coach Joey Jones at the Football Fieldhouse, Reservations requied.
4-6pm – College Reunion Party at Alumni Hall Lawn.
6pm – Homecoming Parade along South Drive
6:45pm – Homecoming Pep Rally at Mitchell Center North Plaza
7pm – USA Women's Soccer match against Georgia Southern at The Cage. Free Admission
8pm – "Battle of the Greeks" NPHC Ste Show in the Mitchell Center.