Louisiana-Lafayette's 30-8 loss to South Alabama drops them and the Sun Belt out of the top ten.
Four teams have received first place votes with the top two separated by a mere two points.
Dropped from rankings: Louisiana.
Others receiving votes: Louisiana 10, Buffalo 7,
North Texas 4, Toledo 2, Western Kentucky 1.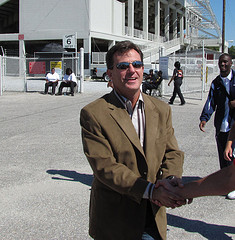 Ten Jaguars were named to the All-Sun Belt football team today including head coach Joey Jones being named Sun Belt Coach of the Year.
First team selections were: tight end Wex Saxton, offensive lineman Chris May, defensive end Alex Page and defensive lineman Romelle Jones. Second team selection: quarterback Ross Metheny, wide receiver Shavarez Smith, offensive lineman Ucambre Williams and linebacker Enrique Williams.
Honorable mention honors went to placekicker Aleem Sunanon and running back Jay Jones.
South Alabama was chosen to finish seventh out of eight teams in the preseason coaches poll. Coach Jones led the Jaguars to a bowl-eligible 6-6 season and 4-3 record in conference play, including three consecutive wins to end the season. Through five seasons at the helm at USA, a program he started, Jones is 31-21.
Western Kentucky's Antonio Andrews was named Player of the Year for the conference as well as Offensive Player of the Year. Defensive Player of the Year went to Xavius Boyd also from Western Kentucky. Louisiana-Lafayette's Elijah McGuire was named Freshman of the Year.
Arkansas State led the conference with 12 players being named to either the first or second team list. ULL and Troy both had nine and South Alabama had eight. WKU, who won the player, offensive and defensive players of the year honors, had seven players on the two teams. ULM had six and newcomers Georgia State and Texas State both had two representatives on the two teams.
Saxton, a 6'4″ 240-pound junior from Hueytown caught 50 passes to tie for the team lead and gained 635 yards on the season.
Page, a 6'1″ 235-pound senior from Prattville had 51 tackles with 14 tackles for loss and 7.5 sacks, both best on the team.
Romelle Jones, a 6'2″ 270-pound senior from New Orleans had 42 tackles with 13.5 tackles for loss and 7.5 sacks.
Metheny, a 6'3″ 205-pound senior and the conference leader in total offense, threw for 2,622 yards and 15 touchdowns. He also rushed for 604 yards and 10 touchdowns.
Smith, a 6'1″ 200-pound junior from McDonough, GA, caught 50 passes to tie for the team lead and gained 940 yards with six touchdowns.
Enrique Williams, a 6′ 235-pound senior from Mobile led USA in total tackles with 105 with 7.5 of them being for a loss.
Sunanon, a 5'7″ 185-pound redshirt freshman from Orlando went 18-of-23 handling the placekicking duties this season, including setting a new school record with 12-consecutive to end the season. His 91 points was the most on the team.
Jay Jones, a 5'9″ 190-pound junior from Horn Lake, MS. led the Jaguar rushing attack with 737 yards with five touchdowns.
Arkansas State will be playing in the GoDaddy Bowl for the third consecutive season and also for the third consecutive season they have lost their head football coach to another program.
Former Red Wolves head coach Bryan Harsin has accepted the offer to become the head football coach at Boise State, the position that came open when Chris Peterson left for the head coaching position at Washington State. The announcement was made Wednesday morning.
Harsin when 7-5 last season in his first season as a head coach with the Red Wolves. He is returning to a familiar place as he was quarterback for the Broncos from 1995-1999. He began his coaching career at Eastern Oregon University where he coached running backs and quarterbacks in 2000. In 2001 he returned to Boise State as a graduate assistant. In 2002 he was hired as tight ends coach and stayed in that position until 2005 until he was promoted to offensive coordinator and quarterbacks coach in 2006, in which he guided the offense to an undefeated season. In 2008 he guided freshman Kellen Moore to the WAC freshman of the year while setting freshman records for completion percentage with 69.4%. He had a 61-5 record as offensive coordinator with the Broncos with two Fiesta Bowl victories over Oklahoma and TCU.
In 2011 Harsin joined Mack Brown's staff as offensive coordinator and quarterbacks coach with Major Applewhite as his co-offensive coordinator. He accepted the head coaching position with Arkansas State after the 2012 season.
Arkansas State lost first year head coach Gus Malzahn to the head coaching position at Auburn University last year. Prior to that, they lost their first year head coach, Hugh Freeze, to Ole Miss in 2011.
Ten Sun Belt Conference women's soccer players were selected for the NSCAA/Continental Tire NCAA All-South Region team as announced by the NSCAA office.
Highlighting the list was Sun Belt Conference Offensive Player and Freshman of the Year Lauren Allison. She led the conference in points, points per game, goals, goals per game, assists, assists per game and game-winning goals. She and teammate Jessica Oram were both selected to the All-South Region First Team.
Jaguars Clarrisa Hernandez was selected to the second team.
Along with the three Jaguars, UL-Lafayette's Grace Howell-Harries, who was selected SBC Defensive Player of the Year, was selected to the second team and Annika Schmidt was selected to the third team.
Troy freshman Necee Jennings was selected to the Third Team. WKU's Nora Abolins, Chrissy Tchoula and Iris Dunn were all selected to the Second Team with Chandler Clark being selected to the Third Team.
Allison, Dunn, Jennings and Schmidt are all freshman and are just four of several players returning who will be impact players for the 2014 season. Additionally, each of the four returning players are ranked in the top ten in goals scored this season.
Howell-Harries is a junior and will also return for the 2014 season.
Sun Belt soccer looks to be a very exciting season.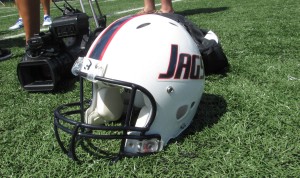 Head coach Joey Jones was joined by linebacker Bryson James and receiver Bryant Lavender for the Jaguars Monday press conference. They recapped the win over Louisiana-Lafayette and recapped the 2013 season. Below are highlights from the press conference.
Coach Jones opened by talking about the program's next step. "The seniors in this program have done a great job of putting this program together. We improved drastically over last season. The challenge now is to improve that much more next year. We have set a standard for a lot of things. You have to build tradition, and we're starting to build it. Obviously we are a long way from having a lot of deep tradition like most schools have, but we have some traditions intrinsically with the way we do things. Our staff and players understand that and are doing things the right way. But can we improve? Heck yes we can improve. That's the challenge for the next season."
Jones then spoke about moving forward to next season. "I have looked forward a little bit because I'm not a guy who is going to look back much anyway, win or lose. You have to move forward. But my mind is pretty heavy in recruiting right now to help us next season. We have thought about the different scenarios of who will play what and the shuffling around of positions, as well as who we have to recruit to make this 2014 team the best that it can be. We have certainly shifted our focus to next year. The answers to a lot of that will be in recruiting."
Talking about what he will remember the most about this season he said the following. "I'll remember the way we fought back. It was tough to come in on a Sunday and talk to the team after a one-point loss. You have to keep them going, but that was difficult. It was very hard for me. I had to put on a face in front of them to where they didn't see any panic. When I went home at night I was distraught at times. But when I got up the next day and faced the (coaching) staff and players, we had to move on. That life lesson that they learned from being in that situation and fighting through it and finishing strong no matter what happened before, I have always preached those lessons but never really had to live them. I've been pretty fortunate as a player and coach to have been on a lot of winning teams. Some of those things were real, and we had to live through them."
On the imporantance of next season relative to the growth of the program he had this to say. "I don't know where it stands, all I know is we need to improve. Every year I am going to have a two-day staff meeting where we talk about ways we can improve for the following year in every facet. You have to assess yourself every year no matter how good you are or how the previous year went. You have to assess yourself and get better. That's the essence of having a championship-type football program, by improving every year. Where that will be next year as far as wins and losses go, I don't know. But we need to improve and set the standard even higher to become a conference champion. Our goal is certainly to get there, and we have to do a lot of things between now and then to get there."
He talked about any disappointment on this season. "The way we finished made us feel a lot better. Sure we're disappointed from some standpoint, but we did have a good year. We realize how close we are in our first year of Division I of achieving our goals. We achieved one out of the two, and next year we'll have the same two goals. It's disappointing because you are so close to having a ring on these guys' fingers. But it's a positive that we're that close too."
Finally, talking about replacing 28 seniors from this team. "I'm concerned about some positions, but the positive side of it is they have laid the groundwork for this next group of seniors who will come through. We're starting to get normal-sized senior classes that we have never had before. Even though you lose them on the field, it's almost like some of them are still there because of the things that they created in leadership and work ethic. It's all still going to be there rubbing off on those juniors, sophomores and freshmen behind them to come fill their shoes."
Bryson James spoke about the ULL win. "That game was very personal for me. I have a lot of high school teammates and classmates that go to school there. It was just very emotional. It was awesome being out there for the last time and getting a big win."
He then reflected on the season. "We weren't playing as a whole at the beginning of the year, but we were trying to get there. By the end of the season I felt like we came together and played as one team, as brothers. The seniors and a lot of the younger guys were playing the role of leader on and off the field, and that's what brought us closer together. We played off the charts this season."
James then spoke about the progression of the program. "There was nothing but red dirt and trees when we came in to the program. Just having to build this program and for Coach Jones to have to get all the guys on the same page is tough to do. It was crazy. People were coming from everywhere (to play). I actually didn't know anything about Mobile or the University of South Alabama. But Coach Jones and (former assistant) Coach (Kurt) Crain came and talked to me and told me about the program. They told me it was a way to make history. And as the years went by and we were going into the last game, I just thought how amazing it's going to be to come back 25 or 30 years from now knowing we helped start this program. Every year I have been around a bunch of guys who were positive. They helped lead me toward the right way of doing things. The coaches, trainers and the entire staff showed me the right ways and kept my head right. I felt like it was beyond the players. There was steady growth. We were expecting so much of a challenge this past season that we knew we had to step up our preparation. But it's not about football. This is preparing you for life. I tried to instill that into the minds of the younger guys and let them know that it's not all about you. It's about bettering yourself and your life for when you have a family so you can pass it along to your kids."
James talked about what he will remember most about the season. "The most memorable moment for me is how we finished strong. We showed everyone that we aren't just a push-around – we're not going to give up. We stayed focused even though we had some tough losses, and that's what Coach Jones stressed to us. Were we going to lay down? And we responded each week. It was tough going through one-point losses and knowing we could have been in a bowl game this year. But I'm just happy that we finished the way we did this year."
Finally, he spoke about looking forward as being a spectator for the games rather than a player. "It's going to be tough knowing that I'm not going to step into that locker room and put on a uniform. But I'm always going to be close and will participate any way I can to help out. I'm going to be on the sideline supporting the program as much as I can. But it's going to be different. It didn't hit me until we were getting our plaques on Senior Night. Just having the fans, my loving family and teammates' families there – there's nothing like it. It's going to be tough leaving my teammates, but I'm always going to be around."
Bryant Lavender also talked about the win over ULL. "I have a former high school teammate who kicks at ULL. It was good to see and talk to him. It wasn't as emotional for me as it was for Bryson, because he is from Louisiana. But it was emotional enough to go out and leave everything on the field because it was my last collegiate game and the last time I would put on a South Alabama uniform. It just meant a lot to go out with a bang the way we did, knocking off the conference champions. It was nice."
He also reflected on the season. "We had a new motto coming into the season, and we wanted to make sure every time we stepped onto the practice field, the weight room or into meetings that we took that and used it as a reminder each day. That's why we were so resilient in being able to come back after a loss. We took it and improved as the season went on. It was like boxing – we took a hit but kept on punching."
Then he talked about the progression of the program. "I didn't know anything about South Alabama heading into my senior year of high school. But I went to a camp and that's when the coaches offered me. It was exciting because I wasn't sure what it was going to be like. There were people coming from everywhere. I didn't know them and they didn't know me, but we were together every day in the summer in the heat lifting weights, running and just trying to get better. I thanked Coach Jones for allowing us to come help build this program into what it is now. The journey we have taken has been a pleasure, because we improved each year. If you look at the losses when we started playing a full FBS schedule, we didn't lose by that much. There were maybe two or three games where we got blown out, but every year was a step forward. It's a continuous growing process, but I feel like we set a great foundation for the house to be built. This football program is destined for greatness. We have opened a lot of eyes and caught a lot of people's attention with the way we have played. Most of the teams we have played understood what we're about once we played them. Respect is what we wanted more than anything because as the new kid on the block you don't get respect. As a senior and captain, I tried to instill in the guys that regardless of how you feel about someone you have to do everything the right way. In the end, they're going to remember how you did it. If they remember you doing it the right way, then you'll always called back. It was very important for us as we got older to set the example for the younger guys. We pushed them and each other, and that's why we became bowl eligible our first year in FBS. It was a great year for us mentally and physically as far as growing as a program. That's something that the coaches and players that are still here can take and build upon. Everything has fallen into place for us to hand the reigns over and let everyone else take over and finish what we started."
Lavender spoke about what he will remember most about the season. "I'll remember the fight that we kept having to put up. We were in every game, besides the Navy game. We put ourselves in a position to win the ballgame (each week). That's the only thing you can ask for out of yourself and the coaches. Just give us an opportunity to win the game, and we had that opportunity. Sometimes we came up short and sometimes we didn't. But just the resiliency that we had as a group, coaches included, to keep pushing and not let up is what I'll remember. We just wanted to fight and let everybody know that South Alabama isn't going anywhere."
Finally, he also spoke about what it will be like to be a spectator at future games rather than a player. "I'm looking forward to it just to see what bricks are going to be laid next after we leave. Am I excited about being a spectator? No, I hate watching football. I like to play. But this is something that is a part of me. It's always a pleasure to see my alma mater do well. And I'll always be around as much as I can because that's what we're here for. We're the ones who are going to have to come back and tell guys how it started and what it was like. That's something that comes with the territory. But spectating will be fun because I know where the coaches' minds are. The hard part will be when none of the coaches are here and you don't know any of the kids because you don't know what's going on; you feel out of the loop. But for right now we'll still feel in the loop, we just won't be able to put on the suit. It will be good, but the hard part will be in the next 10 to 15 years when they ask you to come back and you don't know any of the coaches or players and they don't know you. But you let them know if they need something, the players and coaches who started it are here for the program."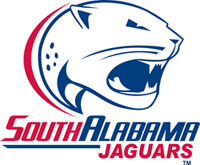 South Alabama claimed both the Sun Belt Conference Offensive and Defensive players of the week in the final week of the 2013 regular season. On Monday, the conference office announced that Jay Jones was selected as the Offensive player of the week and Pat Moore was selected the defensive player of the week.
The Jaguars defeated Sun Belt Conference Co-Champion Louisiana-Lafayette 30-8 with Jay Jones rushed for a career best 105 yards on 19 carries. Pat Moore recorded a career-high seven tackles in the win.
South Alabama concluded its first season competing as a full member of the NCAA Football Bowl Subdivision with an overall record of 6-6 and a 4-3 record in conference games. Their conference record was good enough to tie for third place in the conference. While the overall record was good enough to qualify for postseason play, they along with several other Conference teams were not selected for bowl games.
Jones, a 5'9″ 190-pound junior from Horn Lake, MS. rushed for over 100-yards for the second consecutive game It was the fifth time this season that he led the team in rushing yards. He has also rushed for 737 yards on the season and ranks second in the school's season record list. He ranks sixth in the league in rushing with an average of 61.4 yards per game.
With his effort, the Jags gained 363 yards of toal offense and controlled the ball for almost 36 minutes of the game. As the Jaguars built a 17-0 lead in the first quarter, he gained 53 yards including rushes for 27 and 28 yards on their first touchdown drive.
Moore, a 6'3″ 260-pound Southaven, MS native, recorded seven tackles included a pair of tackles for loss as the defense held Lafayette to a season-low 212 yards of total offense which was also the fewest allowed by USA this year. He totalled five tackles in the first three quarters while helping the Jaguars defense hold ULL to only 95 total yards.
This is the second time Moore has been honored with a weekly honor as he was selected as Special Teams Player of the Week on October 22, 2012. He finished the regular season tied for third in the conference with 13.5 tackles for loss and tied for fith with 5.5 sacks.
Unfortunately the South Alabama Jaguars football team were not extended an invitation to a bowl game their first season eligible. Though it was a long shot, many took to social media to plead USA case to a couple bowl committees. Their hard work and determination was fruitless this season, though it may not be forgotten in the future. A fan base as passionate as South Alabama's are hard to silence.
The entire team including the group of 15 seniors who represent the first freshman recruiting class in South Alabama history, did their part. They rebounded after the season opening loss to Southern Utah. They went to Tennessee and were one play away from a tie or 2-point conversion attempt to defeat the Volunteers.
Again they rebounded after three consecutive losses and sitting at 3-6, they fought and dominated the remaining games, including the statistical top team in the conference, to get bowl eligible. Unfortunately beyond that, the bowl selections were out of their hands.
Had the bowl scenario had been similar to last season's or next season, then the Jaguars may have fared better. Last season it went down to the final games of the season before enough teams were bowl eligible to fill all of the bowl slots before relying using newly passed rules to determine which teams could fill bowl slots who were not normally bowl eligible.
Also, beginning next season, there will be a couple new bowl games with tie-ins from the Sun Belt Conference. The Miami Beach Bowl will feature the American Athletic Conference facing a team from a six-year rolling rotation with Conference USA, Mid-American Conference and the Sun Belt Conference. There will also be a Bahamas Bowl where the Sun Belt will be in rotation with up to five conferences including the Mountain West, Mid-American, American Athletic conference and Conference USA. Finally the new Camellia Bowl in Montgomery, AL will feature the Sun Belt and the Mid-American Conference.
Though, the new bowls are not a comfort for the sting of being passed over by the bowl committees this season, it does lend hope for next season. Though the team will be aiming at winning the conference title next season and not just getting bowl eligible and hoping one of the bowls extend an invitation.
Most of all, I am saddened that the inaugural recruiting class do not get to go to a bowl game and suit up one final time in the Red, White and Blue of South Alabama.
I think those of us that watch as many bowl games as they can will watch a game and think, 'South Alabama could have done better than that.' Unfortunately we will not know that.
To the Seniors, thank you. You chose a school that was short on facilities but long on dreams. You believed in the vision that Coach Jones, his staff, the administration and the students had. But it was you who made that vision possible. Anyone can build a building, but it takes a team to go out every day, working together, to the accomplish what has been accomplished over the past five seasons.
There will never be another inaugural class of recruits to the South Alabama football program. And there will not be another class of recruits that will accomplish what you have. Everything from here on out will be building on the foundation laid back in 2009 through 2013.
Again, thank you and we hope to not only see you but to see all of the graduates back in some form or fashion in the future. Because Jag Nation is a family and we always welcome family back.
Go Jags!
Three weeks ago South Alabama's chances to get bowl eligible was looking dire. They had just lost their third consecutive game to fall to 3-6 on the season and had just been ran all over by Navy's triple option attack. They were facing three consecutive Sun Belt teams that were must-win games if they were to hold onto any hope for a bowl bid.
They handled the first two games handily so it came down to last night's regular season finale against conference leader Louisiana-Lafayette in order to get bowl eligible for the first time in their short five-year history and in their first year eligible for post-season play.
With the 30-8 win the Jags end the regular season 6-6 overall and 4-3 in Sun Belt play. With the 6-6 record, South Alabama became bowl eligible in their first season as a full NCAA Football Bowl Subdivision member after defeating the conference co-champion. Lousiana-Lafayette finishes the regular season 8-4 overall and 5-2 in Sun Belt play. They will play in the R+L Carriers Bowl in New Orleans at the Mercedes Benz Superdome on December 21.
This Jaguar team came out ready to play and did not resemble the same team I have watched play all season long. They came out with a fire that was unequaled on the playing field.
"Our guys had a look in their eyes, they wanted to get to a bowl. That was one of our goals this season," explained South Alabama head coach Joey Jones after the game. "It was the mindset ever since we were 3-6."
"The first thing I did after the game was talk to the team and tell them how proud I am of them and the way they turned the season around. They fought through a lot of tough things. The Lord taught us a lot this year from the standpoint of persevering through trials. There was a time when everyone was down on us and we had to fight through that. But they fought every day.
They came out to practice and fought through that time, and I told them to remember that the rest of their lives. They are going to face times in life when things are going to get tough, and they can remember back to this year and how they fought back from 3‐6 and ended 6‐6 and bowl eligible in our first year in Division I. I am so proud of them for doing that."
"My hat's off to our defense," Jones said about his team jumping out to an early lead. "They have played great all year, but especially these last three games, they ahve played light out. I'm really proud of those guys. Offensively, when we had those opportunities to punch it in, we did. It was just a total team effort, offensively, defensively and special teams. We kind of got conservative in the second half because I didn't want to turn it over. But my hat's off to Lousiana-Lafayette, those guys are the class of the league and have been the last few years. We certainly beat a very quality opponent…they have kind of set the standard in this league."
"I wish we had playoffs because we're pretty hot right now," Jones said about the progression of the team. "We're 6‐6 and bowl eligible, and there has to be somebody out there that would take this team in a bowl. If you look at our story and how we came back at the end of the year in our first year in Division I, we would be a great story for some bowl somewhere. There are some bowls that are going to miss out if they
don't take us because we're playing really well right now. I'm so proud of our team and where we are. We're so much better this year, and three or four times better than we were last year. We've really improved. Our program is going in the right direction."
They have done what they could on the field to earn a bowl invitation, now they wait out selection Sunday and hope that USA Director of Athletics Joel Erdmann gets a call extending an invitation. Currently, there is some buzz on social media for the Little Ceaser's Pizza Bown in Detroit, Michigan. However, until an official announcement is made by the school or a bowl game, nothing is finalized.
South Alabama did a number of the top rushing team in the conference by holding them to 69 yards on 33 attempts. Their league leading offense was also held to a mere 212 yards of total offense in the game with 12 first downs.
The Jags gained 22 first downs with 363 total offensive yards, 192 of them coming on the ground. Jay Jones led the rushing attack with 105 yards on 19 carries. Metheny rushed for 46 yards on 16 carries, Timmons added 28 yards, Houston added 18 yards on 9 carries with two touchdowns.
Metheny finished his final regular season game with the Jaguars by going 13-of-23 for 171 yards.
Wes Saxton finished the game with 88 yards receiving on five catches. Shavarez Smith had 40 yards on three catches, Jereme Jones extended his consecutive games streak with 18 yards on two catches. Bryant Lavender, Jake Howton and T.J. Glover all caught a pass as well.
Senior Scott Garber punted six times for an average of 37.7 yards.
Enrique Williams finished with eight total tackles and a tackle for loss. Pat Moore finished with seven tackles and two tackles for loss. Clifton Crews, Jesse Kelley and Alex Page each recorded a sack and each finished with three tackles each.
Romelle Jones was credited with three tackles though his impact was felt througout the game as he and the rest of the defensive front filled running lanes and got pressure on the three quarterbacks who played for the Cajuns.
South Alabama was 5-of-16 on third down conversions while their defense held Lafayette to only 2-of-13 on third down.
Keep reading below for more coverage of the game.
It didn't take long for the Jaguars to begin showing what they were made of. The Jaguar defense held the conference leading rushing attack of the Cajuns in check.
After getting the ball on downs near midfield, the Jags would drive and score a 40-yard field goal to get on the board first. But turnovers would be the true defining factor in the first half.
On Lafayette's first possession after the score, Romelle Jones would make his way into the backfield and force a fumble and recover it at the Cajuns 28 yard line. Jay Jones would rush for five and 22 yards on back-to-back carries before Kendall Houston's number was called and he would carry it into the end zone for the touchdown to give the Jags a 10-0 lead with 4:45 left in the first quarter.
On the ensuing kickoff, ULL's Torrey Pierce fielded it at the 17 and returned it 10 yards to the 27 before Bryson James forced another fumble which was recovered by Charles Harris at the Lafayette 30 yard line.
Metheny opened the possession with a 24 yard completion to Wes Saxton to set up Kendall Houston to carry twice with the final covering four yards for his second touchdown of the game. With 3:29 left in the opening quarter the Jags had a commanding lead 17-0.
Lafayette would be forced to punt on their next possession after they got to midfield. Starting at their own 16, Metheny and the offense continued thier march. Jay Jones opened with an 11 yard rush followed by a 27 yard completion from Metheny to Shavarez Smith to get into Cajun territory again as the opening quarter came to an end.
South would continue driving until they got down to the one yard line where the Lafayette defense finally stiffened and refused to allow Houston into the end zone for a third time in the game. Coach Jones settled for a 19-yard field goal by Sunanon with 10:16 left in the second quarter. The drive spanned 12 plays and 83 yards and took 5:35 off the clock.
Lafayette would drive 31 yards in 10 plays over 5:11 before being forced to punt from the Jaguar 44 yard line. Glover would do an excellent acting job getting all of the Cajuns away from the ball and allowing it to hit and roll into the end zone for a touchback.
Metheny would open their drive with a 14 yard pass to Smith which would be followed up with runs by Metheny for 12, 2 and 3 yards respectively. Then on 3rd and 5 at the Lafayette 49, Metheny found Jake Howton open for six yards and a first down. After setting it up for several plays, offensive coordinator recognized a mismatch with Wes Saxton and dialed up a play for him. Saxton would run a seam route and would be wide open down the middle of the field, Metheny would deliver a great ball and Saxton would put the Jags at the Cajun 7 yard line for a 36 yard gain. The Jags would not manage to get into the end zone, but Aleem Sunanon added his third field goal of the game from extra point distance to put the Jags up 23-0 with 0:55 left in the half.
But the scoring was not over just yet.
Lafayette started at their own 30 yard line after a three yard kickoff return. Haack would connect with a receiver for nine yards as the Cajuns were hoping to get something going to put points on the board before halftime. But on the second play cornerback Qudarius Ford would read Haack's eyes and step in front of the receiver he was throwing to on the left sideline for the interception and he would return it 39 yards for a touchdown to put the Jags up 30-0 with 39 seconds left until halftime.
The second half was just steady as they go for the Jaguars as Coach Jones was satisfied to cruise to victory in the cold, windy night.
Lafayette finally got a drive going with 7:07 left in the fourth quarter. Facing 4th and 1 at their own 39, Harris would rush for 14 into Jaguar territory. This set up quarterback Jalen Nixon to find Ricky Johnson for a 47 yard touchdown to break the shutout. Nixon would run on the two-point conversion to put the score at 30-8.
An unsuccessful onsides kick would give the Jags the ball at their own 40 after an illegal touching call on Lafayette as they touched the ball prior to it traveling 10 yards.
On the next drive the Coach Jones pulled out the starting offensive players one at a time beginning with Ross Metheny, who received an ovation from the Jaguar fans who stuck out the cold, damp weather. Center Matt Calcagnini would be pulled next, but not until after Terrance Timmons rushed around the right side for 25 yards plus a personal foul put the Jaguars at the Cajun 19 yard line. Calcagnini also received an ovation.
The final senior pulled from the game that was announced was Rush Hendrix who also got a big cheer from the crowd.
The coaching staff was content to keep the ball on the ground and running the clock until they turned it over on downs at the Cajuns 17 yard line with 2:21 left in the game.
Lafayette did not give up as they continued to push the ball down the field. On 4th and 19 at their own 49, Nixon's pass would be intercepted by Charles Watson, but a roughing the passer call would overturn the turnover and give the Cajuns a first down. But two plays later Watson would get his revenge as he picked off Nixon at the Jaguar 27 and returned it eight yards to the 35 yard line.
Bridge would kneel on the ball to seemingly end the game, but a moment of inexperience had him chunk the ball downfield thinking the game was over, but instead drawing an unsportsmanlike conduct penalty. He would kneel on the ball again after Louisiana-Lafayette declined the 10 second runoff to finally end the game.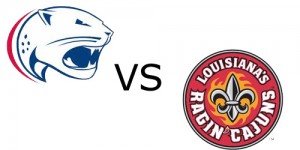 Let's break down South Alabama and Louisiana-Lafayette by the numbers so far this season.
Last season the Jags fell to ULL 52-30 in Lafayette and remain as the most points ever scored against the Jaguars in program history. Season-long starting quarterback Terrance Broadway will miss the game with a broken arm. This will put more pressure on running back Alonzo Harris who has rushed for 808 yards and 13 touchdowns this season with an average of 4.7 yards per carry this season.
Lafayette has already secured at least a share of the Sun Belt Conference title, but with a win could claim it outright. The Jaguars are looking for their sixth win of the season to become bowl eligible in their first season as a full FBS member and only the fifth season of football.
ULL has already accepted an invitation to play Tulane in the New Orleans Bowl in the Mercedes-Benz Superdome on Saturday, December 21. Arkansas State, who with a loss by ULL could claim a share of the SBC title, will play in the GoDaddy Bowl in Mobile, AL.
South Alabama, after a season of close games, where four of their losses has been by two points or less, has finally won back-to-back games with relative ease the last two weeks as their offense and defense has found their groove. The Jaguar set a program-record with nine sacks against Louisiana-Monroe two weeks ago. Also Ross Metheny recorded a game with 100+ yards passing and rushing against ULM with a highlight reel 63-yard touchdown run in the fourth quarter to cap off a great performance.
Shavarez Smith set a school record and recorded the best performance by a wide receiver by a SBC player this season with 10 receptions for 194 yards and a touchdown last week against Georgia State. Meanwhile the Jaguar defense held the GSU running attack to 24 yards on 25 carries.
Jereme Jones has caught passes in 38 consecutive games for the Jaguars.
South Alabama is 5-6 overall, 3-3 Sun Belt.
Louisiana-Lafayette is 8-3 overall 5-1 Sun Belt.
The game will be broadcast on ESPN3 as well as radio play by play by Lee Shirvanian and Rick Cleveland on WNSP.com and 105.5FM WNSP.
Offense:
Scoring Offense
ULL 37.0 points per game
USA 29.4 points per game
Read more