Everything that could go wrong in South Alabama's conference opener, seemingly did in their 29-23 2OT loss to Idaho. Two lightning delays totaling over three hours of delay, causing a game that kicked off at 1pm to not finish until almost 8pm. Two badly called penalties took two pick-sixes off the scoreboard. A couple of late penalties and negative plays really hurt the Jags in their 29-23 loss to the Vandals.
Terrible officiating the players, coaches and fans equally. Two touchdowns called back on bad penalties. Yes, I see things through red, white, and blue tinted glasses but I will quickly agree when my first instincts about a call proves to be wrong. Unfortunately penalties cannot be challenged or reviewed in game except for targeting. Each team is allowed to send a preset number of plays to the Sun Belt office for review. I hope Coach Jones pretty much sends every single penalty and no-call to the conference office for review. Heck, I'll volunteer to drive it over and hand deliver it to Karl Benson myself.
There were a number of time where linebacker Riley Cole had an offensive player pulling his jersey off of him with no call.
I don't share the approach that a number of, mainly online posters, that Coach Jones should be fired. But I do believe that a change needs to occur at Offensive Coordinator. The offensive play calling has been questionable at time to say the least. Quarterback play hasn't been the best and both of those fall on the same coach: Bryant Vincent. I hope that Jones' loyalty to his assistant coaches is not his undoing.
Jones has architected a great program from day one on the job. He looked at a number of other programs who had started football and studied what they did well and what to try to avoid. Two programs that garnered lots of study were South Florida and Florida Atlantic.
Aside from questionable offensive play calling, the biggest factor in Jaguar struggles over the last couple of years has been injuries. Last season the entire starting defensive starting linemen were lost for the season before the season even started. Then others when the season started. That precipitated Jones bring in a different strength and conditioning coach. This season the team has looked better, but injuries in the secondary has caused a position with little depth to get even thinner. Last week a freshman cornerback returned a blocked field goal for a touchdown, then injured his knee on an interception.
Now off of my soap box. Here's the remainder of the game review.
Jeremy Reaves led a Jaguar defense who played one hell of a game, but faltered towards the end of a game that lasted over seven hours due to lightning delays and double-overtime. Reaves had 12 tackles, 3 pass break-ups, two forced fumbles and a fumble recovery. But by the time regulation was winding down, the defense started to faulter due to time and effort expended physically and emotionally.
Reaves and the defense got started early with a forced fumble on the second offensive snap of the game. The offense capitalized on the good field position and converted the turnover into a touchdown.
The Vandals drove down to the Jaguar 11 before Linehan connected with Onunwor, but Reaves forced his second fumble of the game and recovered it at the 2 yard line. A few plays later the Jags gave it back to Idaho when Dallas Davis didn't see the lineback dropping back in coverage and threw it where he could intercept it. After offsetting unsportsmanlike penalties, Idaho would punch the ball in to tie the game with 9:02 left until halftime.
USA would go three and out on their opening possession of the second half. After a 40-yard punt and a 10 yard return, Idaho started at their own 36. A personal foul on Reaves coupled with a 9 yard completion, put the ball at the Jags 36.
Then the first of the terrible officiating calls occurred. Finesse Middleton pressured Linehan into throwing the ball which Malcolm Buggs would pick off and return for a touchdown, but on several replays the penalty was obviously to most, not roughing the passer. But take a touchdown off the board anyway. The defense regrouped and held on 4th & 1 at the Jaguar 2 yard line forcing the turnover on downs.
Another of the blatantly terrible calls occurred on the first play of the last Idaho drive of the third quarter, Linehan's pass would be tipped allowing Darrell Songy to intercept it and return it for a touchdown. But, again, a flag would take points off the board for defensive holding. Again the defense would regroup and hold on 4th & 1 at the USA 30 by forcing an incomplete pass.
Idaho started their game-tying drive with two big plays, a 20 yard run by Linehan and a 36 yard pass completion to Onunwor, to quickly get into Jag territory. But the Jag defense stiffed yet again and held them to a field goal to tie the game at 13-13.
After a two-and-a-half hour lightning delay, the Vandals faced a 2nd & 20 but a holding call right out of the gates make it 2nd & 30. The Jags would hold and force a punt, which was shanked out of bounds at the Vandal 40 yard line. On the third play of the drive, Davis handed the ball off to Xavier who took it 34 yards for the go-ahead touchdown.
The Jaguar defense bent some but held again on the next possession with a 6-yard sack on 3rd & 10. The Jags were set to try to keep possession and run out the clock with a big 13 yard run for a first down on 3rd & 2 was negated by an illegal formation penalty. Xavier could only manage 4 yard on the 3rd & 7 play forcing another punt.
Idaho took possession of the ball at their own 39 yard line with 1:30 left in the game. Linehan went 6-of-9 on the drive capped off with a 10-yard touchdown pass to Onunwar to tie the game up with just :13 left.
In overtime, the Jags held Idaho to a field goal. The Jags first possession started off with a bang when Johnson busted out a 14 yard run to the Vandal 11 only to have it called back when Jamarius Way was flagged for holding downfield on the run. On 1st & 6, Johnson ran for 5 yard before Tra Minter and Denzel Foster both lost yardage forcing the Jags into a field goal to tie and go to a second overtime period.
In the second possession, the Jags had a managable 3rd & 6 and still in Patterson's career range, but a substitution infraction backed them up 5 yards. Patterson's kick would have the distance but miss to the right.
Then another lightning delay occurred.
After resuming the game, Idaho kept the ball on the ground in Saunders hands. He started with a loss of two before gains of 3, 22 and then the 2-yard game-winning touchdown.
Johnson ended the game with 155 yards on 20 carries with two touchdowns. Minter would add 59 yards on 15 carries. Evan Orth had one run for 41 yards. Davis went 11-of-25 for 106 yards with an interception.
Linehan was 23-of-38 for 273 yards and a touchdown. Onunwor caught 8 passes for 119 yards and a touchdown, Jacob Sannon caught 10 passes for 103 yards. Saunders rushed 18 times for 63 yards and a touchdown. Duckworth carried the ball 9 times for 56 yards and a touchdown as well.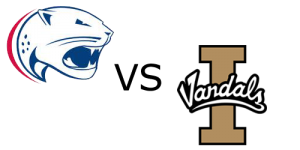 South Alabama earned a much needed tune-up win last week against Alabama A&M. The team scored points in all three phases of the game: offense, defense and special teams.
Now that they finally put a notch in the win column after starting the season with two extremely difficult games against Power-5 schools, they can turn their attention to the first conference game of this young season. Last season the team had the highest of highs but also some quite low points. They started the season with the big win over Mississippi State, then a few weeks later they defeated their first ranked opponent in San Diego State. But in conference they only managed to go 2-6.
But this is a new season and their first conference game is right around the corner.
The Idaho Vandals will make their second-ever trip to Mobile, their previous trip started off great but became a bit of a nightmare after halftime. The Vandals scored the first 24 points of the game and had a 24-7 lead at halftime. But Xavier Johnson re-energized the Jags by returning the opening kick of the second half 100 yards. By the midway point of third quarter the Jags were ahead 45-31 and held on for a 52-45 win.
So far this season the Jags have faced two big-time quarterbacks in Shea Patterson and Mason Rudolph. Both likely heading to the NFL one day. Idaho has a quarterback who could easily join them on the next level. Matt Lineham is a fourth-year starter for the Vandals with over 9,000 career yards passing and completing over 65% of his passing attempts.
Lineham's father, Scott Lineham, is now the offensive coordinator for the Dallas Cowboys. So he knows what it takes to get to the next level.
After dropping their first two games against USA, Lineham and the Vandals finally earned a 38-31 win over the Jags. Their win last season was one win on the way to a 9-4 record, including a win in the Famous Idaho Potato Bowl.
But the Vandals do not look like the same team as last year after losing four of their top five receivers and three starting offensive linemen to graduation. They opened the season with a 28-6 win over Sacramento State, they've dropped back-to-back games against UNLV (44-16) and Western Michigan (37-28).
Through the first three games the Jaguar defense has looked pretty good despite losing 47-27 to Ole Miss and 44-7 to Oklahoma State. But the secondary has taken some hits.
Neiko Robinson has been lost for the season due to a foot injury. Now sophomore Bobby Flott and freshman (and Sun Belt Conference defensive player of the week) Gus Nave are both out of the season with knee injuries.
Now it's next man up. Sterrling Fisher has stepped up and former wide receiver Quinton Lane is adjusting well to his move to cornerback.
In the previous two games the Vandals have run for a total of seven touchdowns and have had a running back rush for at least 135 yards each of those games. This season running back Aaron Duckworth has the longest run (74 yards) and pass reception (60 yards) of the season for his team. Of the three runs of 40 yards or more last season, they all belonged to Duckworth.
Paul Petrino's defense is stingy on third down. They rank 2nd in the Sun Belt and 41st nationally by allowing opponents to convert 31.8% of third down attempts.
Keys to a Jaguar win:
Third down conversions will be key. USA has only converted 17.9% of their third downs so far this season. They can't get hung up on a statistic here but they need to play to win each snap and the key to that is to keep drives alive.
Stopping the run and putting pressure on Lineham will be big. As previously mentioned, the last two games have seen running backs rush for over 135 yard in each of them. Duckworth will look to make it three in a row and he has a history of breaking long plays.
In Lineham's first three games against USA, he has five touchdown passes and six interceptions while completing just over 60% of this attempts. The defense can't allow a runner to get free nor can they allow Lineham too much time to throw, even with all the new receivers this year.
South Alabama and Idaho will kick off at 1pm at Ladd-Peebles Stadium on Saturday, September 23. They need fans in the stands and they need them to be loud.
South Alabama handled scored offensively, defensively, and on special teams in their 45-0 shutout of Alabama A&M.
It was a game the Jags needed to back on track after opening the season with two big games against Ole Miss and Oklahoma State, which they both lost. This game started the second part of the season, a 10-game season that started with the Bulldogs.
The Jags started slow with a drive that fizzed out at the Bulldog 2 yard line and settling for a 19-yard Gavin Patterson field goal to put the first points on the board. But on A&M's first possession, the Jaguar defense kept helping the A&M offense with penalties, but came up big when it counted. The Bulldogs got the the Jaguar 5 yard line and settled for a 22 yard field goal attempt which was blocked by Gus Nave, who scooped it up and returned it 83 yards for a touchdown.
After a three-and-out by the defense, it only took the Jaguar offense two plays to score. The big play was a 53 yard strike from Dallas Davis to Jamarius Way to the 2-yard line. Xavier Johnson capped it off with a two-yard scamper to make it 17-0.
The defense got in on the action after a holding penalty pinned the Bulldogs at their own 9, Nigel Lawrence forced a fumble that Rocel McWilliams covered in the endzone, making the Jaguar lead 24-0 with 3:21 left in the opening quarter.
USA and A&M traded possession through most of the second quarter until the 3:46 mark before halftime when a scrambling Dallas Davis moved to his right and directed Sa'Mory Collier open then dropped a great pass right into his awaiting arms then Collier took it the rest of the way for a 66-yard touchdown making it 31-0.
Xavier Johnson added 6-yard touchdown with 4:54 left in the 3rd quarter.
On the next possession by A&M, on 2nd & 5, Aqeel Glass threw deep down the left sideline which Nave, who blocked and returned a field goal attempt in the first quarter, picked off the pass but suffered an injury in the process.
The interception set up the final points of the game when David connected with Jahmmir Taylor for a 28 yard score making it 45-0.
South Alabama put up 413 total yards, 158 rushing and 255 passing. Alabama A&M gained 172 yards, 100 yards of them passing and 72 rushing.
Dallas Davis went 9-of-12 for 255 yards and two touchdowns with no turnovers. Evan Orth did not complete his only pass attempt. Denzel Foster led all rushers with 44 yards on only four attempts. Tra Minter added 33 yards on 7 carries, Xavier had 32 yards on 9 carries.
Jamarius Way caught two passes for 85 yards, Collier had one catch for 66 yards and a touchdown. Sam Harris caught two for 38 yards, Taylor hauled in his only catch for 28 yards and a touchdown. Reinkemeyer caught two for 22 yards and Kawaan Baker caught one for 16 yards.
Jeremy Reaves had five tackles, one of them for a loss. Chason Milner had five tackles with a sack and Tobias Moss also had five tackles.
Unfortunately the injury to Gus Name does not sound good from initial reports. With Jalen Thompson being ruled academically ineligible prior to the season, Neiko Robinson's season-ending foot injury and Bobby Flott's knee bothering him and causing him miss the game, the Jaguar's depth in the secondary is getting quite thin.
Center Dominic Esposito went down early when the play ran up on him near the end zone but he walked around on the sideline and rode the workout bike on the sideline for quite a while. Sam Harris and Jamarius Way both left the game with some type of injury, hopefully only keeping them out for precautionary reasons.
USA will open Sun Belt Conference play on Saturday, September 23 against the Idaho Vandals with kickoff scheduled for 1pm at Ladd-Peebles Stadium.
South Alabama's upset bid against the #10 ranked Oklahoma State Cowboys never got off the ground at Ladd-Peebles Stadium. Entering the game, most of the national spotlight was on OSU's high powered offense, and for good reason with their Heisman Trophy hopeful quarterback and likely a few All-American supporting cast.
The Jaguar defense struggled early getting used to the uptempo hurry-up, no-huddle offense, which was astonishing to see in person at times. The defensive line would just get down into their stance as Mason Rudolph was clapping his hands for the snap. A few times players were struggling to get to their position before the snap.
The first possessions by both teams were three-and-outs, first by the Cowboys then by the Jags. On the Jags final play of their opening series, starting quarterback Cole Garvin tucked the ball and ran losing a yard, receiving a sprained ankle in the process. Dallas Davis would come in and played the remainder of the game at quarterback.
On the second OSU drive the Jags defense bent but kept the Cowboys out of the endzone, allowing a 31 yard field goal. But another three-and-out by the Jags, with a pass or two off the mark by Davis, the Cowboys only needed two plays to score. A two yard rush followed by a nice pass from Rudolph to his All-American hopeful James washington on a slant route and he outraced the secondary to the endzone.
Davis started to settle in on the next series with a pair of completions but still a three-and-out. Then Rudolph sliced and diced the Jags for passes of 9, 13, and 14 yards to Tyron Johnson followed by a 30-yarder to Washington before capping off the drive with a 4-yard touchdown pass to Marcell Ateman on an inside slant to make it 17-0.
Early in the second quarter, the Jags defense started to find some ways to get pressure on Rudolph with qb hurry and a sack. The Cowboys didn't help their cause late in the drive with a false start and a substitution infraction which led to a 42-yard field goal attempt that sailed wide right.
USA finally put together a good drive of their own on the ensuing possession behind the arm of Dallas Davis. The offensive unit finally earned their first first-down of the game with a 17-yard completion from Davis to Jamarius Way on second down. Completions of 16 to Sam Harris, 12 to Jordan McCray and another 14 yards to Way highlighted the drive. But on 3rd and 5, Davis' throw to Harris fell incomplete. Then Gavin Patterson's 31-yard attempt missed wide left.
Starting at their own 20 with 1:17 left before halftime, OSU completed three consecutive passes for first downs to quickly march out to the Jaguar 36 before the defense started pressuring Rudolph and forcing three-consecutive incomplete passes. Matt Ammendola's 53 yard attempt split the uprights with not much distance to spare giving the Cowboys a 20-0 advantage with only :11 seconds left. The Jags would kneel on it and go to halftime.
Again, the third quarter would be a bit of an undoing for South Alabama.
On the opening play of the second half, Davis connected with Tra Minter for a 4-yard gain but two flags would negate the play. The first was a holding call on USA and the second was a targeting call on Calvin Bundage. After a lengthy review, the call on the field was upheld and Bundage was disqualified. This led to yet another interesting series of events a couple of plays later. Davis threw a deep pass but the receiver was held and fell down. A defensive back was able to pick off the ball and return it to the 40 before Sam harris forced a fumble that OSU recovered. However, the holding call on the defender negated the play. Then on the very next play, Xavier Johnson fumbled and OSU came away with the ball again. It was the Jags first turnover of the season and an unusual turnover by Johnson.
A few plays later Rudolph added another touchdown pass to his stats with a 20-yarder to Ateman to make it 27-0. The drive was 4-plays, 43 yards and only took :58 seconds off the clock.
Another three-and-out by the Jags gave the Cowboys the ball at their own 37. A couple questionable lack of calls on the drive but the Cowboys methodically drove it down the field with Rudolph keeping the ball for the final 10 yards for the touchdown pushing the lead out to 34-0.
The final Cowboy touchdown came by way of their defense. On second-down at their 25-yard line, Davis' pass was tipped by a defensive lineman and intercepted by Justin Phillips who was able to return it for a touchdown giving the Cowboys a 41-0 advantage.
Rudolph finally gave way to Keondre Wudtee who helped lead a short drive from the USA 44 to the 18 before a bad snap led to a 13 yard loss by Wudtee back to the 31 yard line. Back-to-back incompletions and OSU settled for a 48 yard field goal for their final points of the game.
Driven behind Davis' arm, pass completions of 14, 10, and 14 before the he found Messiah Francis for a 17-yard touchdown. The 11-play, 83 yard drive prevented the Jags from being shut out for the first time in school history.
Mason Rudolph finished with 335 yards on 25-of-38 passing with three touchdowns. James Washington only caught two passes for 98 yards with a touchdown. But four other Cowboys had 40 or more yards receiving. Marcell Ateman led the team with five catches for 51 yards and two touchdowns.
J.D. King led the Cowboys rushing with 64 yards on eight carries. Justice Hill had 11 carries for only 27 yards.
Cole Garvin complete his one and only pass for eight yards. Dallas Davis was 13-of-23 for 126 yards a touchdown and an interception. Jamarius Way led the team with five catches for 66 yads.
Xavier Johnson carried the ball five times for 36 yards. Tra minter had 7 carries for 15 yards and Davis rushed eight 8 times for 13 yards.
Xavier Johnson had a huge kickoff return called back due to a hold otherwise his all-purpose yardage would have been been much more than his 96 yards for the game.
Corliss Waitman punted seven times with an average of 48.4 yards per kick and a long of 58.
Jeremy Reaves and Bull Barge led the team with eight tackles each. Tyree Turner collected the only sack of the game against Rudolph.
With the opening two games now complete, the Jags have completed their roughest two-game stretch of the season and probably of their history. Best of all, their injury report is quite short it seems. It seems that Neiko Robinson will probably miss the remainder of the season with a foot injury, but beyond that Garvin had a sprained ankle and Nelson Santiago had a surgical procedure on an injured ankle but should return in the next couple of weeks.
The Jaguar defensive front four were outsized by the four smallest OSU offensive linemen by an average of 3 1/2 inches of height and 45 pounds per man. That didn't include their monsterous left tackle, who was 6'8″, 350-pounds. The difference between USA's offensive line and the OSU defensive line was nowhere near the same as the opposite above, but their up-tempo offense did not allow USA to utilize their depth on the defensive line.
South Alabama will have an extra day of preparation before they host Alabama A&M on Saturday, September 16 at Ladd-Peebles Stadium. Kickoff is scheduled for 6pm with TV broadcast on ESPN3, Radio coverage on 96.1 FM The Rocket, 99.5 FM The Jag, and iHeartRadio app worldwide.
Fans: WEAR WHITE!!!
Kickoff: scheduled for 7pm.
TV: ESPN2
Radio: 96.1 FM The Rocket, 99.5 FM The Jag, various other stations throughout Alabama.
Last season the Jaguars hosted their first ranked opponent at Ladd-Peebles Stadium and they also collected their first win against a ranked opponent. Under a year later and the Jags will once again make history by hosting a top-10 team in Mobile in Oklahoma State.
Head coach Mike Gundy, mullet and all because he's a man, will lead the Cowboys to Mobile for a non-conference game against the Jaguars.
Gundy has built up the Cowboys into a perenial power since taking over in 2005, with a record of 105-50. Known for their high-power offense, OSU jumped out to a 21-0 lead in the first quarter in their season opener against Tulsa before cruising to a 59-24 win. The inexperienced but athletic Cowboy defense allowed 4.4 yards per play in the win.
Though the Jags dropped their opener to the Ole Miss Rebels 47-27, the Jaguar offense averaged 5.5 yards per play and outgained the Rebels 170-102 on the ground. The difference was the third quarter when the USA secondary gave up three scores on big plays, two long touchdown passes and runs and a kickoff return.
The Cowboy offense is one of the most diverse and explosive offenses in college football. Justice Hill rushed for 132 yards and a touchdown on 15 carries against Tulsa with two other running backs, J.D.King and La'Darren Brown, adding 95 and 92 yards respectively, each with a touchdown. Both King and Brown both had runs of 71 yards or more as they rolled up 332 yards rushing on 37 carries.
Quarterback Mason Rudolph threw for 303 yards on 20-of-24 passing. He favorite target was James Washington who caught six passes for 145 yards and two touchdowns of 40- and 77-yards. He also found Tyron Johnson, an LSU transfer, for a 44 yard touchdown as well.
The Jaguar defense was one of the biggest turnarounds in college football last season. Their pass defense finished in the top 10 last season with an average of 174.6 yards per game. However, this secondary is less experienced than the squad last season with graduation and Jalen Thompson being ruled ineligible this season and now the injury to Neiko Robinson. Senior Safety Jeremy Reaves, an All-Sun Belt Conference pick last season is capable of making game-changing plays. He led the team with eight tackles, six solo, two tackles for loss and a pass breakup against the Rebels.
But the Jaguar defensive line, who was in shambles last season due to an unbelievable number of injuries, is healthy and deep with experienced players. They held the Rebels to only 102 yards rushing. It was also the Jaguar defense who forced the only turnover of the game last week that led to the Jags first touchdown of the game. They may need a few more of those this week.
Starting quarterback Cole Garvin went 19-of-31 for 204 yards and a touchdown against the Rebels. But it was the legs of the Jaguars running attack that really made a statement. After fielding the kickoff and stepping out of bounds at the 2-yard line, Xavier Johnson along with Deonta Moore and Tra Minter helped power the Jags on a 19-play drive covering 95 yards and taking 9:39 off the clock. Though they didn't punch it in the endzone, it was a statement drive that got the attention of the Rebels.
Some key things the Jags much improve upon:
They were only 1-of-10 on third-down conversions. It's vital that they convert and keep drives going against the Cowboys.
The secondary cannot let the Cowboy receivers to have their way. Rudolph, who hasn't thrown an interception in his last 147 passing attempts, will capitalize on those opportunities. The USA defensive line will need to get more pressure on the quarterback to help those players in the secondary and make Rudolph get rid of the ball quicker than he wants. But don't overlook those Cowboy running backs either.
Jags gotta tackle! Every Saturday you will hear someone complain about poor tackling and that they have to 'wrap him up'. Well, the Jags had their occasional problems tackling too. Again, the Cowboys can make you pay if you fail to wrap them up when you have the opportunity.
The Cowboys are a 28-point favorite for good reason. They have one, if not the, best quarterback and receiver tandum in the nation with additional players all over the field to compliment them. The Jags were 28-point underdogs last season when they defeated Mississippi State on the road to open the season. But the Cowboys are more talented across the board than the Bulldogs were.
It's going to take the Jags hitting on all cylinders, and some lucky bounces, to beat the Cowboys. Can they do it? We'll find out starting at 7pm at Ladd-Peebles Stadium. The game can be heard locally on 96.1 and 99.5 The Jag in the Mobile area as well as a host of other stations across Alabama, worldwide on iHeartRadio, and it can be viewed nationally on ESPN2.
After a delay getting back from Oxford, I have finally had an opportunity to cover the Ole Miss game.
This game was a tale of two halves.
The first half was a plucky Jaguar team that bent but wouldn't break. Though Ole Miss dominated the first quarter by gaining 136 yards and scoring on both of their first two drives. Shea Patterson finished off their first drive with a 5-yard touchdown pass to DaMarkus Lodge at the 11-minute mark of the first quarter. A 19-yard field goal extended the Rebel lead to 10-0 with 6:37 left in the opening quarter.
South Alabama's Xavier Johnson stepped out of bounds at the 2-yard line on the ensuing kickoff, which led the Jaguars to march 95-yards over the course of 19 plays to get on the board. Though the Jags were unable to put the ball in the endzone, Gavin Patterson put 3 points on the board.
On the next possession, the Jags forced a fumble with Zach Befort recovering it at the Rebel 40 yard line. Three plays later, Cole Garvin found Jamirus Way for a 30-yard touchdown to tie the game with 5:09 left in the half.
The Rebels drove into the zed zone just before halftime, but Tobias Moss broke up the third-down pass which led Ole Miss to settle for a 29-yard field goal to take a 13-10 lead into the locker room.
Then the third quarter happened.
Ole Miss opened the second half with possession of the ball. One play after opening kickoff, Shea Patterson connected with A.J. Brown on a post pattern near midfield for a 71-yard touchdown. Safety Nigel Lawrence had an opportunity to tackle him but was unable to bring him down. After a missed extra point, the Rebel lead was 19-10 at the 14:27 mark of the 3rd quarter.
The Jags offense was only able to gain 6-yards on their ensuing possession. Then Patterson and Brown teamed up again. Patterson was pressured and forced to roll to his right towards the sideline, then threw up a throw that was part desperation, part hopeful pass toward Brown, who was able to break in front of Jaguar defenders and pluck the ball out of the air. Brown was then able to break some tackles and sprint down the right sideline for a 76-yard touchdown to make it a 26-10 Rebel lead.
Jaguar defensive coordinator mentioned the two touchdown passes in his post-game remarks. "If you look at the game, probably those two big plays in the passing game were the difference in the game. We took away some of their early reads, but when he scrambled, we didn't do a good enough job of getting off the field. That's really what the game came down to."
Some big runs by Johnson and Tra Minter highlighted the Jags drive down to the Ole Miss 4-yard line. Unable to punch the ball in the end zone, the Jags settled for a 20 yard field goal to trim the lead to 26-13.
But that margin was short lived.
Corliss Waitman's kickoff sailed short of the end zone and Jaylon Jones fielded the ball and returned it 97 yards for the Rebels third score of the quarter to make it 33-13.
The next Ole Miss drive would see Patterson find Lodge for gains of 12, 7 and 14 yards with the last yielding a touchdown to put the Rebels ahead 40-13.
Ole Miss would score their final points early in the fourth quarter powered by more Patterson throws to make it 47-13.
The Jags would add two touchdowns mostly led by the Jaguars running game behind Deonta Moore, Tra Minter and Denzel Foster to make the final score a bit more respectable 47-27.
Ole Miss out-gained the Jags 531 to 374 yards of total offense. The Rebels Shea Patterson went 28-of-35 for 429 yards and four touchdowns. Cole Patterson went 19-of-31 for 204 yards and a touchdown. USA outgained the Rebels on the ground 170 to 102 yards while averaging 4.6 yards per rush while the Rebels averaged 3.5 yards per rush.
The lone turnover of the game went the Jaguars way in the first half.
What did we learn from the game?
Ole Miss is every bit an SEC team. The offensive line protected their quarterback well on passing plays and allowed Patterson to pick apart the Jags secondary. The Rebel receiver corps speed proved too much for the Jags as well. A.J. Brown set a new single-game record with 233 yards receiving.
USA answered some questions at skill positions. Johnson, Minter, Foster, and Moore all had success on the ground against the Ole Miss defense. Garvin spread the ball around to 10 different Jaguars players.
The Jaguar secondary has some work to do. With more pass-heavy opponents on the schedule all season long, they will continue to test the secondary all season long. Probably no one as adept at slinging the ball around is coming to Ladd-Peebles Stadium on Friday in Oklahoma State, which gives the coaches and players a short week to make adjustments.
South Alabama will host the Oklahoma State Cowboys on Friday, September 8 with kickoff scheduled for 7pm at Ladd-Peebles Stadium.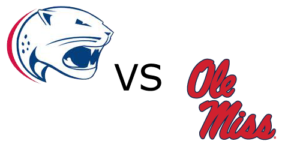 The South Alabama Jaguars went to Starkville, Mississippi last year and came away with the programs biggest win to date. They overcame losing several starters for the season before the season even started and an SEC team on the road.
This year it's a different team and different circumstances. The Jags will only have one player out when the Jags take the field in Oxford, Mississippi.
What a difference a year will make.
Gone is second-round draft pick Gerald Everett as well as a host of playmakers like Josh Magee, Dami Ayoola, Roman Buchanan, Kalen Jackson, Devon Earl, Randy Allen, Quinton Dent, Kevin Kutchera just to name a few.
However, among the returners are Xavier Johnson, Jeremy Reaves, Jimmie Gipson III, Finesse Middleton, Quinton Lane, Neiko Robinson just to name a few again. Johnson is within striking distance of a number of Jaguar records such as the all-time rushing leader. Then due to all the injuries on the defensive line giving lots of playing time to younger players, the Jags are three deep across the defensive line.
After offseason shoulder surgery, last years starter Dallas Davis was beat out by Cole Garvin as the starting quarterback for week 1. Being the starter is not new to Garvin, he led the Jags to the 42-24 upset of #19 San Diego State when Dallas Davis was injured.
Ole Miss has had a tumultuous offseason, to say the least.
NCAA investigations, lawsuits, the abrupt resignation of their head coach Hugh Freeze for off-field conduct, and two new coordinators. No matter what's happening around them, they have speed and talent. The Rebels are led by interim head coach Matt Luke but will miss two of their top tight ends due to injury as well as a backup defensive end along with a starting cornerback and linebacker who are suspended for shoplifting.
What does South Alabama need to do to win?
They need to stay healthy. The Jags were just devestated by injuries last season. The defensive line was patched together and a veritable MASH unit. The straw that broke the defense's back was when Kalen Jackson went down with an injury late in the season opening up the middle of the field. Even Everett played injured.
Strong defensive line play. The defensive line is the deepest coach Jones has ever had, being three-deep across the defensive front. If the defensive line can stay fresh, pressure the quarterback, and keep contain the Jags have an excellent shot at bottling up the Rebel offense.
Establish the run game. The run game will take pressure off Garvin and the fairly young receiver corps and keep the Rebels from pinning their ears back and going after Cole and making the offense one-dimensional. Last season the Jaguar offense relied too much on the big play on offense. Being able to establish the run and hit on short and intermediate passing routes will greatly increase the odds of hitting a big play to put an exclamation point on a statement.
Stay composed. Last season the Jags were down 17-0 in Starkville, but they were never out of the game. They outscoring the Bulldogs 21-3 in the second half, including a 9-play 99-yard drive to get within one score early in the fourth quarter.
South Alabama and Ole Miss will kickoff at 6:30pm in Oxford, MS on Saturday, September 2. The game can be heard on local radio and world-wide on the iHeartRadio platform. They can be seen nationally on ESPNU.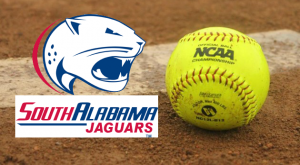 The University of South Alabama Jaguar Softball team beings their 2017 campaign this evening at Jaguar Field with first pitch scheduled for 5pm.
Starting on Friday, the Jaguars will be hosting the Sand Dollar Classic with games against Central Arkansas, Houston Baptist, Jacksonville State and Alabama State. The Sand Dollar Classic is the first of three tournaments being hosted this month by the Jags https://pharmaciegenerique.fr/viagra-generique/.
Also be the first game with the new scoreboard at Jaguar Field, so get your tickets now and cheer the Jags on to victory!
Go Jags!
South Alabama completed their signing day with a social at Buffalo Wild Wings near the campus and the coaches all had smiles for good reason. Though small, this could be one of their best recruiting classes yet.
The common thread between all the signees was speed, talent, agility, and a true love for the Red, White and Blue.
Another commonality between most of the signees was the proximity to Mobile. Local schools such as Murphy, Davidson, McGill-Toolen, Fairhope, and Spanish Fort were represented by the end of the day to make this one of the most local-heavy classes since joining FBS football.
Two years ago it was huge news that Jalen Thompson stayed hope to play for USA rather than other Power-5 schools including SEC schools who were recruiting him. Now the Jags have done it again with Jalen Tolbert, a 6'3″ 185-pound wide receiver from McGill-Toolen, who turned down offers from Michigan State and Vanderbilt to play for USA as well.
Then Davyn Flenord, a 6'3″ 185-pound wide receiver out of Central Clay County who turned down scholarship offers from Toledo, Troy, UMass and Jacksonville State to play at USA as well.
But there are also examples of players like Cephus Johnson, a 6'4″ 200-pound quarterback from Davidson, who seemingly never waivered from South Alabama during the whole recruiting process.
Since the signing class will only be 11 players due to the blue-shirts from last season, this class will not rank high when compared to other Sun Belt schools. However the quality of player, and notably of character, could make this a real turning point in South Alabama's future.
However, with everything, we can only speculate until they suit up and play on the field over the next 4-5 years.
Here is a brief summary on the players signed as released by USA Football:
AJ DeShazor, 6′ 185-pound safety from Lake Gibson HS, Lakeland, Florida. A four-year starter and letterwinner in HS, received three stars from Rivals.com, Scout.com, ESPN.com, and 247Sports.com.
Davyn Flenord, 6'3 185-pound wide receiver from Central Clay County HS, Lineville, Alabama. Earned three stars and is rated among the top 60 recruits in Alabama by 247Sports.com. Was selected second-team All-State by the ASWA as a senior.
Kendric Haynes, 6′ 225-pound linebacker from Murphy HS, Mobile, Alabama. Selected All-State three times during his prep career. He finished with 412 total tackles and earned three stars from Rivals.com, Scout.com, ESPN.com and 247Sports.com.
Cephus Johnson, 6'4″ 205-pound quarterback from Davidson HS, Mobile, Alabama. Rated a two star prospect by Rivals.com, Scout.com, and 247Sports.com and was chosen second-team All-Regions and honorable mention All-State as a Senior.
Kenard King, 6′ 170-pound safety from Auburndale HS, Auburndale, Florida. Was credited with 82 total tackles, four interceptions, and four passes defended as a senior. Was rated three stars by 247Sports.com
Gus Nave, 5'11" 175-pound cornerback from Kemper County HS, DeKalb, Mississippi. Ranked among the top 60 prospects in the state of Mississippi by 247Sports.com after helping lead KCHS win the state 3A title during his senior season.
Zeke Powell, a 6'5″ 290-pound offensive lineman from Georgiana HS, Georgiana, Alabama. Rated a two star prospect by 247Sports and was named first-team All-State by the Alabama Sportswriters Association as a senior.
Devin Rockette, a 5'10" 175-pound cornerback from Oxford HS, Oxford, Mississippi. He was rated a three star prospect by Rivals, Scout, ESPN and 247Sports.com. He earned a first-team all-state and all-regions honors his senior season.
Malik Stanley, a 6'3″ 215-pound wide receiver from Coffeyville (Kansas) Community College. He was a first-team all-Kansas Jayhawk Community College Conference selection as a sophomore where he had 58 catches for 712 yards and six touchdowns.
Jalen Tolbert, a 6'3″ 185-pound wide receiver from McGill-Toolen HS, Mobile, Alabama. He was named honorable mention all-region by the Mobile Press-Register/AL.com after his senior season where he had 37 catches for 696 yards and nine touchdowns.
Finally last but not least, Tywun Walters, a 5'11" 215-pound running back from Northwest Mississippi Community College, who signed in December and is enrolled at USA. He ran for 1,000 yards and a team-leading 12 touchdowns to help his team to a 9-3 record and a #6 ranking in the final NJCAA poll.