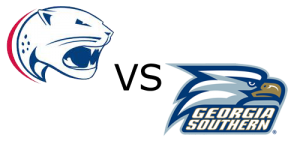 South Alabama has worked all week to put Mississippi State behind them because they have a very good football team in Georgia Southern coming into Mobile on Saturday.
Let's break down the Eagles. Through three weeks this season the Eagles lost to NC State by one point, 23-24, drummed Savannah State 83-9 with 599 yards rushing, and lost in the final minute of the game to Georgia Tech 38-42.
We're going to throw out the numbers against Savannah State because they should give a more realistic statistics to compare the two teams.
Georgia Southern:
In the two games the Eagles offense has scored 61 points and allowed 66 points for an average score of 30.5 for the Eagles and 33 points for their opponent. They have rushed for 529 yards on 85 carries for an average of 6.2 yards per carry. The Eagle's are 23-of-39 for 437 yards and two touchdowns through the air. That is 19.0 yards per reception and 11.2 yards per attempt.
Defensively the Eagles have given up 521 yards rushing on 88 carries for an average of 5.9 yards per carry and seven touchdowns. Through the air they have allowed 479 yards and seven touchdowns as opposing quarterbacks have gone 39-of-64 for an average of 12.2 yards per reception and 7.5 yards per attempt. The defense has six tackles for loss in the two games we are counting for an average of three per game. They have two sacks, one in each game. Turnovers wise, they have no fumbles but one interception. Six passes broken up, three per game.
On the special teams they have seven punts with an average of 45.7 yards per punt and a long of 60 against NC State in a game in which they had three 50+ yard punts. Kickoffs average 64.7 yards and have led to nine touchbacks. Placekicking, the Eagles have attempted four field goals and have made all of them with the longest being 37 yards.
South Alabama:
In the Jaguars two games this season they have scored 26 points and allowed 48 points for an average score of 13 for and 24 against. The Jaguar offense has rushed for 243 yards on 77 attempts for an average of 3.2 yards per rush. Through the air the Jags are 43-of-80  with one touchdown and two interceptions for 449 yards. That comes out to 10.4 yards per reception and 5.6 yards per attempt.
Defensively the Jaguars defense has given up 352 rushing yards on 73 carries for an average of 4.8 yards per carry. Through the air they have given up 439 yards as opposing quarterbacks have gone 33-of-64 for four touchdowns which is an average of 13.3 yards per reception and 6.9 yards per attempt. They have eight tackles for loss, three sacks, and 14 passes broken up. USA has forced three fumbles and recovered two of them, both against Mississippi State, and one interception.
On special teams, Brandon McKee has punted 17 times for an average of 40.1 yards per punt, with a long of 51 yards. He has downed six inside the 20. Aleem Sunanon's kickoffs average 54.8 yards per kick with two touchbacks. Placekicking, Sunanon has attempted two field goals and made one from 26 yards, he had a 31 yard attempt blocked against Mississippi State.
SBC Statistics:
NOTE: These statistics, unlike the ones above, are based on all three games Georgia State has played. Above we excluded Savannah State because of the exorbitant numbers. Every team in the conference has played three games except USA, Appalachian State, Idaho and Texas State.
Georgia Southern leads the conference in scoring offense with their 48 points per game average. The Jags fall last on the rankings with an average of 13 points per game. USA is tied for second in scoring defense with an average of 24 points per game allowed, while Georgia Southern is a close fourth with an average of 25 points per game allowed.
GSU is second in the conference in total offense with 550 yards per game average, they are beat out only by Texas State who average 569.5 yards per game. South Alabama is 10th out of 11 schools with an average of 346 yards per game.
By far the Eagles lead the conference in rushing offense with 364.3 yards per game, and is nearly 70 yards per game more than the next team on the ranking. The Jags rank 8th with 121.5 yards per game rushing.
South Alabama ranks 7th in the conference in passing offense with 224.5 yards per game through the air, Georgia Southern is last with an average of 185.7 yards per game passing.
South Alabama ranks fifth in the conference in total defense at 395.5 yards per game average while Georgia Southern ranks seventh with an average of 431.7 yards per game.
The Jaguars rushing defense ranks third in the conference with an average of 176.0 yards per game allowed on the ground. Georgia Southern ranked 7th by allowing 202.7 yards per game rushing.
The Jags rank 5th in pass defense allowing 219.5 yards per game through the air while Georgia Southern comes in one spot behind them allowing 229.0 yards per game.
Both teams lost last week as the Jaguars struggled to find consistency on offense with several dropped passes. Defensively they had at least two dropped interceptions. GSU lost to Georgia Tech last weekend on a touchdown in the final seconds of the game.
Historically, the Jaguars have had a tough time against triple-option defenses. Georgia Southern runs it a little different though. They run the triple option out of the shotgun but that does not affect their effectiveness to run the ball.
Georgia Southern converts 56.7% of their third down attempts, tops in the conference. South Alabama ranks 9th converting 40% of their third down attempts.
Defensively Georgia Southern also tops the conference in opponents third down conversions by only allowing them to convert 31.8% of the time while the Jags rank 10 allowing opponents to convert 50% of their third downs.
The Jags are the least penalized team in the conference with nine penalties for 42 yards, which average 21 yards per game. Georgia Southern is tied for 4th in the conference with an average of 36.7 yards per game of penalties.
USA is second in the conference in time of possession with an average of 31:26 while Georgia Southern ranks 8th with an average time of possession of 27:53.
Conclusion:
Just looking at all of the raw numbers and rankings, you can tell it should be a close game. Each team is set up to exploit the weakness of the opponent.
This begins an eight-game stretch of conference games for South Alabama, while this is the first conference game for Georgia Southern so expect both teams to come in with high expectations. Hopefully the Jaguars have put the loss to Mississippi State behind them and have correct the issues that hampered them against the Bulldogs.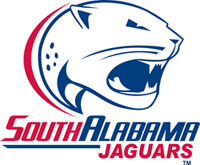 South Alabama had four teams earn 2014-2015 Sun Belt Conference Academic Awards on Thursday. That number is twice as many as any other conference member.
USA teams that earned awards were the Jaguar softball team, the men's and women's cross country teams and the men's track and field team.
The conference office recognizes one team from each of the league's 16 sports for for the award, which is calculated by totaling the student-athlete GPA's for the team and dividing by the total number of student-athletes on the team. The team with the highest average GPA is named the Team Academic Award winner for that year. The GPA's are based off of the previous school year and include the total GPA for the year, not the average of semesters.
In all, South Alabama Athletics had a record 100 student-athletes to make the Dean's list, 189 individuals with a 3.0 GPA or higher, in the spring semester. Additionally, 10 sports programs carried a team GPA of 3.0 or higher.
South Alabama finished second in the Bubas Cup standings for the 2013-2014 academic year. The Bubas Cup recognizes the conference's top overall program in competition. It was the school's best finish in more than 10 years.

The South Alabama Jaguar volleyball team started their Sun Belt Conference schedule with a 3-2 (25-23, 17-25, 25-14, 17-25, 16-14) win over ULL on the road.
Jessica Lewis led the team with 17 kills and two solo blocks. Mechell Daniel posted her fifth double-double of the season with 14 kills and 13 digs. Nikki Gittens tied a career high with 12 kills and led the team with five total blocks, one solo, as well as two service aces. Mallory Moore added 10 kills. Emily Hundt recorded her fourth double-double of the season with 44 assists and 10 digs.
SBC Defensive Player of the Week Abby Baker posted 25 digs.
The loss was the first for the Ragin' Cajuns who are 10-1 on the season and 0-1 in Conference play. Meanwhile the Jags improve to 6-5 on the season and 1-0 in Conference play. They return to Mobile to host Georgia State on Sunday in a noon time match in Jag Gym.
South Alabama Athletics Director Joel Erdmann release an open letter to fans on Wednesday addressing the water situation at Ladd-Peebles Stadium. In the letter he outlines the changes that USA and Ladd-Peebles will implement in future games to try to prevent the same situation from happening again.
Here is a link to a PDF of the letter.
September 17, 2014

Jaguar Fans and Customers;

The September 13th football game versus Mississippi State University will be remembered as one of the remarkable moments in South Alabama history.  Beginning with the crowded Pep Rally Friday evening in downtown Mobile and carrying through to the tailgating and the game itself, tens of thousands of Jaguar fans experienced a tangible swell of pride and unity.

Please note that the 3:00 p.m. game time was established to allow for a nationally televised game on ESPNews.  We anticipate and hope that similar opportunities present themselves in the future.  The festive atmosphere of Saturday's game combined with the sheer numbers of a sell-out crowd and the heat of a mid-September afternoon in Mobile, Alabama, exposed selected operational areas which will be addressed as follows.

1. Water – customers experienced access to warm bottled water at selected areas within the stadium.  Moving forward:
• Spectators will be allowed to bring into the stadium two bottles of water per person.  Small to medium-sized soft-sided coolers are now allowed and are subject to search.  Please be sure such items are sized appropriately to fit within the designated seating area and does not intrude on adjacent fans.
• There will be roving vendors with beverages in both the West and East grandstands.
• Refrigerated trucks will be located in designated ground-level areas of the stadium.  These locations will serve as points of sale with cold bottles of water assured.  Due to various logistical and safety restrictions, water from these areas cannot be distributed to the concourses – thus a short walk to the areas will be required.
• All efforts will be made to continue to provide cold water in the concourses.

2.  Shuttles – Customers have access to ride the Wave Transit System from the Bel Air Mall parking lot (Near JC Penney) to Ladd-Peebles and return.  The shuttles run non-stop from four hours prior to a game to two hours after.  The cost for a round trip is $2.50.  At peak times prior to Saturday's game there were in excess of 30 buses in rotation.  Moving forward:
• We will increase the number of buses in the rotation at peak-use times and balance those numbers with the desire to keep the cost of the shuttle at $2.50 per round trip.

As our football program continues to grow, we have been provided a tremendous opportunity to call Ladd-Peebles Stadium our home.  We view this opportunity as a true partnership between the Stadium and Jaguar Athletics.  When issues which negatively impact the experience of our fans occur, we will be diligent in working together as a team to find reasonable solutions.

We deeply appreciate your support.  Go Jags!!

Joel
Charde Hannah of the South Alabama Soccer team added to the Jaguars list of weekly honors on Tuesday as she was named the Sun Belt Conference Offensive Player of the Week.
Hannah, a freshman from Tupelo, Mississippi, is the third Jaguar to earn the conference's weekly honor after freshman Sophie Haywood and junior Nini Rabsatt-Smith swept the awards last week.
Hannah recorded three goals and an assist for seven points as the Jaguars sent 2-0 by defeating Mississippi State and Alabama A&M. She scored both goals in the win over the Bulldogs.
She currently ranks 16th in the nation in goals per match (.875) and 17th in points per match with 2.13. She leads the conference in both of those categories.
USA will try to extend their four-matching winning streak on Friday when they host North Florida at The Cage.
Sophomore libero/defensive specialist Abby Baker was named the Sun Belt Conference Defensive Player of the Week on Monday by the Conference office for the first time in her career.
Baker helped the Jaguars to a 3-1 record at the Maroon Classic over the weekend as she had 81 digs for a 6.23 digs per set average in four matches. She did not commit a reception error in the 54 times she was served.
She ranks sixth in the conference in digs with 3.80 per set.
Baker is the first Jaguar to earn a defensive honor since Jenna Hassell on September 10, 2012 and only the third recipient of the honor is South Alabama history.
Baker and the Jags will return to action on Wednesday as they open conference play at Louisiana-Lafayette. They will then return home to host Georgia State on Sunday.
South Alabama's Maleki Harris earned Sun Belt Conference Defensive Player of the Week honors for his performance against Mississippi State on Saturday.
Harris, a 6'1″ 210-pound senior linebacker from Cordova, Alabama, was credited with a career-best 14 tackles, 6 solo, and a pair of forced fumbles both of which were recovered by the Jaguars. The first fumble came on a five yard tackle for loss on Mississippi State's first snap after taking over at the USA 31 yard line on a turnover and keeping the score 7-0 late in the first quarter.
The second turnover came in the red zone at the five yard line to stop another scoring opportunity.
This was the second double-digit tackle game for Harris and it was enough to push his career over 100 tackles for his career.
South Alabama (1-1) will host Georgia Southern (1-2) for a 6:30pm kickoff on Saturday at Ladd-Peebles Stadium, the first of eight consecutive Sun Belt Conference games. Locally the game can be heard on Lite Mix 99.9FM and worldwide on iHeartRadio. The game will be broadcast nationally on ESPN3.
The South Alabama soccer team has now won four consecutive games with wins over Mississippi State in Starkville on Friday evening 2-0 behind freshman Charde Hannah's two goals, her fifth and sixth of the season and a 6-2 win over Alabama A&M on Sunday.
With the wins, the Jags have now won six of their last seven outings. Prior to defeating Alabama A&M the Jags had won their previous three games by shutout. The Jags record improves to 6-2 on the season while the Bulldogs fall to 2-4.
The two teams were scoreless until the 71st minute with Hannah scored on a breakaway inside the left post. Her second goal came with just 12 seconds left in regulation to put the match away.
Sophomore Sarah Hay finished with six saves in the teams fifth shutout of the season. The Jags outshot the Bulldogs 16-14 but Mississippi State led 7-6 in shots on goal.
Against Alabama A&M the Jags got five second-half goals as Sophie Haywood came off the bench to score two goals, a brace, and Charde Hannah added a goal and an assist also off the bench.
Junior Jordan Duncan recorded a goal and two assists, freshman Rio Hardy and Alyssa Pejic also netted goals. Pejic's goal was the first of her career.
This was the first time that the Jags had to rally after the Bulldogs got a goal in the 18th minute. It would hold the lead for the next 17 minutes before Hannah's goal tied the match, her team-leading seventh goal of the season.
It was tied at one goal each at halftime then the Jags go back on the board again quickly when Haywood netted her first goal of the match only six minutes into the half. Her second came only three minutes after the first.
Beginning on Friday, the Jags will start a five-match homestand. They will begin with North Florida, part of the Jaguar Classic. The match will begin at 7pm. Troy will start off the festivities against Francis Marion at 4pm.
The South Alabama volleyball team won three out of four matches in the Maroon Classic in Starkville, Mississippi over the weekend.
The Maroon Classic began with the Jags defeating Mississippi State 3-0 (25-19, 25-18, 25-14) on Thursday evening behind Mechell Daniel's double-double, her third of the season.
This was the Jags first-ever win on the Bulldogs' home court and the first for the Jags since 1987 where they defeated them in the Southern Miss Invitational.
On Friday, the Jags defeated Northwestern State 3-1 (25-22, 23-25, 25-15, 25-15) behind Sophomore Abby Baker's 34 digs and two aces and Daniel's second-consecutive and fourth overall double-double with 14 kills and 14 digs. Emily Hundt earned 45 assists and eight digs as well.
Finally, on Saturday, the Jags split two matches to end the Maroon Classic with a 3-1 record.
Agianst Nicholls State the Jags won 3-0 (25-17, 26-24, 25-16) behind Mallory Moore's 13 kills with a .545 hitting percentage and only one error in her 22 attempts. Redshirt sophomore Nikki Gittens also added 11 kills and .471 hitting percentage as well.
In the second match of the day, the Jags fell to Memphis 3-0 (16-25, 16-25, 17-25). Jags committed nine of its 20 attack errors in the first set and could not get on track against the Tigers.
For their play over the weekend, Emily Hundt and Nikki Gittens were named to the Maroon Classic All-Tournament team.
The Jags (5-5) will open Sun Belt Conference play on Wednesday when they travel to Louisiana-Lafayette.
South Alabama's home opener was spoiled by Mississippi State 35-3 in front of 38,129, a new record for the Jaguars.
Dak Prescott rushed for 139 yards on 14 attempts and accounted for almost 350 yards of total offense and two scores. The Bulldogs outgained the Jags 514-345 which included a 288-57 yard advantage on the ground.
Maleki Harris led the defense with a career-best 14 tackles while forcing two fumbles. Brandon Bridge went 21-of-39 passing for 203 yards while Jereme Jones catched a career high with seven catches for 76 yards. Wes Saxton added six receptions for 30 yards while Shavarez Smith and Danny Woodson Jr both finished with four catches for 52 and 38 respectively.
Terrell Brigham and Davin Hawkings each added nine stops with Montell Garner and Jerome McClain both added six.
The Jaguars couldn't take advantage of early opportunities and suffered from several dropped passes which kept the Jags from putting seven points on the board in the red zone.
The Bulldogs forced four turnovers, two fumbles and two interceptions, while recording five sacks and six passes defended.
Brandon Bridge came out of the game late in the second half and Matt Floyd moved the ball before throwing an interception to end another Jaguar threat.
"What a great atmosphere," head coach Joey Jones said. "I want to thank our fans for coming out and supporting us. It's so exciting for our players and everyone involved with the university, and we are excited they came out. It was an atmosphere our kids will never forget, and I appreciate our fans coming out and supporting them. I wish we would have played a little better, but you have to play great to beat those guys and we didn't play great."
"We knew how good they were on defense," Jones explained. "You have to make big plays on them. We had a couple of chances early, and we didn't take advantage of them. They kind of wore on us in the second quarter. They are a much-improved team. My hat's off to them. They have a lot of good athletes out there, a lot of size and speed. You have to play pretty well to beat these guys, and I don't think we played as well as we could."
"We finished the game last week against Kent State and took a step forward, but this week we had some early opportunities we didn't take advantage of and we just have to get it done. We have to make those plays."
South Alabama will open their conference schedule when they host Georgia Southern at Ladd-Peebles Stadium on Saturday, September 20 for a 6:30pm kickoff.