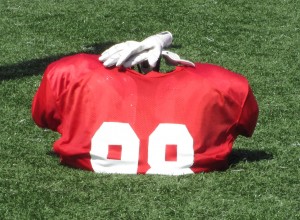 Head coach Joey Jones announced Wednesday that three JUCO transfers will be joining the program this spring.
James Bynes, Quinton Lane and Tyrone Williams will all enroll at South Alabama in January and all three will have two years of eligibility remaining.
Bynes, a 6'3″ 215-pound tight end from Miami, FL., played last season at Dodge City (Kansas) Community College. In 11 games he caught 30 passes for 269 yards with a season-high eight catches for 54 yards against Butler (Kansas) C.C. which would place him in the top 15 in the final NJCAA rankings.
Lane, a 6'2″ 195-pound cornerback, led Itawamba (Mississippi) C.C. with eight passes broken up while collecing 25 total stops and a fumble recovery.
Williams, a 6'3″ 200-pound wide receiver was named first-team All-MACJC as a sophomore after leading MGCCC with 46 catches, 812 yards and 12 touchdowns as the Bulldogs finished 8-2 on the season and seventh in the final NJCAA poll. His touchdown total was good for 10th in the nation while he was also among the top 20 in both receiving yards and yards per catch. He went over 100 yards in three games last season with a season-high of 144 against Northeast Mississippi C.C. In 2012, as a freshman, he caught 34 passes for 437 yards and five touchdowns on a team that would finish sixth in the final NJCAA rankings.
Also, it was made official on Wednesday that former UAB quarterback Cody Clements will enroll at South Alabama in January to join the football team. He will be a senior with one season of eligibility remaining.
Read more
South Alabama closed out their final practice at home on Tuesday morning and, in what has become a tradition at USA, the underclassmen carried the seniors off the practice field following the team's final home practice.
The team then loaded buses and arrived in Montgomery Tuesday afternoon to finish out their preparations in Montgomery for Saturday's bowl game.
The Jaguars will practice at Huntingdon College on Wednesday and Thursday then have a walk-through session at the Cramton Bowl on Friday. But they will also be participating in some of the bowl festivities leading up to the game.
In the midst of all of this, Wednesday is the first day that Junior College transfers can sign National Letter of Intent's. In what may be their best recruiting year ever for this young team, they expect to sign up to five JuCo players today.
Tight end James Bynes of Dodge City (Kansas) Community College, defensive back Quinton Lane of Itawamba (Mississippi) Community College and wide receiver Tyrone Williams of Mississippi Gulf Coast Community College are among the student-athletes expected to sign.
Three UAB players have announced their intentions to enroll at South Alabama in January with more of their teammates expected to join them. Offensive linemen Lee Dufour, Cameron Blankenship and quarterback Austin Chipoletti have all announced their intentions. A twitter account bearing the name of UAB quarterback Cody Clements said he was transfering to USA, but it is uncertain if that is true.
Head coach Joey Jones and defensive line coach and recruiting coordinator Brian Turner are looking to fill needs. Turner told AL.com that they are looking to sign up to five JUCO players and possibly add more to that list depending on the UAB situation. The five players they are targeting are for positions where they need help immediately.
The hiring of Bryant Vincent seems to have sparked more excitement in the offense. Quarterback Brandon Bridge said he was very pleased with the pace of the offense since Vincent took over. Even coach Jones said that there has been a different feel in practices recently.
So much focus has been on the change on the offensive side of the ball, but the Jaguar defense will be tested as well. Bowling Green leads the country in how quickly it can transition from one play to the next of offense. This has created challenges for defenses all season and it will be something the Jags must be prepared for.
Communication will be key. There may be times when coaches cannot get the call in quickly enough and the players must be able to identify certain formations and be able to communicate that to their teammates so they can check into certain coverages or defensive fronts.
The excitement for the bowl game and the good practices the team has had over the last few days should have every fan excited. This will be the Jaguars time to shine in their first-ever prime time national television broadcast.
South Alabama and Bowling Green kick off at 8:15pm on Saturday in Montgomery for the Raycom Camellia Bowl at the Cramton Bowl. USA has sold out of their allotment of tickets. If you do not have your tickets yet, you better get them quick. They are selling quickly with reports of only a "few hundred" left.
Watch the hype video that was created for the Camellia Bowl. There is so much awesome in this video. I know this red, white and blue fan was eagerly excited and moved to tears. It's an amazing accomplishment for this school, this program and these players and those that paved the way to Saturday's game.
South Alabama continues to prepare for thier first bowl appearance this Saturday in the Raycom Camellia Bowl in Montgomery, Alabama. They had two interesting guests viewing practice on Monday morning.
Former Alabama head coach Ray Perkins was at the Jaguars practice facility but that was not the name that drew the most attention. It was UAB running back Jordan Howard who drew the most attention.
Howard, a 6'1″, 228-pound sophomore who rushed for 1,587 yards and 13 touchdowns this season for the Blazers, has been receiving lots of interest across the country after UAB announced it was shutting down the football program.
The Gardendale, AL native has drawn interest from schools such as Indiana, Notre Dame, Louisville, Vanderbilt among others.
South Alabama head coach Joey Jones hired former UAB offensive coordinator Bryant Vincent as the Jaguars new offensive coordinator. Howard averaged 5.2 yards per carry and 132.2 yards per game under Vincent's direction of the offense.
South Alabama's backfield was very thin by the end of the regular season. Jay Jones suffered a season-ending knee injury in the sixth game of the season and was the Jaguars leading rusher at that time with 393 yards and three touchdowns. Senior Kendall Houston stepped up finished the season with 659 yards rushing and a touchdown to lead the Jaguars in that category. Junior Terrance Timmons rushed for 382 yards and two touchdowns. Redshirt freshman Xavier Johnson rushed for 417 yards and a touchdown, but missed playing time late in the season due to a shoulder injury.
Howard is expected to make a decision soon and if he chose South Alabama he would reunite with offensive coordinator Bryant Vincent as well as center Lee Dufour and quarterback Cody Clements who both announced they would be transferring to South Alabama from UAB.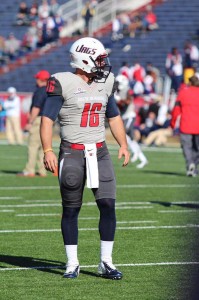 Two announcements on Monday concerning the Jaguars first-ever bowl game.
Monday morning an email went out announced that there were only 50 tickets remaining in the Jaguars allotment for the Camellia Bowl. But sometime before noon they were sold out.
On the Joey Jones radio show, Coach Jones announced that the team will be wearing their Jungle Smoke uniforms. This will be the second time they have worn them with the first being against Navy on November 28.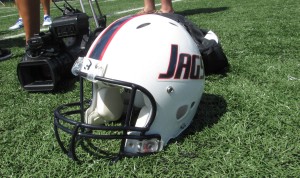 South Alabama continued their preparation for the Raycom Media Camellia Bowl on Saturday when they hosted several members of the UAB football team. They were all viewing the Jaguars facilities and the practice session as they consider their options for continuing their playing careers.
While coaches are not allowed to talk about prospects, such as the ones from UAB, until they are enrolled in classes. But at least two have publicly announced that they are transferring to South Alabama.
UAB freshman center Lee Dufour received a scholarship offer and announced this intention to enroll at USA in January. Dufour is a Saraland native and is eager to return close to home, which was a big factor in his decision.
A twitter account for UAB quarterback Cody Clements, who has one year of eligibility remaining, announced that he would be transferring to South Alabama. This has not been verified. This would reunite him with his offensive coordinator and quarterback coach Bryant Vincent from this past season if it's true.
This may not be the only student-athletes who choose to transfer to South Alabama. Check back for updates throughout this process.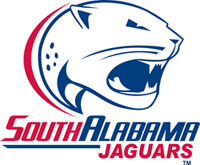 At the Annual Fall Graduation ceremony held at the Mitchell Center, a total of 28 current and former student-athletes from eight USA sports programs received their undergraduate degrees on Saturday.
Among the group was a dozen USA football student-athletes who will play in the Jaguars first-ever bowl game just one week removed from graduation. The group also included five who were on the soccer team when they earned the programs first-ever Sun Belt Conference Championship and NCAA Tournament berth in 2013. The group includes an all-league selection from the 2013 baseball team that also participated in the NCAA Tournament.
Morgan Motes and Tatum Perry were both in 20 or more matches as seniors during the 2013 season as their team finished 14-6-3 after their initial national postseason contest. Carlaine Myers, Tina Schaar and Linsey Snavely also contributed that season.
Earlier in 2013, Matt Bell was a second-team All-SBC selection after the Jags posted a 43-20 record and earning a second seed at the NCAA Starkville Regional.
Terrell Brigham and Ucambre Williams were both selected to the second-team All-SBC this week with Melvin Meggs earning an honorable mention selection after helping the Jaguars to a 5-3 conference record and six wins overall. Along with current teammates Drew Dearman, Brandon Bridge, Shane Doty, Trey Fetner, Qudarius Ford, Anthony Harris, Kendall Houston, Ridge James and Nathan Sassaman will all be on the field on Saturday, December 20 to face Bowling Green in the inaugural Raycom Camellia Bowl. Jay Jones, who suffered a season-ending injury in October and was the team's leading rusher at the time, also graduated.
Other All-Conference honorees who earned their degrees following the fall semester includes Tyler Agee, Meghan Dunn and Sayann Vaezzadeh.
Former student-athletes Brandon Hallford, Jennifer Johnson, Anna Lasher, Natalie Parsons, Devin Robinson and Corey Waldon all received degrees as well.
For those who also earned their degrees, both as student-athletes and were not listed or as fans, Jaguar Nation congratulates you and also thanks you for representing the University of South Alabama in every capacity. It takes a large group of people to make up the University community and South Alabama has the best!
Go Jags!
After much speculation after former offensive coordinator Robert Matthews was dismissed, including reports earlier in the week that Bryant Vincent had already been hired, it was officially announced the Vincent will return to South Alabama as the Jaguars new offensive coordinator.
Vincent filled the same position at UAB this season and led one of the nations biggest offensive turnarounds. Previous to his one-year stint at UAB he was at South Alabama for three seasons where, in his first season, he coached tight ends before spending the next two seasons coaching quarterbacks. Before joining the Jaguars staff he was the head coach at Spanish Fort High School where he led the Toros to a state championship.
In addition to being the offensive coordinator, Vincent will coach the quarterbacks.
His first and only season as an offensive coordinator at UAB, the Blazers averaged 431.8 yards per game and 212.1 yards rushing while averaging 33.2 points per game. UAB was bowl eligible for the first time since 2004 before the decision to shut down the football program was made. The Blazers scored 40+ points on five occasions and enters the bowl season ranked in the top 40 nationally in four different statistical categories including rushing offense (33), scoring offense (37), completion percentage (32) and third-down conversions (40).
Four Blazers would earn all-Conference honors from the offense including first-team selection Jordan Howard who finished seventh in the nation in rushing and 20th in rushing touchdowns after putting up 1,587 yards and 13 touchdowns.
"Bryant Vincent is a complete football coach. He's a great recruiter, a great motivator and has a very good offensive mind," head coach Joey Jones said of Vincent. "He went up to UAB and did extremely well, they were scoring a lot of points including 34 against Mississippi State; watching them play, you could see they had an explosive offense. It's great to have him back."
"I'm very excited to be back. In my opinion South Alabama is a gold mine, it's a first-class university with first-class people and facilities," Vincent said. "Coach Jones has done a great job building this program from the ground up, I'm really excited to be a part of it again and hope to help build on the momentum that has been established here.
"Offensively, we want to play fast with a true fast tempo, we want to be able to stretch the field vertically, have a power running game, and be able to get the ball out on the perimeter and down the field. We want to put the ball in our playmakers' hands in space and let them make plays."
Vincent is scheduled to be back with the staff for today's practice and will be part of the team for the Jaguars bowl game against Bowling Green on Saturday, December 20.
The University of South Alabama announced on Thursday that quarterback Brandon Bridge has accepted an invitation to participate in the 2015 NFLPA Collegiate Bowl.
The NFL Players Association Collegiate Bowl is an all-star game featuring draft-eligible seniors. It will be held on the campus of California State University Dominguez Hills in Carson, California on Saturday, January 17 with kickoff scheduled at 3pm CT. It will be televised on ESPN2 and ESPNU will broadcast live from practices January 14-15.
Former NFL head coaches Mike Holmgren and Mike Martz will serve as head coaches for the two teams, neither team roster nor full coaching staffs have been completed.
Prior to the season Bridge was named to the 2015 Reese's Senior Bowl Watch List and earned the Sun Belt Conference Player of the Week honor for October 20 after a 30-27 homecoming win over Georgia State. In that game he threw 126 yards and two touchdowns and ran for another 137 yards and a touchdown. He also set a single game record with four touchdown passes in the Jaguars 42-40 loss at home against Navy.
In 10 games this season he has completed 140-of-270 passes for 1,648 yards and 14 touchdowns. He has also rushed for 256 yards and three touchdowns on 85 attempts.
Bridge is the third Jaguar to earn an invitation to the all-star game after former Jaguars Jake Johnson and B.J. Scott both played in the 2013 NFLPA Collegiate Bowl.
Bridge will play his final game as a Jaguar on Saturday, December 20 in South Alabama's first-ever bowl game against Bowling Green in the Raycom Camellia Bowl. Kickoff is scheduled for 8:15pm CST at the Cramton Bowl. It will be broadcast on ESPN.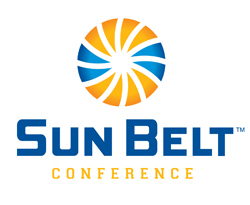 The 2014 All-Sun Belt Conference team was released yesterday and South Alabama did not place anyone on the first-team though they did six players on the second team and four others receiving honorable mention selections.
Offensive lineman Ucambre Williams, wide receiver Shavarez Smith, linebacker Maleki Harris, defensive back Terrell Brigham, defensive lineman Jerome McClain and defensive lineman Theo Rich were all selected to the second-team. Offensive linemen Chris May and Melvin Meggs, defensive lineman Jesse Kelley and defensive back Montell Garner were all honorable mentions.
Additionally, one player from each of the 11 schools were selected to the All-Newcomer team with tight end Braedon Bowman being selected to represent South Alabama on that list.
Georgia Southern's Willie Fritz was selected as the Coach of the Year. Louisiana-Lafayette running back Elijah McGuire was selected Sun Belt Player of the Year and Offensive Player of the Year. Texas State's David Mayo was named the Defensive Player of the Year and Appalachian State quarterback Taylor Lamb was selected as Freshman of the Year.
Here is the full list:
All-Sun Belt First Team Offense
Fredi Knighten (Arkansas State, Jr., QB)
Matt Breida (Georgia Southern, So., RB)
Elijah McGuire (UL Lafayette, So., RB)
Donovan Harden (Georgia State, Jr., WR)
Joshua McCain (Idaho, Sr., WR)
Rashon Ceaser (UL Monroe, Jr., WR)
Brad Miller (Texas State, Sr., TE)
Kendall Lamm (Appalachian State, Sr., OL)
Garrett Frye (Georgia Southern, Sr., OL)
Manrey Saint-Amour (Georgia Southern, Sr., OL)
Daniel Quave (UL Lafayette, Sr., OL)
Valerian Ume-Ezeoke (New Mexico State, Sr., OL)
All- Sun Belt First Team Defense
Justin Hamilton (UL Lafayette, Sr., DL)
Christian Ringo (UL Lafayette, Sr., DL)
Gerrand Johnson (UL Monroe, Jr., DL)
Michael Odiari (Texas State, Sr., DL)
Qushaun Lee (Arkansas State, Sr., LB)
Edwin Jackson (Georgia Southern, Sr., LB)
David Mayo (Texas State, Sr., LB)
Doug Middleton (Appalachian State, Jr., DB)
Artez Brown (Arkansas State, Sr., DB)
Mitch Lane (UL Monroe, Jr., DB)
Montres Kitchens (Troy, Jr., DB)
David Mims (Texas State, Jr., DB)
All- Sun Belt First Team Special Teams
Justin Manton (UL Monroe, Sr., PK)
Austin Rehkow (Idaho, So., P)
Chandler Worthy (Troy, Sr., RS)
Elijah McGuire (UL Lafayette, So., All Purpose)
All-Sun Belt Second Team Offense
Kevin Ellison (Georgia Southern, So., QB)
Marcus Cox (Appalachian State, So., RB)
Michael Gordon (Arkansas State, Jr. RB)
Ajalen Holley (UL Monroe, So., WR)
Teldrick Morgan (New Mexico State, So., WR)
Shavarez Smith (South Alabama, Sr., WR)
Joel Ruiz (Georgia State, Jr., TE)
Mike Marboe (Idaho, Sr., OL)
Mykhael Quave (UL Lafayette, Jr., OL)
Ucambre Williams (South Alabama, Sr., OL)
Terrence Jones (Troy, Sr., OL)
Adrian Bellard (Texas State, Jr., OL)
All-Sun Belt Second Team Defense
Ronald Blair (Appalachian State, Jr., DL)
Ja'Von Rolland-Jones (Arkansas State, Fr., DL)
Jerome McClain (South Alabama, Sr., DL)
Theo Rich (South Alabama, Sr., DL)
John Law (Appalachian State, So., LB)
Joseph Peterson (Georgia State, Jr., LB)
Hunter Kissinger (UL Monroe, Jr., LB)
Maleki Harris (South Alabama, Sr., LB)
Matt Dobson (Georgia Southern, JR., DB)
Corey Trim (UL Lafayette, Sr., DB)
Terrell Brigham (South Alabama, Sr., DB)
Craig Mager (Texas State, SR., DB)
All-Sun Belt Second Team Special Teams
Hunter Stover (UL Lafayette, Sr., PK)
Justin Manton (UL Monroe, Sr., P)
Blaise Taylor (Arkansas State, Fr., RS)
Chandler Worthy (Troy, Sr., All Purpose)
Sun Belt Player of the Year
Elijah McGuire (UL Lafayette, So., RB)
Sun Belt Offensive Player of the Year
Elijah McGuire (UL Lafayette, So., RB)
Sun Belt Defensive Player of the Year
David Mayo (Texas State, Senior, LB)
Sun Belt Freshman of the Year
Taylor Lamb (Appalachian State, Fr., QB)
Sun Belt Coach of the Year
Willie Fritz, Georgia Southern