Brandon Bridge led a late fourth quarter drive to defeat Georgia State at Ladd-Peebles Stadium to 30-27 in a game that had five lead changes in the second half. It was also their first time since their double-overtime win over Florida Atlantic, that the Jags have won a game when trailing after three quarters.
The Jaguars stopped the Panthers, who were driving into Jaguar territory, and forced them to punt. Bridge took over at his own 15 yard line with just over five minutes remaining in the game. Bridge would then take the first snap and scamper 65 yards to the Panther 20 yard line setting up his 18 yard touchdown pass to Danny Woodson II two plays later to put the Jags up for good.
Bridge would lead the team rushing for the first time with a career-best 137 yards on 15 attempts. It was also the most by a Jaguar quarterback. He was also 11-of-32 for 126 yards through the air.
Georgia State continued to move the ball well through the air, as they have all season, as quarterback Nick Arbuckle was 23-of-40 for 311 yards and three touchdowns. Donovan Hardin led all receivers with 10 catches for 132 yards. Robert Davis had 108 yards on only four catches. Joel Ruiz added 75 yards on seven catches.
Theo Rich set a game-record with 3.5 sacks and a career high eight stops total. Terrell Brigham led the Jaguars defense with 10 stops with Roman Buchanan adding nine stops and a pass break up.
Jay Jones, who left late with an injury, finished the game with 71 yards on 16 carries. Xavier Johnson added 58 yards and Houston had a season-high 55 yards to help lead the Jaguar rushing attack which outgained the Panthers 321-90 on the ground and also outgained them 447-401 in total yards.
"I told the team after the game that I'm not real pleased with some of the things we did tonight, but there are some things I am pleased with. It wasn't a complete game for us, but it's a win," South Alabama head coach Joey Jones said. "You can't always play great. I didn't think we played great tonight and we still won. I thought that was a big deal. The last three series were in our favor — we scored, stopped them and then ate the clock up. I thought that was a great way to win."
"We knew going in, other than last week, that Georgia State is playing unbelievable this year. They are the most improved team in the Sun Belt," Coach Jones explained. "They're very good on offense, but our guys really played well inside the red zone. [Defensive coordinator] Coach [Travis] Pearson really stresses that — it's a big deal. They're not in there until they're in there and our guys fought and kept them out of there. Some of the biggest plays of the game were on the goal line."
Georgia State falls to 1-6 on the season and 0-4 in Sun Belt Conference play. Head coach Trent Miles is 1-18 after taking over the reigns from Bill Curry last season. "We had opportunities to win the game, but give South Alabama credit, they stepped in and did it at the end when they had to," Miles stated. "Joey is doing a great job with them, he's done a great job building the program the right way. We're trying to build our program, and our kids are battling their tails off. I'm proud of them. We're going to start winning football games, I don't know when it's going to happen but it will."
South Alabama improves to 4-2 overall and 3-1 in conference play, just two wins away from bowl eligibility. They will host in-state and conference rival Troy on Friday for a nationally televised game on ESPNU. Kickoff is scheduled for 6:30pm at Ladd-Peebles Stadium.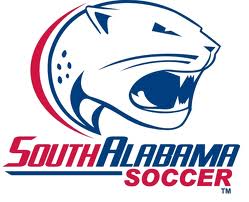 The South Alabama soccer team will close out the home portion of their regular season this weekend with matches on Friday and Sunday.
After last weeks overtime wins against Texas State and Appalachian State, the Jags find themselves sitting on top of the conference with 13 points. Freshman Charde Hannah and junior Nini Rabsatt-Smith had the game-winning goals in those matches respectively.
Georgia Southern (9-3-1, 4-1 SBC) enters the 7pm Friday match against the Jaguars tied for second place in the conference with 12 points.
Sunday's match against Georgia State (5-6-4, 3-1-1 SBC) are fourth in the conference with 10 points. They have rebounded from an 0-4-2 start to earn seven points in their last nine matches. They have also won back-to-back matches for the first time all season when they defeated Arkansas State and Georgia Southern by a combined score of 7-2.
Entering this weekend South Alabama has an 11 match unbeaten streak, tied for the longest in school history, as they have not lost a match since Kennesaw State defeated them 2-1 on August 31. If the Jags can get a win against Georgia Southern they will set a new school record for consecutive games without a loss.
Sunday will also be senior day. They will recognize two seniors, Shawn Meach and Emi Passini, prior to the 1pm start.
Come out and support your lady Jaguar soccer team at The Cage!
The schedule of today's homecoming events:
12pm – Lunch with Coach Joey Jones at the Football Fieldhouse, Reservations requied.
4-6pm – College Reunion Party at Alumni Hall Lawn.
6pm – Homecoming Parade along South Drive
6:45pm – Homecoming Pep Rally at Mitchell Center North Plaza
7pm – USA Women's Soccer match against Georgia Southern at The Cage. Free Admission
8pm – "Battle of the Greeks" NPHC Ste Show in the Mitchell Center.
South Alabama heads into their homecoming game against Georgia State on Saturday after their second and final open date of the regular season. After starting the season 1-2 in their first three games, they have put together back-to-back wins in impressive fashion.
They opened with a strong showing in the first half against Kent State, but then struggled until a late touchdown sealed the game. Then at home against Mississippi State and Georgia Southern the Jaguar offense struggled with dropped passes and penalties.
Road wins over Idaho and Appalachian State have put the Jaguars back above .500 and producing offensively again. But both of those teams have been struggling themselves. But a win on the road, especially when you have to travel thousands of miles, is always a good thing.
South Alabama will finish out the season with seven consecutive games, the first five are conference games, to close out the regular season. Their first two opponents, Georiga State (this weekend) and Troy (Friday, October 24), have a combined record of 2-10 this season as each have only one win so far.
Georgia State opened the season with a last-second victory over FCS Abilene Christian then has suffered five consecutive losses since. Troy on the other hand opened the season with five consecutive losses, including one to the same Abilene Christian that the Panthers defeated. But the Trojans finally put on in the win column last weekend against New Mexico State after longtime Trojan head coach Larry Blakeney announced his retirement after the season.
Georgia State's defense ranks dead last in the conference in most statistical categories including scoring defense and total yards allowed per game.
Offensively the Panthers fare better. They rank second in the conference in passing yards per game (301.8) but only manages 118.3 yards per game rushing which comes in 9th in the conference. Obviously it is hard to win games when your average score on the season is 27.0 to 41.7 and not in your favor.
South Alabama's defense has played very well all season long. However over the last two weeks, aided by a more efficient offense, the defense has turned it up against opponents. The Jags rank in the top 3 in many key defensive categories including second in pass defense (190.8 yards per game), third in total defense (374.8 yards per game) and third in scoring defense (21.4 points per game).
Offensively the Jags struggled early but flipped the switch two games ago against Idaho. In their two losses, the Jags suffered from a rash of dropped passes and penalties which stalled drives. Many people feel that USA should have had an early 14-0 lead on Mississippi State. They only managed to put up nine points against MSU and Georgia Southern combined.
Even after the last two games the Jaguar offense still ranks in the bottom half of the conference in most statistical categories. Their best category is rushing offense where they rank 6th in the 11 team conference.
South Alabama and Georgia State had developed quite the rivalry early on. Georgia State started playing football a year after South Alabama began their program. The Panthers made ESPN headlines by hiring Bill Curry to build the program from scratch with their eyes set on the FCS ranks. South Alabama and the Panthers scheduled a home-and-home series, which they split. When the opportunity presented itself for Georgia State to receive an invitation to move up to the FBS ranks and join the Sun Belt, they accepted but they have struggled over the last two-and-a-half seasons.
In Curry's final season in 2012, the Panthers finished 1-10 and they hired Trent Miles, the former Indiana State head coach, to replace the retiring Curry. Since 2012 the Panthers are 2-27.
Last season in Atlanta, Shavarez Smith broke out for 194 yards on 10 catches an a touchdown against the Panthers in a 38-17 win.
Look for the Jaguars to declaw the Panthers again this year. I think Xavier Johnson will get more playing time this week, especially if the Jaguars go up early on the Panthers. South Alabama will run their record to 3-1 against Georgia State with a predicted score of 34-17.
One online publication wrote that South Alabama's attendance increase this season has been skewed by the "hordes of Mississippi State fans" who attended the Jaguars first home game this season for a sell-out record crowd of 38,129. They then pointed to the 11,348 for the following game against Georgia Southern and expects the USA's attendance increase statistic to dwindle down the rest of the season.

Residents will tell you that Mobile has traditionally been a fairweather sports town. Unless your cry is "roll tide", "war eagle" or involves high school football, Mobilians tend to only show up when you are winning and/or playing the "big dogs" as they would say. But South Alabama is working hard to build their fan base and change that mentality a little bit.
Many use the excuse that the location where Ladd-Peebles Stadium is located and the condition of the stadium as two major reasons why they do not attend games. Many hardcore fans realize that if it wasn't for the city of Mobile having Ladd-Peebles Stadium it would have been exponentially more difficult to have started football a mere six years ago.
Having an underutilized 38,000 seat stadium in your back yard is an envious problem to have, many would say.
Many of those same fans who use the excuse of the stadium and location criticize the University for not building an on-campus stadium. But former Sun Belt Member Florida Atlantic, who started football in 2001, finally built an on-campus stadium that seats 29,419 in 2011 at the cost of $70 million. Director of Athletics Joel Erdmann is asked about an on-campus stadium on a regular basis and one of his standard answer is along the lines of "if you give us the money, we will build it."
Is this how we want to be known?
Do we want to be known as the fairweather town where good things quickly blossom but fades due to neglect? (Not that I think South Alabama football will fade, it is college football deep in the heart of probably the nation's most avid fanbase.)
Promised attendance will not get the stadium built any sooner. The only thing that will get a stadium built sooner rather than later will be strong attendance. And money, money will definitely get it built sooner.
If you have several million dollars laying around waiting to be put to good use, I can put you in touch with Dr. Erdmann in a heartbeat. He will probably put your name on the stadium too.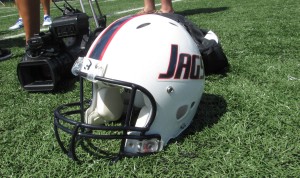 Head football coach Joey Jones held his weekly press conference along with defensive lineman Ridge James and offensive lineman Ucambre Williams to review the previous week, which was an off week for the team, and to preview their upcoming contest against Georgia State.
Coach Jones opened the press conference with his opening statement. "We had a good week last week, I thought we had three good days of practice which consisted of half working on fundamentals and half working on Georgia State. Our guys came back last night and you could tell they were refreshed and ready to go, which I think is a good thing. We'll find out when we put on the pads tomorrow, we've challenged them that they better to be ready to go to have a chance to win this ballgame.
"I think we will take that mentality into practice this week, which will hopefully carry over to the game."
Jones speaking about if the team's performance in the previous two games, both wins prior to the off week, help the team as it returns to the field. "It always helps when you play well. You work all offseason to have good games on Saturday, so when you see it happening it is certainly gratifying and builds your confidence level. You gain confidence by doing things the right way. But there is so much room to improve, I know all coaches say that, but I mean it. There are areas I look at and think if we can improve, and I think our kids have taken that mentality knowing that we are never going to be perfect but getting as close to perfect as we can. The only way to do that is by working on the field, and gaining that experience in games and actually making plays when we have to."
Jones spoke at length about the team's improvement before their open weekend. "We have played really good defense the whole year, but I think there is a factor of time where we are growing and leadership has come into play. You see that bond defensively, and defense is the ultimate team effort. Everybody has to fly to the ball and play the same way, and they have bought into that. We're getting better and better as we go.
"Offensively it was just a matter of execution. If you have one guy drop a pass, or jump offside, or doesn't make the right read, whatever it is you have to get all 11 going together which I think we are getting closer to having that. On specials teams we had our struggles kicking last week, so we have to find guys who are going to step up to the plate and kick the ball through the goal posts. We have two guys who are very talented, we're going to work this week to see who is going to do it. Our return game has been pretty good, but one of our goals is to be great at specials teams and we haven't lived up to par in some facets like we can."
"I admire Trent Miles, he's a great man and has done a great job." Jones said turning his focus towards Georgia State. "They are the most improved team in our league by far. The biggest difference I see in them offensively is they are converting on third down, when it was third-and-eight or third-and-nine last year they struggled but now they are converting 46 percent. They play with a bend-but-don't-break philosophy defensively — they don't blitz as much as some of the other teams we've faced — but they are real sound in what they do."
"You have to get your players to make sure they are focusing on the game and practice because there are some distractions during the week, but I don't worry about that as much in college," Jones said concerning homecoming week possibly being a distraction this week. "We're looking forward to having a great crowd, a lot of our alumni will be back; it's always good to see those folks. I'm excited to see our former players come back, guys who started this program and helped build this thing, it means lot to our players now and to our staff."
Ucambre Williams
"It came at a good time so we could recover from injuries, and get an extra week to prepare for Georgia State and their scheme," Williams said about the bye week. "They are a pretty good team. We can't take them lightly. That week of recovery and getting better really helped.
"We played very well the last two games, but we want to play well at home. We want to show our fans at home how we can play. These last two games really showed how we can play, and we're going to come home and play like that."
Williams then talked about the Georgia State defensive, which he will face on Saturday. "They are very big and athletic, especially at defensive end. We really have to hone in on technique, because we're not a big offensive line. They have some guys who are really athletic on the edges, so we're going to have to prepare for that. And they have a good linebacking corps, so we are going to have to make some big plays."
Ridge James
"We are anxious to get back on the field," James said about this weekend's game against the Panthers. "I think we have a really good thing going right now, and we just want to keep it going."
James spoke about the Jaguar defense and his play this season. "We're just flying around and having a lot of fun on defense. Our coaching staff does a great job of putting us in position to make plays.
"I've gotten a lot better since I have been here. I'm just thankful to the coaching staff to put me in the position that I am in now. (Assistant) Coach (Freddie) Roach has helped me out a lot, especially when it comes to playing more physical and with toughness. It's really paying off."
South Alabama and Georgia State will face each other for the fourth time overall and the second time in Mobile at Ladd-Peebles Stadium. The Jags hold a 2-1 record over the Panthers. Kickoff is scheduled for 6:30pm this Saturday.

South Alabama volleyball fell to Georgia Southern 3-1 (25-15, 19-25, 23-25, 23-25) Saturday night at Jag Gym as they enter an off week.
The Jags (9-10, 4-5 SBC) were led by Mechell Daniel's 14 kills and eight digs. Jessica Lewis was also in double-digits with 11 kills herself. Mallory Moore and Nikki Gittens each had seven kills each. Kelly Little came off the bench to lead the team with 10 digs.
Jenna Hassell led the team with three aces, as a team they had seven aces in the match.
Georgia Southern recorded 23 blocks, one solo and 22 assists, in the match. They had three players to record five blocks or more with Leah Joseph leading the way with six block assists. Kym Coley and Jamie DeRatt each had five total blocks in the match. Eagle setter Kat Minnerly had a double-double with 40 assists and 11 digs.
The volleyball team will not return to the court until October 19 when they host Arkansas-Little Rock.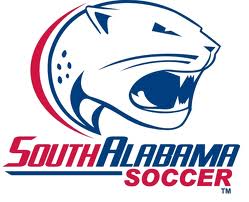 The Jaguar soccer team extended their unbeaten streak to 11 matches over the weekend with two thrilling and hard fought overtime wins against Sun Belt foes Texas State and Appalachian State.
"I thought we did well tonight," Jaguar head coach Graham Winkworth said. "We've started to erase the silly errors at the back. We needed a cleansheet and I'm happy we got one tonight. I'm also proud of how over the last two games we've stepped up our play in overtime. That brave attitude finally got rewarded tonight."
On Friday evening, freshman Charde Hannah scored in the first overtime to lead the Jaguars over Texas State 1-0 in San Marcos. The Jags outshot the Bobcats 24-10 in the match but were even at 4-4 in shots on goal.
Texas State entered the match with the best defensive record in the conference with only 10 goals allowed on the season and a 0.91 goals against average.
Freshman Rio Hardy assisted Hannah, who netted her shot from the top of the box just inside the right post, in the 98th minute of the match.
"It was a great goal," Winkworth said. "She played it along the 18 (yard box) and put another screamer into the net. She's a handful and people could double or triple team her, but the good thing is, when teams do that, it opens up space for other players. We're not a one-player team; we have a lot of talent on this roster. She's obviously one of the very talented players on the team and is on form. She gets a lot of chances because she works hard for them and she's playing with talented players."
Sophomore Sarah Hay had four stops in the net for her sixth cleansheet of the year. Three of her saves came in the first half while the defense kept the bobcast from shooting on goal in the second half.
After a day off on Saturday, they traveled to Appalachian State for another thrilling overtime win, the third in a row for the Jaguars.
After a scoreless first half, Nini Rabsatt-Smith put the Jags on the board in the 58th minute off an assist from freshman Danielle Henley. Henley's through-ball hit Rabsatt-Smith, who then dribbled around the goalkeeper for her third goal of the season.
Appalachian State tied the match 13 minutes later when Logan White connected with Jane Cline in the box.
Rabsatt-Smith would get her second goal of the match, and the game winner, less than five mintues into the extra period at the 94:32 mark with an assist by Rio Hardy.
"It wasn't pretty," coach Winkworth stated about the match. "Appalachian State are a team that is all about intensity, workrate and passion, so I told my team that they'll have to go in and match that today and we did. We were able to show the same signs that they were and were fortunate enough to get a couple of goals that way. Nini was on the end of a couple and it was a nice way to end the game and the weekend."
"It shows the character we've got because it's difficult, particularly when you've been leading in games and you're pulled back and go into extra time; it's a massive mental challenge," Winkworth said. "For us to be able to pull ourselves back up and finish the game is great."
"What I really want to emphasize, is we have quality players for different types of games," Winkworth continued. "In certain games we have to play in a technical way and we have the players to break teams down. Today, other players had to come in and battle a little bit more."
Hay had five stops and allowed only one goal in the match.
With the win, the Jags tied the school record for consecutive games without a loss as they are 10-0-1 in the last 11 matches. Their record currently stands at 12-2-1 overall and 4-0-1 in confernece play. The Mountaineers fall to 6-8 overall and 3-2 in conference play.
The Jags have four more matches left this season with the next two being played at home. They will host Georgia Southern on Friday at 7pm at The Cage when Georgia State on Sunday at 1pm.
With Georgia Southern's loss to Georgia State, the Jags have moved into the top spot in the conference with a 4-0-1 conference record. But Georgia Southern and Texas State are tied for second place with 4-1 records.
South Alabama's Maleki Harris will have to sit out an extra half of football against Georgia State as punishment for his actions after being ejected for targeting against Appalachian State.
Harris was ejected in the first half of the Jaguars 47-21 win over Appalachian State last weekend and, by rule, he would have been eligible to start against Georgia State on October 18. However, after reviewing the film, head coach Joey Jones made the decision to suspend his for the first half against the Panthers.
"Upon reviewing the film, we do not condone Maleki's reaction to the crowd after committing a targeting foul in the Appalachian State game," Jones told AL.com. "He understands that he made a mistake and that what he did doesn't represent the University of South Alabama in a first-class way. Maleki has been a model student-athlete for the past four years. We are confident that he will learn from this as he moves forward."
Harris is team's second-leading tackler with 36 stops this season, 16 solo, four tackles for loss, two pass breakups, two forced fumbles, an interception and a quarterback hurry.
"I commend South Alabama head coach Joey Jones and director of athletics Dr. Joel Erdmann for taking institutional action," Sun Belt Conference commissioner Karl Benson said. "This clearly demonstrates that the South Alabama athletics program is committed to the values of sportsmanship and fair play."
The Jags (3-2 overall, 2-1 SBC) has an open date this weekend and will return to action on Saturday, October 18 at Ladd-Peebles Stadium for homecoming against Georgia State. Kickoff is scheduled for 6:30pm.

The South Alabama volleyball team defeated Troy 3-0 (27-25, 25-19, 25-17) on the road Wednesday evening.
Mechell Daniel led the Jaguars with 15 kills and three blocks with Jessica Lewis adding 10 blocks herself. Emily Hundt chipped in with 23 assists and 11 digs as Emma Anderson added 15 assists. Abby Baker led with 29 digs and Jenna Hassell was in double digits with 10 digs as well.
Troy's Tineille Waggoner led the Trojans with 29 assists while Ali Dowdall led with 18 digs.
The Jags outhit the Trojans .243 to .130 in the first set, .220 to .163 in the second and .429 to .097 in the last set in the win.
Troy falls to 9-11 overall and 1-7 in conference play.
South Alabama improves to 9-8 overall and 4-3 in conference play. They will face Texas-Arlington in Mobile to start a three-match homestand beginning Friday and continuing on Saturday against Georgia Southern and concluding with Arkansas-Little Rock on Sunday, October 19.