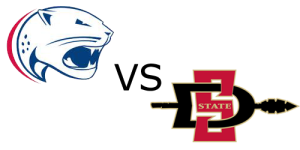 South Alabama has filled two open spots in their 2015 and 2016 schedules by adding a home-and-home series with San Diego State University. The open spots were created after the sudden announcement that UAB would cease sponsoring football.
The Jags will travel to San Diego State on September 19 this year and SDSU will visit Mobile on October 1, 2016 for the return.
USA Director of Atheltics Dr. Joel Erdmann said that during the fall of 2013 they were beginning to work on a home-and-home series with SDSU but the opportunity to schedule UAB came up and in the interest of local interest, short bus ride and reasonable cost for a road game, it was "more logical choice to play UAB."
However, when UAB shut down football the Jags were left with two open dates on their schedule. It was very fortunate that San Diego State had yet to find a FBS opponent that fit perfectly into their schedule for 2015 and '16.
While the 2015 Sun Belt Conference schedule for 2015 will be announced in March, it will feature road games at Troy, Georgia Southern, Georgia State and Texas State with home games against Idaho, Appalachian State, Louisiana-Lafayette and Arkansas State.
The Jaguars 2015 non-conference schedule include a home date against FCS Gardner-Webb on September 5, a road game at Nebraska on September 12 and at San Diego State on September 19, then back home to host North Carolina State on September 26.
Head coach Joey Jones told AL.com "We look forward to playing those guys [San Diego State]. It's a football program with a lot of tradition and we look forward to the series."
He also mentioned that its a great addition to assure a tough schedule for the Jaguars.
USA's 2016 non-conference schedule includes a trip to Mississippi State on September 3, home games against Nicholls State on September 24 and San Diego State on October 1, and a road trip to LSU on October 15. Sun Belt Conference opponents for 2016 have not been announced yet.
As previously mention, the school also formally announced the home-and-home series against Memphis for 2018-'19.

The University of South Alabama has filled another offensive coaching spot. Former UAB tight ends coach Richard Owens has joined the staff, presumably filling the same position.
Owens spent three seasons in Birmingham with the Blazers. He was tight ends coach in 2012 then switched to wide receivers in addition to offensive coordinator. Then under first-year head coach Bill Clark he went back to tight ends as Bryant Vincent assumed offensive coordinator duties.
Prior to UAB, Owens spent two years as a graduate assistant at the University of Arkansas where he also worked with the tight ends.
Owens played collegiately at Louisville before a five-year NFL career where he played for the St. Louis Rams, Minnesota Vikings and N.Y. Jets. He appeared in 53 NFL games between 2004-09 and started seven games.
As a redshirt freshman at Louisville he played in all 12 games with three starts adn was selected to the Conference USA All-Freshman team at tight end.
He is a native of Middleburg, FL.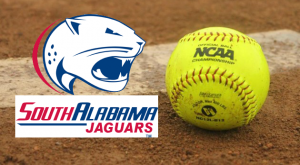 The University of South Alabama softball team starts the season ranked in the top 25 for the second consecutive season. On Tuesday, it was announced that the Jaguars were ranked #23 in the NFCA/USAToday Division I Preseason Poll.
The Jaguars finished the season last year ranked #22 after posting a 42-14 (15-6 SBC) record. They finished second in the Sun Belt Conference regular-season standings and appeared in an NCAA Regional final for the third consecutive time.
USA returns 11 letterwinners from last year including eight starters and eight seniors after losing only two to graduation.
South Alabama opens their 2015 schedule against #3 ranked Alabama on February 5. Other notable opponents in the top 25 are: #9 Louisiana-Lafayette and #19 LSU. South Carolina also received votes but not enough to appear in the top 25.
Florida topped the poll for the second time in program history after winning their first-ever Women's College World Series title last year. Oregon, a semifinalist in the WCWS last year was voted #2 by a narrow margin behind the Gators.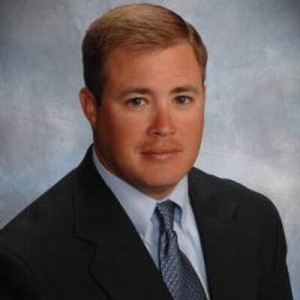 Reports have surfaced that South Alabama head coach Joey Jones will be announcing the hiring of University of Alabama Director of Player Personnel Tyler Siskey to coach wide receivers.
Siskey formerly coached wide receivers at Arkansas State from 2008 to 2011. After ASU he was the Coordinator of Recruiting Development at Ole Miss. He helped the Rebels' recruiting efforts that landed a top 10 ranked class for 2013. He joined the Alabama staff in March 2013.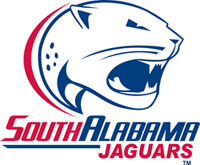 South Alabama held off a Arkansas-Little Rock's late rally with two key free throws by Ken Williams for a 66-64 win Monday night. The win evens the Jaguars conference record at 4-4 and 6-12 overall while UALR falls to 6-11 and 1-6 in Sun Belt play.
The Jaguars led by as many as 14 points early in the second half and led by 12 midway through the second half before a 15-3 run by the Trojans over a span of almost seven minutes tied the game at 61 each with 3:31 left. During that span, the Jags had eight turnovers.
However freshman Abdul Lewis answered for the Jags and junior Barrington Stevens III hit a free throw with under a minute left in the game to give USA a three point advantage.
But the Trojans would tie it up in the final 40.9 seconds on three free throws with the final two coming with 15.5 seconds left to tie the game at 64-64.
Williams would take the possession from the Jags half of the court and drove the rest of the way before the Trojans could foul him. After a UALR time out, Williams sunk both shots.
Josh Hagins put up a desperation shot that fell short of the basket giving the Jaguars the 66-64 win.
The Jags were led by Williams and his 20 points which is his fourth consecutive 20-point game. Williams made three 3-pointers, tied a career high with seven rebounds and a team-high four assists.
Dionte Ferguson added 15 points and seven rebounds. Freshman Taishaun Johnson added 12 and Lewis added 10.
South Alabama will look to win their third consecutive game when they travel to Boone, NC for the first time to face Appalachian State on Thursday. Tip off is scheduled for 6:30pm.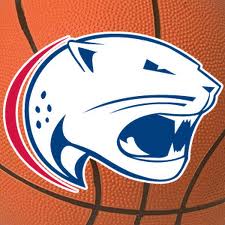 South Alabama men's basketball team came alive in the second half against Louisiana-Lafayette to rally and defeat the Cajuns 89-82 on Saturday at the Cajundome.
The Jags ended the Cajuns 12-game home win streak and improved their record to 5-12 overall and 3-4 in Sun Belt play. The Cajuns fall to 10-7 overall and 4-2 in conference play.
USA rallied from a 15 point deficit in the first half to trail by nine at halftime 44-35. Sophomore Ken Williams led the way with a career high 28 to lead the Jaguars to their third win in their last four visits to the Cajundome. Williams is also the first Jaguar to score 23 or more points in four consecutive games since Jeff Hodge in 1988-89.
Freshman Taishaun Johnson added 15 points, 13 of them in the second half, and pulled down 10 rebounds for his second double-double of the season.
The cajuns closed to 77-74 with 2:15 left in the game but USA responded with the next four points and were able to put the game away at the free throw line with six consecutive conversions in the final 37.4 seconds.
ULL was led by Shawn Long with 22 points and a game-high 22 rebounds. Kasey Shepherd and Brian Williams each added 13 points and Jay Wright had 12.
Georgi Boyanov came off the bench to score 14 points while going 2-of-2 from distance. Abdul Lewis and Dionte Ferguson both added 11 points with Ferguson also blocking three shots.
The Jaguars will end a run of three games in five days when they host Arkansas-Little Rock at the Mitchell Center on Monday for a 7:05pm tipoff. The Trojans enter the game with a 6-10 record overall and 1-5 in conference play.
Six former UAB Blazers began a new chapter in their collegiate career on Monday as they began classes at the University of South Alabama.
Quarterbacks Cody Clements and Austin Chipoletti, offensive linemen Lee Dufour and Cameron Blankenship, tight end Gerald Everett and wide receiver-running back D.J. Vinson all have enrolled in classes at USA and will participate in spring practice in a few weeks.
After UAB announced they were ending their football program on December 2, the players began looking for places to continue both their academic and sporting careers. These six, and a few others, committed to South Alabama.
As of Monday, linebacker Kalen Jackson had not enrolled at USA. Quarterback Evan Orth and wide receiver Josh Magee are expected to enroll this summer. Magee is no stranger to USA as he sat out after transferring from Alabama.
Bryant Vincent, who left South Alabama to be the Blazer's offensive coordinator, rejoined the Jaguar staff prior to USA's first-ever bowl game. He spent the previous three seasons as the Jaguars quarterbacks coach and will give the players a sense of familiarity for the former UAB student-athletes.
The team welcomed them to their 7am team meeting Monday morning before they departed to their respective classrooms to continue their academic careers at their new home.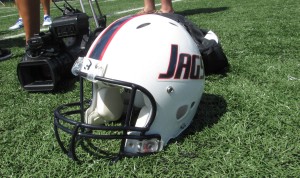 According to Bryan Moss of TigerSportsReport.com, South Alabama and Memphis have scheduled a home-and-home football series.
Memphis will host South Alabama in 2018 and will travel to Mobile to face the Jaguars at Ladd-Peebles Stadium in 2019.
Georgia State announced that they too have scheduled a home-and-home series with the Tigers. They will host Memphis on November 18, 2017 in the Georgia Dome then travel to Liberty Bowl Memorial Stadium in Memphis to face the Tigers on September 15, 2018.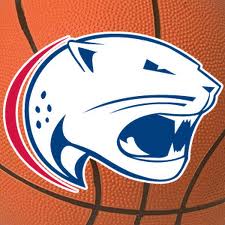 South Alabama led by as many as 11 points in the second half, but Arkansas State fought back to force overtime where the Jaguars fell 63-60 in their conference opener.
The Jags dropped their sixth consecutive game while the Red Wolves won their fourth-straight.
Trailing by three points in the final seconds of overtime, but two 3-point attempts missed their mark which would have forced a second overtime period.
Dionte Ferguson set a new career high with 18 points and five blocks. He earned his second double-double of the season with a game-high-tying 13 rebounds.
ASU used a 15-4 run over a 10-minute stretch while holding the Jaguars to only 1-of-10 shooting from the floor and forcing eight turnovers. The Red Wolves were 6-of-13 on the other end of the court to tie the game at 45-each with 6:13 left.
"What a tremendous start to the Sun Belt season," Jaguar head coach Matthew Graves said after the game. "That was a great game. I thought Arkansas State played well. I thought we did some really good things. Both teams really defended their butts off. Anytime teams are held to under 40 percent on field goals, you give yourself a chance. They defended. They defended. It came down to somebody making a play or two. [PJ] Hardwick banked in a shot, then [Cameron] Golden ended up hitting an off balance three as the shot clock expired.
"A lot of different things happened, but I am really proud of our effort tonight. We stayed together and played hard. We played through some adversity, and when it came down to it we didn't make enough shots from the perimeter. We had really good looks and sometimes you can't control whether you make the shot. You can control whether it is a good shot. We took good shots, for the most part, we just didn't make enough of them tonight."
"We stole the win, but you have to give our team credit for having that toughness and the grit to keep fighting and keep coming back and making them miss and get some rebounds," Arkansas State head coach John Brady said. "Then we made enough big plays to win it."
The Jags (2-9, 0-1 SBC) hits the road for their next two SBC games with the first against Texas-Arlington on Saturday at 7:15pm then the next on Monday, January 5 at Arkansas-Little Rock with a 7:30pm tip.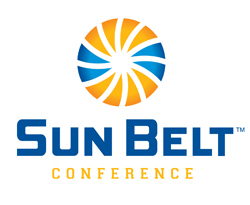 The South Alabama Mens Basketball team begin their conference schedule tonight when they host Arkansas State for a 7:05pm tip at the Mitchell Center. The Jags (2-8) look to snap their five-game losing streak and start their SBC schedule off on the right foot.
The Red Wolves (5-4) enter the game with a three-game winning streak that began with a road win against Mississippi State on December 17 in Starkville.
Arkansas State is led by the trio: Anthony Livingston, Cameron Golden and Sean Gardner. All three rank in the league's top nine in scoring, the only school in the conference to have three players in that group. Livingston is fourth in the conference with an average of 16.4 points pr game and second in rebounding with 8.4 per game. Livingston also had a 20-point, 20-rebound game against Marshall on December 20.
Golden is eighth in the conference in scoring with a average of 15.3 points per game with Gardner right behind him in ninth place with a 14.9 point per game average. Gardner has scored 20-point or more in his last three outings while ranking third in the conference with an average of 2.7 3-pointers per game.
Jaguar freshman Taishaun Johnson is averaging 17.5 points in both of his last two outings. He led the team scoring against Howard with a career-high three 3-pointers and a perfect 6-for-6 showing at the free-throw line while also recording a personal-best four steals.
South Alabama is only averaging 62.8 points per game while the Red Wolves are averaging 68.2 points per game themselves.
After a tough non-conference schedule, USA head coach Matthew Graves hopes his team can finally find their rhythm and start conference play with a win. Only the top eight teams will go to New Orleans for the Sun Belt Conference Tournament this season and South Alabama wants to be one of those teams.